Tecovas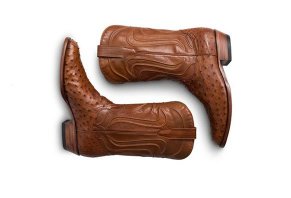 Tecovas is an Austin-based boot company that operates exclusively online to provide their customers with cowboy boots that are "half the price of equivalent quality boots and twice the quality of boots the same price."
Tecovas Boots Review: Things to Consider Before You Buy
Tecovas is an Austin-based brand of handmade cowboy boots. The boots are advertised as "handmade, high-quality boots that don't break the bank" on the company website.
At the time of writing, Tecovas doesn't maintain a physical storefront and instead sells their shoes and luggage directly online. The company states that this keeps prices low (about half the price of traditional retail they claim) because you won't need to pay middlemen for markups at the physical store.
In this way, Tecovas claims to manufacture and sell the "most comfortable, high-quality and honestly-priced cowboy boots on the market." But are they really? Let's look closer at the construction quality, pricing, and customer opinions of these boots to help you make an informed decision.
What Makes Tecovas Boots Stand Out?
According to the company website, Tecovas boots set themselves apart from the competition by providing unprecedented value, being handmade, and offering classic styles for customers to choose from.
Tecovas claims that their boots are twice the quality of other boots at their price point and half the price of similarly quality boots. Their strategy for keeping costs lower is cutting out the retailer and subsequent markups, ensuring that the cost savings are passed on to the customer.
The website also states that all Tecovas boots are handmade in León, Mexico in a traditional construction process that takes over 200 steps per shoe. Finally, the company strives to produce the boots in timeless styles that won't go out of style when trends change.
How Did Tecovas Get Started?
The Tecovas website tells us that their brand is named after the Tecovas Formation in West Texas, a geographical feature in the Palo Duro Canyon.
Paul Hedrick, the company founder, grew tired of the inconvenience of shoe stores and spending almost $1,000 on quality cowboy boots. In 2014, he quit his job and began traveling the world to research ways to make and sell boots more affordably. After 16 months of research and numerous trips to Mexico, he sold his first pair of boots.
Today, Tecovas is headquartered in Austin Texas, though the company currently only operates online.
What Is the Pricing for Tecovas Boots?
At the time of writing, Tecovas boots ranged in price on the company website from between $195 and $455.
While the company previously maintained a showroom in Austin, the boots are currently only available from the brand's online store. They proclaim that this makes them the first direct-to-consumer western brand. Orders can be placed online, and all questions should be directed through email to howdy@tecovas.com.
The brand states that all sizes and products listed on their website are available for immediate order, meaning that the vast majority of successful orders are shipped within one business day.
Selecting free shipping at checkout means most orders will arrive within 3-5 business days, and the company provides options to upgrade to Next Business Day or 2nd Business Day shipping as well.
The website also states that all orders are shipped with a free peel-off return label and instructions for issuing a return. If the label is lost for any reason, customers can email the company to receive a new one.
How Versatile Are Tecovas Boots?
Cowboy boots have historically been put to a variety of uses, from farm work to office fashion. Which category does Tecovas best fit in?
According to the company website, Tecovas boots are better suited to professional situations than working outdoors. Most models aren't designed to withstand the elements or rugged outdoor use, meaning that they aren't necessarily well-suited to riding a horse or mucking out a stall.
The company also makes it clear that Tecovas insoles aren't designed to be removed from the shoe, meaning that some customers might find it difficult to wear them with an orthotic or special insert. To ease the process, the company suggests ordering boots a half size up to accommodate the extra room.
While it is possible to tear out the insole to accommodate larger inserts, the company notes that this will void their ability to be returned.
In summary, by shifting the shopping process online, Tevocas claims to offer an easier, more convenient shopping opportunity for cowboy boot fans. Does this fit reality? Let's look closer at the reality of buying western boots today.
How to Buy Quality Cowboy Boots
In decades past, cowboy boots weren't built for style; they were practical work boots designed to protect the feet of cowboys as they rode horses and herded cattle. Cowboy boots needed to be rugged to survive the realities of the frontier, and they were typically made of quality leather.
True West Magazine tells us that cowboy boots entered popular culture in the 1920s through a fascination with western life from radio shows and silent movies. Children and adults alike wanted to dress like their favorite western stars, and cowboy boots began to be marketed as much as a fashion accessory as a work shoe.
Today, cowboy boots cling to their novelty and stylish appeal. Most quality brands cost between $400 and $1,500 or more, depending on the leather quality and craftsmanship.
The Art of Manliness illustrates that buying boots is often a tricky process, as differences in brands, leather, and styling all affect their fit. For this reason, most customers have traditionally preferred to buy their boots in person so that they can try them on immediately and have greater control over the selection process since a pair of boots is often an investment.
Does Tecovas lose that experience for their customers by not allowing them to shop in person for their boots? Looking at customer reviews of the brand makes it easier to know for sure.
Customer Reviews of Tecovas Boots
What do customers think of Tecovas boots? The company website lists over a hundred reviews for almost every item in their product line, and the significant majority of these reviews are five stars.
Some of the commentaries that stood out to us were that many customers thought the boots felt high end and that the leather was buttery to touch with clean and precise detail work.
Regarding fit, many reviewers mentioned that they had bought two or more pairs because they were so impressed with how well they fit their feet- "like a glove" according to some users. One reviewer noted that she had worn different brands of cowboy boots for 35 years and never found any shoes as comfortable for long-term wearing as her two pairs of Tecovas.
In fact, dozens of reviews that we read mentioned that customers felt like their boots were custom made for their feet because of how comfortable they were.
We found a few reviews off the Tecovas website too. Raquel, the blogger at Horses and Heels, published a review of Tecova boots where she stated that the price point of $200 for her pair was almost unheard of for a quality pair of boots. She also noted that the boots were comfortable enough for long walks.
What stood out to Raquel most about her boots was that they had a strong scent of new leather, and were buttery soft to the touch, which she took as a sign that they were top quality.
Tecovas would certainly agree with all this positive feedback, and they would say the difference in quality is in their careful manufacturing process.
About the Tecova Bootmaking Process
Tecovas's website tells us that their boots are handmade in León, Mexico by third-generation artisans. The boots are constructed through traditional methods of western cowboy boots, including ¾ Goodyear welt construction, hand-laid decorative cording, hand-stitched quarters, and hand-hammered lemonwood pegs.
The boot soles are made from a traditional 100% leather midsole and corkbed filling to ensure that the boots will mold to your feet. The company also states that they carefully construct each boot lining "inside out" to hide potentially irritating seams.
Belts, luggage, and other accessories are handcrafted at a separate factory in León that the company website states is just down the road from their bootmaking production.
You can read more about the construction process on the company website.
Does the Tecovas boot construction process stand out from other brands? Not by location. A quick Google search shows us that there are numerous cowboy boot companies with production based in Leon, including Poppy Barley, Gavel Boots, Heritage Boots, and others.
According to Tecova's website, León's long history of shoemaking was a critical decider for anchoring their production in the city, and their shoemakers handcraft their shoes next to brands that charge two or three times as much for their boots.
Our research into other León-based brands challenged these claims a bit. From looking online, we found that Poppy Barley sells women's fashion boots for about $550 and men's shoes for $425, Gavel Boots sold cowboy boots for about $200, a price point that is often lower than Tecovas.
A less location-specific boot manufacturer like Boot Barn sells cowboy boots at a broader range of prices, from less than $80 to over $500.
On the other end of the spectrum is Heritage Boots, a León-based boot manufacturer that sells boots from $500 to as much as $1500. Like Tecovas, Heritage boots can only be bought online (or from the company's Austin-based store).
What does this research tell us? For one, Tecovas is one of many boot manufacturing companies based in León. However, the pricing and overall quality of these boots can vary considerably. If Tecovas customer reviews are to be believed, the company is succeeding at satisfying their customers on both accounts.
Our Bottom Line: Should You Try Tecovas Boots?
Our research into Tecovas painted a pretty clear picture of the brand. The company website makes it clear that Tecovas boots are designed to provide a direct-to-consumer option for top quality cowboy boots.
Customer reviews for the boots are overwhelmingly positive, and the company implements an easy return policy in case you aren't completely satisfied with your purchase. However, the reviews we looked at on the company website seemed to indicate that only a small portion of customers end up returning their boots.
Those looking for a rugged work boot are likely to be disappointed with Tecovas, as the boots are designed more for walking and fashion than work. Nonetheless, reviewers consistently praised how well their boots held up after months of regular wear.
If you are looking for a pair of high-end cowboy boots that will last for longer than a season, then Tecovas boots might be a brand to begin your search.
Comfortable

By Mario R.

,

New York

,

Mar 5, 2020
Verified Reviewer

I received a pair of Tecovas Suede boots as a gift and from the moment I got the package and took them out and started wearing then they felt so comfortable, I didn't need to break them in at all.

I would recommend the Tecovas brand to my friends.

Bottom Line: Yes, I would recommend this to a friend

---

Difficulty in putting Tecovas boots on.

By Dan E.

,

Santa Ana, CA

,

Feb 22, 2020
Verified Reviewer

I have purchased two pairs of Tecovas, one caiman and one ostrich. The ostrich was purchased for my brother. The problem that both of us have experienced with our boots is the high, high, high degree of difficulty we have had putting the boots on. My caiman boots are extremely comfortable to wear but I sometimes cannot wear them at all because my foot gets stuck in the shank before ever reaching the footbed. I don't know why but my guess would be that the circumference of the shaft opening is not big enough.

I would like to wear my boots more often but if I go to the gym to work out I can't guarantee that I'll be able to put them back on.

I am also very interested in buying the American alligator boots but based upon the degree of difficulty I have wearing my caiman boots I can't see spending the money on the alligators.

I have worn boots all my life including many many Justins, Dan Post, Tony Lama, Texas, Ariat, to name the ones I can remember and/or still have. I have never encountered the problems putting on my boots with any other brands that I have encountered with Tecovas. Again, once on they are great, but getting them on is a struggle.

Bottom Line: Yes, I would recommend this to a friend

---

Really bad customer service

By Rich M.

,

New York, NY

,

Jan 7, 2020
Verified Reviewer

Bought a pair of boots which came damaged, did an exchange and got another damaged pair. Needed them for a specific date so I told them I need them soon so they said they would overnight them. First off, I was already mad they sent me 2 damaged pair, second, the lady had the worst attitude. Fast forward, I never got my boots so when I called she said the lady never even processed them. Not sure if they were trying to scam me, either way, will never shop here again.

Bottom Line: No, I would not recommend this to a friend

---

Great boot

By Edward S.

,

Lehighton, PA

,

Dec 27, 2019
Verified Reviewer

Bought a pair of Earls Roper Boot last year, beautiful boot, great leather, took a while to break in (2 months), but now they're good, very comfortable. Bought the same size in sneakers, you have to practice getting them on (YouTube video helps) and buy a boot rack from Amazon (Lariat makes it for $13), and your boot comes right off, no problem, ingenious invention, again, see YouTube video.

Bottom Line: Yes, I would recommend this to a friend

---

Advertisement

---

My first pair of boots

By Joe S.

,

Turnersville, NJ

,

Dec 12, 2019
Verified Reviewer

I bought my first pair of boots ever, The Duke Pecan Ostrich. The Tecovas site said buy the same size as a pair of quality dress shoes. I chose my natural size of 9.5. They were too big due to too much heel lift. I returned them for a size 9 with the included return label. I put the boots on, they were snug across the top of the foot with nice toe room and a little heel lift. All the websites say that is a proper boot fit. I conditioned them as suggested and wore them for two hours. I was amazed of the comfort as they are not even broken in yet! These boots feel like slippers. I am already saving for the Top line Alligator Boots. Great job Tecova. I will be a custom for life!

Bottom Line: Yes, I would recommend this to a friend

---

I ain't taking off my Johnny's!

By Uncle S.

,

Missouri

,

Dec 5, 2019
Verified Reviewer

Old Marine Grunt here. I've worn many boots in over 60 years of walking. Bad knees, busted up feet and a back I wish I could trade in. Wife ordered me the Johnny's Granite Suede when she noticed my favorite pair of Lamas sole was coming off.

I put them on and damn near wept. My feet feel like they're cuddled in butter. Perfect fit OUTTA DA' BOX on my 13 D flat as pancakes kickers! Clearing out the closet and making room for more Tecovas. Take a hike Tony! Done with you Dan! Naconas No Mo!

Tacovas, the boot company your feet will REJOICE IN.

Semper Fi and a Big Ooh Rah!

P.S. I would've paid DOUBLE for these!

Bottom Line: Yes, I would recommend this to a friend

---

Awesome boots from a GREAT company

By Danny D.

,

Pace, FL

,

Oct 9, 2019
Verified Reviewer

I first tried Ariat boots, too stiff. I then tried Cuero, uncomfortable. Then I got a pair of Tecovas. First pair was too tight. Contacted customer support for a recommendation, they recommended I do the online return/replacement. Before I was able to return the first pair they had already shipped the replacements. New boots arrived and they're PERFECT. I love how soft the calf leather is, they're super comfortable. I recommend them not only for the fit, but because their customer service folks are tops.

Bottom Line: Yes, I would recommend this to a friend

---

Broke-in out of the box

By Jim H.

,

Sonoma, CA

,

Sep 6, 2019
Verified Reviewer

Most comfortable boots I have ever owned right out of the box from day one.

FIrst pair. Calf hide cowboy boot. Out of the box California to Boston to Maine. Most comfortable boot ever, no break-in. Like a pair I have worn for years.

Two pairs of suede now, same same. Out of the box comfort.

Bottom Line: Yes, I would recommend this to a friend

---

Outstanding!

By Tim B.

,

Georgia

,

Aug 13, 2019
Verified Reviewer

First I'll say the customer service is second to none! The boot quality also is fantastic. I don't leave many reviews because you expect companies to provide good products and good service and shouldn't be surprised when they do but this outfit is simply outstanding. Well done Tecovas!

Bottom Line: Yes, I would recommend this to a friend

---

You get what you pay for

By Lee N.

,

Texas

,

Jun 25, 2019
Verified Reviewer

I wear boots every day. I bought a pair of the lizard and they look nice, but are the least comfortable boots I have ever purchased. The heel is too loose with my foot in the boot, but they are extremely hard to get off your foot. Their return policy is a joke. Only "un-worn" boots can be returned? "No scratches on the bottom"? Unless I walk across the floor, how do I know? I should have read their BS policy before purchasing, I got scammed! Lesson learned! Never again will I buy boots from a no-name. You get what you pay for! If anyone wants to try a pair of 10D's with 15 steps on them, look at the Goodwill in San Antonio! That's where mine are going!

Bottom Line: No, I would not recommend this to a friend

---

Great customer service

By Tom B.

,

San Antonio, TX

,

Jun 20, 2019
Verified Reviewer

I have purchased several pairs of boots and belts from Tecovas and must say the quality and fit are outstanding! But I am writing to express my pleasure at the customer service I received. A pull on a pair of boots I bought broke. I sent an email to the company to find out where to send them for repair. Within 24 hours I received a phone call from Tecovas explaining that this should have never happened, that they stand behind their products and that they were sending me a brand new pair of boots - and I could keep the ones with the broken pull.

WOW, now that is Customer Service - a rare find in today's business world! THANK YOU so much for your Texas Hospitality Tecovas!

Bottom Line: Yes, I would recommend this to a friend

---