JustFab Reviews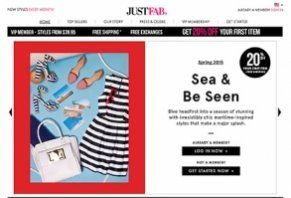 JustFab claims to provide their customers with a personalized shoe shopping experience by enlisting the help of personalized stylists, using only a short quiz.
About JustFab
JustFab promises shoppers a wide variety of high-quality shoes and boots for the low price of $39.95 (or in the case of their current site-wide sale, two pairs for $39.95).
Shoes aren't enough to satisfy your shopping needs? JustFab also offers additional categories to complete your shopping experience, including accessories, jewelry, and denim.
JustFab's parent company, JustFab Inc., also operates ShoeDazzle.com, FabKids.com, and Fabletics.com. The company saw a boom in internet appreciation throughout the past year for their apparently sweet deals on some pretty awesome shoes. They currently service millions of users and have attracted a whopping $149 million in backing!
Sounds pretty appealing, right? Except, a little over a year into their business, the online mood towards JustFab is starting to change. We'll talk more about this in a moment, but let's first take a look ar what JustFab offers.
First, What JustFab Offers:
Visiting JustFab.com, you'll notice the site is designed to look very similar to Zappos, Shoebuy, or any other online retailer. The immediate difference is that, unlike traditional retailers who offer different products at different prices, all shoes, handbags, and denim products sold through JustFab are priced at $39.95 across the board (jewelry products are priced individually).
When you find a style that you like, (I was exploring shoes, but the process appears consistent across categories), prospective buyers are shown all the normal information: available color and sizing options, materials and details, and a fit survey. User reviews of the items are also available, and seem consistently positive.
However, shoppers will find that the pricing is unique. Items are given two prices: the "VIP price", which was $39.95, as are all the items (save jewelry) on their site. There is also a "regular price" listed at $49.00 — an entire .05 cents difference — that has been crossed out, forcing customers to purchase products at the VIP price.
In Short, You Must Sign-Up For VIP Membership to Purchase
To do so, users can register with Facebook or their email address. Signing up for VIP membership also requires a few extra steps:
Take a short style quiz so that the site can make personalized recommendations for you
Search through the selected items, favorites or their entire stock
Purchase any item at the VIP price of $39.95
There are additional "perks" to becoming a JustFab VIP, which include:
Receiving notice of a selected personal boutique to shop from on the 1st of each month
Saving 50% off your first purchase
Receiving free shipping on all orders over $39
Receiving free exchanges
The ability to purchase any item in your personalized boutique for only $39.95, up to the 5th of each month
"Skip" any month that you don't want to make a purchase by clicking "Skip the Month" by the 5th
Is JustFab a Subscription Service?
According to JustFab's How it Works page, "If you are not ready to make a purchase, simply click Skip the Month in your boutique by the 5th and you will not be charged."
That's right! JustFab is a cleverly disguised subscription service, and the online store forces customers to sign up for their VIP membership to purchase any of their products.
Once you've signed up, your credit card will be charged $39.95 on the 5th of every month, unless you take the time to log into your account and notify JustFab that you want to skip purchases for that particular month (and you'll need to repeat this process monthly in order to avoid any charges.)
The fine print goes on to say that you are allowed to skip as many months as you would like without penalties, so I guess that's nice of them.
However, VIP members who have simply forgotten to go in and "skip the month" and incurred the $39.95 charge are credited for one JustFab item, which members are allowed to redeem at any time in the future.
Finally, JustFab states that you are allowed to cancel your membership at any time. Just be aware that doing so must occur before the 5th of each month or you will incur charges. While it's not explicitly stated, I assume that cancelling your membership eliminates your option to redeem any JustFab credits.
What JustFab Customers Think
It's pretty hard to find happy reviews of JustFab, even beyond the sneaky subscription charges. Here is a direct quote from blogger Literally Darling, who writes an extensive review of her JustFab experience:
"Cardboard is more comfortable. The boots were simultaneously too big and too small. They actually hurt just to wear around in the apartment. Oh well, I thought. Back they go. Thus, I began my journey down the black hole that is JustFab.com. All promotional purchases are final sale. This includes the initial $19.95 pair. I began to look through the site and I realized that a lot of the merchandise is actually coded as promotional. Not even eligible for site credit, just final sale."
Several months later, the reviewer at Literally Darling attempted to use accumulated credits to purchase another pair of boots. However, the order did not go through due to "problems with JustFab's site."
Frustrated, she then decided to forgo the purchase and logged into her JustFab account to check the status of her credits… which weren't there (despite the cancelled order). Her customer service experience with JustFab speaks volumes: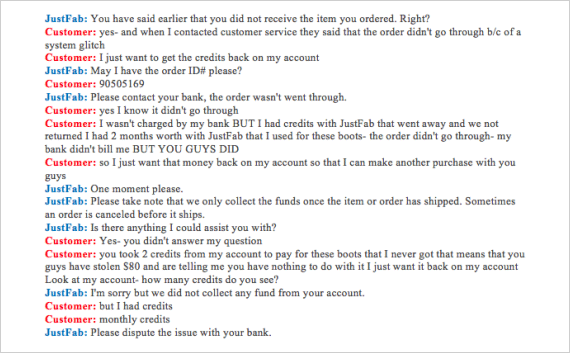 And Literally Darling isn't alone. JustFab's hidden charges and poor service upset so many people, that a contributor at Gawker wrote about her experience with the shoe retailer, titling the article "The Biggest Scam in Online Fashion."
To summarize why JustFab customers are saying the site is not so fabulous:
Shoes are reported as being poor quality and uncomfortable
Misleading membership information signs you up for autoship (and charges)
The majority of shoes available are promotionally priced and non-returnable
Honest reviews of the shoes are not being posted
Members must actually reach a customer service representative to cancel and avoid repeated charges
Final Thoughts on JustFab
Having not purchased their shoes, I can't speak to the quality of products buyers receive. That being said, JustFab has garnered enough negative reviews to convince me not to try!
If you're interested in buying shoes online, Zappos.com is known for it's fantastic service and free shipping, as well as offering buyers a straightforward price that doesn't include any surprise charges, memberships or hidden fees.
Fraud and theft

By Xiaomin Z.

,

Las Vegas, NV

,

Jan 26, 2020
Verified Reviewer

My wife bought a pair of shoes for my child on their website last year due to negligence, and then the trouble came. My wife became a VIP member of this website without being informed. Don't think this VIP will bring you any benefits. From then on, this website will steal $80 from your credit card every month, and it is almost impossible for you to cancel this VIP membership. The website always calls a robot reply, and the website is also a robot, you can't cancel it at all. I had to ask the bank to cancel my credit card account. This is theft and fraud, and I am ready to report it to the FBI. Please never buy products on this website, please those who have the same experience, everyone to report the fraud and theft of this website to the FBI.

Bottom Line: No, I would not recommend this to a friend

---

3 out 3 people found this review helpful

Can't process my order

By Diana V. S.

,

Vancouver, British Columbia, Canada

,

Sep 9, 2019
Verified Reviewer

I tried to buy some shoes with the credit I have and extra money from my VISA, but it keeps saying that the address in my bank doesn't match with my billing address. I called the bank and they tell me it is a problem with JustFab because it is the same address on my account. I chat with someone called Daniel in client services and he tells me that the problem is the bank...I explained I already talked to the bank and the problem is not them and he tells me there's nothing he can do.

Anyways, now I can't use the credit I have with JustFab and I'm going to lose $39.95 USD, which maybe is not a lot, but I feel like I'm being robbed and JustFab simply doesn't care.

Bottom Line: No, I would not recommend this to a friend

---

Advertisement

---

3 out 3 people found this review helpful

Total rip-off!

By Ellie P.

,

Fort Wayne, IN

,

Aug 12, 2019
Verified Reviewer

(1) You have to opt-out of current month's selection NO LATER THAN THE 5th day of the month.

(2) They send no reminder.

(3) You can't even attempt to opt-out until the 1st of the month so you have only 5 days to do so.

(4) If you don't opt-out, you are AUTOMATICALLY CHARGED $39.95!

(5) Opting out is no easy business on their app. (Personally, I think they designed it that way so you get charged the $39.95.)

(6) If you cancel your subscription, you lose all your credits including those for returns of their...

(7) ...poorly made, ill-fitting shoes!

Man...can you tell I just detest JustFab?

Bottom Line: No, I would not recommend this to a friend

---

2 out 2 people found this review helpful

Shady

By Tricia M.

,

Ontario, Canada

,

Jul 23, 2019
Verified Reviewer

Just be aware that they will charge you monthly regardless of purchase for low-quality shoes. Not only not worth the price but also dishonest in their representation, customer service advised me to "always read the fine print ma'am," not very trustworthy. They were ignorant and apathetic when I called customer service, like I was bothering them, but from what I've read online they must be super busy with complaints.

Bottom Line: No, I would not recommend this to a friend

---

Advertisement

---

4 out 4 people found this review helpful

Complete and utter scam.

By Aelin A.

,

New York

,

Jul 23, 2019
Verified Reviewer

JustFab is hands down the absolute worst place I have ever purchased from. I bought one pair of heels for my prom. Not only were they overpriced, which is why I sprung for the VIP membership, but they were terrible quality. They were scratchy and uncomfortable and started to break during prom night. Setting aside the fact that their product is terrible, the company is a complete and total sham. they stole money out of my account without and former warning. When you sign up you "agree" to a $40 monthly charge if you don't buy anything. There are no refunds. It's incredibly difficult to cancel your account, and it's near impossible to talk to a real person about this issue. I (and I can not stress this enough) hate JustFab. It was the worst experience I've ever had with a company. 10/10 would NOT recommend. Please don't waste your time and money on this horse manure.

Bottom Line: No, I would not recommend this to a friend

---

2 out 5 people found this review helpful

My experience

By Karla B.

,

Nevada

,

Jun 7, 2019
Verified Reviewer

I have had experience with JustFab/ShoeDazzle for several years. And I've not had any billing/shipping issues with them. On the occasion that I've forgotten to skip the month, they have always reversed the charge. If the shoes don't fit, they paid for return shipping. So I'm sorry for anyone else's bad experience, but it's not always the case.

Bottom Line: Yes, I would recommend this to a friend

---

2 out 2 people found this review helpful

Don't waste your time, money, or sanity!

By Brenda A.

,

California

,

May 10, 2019
Verified Reviewer

I have ordered from JustFab once, and once was enough. I ordered two pairs of shoes and two pairs of pants. When they arrived I was sad because NOTHING was true to size. I am a size 6 in shoes - one pair came in too big the other too small. I am a large or size 30 in jeans, both pairs were WAY too big. I decided to exchange everything for sizes that would fit. One pair of shoes in a 5.5, the other in a 7, the pants in a Medium or 28. I sent everything back right away.

Two weeks past and I had yet to hear ANYTHING! I reached out to JustFab and they tell me it hasn't been processed yet, while online my account states they have already received it. I get transferred to a supervisor, Billy, who immediately processes my order, says all my items are still available, but they cannot expedite the delivery because it's "out of their hands", fine, I settle to receive my items in two weeks. He promised expedited shipping on my next order. The very next day I get an email saying the pair of shoes I was most excited about are no longer available. Now I'm fuming!

I contact their support team again and get transferred three times before finally reaching someone willing to help, his name was Ryan. He says my return was never received and my order is not processed and I can choose a different item to replace the shoes that are no longer available. I don't know if the exchanges will even be in the right size or if I can get my money back.

This entire situation has been beyond frustrating! DO NOT BUY FROM JustFab! Save your money, time, and sanity! Go to your local swap meet. Sizes, prices, and customer service will be way better than anything you'll receive from JUSTFAB.

Then later, they canceled my account without my request! Now I don't know if I'll ever receive a refund or any of the items I ordered, I am positive I have lost all the points I had accumulated and discounts promised. Time to call customer service YET AGAIN! This is a never-ending NIGHTMARE!

Bottom Line: No, I would not recommend this to a friend

---

2 out 2 people found this review helpful

Terrible customer service

By Taylor S.

,

Salem, OR

,

Mar 15, 2019
Verified Reviewer

Very rude, and didn't answer questions about being reimbursed. The product was not good either. I ordered a white sweater and was very disappointed. I felt like I was wearing a potato sack.

Bottom Line: No, I would not recommend this to a friend

---

2 out 3 people found this review helpful

Don't buy anything from JustFab, rip-off!

By Lisa J.

,

Georgia

,

Mar 15, 2019
Verified Reviewer

I wish I could put -0 instead of 1 star because this company is pure cow crap! The clothing is a different material than it looks on the website, plus you have to pay for a refund. They automatically take money out your account every month, as if WHO BUYS SHOES OR CLOTHING every month. They don't like to cancel your membership, they are just despicable and disgusting as a company because they don't want to hear anything you say and just talk all over you. RUDE as heck! Get a bigger size because your size isn't going to fit- I wonder who are really in these reviews (customers). Yeah right!

Bottom Line: No, I would not recommend this to a friend

---

2 out 10 people found this review helpful

My opinion of JustFab

By Emily O.

,

Ontario, Canada

,

Mar 8, 2019
Verified Reviewer

To all those who are curious as to the legitimacy and general business practices of JustFab.ca, this is my detailed, honest and unbiased opinion.

My name is Emily,

I have been using JustFab since the first year they started advertising on TV in Canada, which if I'm not mistaken wasn't long after the company's Canadian launch.

I'll start from the beginning with my first experience purchasing from JustFab.ca in May 2015.

The first pair of shoes I ordered 4-inch high black stiletto boots. The first day I wore them the heel broke. To be honest, they weren't my style anyway, and I was wasn't wearing them for their intended use of being a fashionable pair of boots to wear on a night out.

I wore them to work. I was a manager at the largest sports bar in North America and during my 9-hour shifts - according to my pedometer - would walk anywhere between 6km on the average Monday Lunch shift to a staggering 22km on any given NHL, NBA, or MLB Home Game.

I was bummed, but they were also $40, and if I had worn them out to dinner or for a girls night out I'm sure it wouldn't have happened.

I gave JustFab another chance, and since female managers were required to wear heels, I decided to go with a more practical option. 2.5" - 3" close-toed heels that didn't have a wall along the side of the middle inner arch. There was padding for the heels and balls of your feet. And there were 1" pieces of elastic/fabric stretched across the top of the inner heel backing that filled that little space between your Achilles heel and the shoe, this elastic piece completely prevented my Achilles Heel from sliding around and/or EVER touching the back of my shoe. I had never seen it on a pair of shoes before.

I bought the exact same pair in a different color and wore them 5 days a week, walked an average of 75km a week in them for almost two years, and NEVER ONCE got a blister or broke a heel.

I have been in love with JustFab ever since. Really fast shipping and the shoes have either met or most frequently exceed any and all quality expectations for a $40 pair of shoes.

The clothes are great quality for the price. They had a clothing item called "3/4 length sleeve printed wrap dress" with multiple designs. I bought 6 different designs and wore them to work more than anything else in my wardrobe.

This is where my ONLY TRUE piece of constructive criticism for JustFab comes in to play...

I had at least 2 people per day ask me where I got these dresses. I told EVERYONE about JustFab. And pretty soon all my dresses were sold out. They have had so many new patterns of that exact up and I get SO EXCITED but my size (XS - SM) is ALWAYS SOLD OUT.

I have put my name on the lists for auto-purchasing should the dress(es) ever come back in stock but they NEVER do. Which really sucks because clearly they have sold out in all 20 designs so their customers clearly love them.

PLEASE BRING THEM BACK.

Unfortunately, this has become a trend with clothes in my size.

From a business standpoint, selling out of something is never a bad problem to have, but it sucks for us JustFab Die-Hards who shop in the SX/SM category. There have been times where over 10 times in a row I've instantly fallen in love with something and excitedly clicked on it only to find that my size is sold out, clicked on "back to shopping" and prayed that the next thing I pick will be available in my size.

JustFab is officially the ONLY place that sells jeans that truly fit me properly and give me confidence but the small sizes are often sold out.

Aside from wishing they would restock on the pieces that are obvious must-haves and instantly sold-outs, I have nothing negative to say.

And this is the first review I have ever posted about them. I saw the low rating and got upset because JustFab deserved to be RECOGNIZED AND APPRECIATED for their AWESOMENESS.

I hope they do see this review because I truly believe that if they do, they will take my reviews and opinions into consideration because it's obvious that they do care about the happiness of their customers.

FOR EXAMPLE...

Take a look at their Denim Catalogue and their thoughtfulness towards girls who have more curves and girls who struggle finding the Demin to compliment unique figures (such as myself). I'm a size SX/SM in the waist but I've got some love handles, thicker thighs, and some definite junk in the trunk.

JustFab provided me with the ability to wear jeans for the first time in 5 YEARS. I've worn tights, dresses, and yoga pants for 5 years. I bought my first pair of JustFab jeans 4 months ago and I've purchased a total of SIX PAIRS since then.

This may just be my opinion, but from what I can see, yes, they care about their customers' happiness with their products, but they ALSO care about making products that inspire their customers to be happy with themselves.

I got a new sense of self confidence for a price I can actually afford. I know my review may sound corny but I buy 90% of my clothes from JustFab so I'm just being 100% honest. (Plus this is literally and officially the first online review I have ever written/posted in my entire life, so I wanted it to count as I'll probably never do it again.)

To sum it up:

• Fabulous clothes.

• Fabulous shoes.

• Fantastic prices.

• Large selection for girls in all shapes and sizes.

• Fast delivery.

• Customer appreciation.

• Loyalty rewards.

Thanks JustFab!

Much love.

P.S. Slightly harsh but definitely true foot notes:

To the haters who flipped out over the monthly membership payment and wrote their negative review without actually giving the JustFab membership program a fair try...

I dont mind being billed $40 a month if I forget to SKIP THE MONTH which they DO GIVE YOU the option to do, accompanied by email REMINDERS and more than enough time to do so!

When I forget to skip, it's like getting a surprise gift from myself, lol.

Set a recurring monthly alarm if you can't remember to skip the month, or deactivate your account. Don't blame JustFab for your own negligence in reading a company's fully available policies before filling in your credit card number and clicking the little box that says "I agree to the Terms."

If you aren't fully confident in your knowledge and understanding of how to navigate through a company's website to their policies and procedures for online purchases, then it might be best to use a pre-paid credit/gift card when placing orders online.

Bottom Line: Yes, I would recommend this to a friend

---

5 out 6 people found this review helpful

Don't buy from them

By Juliana P.

,

Monroe, CT

,

Feb 16, 2019
Verified Reviewer

So today I noticed that I was charged $40 on my PayPal account but I didn't know why and so as anyone would've thought, "maybe someone used my account." So I called and this computer lady told me that I got charged for not using JustFab, and because I didn't call to tell them not to. I was then put on hold for over 10 minutes. When I finally got off hold, I told this lady that I wanted the money back and that I wanted to cancel my account. She wouldn't allow that to happen so she kept saying, "I'll do you something better, I'll give you the refund but WON'T cancel your account because you're a VIP member," and that if I really wanted to cancel my account then I would have to wait another month and go through the process again. I wasn't going to so I asked if they could just cancel my account and not give me the refund, (because I can talk to the bank) and she said that she wouldn't and that she will do the opposite.

If the same thing happens to you and you're using PayPal, go to PayPal Activity, click on the transaction and click "cancel" and your card will be removed from JustFab and they wwon'tbe able to charge it anymore.

Bottom Line: No, I would not recommend this to a friend

---