TBdress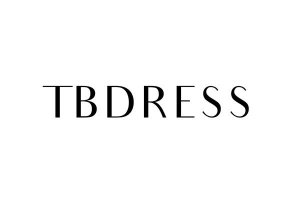 TBDress promises to provide you with classy clothing at affordable prices that are perfect for everything from your next workout to formal events.
TBdress Review: What You Should Know
Do you crave the wardrobe of a runway model but lack the budget to buy one? TBDress promises to make it possible to own gorgeous evening gowns for a fraction of the cost.
TBDress is an online shopping platform that specializes in women's fashion, specifically formalwear. The company claims to have more than 10 million product listings from its dedicated factory, and it sells apparel items at wholesale prices to shoppers in more than 230 countries.
This website offers steep discounts compared to other retailers with its direct-to-consumer model, but are the clothes good enough quality to justify the cost savings? Read our analysis here to determine if it's worth the risk to shop at TBDress.
Pros:
Cons:

Some shoppers scored great deals

Slow shipping time
Refund policy not always honored
Unpredictable quality
Not true to size
Average Cost for TBDress Apparel
The cost per item on TBDress varies considerably, but most are significantly lower than what you'd expect from other retailers. Wedding dresses are priced between $150–$300 each, while Wedding Wire states that the average cost in the US for a wedding dress is about $1,000.
Other formal dresses cost between $9.99 and $50. Most shirts, pants, bathing suits, athletic clothes, and other casual wear items are priced between $20–$35.
Also sold are a variety of men's shirts and outerwear, priced between $20 to $150. Some products have reviews included with the listing, but most do not.
The site also sells shoes (priced between $30–$150), bags ($10–$100), wigs and extensions ($55–$225), and other accessories like jewelry, hats, scarves, watches, sunglasses and more. All items are sold under the TBDress brand without additional labeling.
What's responsible for this lower pricing? The company isn't overly transparent about where it sources its clothing, but the evidence online points to China. Similar to a site like Wish.com, TBDress seemingly works directly with factories to sell products directly, which cuts out the middleman and keeps costs low.
But as with Wish, this means that many of the items offered by TBDress are knockoffs of popular brands. This means you are paying for your low-cost purchase in other ways, including unpredictable quality and potentially slow shipping times.
TBDress VIP Program
It's possible to join the TBDress VIP Program for extra saving and exclusive discounts. At present, there are three levels of membership available, determined by the amount you spend:
| | Bronze | Silver | Gold |
| --- | --- | --- | --- |
| Cumulative Amount | $0.01–$300 | $300–$2,000 | $2,000+ |
| Discount | 1% off all orders | 3% off all orders | 6% off all orders |
| Other Benefits | Monthly $5 VIP coupon | Monthly $10 VIP coupon | Monthly $20 VIP coupon, expedited shipping, 30 calendar days for returns |
Every purchase qualifies for the VIP program, and the company will upgrade your membership based on your total spending history. You will be informed by email when you have a membership upgrade.
To stay in the program, you need to make a minimum of one purchase a year. Your membership level will be downgraded down to the next closest level if you don't.
Return Policy
According to the company's return policy, you can request an exchange or refund for any item you aren't happy with within 30 days of receipt (wedding dresses, special occasion dresses, and wigs must be returned in 7 days).
You will need to return your purchase in like-new condition, and returns for the same item in multiple sizes or colors are subject to a 50% restocking fee. You should receive your refund within a few days of the successful return.
Analysis of Customer Reviews
After more than 200 reviews, TBDress is rated 1.7-stars here on HighYa, with just 18% of reviewers saying that they would recommend the brand to a friend. Trustpilot reviews have a similar sentiment, as they rated the company at 1.5-stars. Here's our assessment on what they said.
Dresses Didn't Look Like Pictures
A large number of customers weren't happy with how their dresses looked. Some wrote that they were the wrong size, made from a different material than pictured, or not the expected color.
In some cases, the outfit listing didn't show clear pictures from every angle, and shoppers were surprised what the clothes looked like from the back.
Some Shoppers Satisfied
Despite the overwhelmingly negative responses, some TBDress shoppers had only good things to say about the brand. They shared that the company came through on affordable dresses for special occasions and that they planned to be repeat customers for the longterm.
Long Delivery Times
One common complaint with TBDress is slow delivery times. Many users waited a month or more before receiving their order, and some stated that it never arrived at all.
Difficulty with Refunds
For the many customers left unsatisfied with their purchase, getting a refund was another complication. Some people wrote that the company refused to refund their full purchase and instead offered store credit or a lesser amount.
Many of these customers shared that they only got their money back after filing a fraudulent charge case with their credit card company.
Low Quality/ Knockoff Pieces
Dozens of TBDress customers report they are unhappy with how their clothes ended up looking. In a lot of cases, these reviewers wrote that the clothes they received were inferior and possibly knockoffs to what was advertised on the website.
Cheaper fabrics, unfinished hems, bad fits, and overly simple embellishments (if any) were common complaints.
Key Takeaways
Despite the gorgeous pictures online, most TBDress shoppers were left less than satisfied with their purchase. Expect that your clothes might look worse than in the promo pictures and that they might take a month or longer to arrive.
The Bottom Line
TBDress promises to save you money on gorgeous dresses, but this company might waste your time instead. A clear majority of customers are left unhappy with their orders, both because they take forever to arrive and because the quality was far below what they were expecting.
For this reason, we think TBDress might make sense for shoppers willing to take a gamble, but not for those seeking an outfit for a once in a lifetime occasion.
It might be worth risking a loss for a $20 cocktail dress, but we caution you against buying wedding dresses or other formal, time-sensitive attire from the site.
You might waste money, time, and emotional energy waiting for delayed delivery and then attempting to return an item that didn't match your vision.
---
Stay away, horrible customer service, scam.

By Caitlin M.

,

Los Angeles, CA

,

Nov 21, 2020
Verified Reviewer

Length of Use: Less than 3 months

Overall Experience:

Stay away from this site! This is hands down the worst e-commerce experience of my life. I ordered an ivory wedding dress from TBdress. The dress that arrived was blinding white and incredibly poorly made. The material was stiff and cheap-looking. Since we're currently in a global pandemic, I am forced to do all of my wedding dress shopping online. I have checked the return policy for every dress I've purchased. This was the most expensive dress I bought (seemed worth it because the photos were stunning). However when it arrived, I was horrified - the quality, workmanship, color difference, etc...yikes. When I reached out to initiate a return, they informed me that I would have to eat the shipping cost ($33) regardless. Also, since they make each dress to order (?!) the most they could refund me was only 1/3 of the original amount I paid. Keep in mind - their refunds page has absolutely NO mention of this. I have been back and forth with them for some time now and I am truly infuriated. For a company that must spend an obscene amount of money on targeted advertisements, they could not care less about customer service.

Pros and Cons:

No "pros" were specified in this review
Quality
Customer service
Lack of transparency

Bottom Line: No, I would not recommend this to a friend

---

Terrible quality

By Ina A.

,

Texas

,

Jun 10, 2020
Verified Reviewer

Length of Use: Less than 3 months

Overall Experience:

Not only did it take 2 months to arrive, but the quality is so cheap, it's terrible. Wouldn't wear it out of the closet! Poor.

Pros and Cons:

No "pros" were specified in this review
Terrible quality

Bottom Line: No, I would not recommend this to a friend

---

Advertisement

---

Terrible customer service

By Karen T.

,

Florida

,

May 20, 2020
Verified Reviewer

Overall Experience:

I ordered two items in November. To date, I have not received the ordered items. The company insists a delivery was made, but they don't understand that the merchandise that was delivered on that date was for a back-ordered item that they finally made good on. They insisted a partial refund was made to the method of payment, I have no history of the refund. This company is terrible, does not make good on any commitment to satisfy its customers.

Bottom Line: No, I would not recommend this to a friend

---

No customer service/return

By Judith B.

,

Virginia

,

May 15, 2020
Verified Reviewer

Overall Experience:

Took forever to receive ordered item. Couldn't believe how terrible it looked. Poor quality. Now trying to return. Emailed. Message. No response. The number, I don't know what customer service number that is, 862968532816. Picture looks nothing like item. Very disappointed! First time ordering!

Bottom Line: No, I would not recommend this to a friend

---

Advertisement

---

BEWARE!

By Tameka S.

,

Tulsa, OK

,

May 8, 2020
Verified Reviewer

Overall Experience:

I recently bought my wedding dress from this company. I heard mixed reviews and decided I would take the chance. I sent them my measurements in inches and confirmed them. Three weeks later my dress arrived. It was supposed to be a ball gown. I tried it on and it didn't fit! The sleeves were too small at the top and too wide at the bottom. The skirt was NOT a ball gown, so I cannot wear a petticoat with it to make it poofy like the picture. The dress couldn't even zip up because they made it too small in the torso. I sent them a message to resolve this and they said since it was customized, there's no they will do. Even though THEY made it wrong. They said I sent them the wrong measurements. I double-checked my measurements and they were the exact ones I sent them. They offered $28 as compensation. No! What am I supposed to do about a dress now? My budget for a dress has been spent with them. I'm without a dress, because this one can't be altered...don't buy from them!

Bottom Line: No, I would not recommend this to a friend

---

No merchandise, no refund

By Hellena J.

,

Raleigh, NC

,

May 7, 2020
Verified Reviewer

Overall Experience:

I ordered a top on March 1st. Did not receive merchandise. Requested refund on March 31st. This company has yet to refund my money despite several emails sent. At first they offered toilet paper and mask instead since I declined.

Bottom Line: No, I would not recommend this to a friend

---

Complaint

By Tawana M.

,

New York, NY

,

Mar 24, 2020
Verified Reviewer

Overall Experience:

I placed several orders, one on Feb 22nd and one on March 1st, I haven't received either. When I tried checking the order numbers, it says my order number and email don't exsist. Please look into this situation.

Thank you.

Bottom Line: No, I would not recommend this to a friend

---

Complaint

By Leroy H.

,

Illinois

,

Feb 6, 2020
Verified Reviewer

Overall Experience:

This is a sham, scam, or whatever you want to call it. They take your money and you get no product. No one responds to messages or emails. The phone number is a recording. I've ordered my bank to put in an investigation to receive a refund.

Bottom Line: No, I would not recommend this to a friend

---

No reply

By Terrilyn B.

,

Michigan

,

Jan 28, 2020
Verified Reviewer

Overall Experience:

I ordered a shirt for my son, for his birthday. It still hasn't arrived. I tried to contact customer service, but to no avail.

This company is very willing to take your money, but are unwilling to produce a product, unwilling to give you a date of arrival, and unwilling to communicate their intent.

Never again will I order from this company or any other company like this.

If they do deliver, I hope they won't do a bait and switch.

Bottom Line: No, I would not recommend this to a friend

---

Such a DISAPPOINTMENT!

By Jessica A.

,

Louisiana

,

Jan 11, 2020
Verified Reviewer

Overall Experience:

I ordered 2 dresses. Both $142 and change. It was meant to be my wedding dress. I received the dresses within a month this time which is ridiculous! The dresses in the pictures did not look like what was sent to me. Followed the chart sizes and yet didn't fit. Plus, I didn't like how they looked. So I tried reaching out to them. A few days later they finally replied saying it was past 7 days to be able to return and if I sent both dresses back a deduction of shipment would be made off my own refund money and only offer me $60. Also told me "It seems not a good idea to return them". Don't ever buy from them! SCAM ALERT.

Bottom Line: No, I would not recommend this to a friend

---

Terrible customer service/communication

By Shivon B.

,

Rochester, NY

,

Dec 30, 2019
Verified Reviewer

Overall Experience:

I do not recommend this company. They have terrible customer service. Also, it should not take 2 months for an order. They purposely delay your order to make you pay more money. They like to rip-off and take advantage of customers from the United States. They are TERRIBLE.

Bottom Line: No, I would not recommend this to a friend

---