Zwift Reviews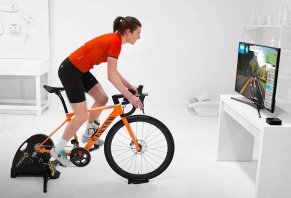 Summary
Zwift's software and smart trainer connectivity (with built-in sensors) claim to provide an immersive indoor cycling experience, whether you're riding for leisure or competition.
What Is Zwift?
By pairing your bike with indoor gear, Zwift is an at-home training game that allows cyclists to ride over 100km of virtual roads across three worlds, using structured workouts designed by the world's best coaches.
Together, the company advertises you'll not only experience a smooth and realistic ride whenever you want, but that you'll also experience serious fun, whether you're training solo or connecting with thousands of other users in real time.
In this article, we'll take a look at the Zwift system itself, its pricing, what customers are talking about (including in-depth feedback from an avid user), as well as their potential competitors, so you can explore whether or not it's right for you, before committing to an investment.
Taking a Closer Look at How Zwift Works
According to the website, there are four basics components you need to start using Zwift:
A bike
A trainer or a set of rollers, an ANT+ or BLE power meter, and a cadence sensor
A computer (PC or Mac), a compatible iOS device (iPhone, iPad), or an AppleTV. For the most immersive experience, the manufacturer recommends connecting Zwift to a big TV.
A bridge or receiver to handle the ANT+/BLE signal
Pro tip: It's important to point out your trainer is perhaps the biggest single factor that will affect your overall experience with the game. 'Smart' trainers will provide the most immersive riding, since the data sent from Zwift will automatically adjust variables like resistance (such as riding up and down gradients, called ERG mode), and also include built-in power meters and speed sensors.
On the other hand, more traditional (or 'classic,' as the website calls them) trainers won't include automatic resistance or power meters, and you'll have to manually mount a speed sensor to your bike in order to receive related data.
After setting up your bike on a trainer, you'll need to download the game from Zwift.com, or the iOS app from the App Store. Then, you'll need to establish an account from the 'Create New User' screen and log in using the corresponding credentials.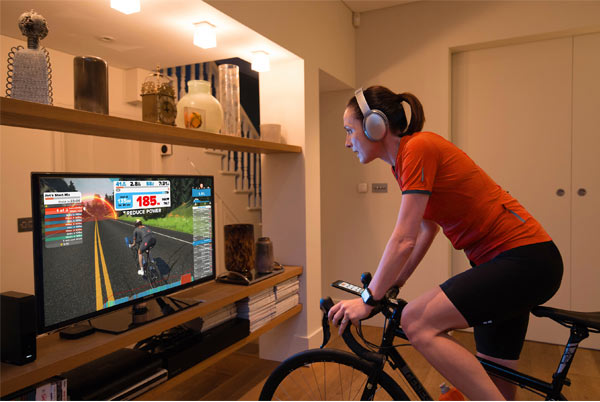 Using a bike, trainer, software, and a screen, the Zwift system promises to deliver a fun, immersive, and motivating indoor cycling experience. Credit: Zwift, Inc.
From there, you'll enter your personal measurements, so that the program will correctly calculate your wattage (if a power meter is attached) and will function properly. Finally, pair your devices (smart trainer, speed/cadence sensor, power meter).
Note: The website emphasizes that Zwift "takes all your physical measurements into account for features like leaderboards, speed, and how you're displayed in-game," so it's always a good idea to make sure your profile is up to date. This includes changing how your avatar's kit or bike looks via the Customization menu.
Once the game is up and running, the sensors on your trainer or bike will send data to your computer via the ANT+/BLE connection. Zwift then allows you to connect to the Internet and share your data with thousands of other Zwifters around the world.
Using the Zwift System: An Overview
Following this initial setup, you'll launch Zwift by double-clicking the icon on your desktop or tapping the app on your iOS device.
From there, you'll choose your ride and start turning your pedals across three virtual worlds, where you'll be able to "climb mountains, sprint down famous stretches of road, or ride inside a bubbling volcano:"
Watopia – 12 courses each, between 2.7 mi (4.3 km) and 44.9 mi (72.2 km), with between 67 ft (20.4 m) and 4,375 ft (1,333 m) of elevation gain.
London – 12 course each, between 3.3 mi (5.4 km) and 107.5 mi (173 km), with between 62 ft (19 m) and 8,189 ft (2,496 m) of elevation gain.
Richmond – 3 courses, between 3.1 mi (5.1 km) and 10.1 mi (16.3 km), with between 38 ft (11 m) and 467 ft (142 m) of elevation gain.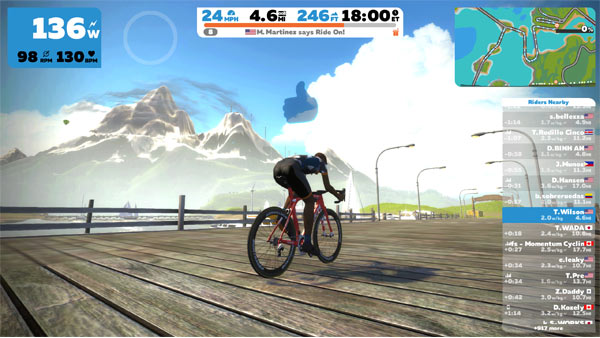 While riding through Zwift's different virtual worlds, you can track your data, interact with other riders, and see how your stats stack up. Credit: Zwift, Inc.
As you progress through these roads, you'll be able to follow other Zwifters and ride at the same time, while choosing from hundreds of rides; everything from easy, social rides to intensely competitive (but friendly) events "with real prizes on the line." You can also complete missions, some of which are only offered for a limited time and include an added perk for completing them, along with special events and challenges.
All of the data accumulated during your rides is saved as an industry standard .fit file, which means you can upload it to third-party programs like Strava, Training Peaks, Today's Plan, Map My Run/Ride, and Garmin Connect. In fact, we learned from Cycling Weekly below that there are many user-generated Strava segments directly within Zwift.
Zwift's Workout Mode & Training Plans
In addition to social rides and races, Zwift's workouts allow you to reach specific fitness goals (mileage or time), whether choosing one of their pre-made options, creating your own using the visual workout creator, or undergoing an FTP test.
The website advertises that their structured workouts are tailored to your fitness level, are easy to follow, can help take the guesswork out of training, whether by yourself or part of a scheduled group workout. And you can always upload someone else's custom .zwo file to your account if you want to use one of their pre-made workouts.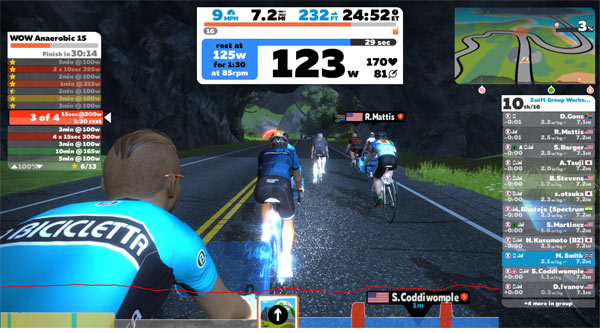 Riding and interacting with other users is a big part of the Zwift experience. Credit: Zwift, Inc.
Then, once you accumulate different workouts, you can sort them and put them together into training plans.
Pro tip: If you're a stickler about distance accuracy, Zwift's FAQ points out their system measures speed and distance based on "watts, course incline, your weight, and other factors - such as whether you're drafting."
Comparatively, traditional speed sensors measure this based on physical tire rotations, so "it's not unusual for your speed and distance in Zwift to differ from what you're seeing on bike computers. The two will rarely, if ever, match up."
Is There Anything Different About Zwift's App?
As mentioned earlier, other than through a PC, the only way to access Zwift's system is via their iOS and Android mobile apps. In other words, it's mandatory and involves everything we've discussed above.
However, we learned from their website that the app also doubles as a game controller once you start playing.
How Much Does Zwift Cost?
All new Zwift members can try the system through their free seven-day trial, which doesn't require payment information or any kind of agreement. If you choose to continue afterward, you can enjoy unlimited Zwifting across all supported platforms at any time for $14.99/mo.
Zwift also offers a few different bundles to help get you up and running faster:
Hammer Direct Drive Bundle – Includes the CycleOps Hammer smart trainer with a pre-installed cassette, spacers, disc brake lock, ANT+ dongle, and USB extension, as well as a one-year Zwift membership: $1,260

Magnus Wheel-On Bundle – Includes the Magnus trainer, ANT+ dongle, USB extension, and a one-year Zwift subscription for $630.

PowerCal Heart Rate Power Meter – Uses a strap-based design to approximate your power output: $39.99
If you'd like to try Zwift before committing, you can search for local dealers via their website.
All Zwift subscriptions can be canceled at any time, which will continue to provide you with access until the end of your payment cycle. Merchandise purchases come with a 14-day refund policy, less S&H charges, and must be new and unused in order to qualify.
Zwift's customer support team can be reached at 818-736-4897 or via the 'Support' section of their website.
What Can We Learn From Zwift Customer Reviews?
Across a variety of industry sites like BikeRadar, Cycling Weekly, and RoadBikeReview, most seemed to provide similarly positive feedback for the Zwift system, with compliments frequently referencing great graphics, the high level of interaction with other riders, its ease of setup and use across a variety of platforms and in multiple situations, the low subscription cost, and the motivation it provides.
On the other hand, common complaints related to high price (if you don't already own most of the equipment), as well as the limited course options. Also, if you're using a smart trainer to enjoy the immersive experience, this means you also can't ignore prescribed sections during workouts.
Between Google Play and iTunes, we encountered more than 1,500 customer reviews for Zwift's app, with a four-star cumulative rating and much of the same feedback.
Our Q&A Session With a Zwift User
To help provide you with some additional insight, we had the opportunity to interview a Zwift member who uses the system four to five times per week (250-400 miles per month).
Q: What do you primarily use Zwift for?
A: "Because the weather is less than ideal and the daylight hours are short this time of year, I mostly use Zwift in lieu of outdoor riding and to stay in shape during the winter. This spring and summer, I'll use it to squeeze in rides that I would otherwise miss due to weather or schedule.
Either way, I've found the ever-growing Zwift community is a great way to push myself on an indoor trainer.
Although I don't intend to "race," each ride has a certain amount of competition and challenge within it, whether I'm trying to achieve a personal record, or spend more time in the lead (pulling) rather than in the draft."
Q: What are your overall thoughts about Zwift's different modes, & how well they help you reach your goals?
A: "Both Ride and Training modes offer multiple settings for effort level and time, so it's always easy to get motivated to get on the trainer and put in some work, whether I'm doing a short ride in Training mode, or catching a longer group ride."
Q: What are some of your favorite aspects of Zwift?
A: Because I was drawn to Zwift's immersive aspect, I run my sessions through an Apple TV on a large flat screen directly in front of the bike. With this setup, between the different routes in different worlds, as well as the changes in weather and lighting, I get more variety at home than I could in the real world, given the same amount of time.
I also like that the system's real-time feedback about my applied effort keeps me honest while on the trainer, which is something I have struggled with while using other trainer platforms.
With that said, I still find that I work harder in the group rides than I do in a training activity."
Q: What about your least favorite aspect?
A: "Zwift is an online platform, so it's very sensitive to momentary connectivity issues. If your connection drops, though, Zwift allows you to rejoin the ride's main group once reconnected.
As a result, a fast and reliable Internet connection is mandatory for an optimal experience."
Q: If someone's on the fence about using their classic trainer or upgrading to a smart model, do you have any advice?
A: "Here's my experience: I was a bit late to the game, as I thought a smart trainer was mandatory in order to use Zwift and I didn't own one. Once I figured out this wasn't the case, I thought I would give it a try without a smart trainer, and I'm glad I did.
While I'm sure I'd enjoy the automated resistance changes, or vibration that some have while riding on cobblestones, I've enjoyed the rides on a classic trainer I already owned."
Q: Do you have any other equipment recommendations?
A: "Aside from a trainer, the only other must-have is a speed and cadence sensor. I'm using the Apple TV Zwift App and a Bluetooth speed and cadence combo by Wahoo.
It's well supported by Zwift, and I have not had any pairing issues. I understand that you can utilize ANT+ devices with a CPU by way of a USB cable, though I have not tried it."
Q: Bottom line: Would you recommend Zwift to others?
A: "I'm a big fan of Zwift and mention it to everyone I know who rides. There's something for everyone, no matter what their level of fitness. There's even a version for runners!
The only features I'd like to see the company implement is the ability to race my previous efforts, along with a virtual racer while in the training modes for real-time feedback.
To end, here are some fun facts I've learned along the way:
Calorie burn is converted to "Slices of Pizza" at the end of the session, and stored in your profile. It feels good to get off the bike on a Friday night and know that the first 3.5 slices you eat are free!

There are levels to work your way through and achievements to unlock along the way. This allows you to customize your avatar and bike. It's not necessary at all, but fun when you aren't riding.

Zwift has a built-in texting feature. Some groups utilize external systems like Discord to communicate with one another while riding. I'm on the west coast of the U.S. riding with people from all across the globe so that the conversations can be entertaining at times."
Zwift vs. The Competition
Let's take a brief side-by-side look at some of Zwift's most popular competitors:
Company
Price
Special Features
Zwift
$14.99/mo
Works w/smart trainers to automatically measure power, speed, cadence, etc.; training mode, customized workouts, unique courses
Peloton
Bike: $1,995;

Membership: $39/mo
Bike, trainer, and screen in one unit; live and on-demand training/spin classes
Bkool
Bike: Coming soon;

Trainers: $399 - $589;

Membership: $9.99/mo
3D and video training routes, custom fitness classes and workouts (including riding in a velodrome)
Rouvy
$8 - $12/mo
Works w/smart trainers to automatically measure power, speed, cadence, etc.; virtual routes, workouts, challenges, career mode
The Sufferfest
$10/mo
Connects to Bluetooth 4.0 and ANT+ devices (power meters, smart trainers (erg and standard modes), and heart rate monitors); automatically adjusts the power targets to match your unique profile and fitness level; Includes officially-licensed footage from races like the Tour de France, the Giro d'Italia, the World Championships, and the Spring Classics
Racermate Computrainer

Velotron bike: $4,095 - $6,245;

Software: $30-$50 per course;

Accessories: $24-$550
Only works with the Velotron trainer, which has a fully adjustable frame, precision load generation, and limitless coasting; variety of software options, including SpinScan, real course videos, 3D cycling, and power training
FulGaz
As low as $4.99/mo
Full HD video, adjusts video speed and resistance based on terrain, app is only for iPhones and iPads, syncs w/Strava and other cycling apps
Tacx
$147
Custom workouts (PC, Android, iOS), training programs, high-quality films, the ability to export data (including to Strava), can follow other riders
TrainerRoad
$12/mo; $99/yr
Structured interval training (11+ plans), live performance data, cross-platform functionality, entertainment integrations
As we can see, when it comes to finding the 'right' cycling training app, there seems to be an option available to meet just about every preference and need. In fact, based on our experience writing about 160+ fitness products, this is where you should begin—but keep in mind there's always some give-and-take.
For example, if your main goal is to pay as little as possible, FulGaz is the lowest priced option among Zwift's most popular competitors above. However, their app is only available on iPhone and iPad, so your viewing options might be limited.
On the other hand, if you want access to spin classes, Peloton is probably the way to go, but you'll have to be OK losing the virtual riding aspect. Zwift is perhaps the most immersive, but if you don't already own a smart trainer (which you'll need to get the most out of the software), it can represent a steep initial investment.
Speaking of which, CompuTrainer might be your go-to option if you're only interested in top-of-the-line equipment for high-level training, and don't mind paying the high-level price tag that comes along with it.
We've covered a lot of territory in this article, so let's wrap up and come to a final conclusion.
The Bottom Line
If your preferences indicate that you should focus on a training system with immersive 3D gameplay, real-time resistance and feedback from built-in sensors (when connected to a smart trainer), social interaction with other users, and customizable training programs and workouts, then it might be difficult to go wrong with Zwift.
But it's important to keep in mind that, whether you go with Zwift or one of their competitors, it seems the more immersive experience each one offers, the higher the price. In fact, if you don't already own a smart trainer, even a basic one can set you back $600+, to say nothing of related costs like a screen (TV, tablet, laptop, etc.), monthly subscriptions, mats, towels, water bottles, and other accessories.
But in the cycling world, if Zwift helps you have more fun and achieve your goals, then it could end up being worth its weight in gold.
Customer Reviews
Posted on Jan 24, 2019
Fully gamified training for the win!
Zwift is an absolute menace. I hadn't been on my bike for months and without even realizing I was working hard I ended up practically passing out on the bike two days in a row. Literally two of the harder workouts I have done in a year, and I didn't suffer one moment.
Fantastic workouts for people who struggle with will-power. Just focus on catching up to the rider in front of you, unlocking the next jersey or bike, or just leveling up and exploring the maps.
This is, by far, the best way for me (and maybe my generation) to train.
Keeping it real - the instructions for setup were very abstract and quite hard to follow. Pretty much the only thing I didn't like.
Bottom Line: Yes, I would recommend this to a friend
Our Promise to You
In order to safeguard you and ensure helpfulness and relevance, our compliance team manually assess every customer review before it goes live.
We have a zero-tolerance policy for fake reviews, and companies cannot control or alter any reviews at any time.