Slim Cycle Reviews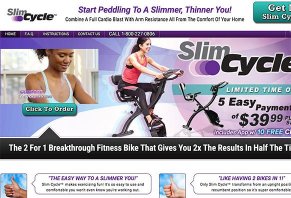 Using upper and lower body resistance, along with other must-have features, the Slim Cycle exercise bike claims you'll transform your body in half the time of the competition.
About Slim Cycle
Advertised as a two-in-one breakthrough that gives you twice the results in half the time, the Slim Cycle fitness bike make exercising fun by combining cardio with upper body strength training.
Additional features include the ability to transform from an upright position (for an intense workout) to a recumbent position (for a relaxed workout), eight levels of ultra-quiet magnetic resistance, and a large digital display that tracks calories, distance, and speed. You'll also be able to see your pulse using the heart rate monitor built directly into each of the handles.
These handles, along with its large opening, also make getting on and off the Slim Cycle easy, while the 2.5-inch thick memory foam seat—which is adjustable and can accommodate heights between 4' 11" and 6' 4"—and backrest provide comfortable support for those up to 300 pounds.
When you're finished, it folds up like an ironing board for easy storage, whether in the closet or under a bed.
These certainly sound like some useful features, but will you find that slimming down and losing weight is as easy as hopping on the Slim Cycle and starting pedaling? Will you be able to "sculpt and tone your body in as little as 10 minutes a day," as claimed on the website?
We gathered some facts you'll want to keep in mind during your research, starting with how biking could lead to better health.
The Health Benefits of Cycling
While there are arguably hundreds of potential benefits related to cycling, Harvard Health lists the top as:
Aerobic Workout – Otherwise known as cardiovascular exercise, this raises the heart rate and if performed regularly, can help burn extra calories and improve cardiovascular health, to name just a couple of benefits.
Muscle & Bone Building – Each time you turn those pedals, you use many different lower body muscles (including many above your waist as well, such as the abdominals, arms, and shoulders), which can help them—as well as the bones they're connected to—grow stronger and bigger.
Joint-Friendly – Despite these aerobic workout and muscle building capabilities, cycling is low-impact; that is, it's easy on the joints.
Everyday Benefits – Harvard Health reports these benefits can carry over into different aspects of everyday life as well, such as "balance, walking, standing, endurance, and stair climbing."
Another potential advantage is that you can accomplish these benefits whether outside on a traditional bike, or inside on stationary models like Slim Cycle (such as when the weather's not so great, or you just need a quick early morning spin session).
If you've already decided that a stationary version is the best option for you, how can you go about choosing the right manufacturer and model? First, let's quickly cover what you'll pay and who you'll pay it to.
How Much Does Slim Cycle Cost?
Slim Cycle is priced at $199.95 with free shipping.
Your purchase will automatically come with an app containing a library 10 free, on-demand virtual rides, some of which include instruction. During checkout, you can upgrade to a full year of unlimited access to these videos for an additional $5.
You can also upgrade to the Deluxe Slim Cycle version, which includes a water bottle and holder, a heavy-duty floor mat, a metallic gunmetal finish, a double padded seat, upgraded handle grips, and a two-year extended warranty for a total of $270.90.
This package comes with:
Slim Cycle 2-in1 Exercise Bike
Slim Away Belt
Water Bottle Holder
Comfort Padded Seat Cover
Protective Floor Mat
2 Year Extended Warranty
All orders come with a 30-day refund policy, less S&H charges, which you can request by calling customer support at 855-668-1655.
Note: After several calls to customer support, none of the representatives we spoke with could provide additional details about how long the app's videos are available without upgrading, the bike's weight, or warranty information. As such, we can't know how much you'll have to pay when shipping it back if you request a refund or process a warranty claim.
What Do We Know About Telebrands?
Telebrands has been in business since 1983, making them the longest-running As Seen on TV company in existence. They're also the largest company in the industry, with hundreds of releases to their name.
The company held a D+ rating with the Better Business Bureau, based on 315+ closed complaints, as of 2/26/18. Most of these referenced ordering and customer service issues, although a company representative responded in most instances.
Slim Cycle vs. the Competition: What Are Important Features In a Stationary Bike?
If you just started researching stationary bikes like Slim Cycle, it's possible to spend anywhere from less than $200 to well over $2,000, spanning all types of designs and features. Generally, though, you get what you pay for. Here are just a couple of examples of what this means in the real world:
Materials Quality – Often, the more you pay for an exercise bike, the better quality materials you'll receive, including aluminum construction, heavier-weight flywheels; wide, adjustable bases, and high-quality electronics (including the various sensors we'll discuss in a second).
Resistance – Magnetic resistance is the gold standard, which uses a flywheel and strong magnets to provide the widest variety. At the other end of the spectrum, fans might be more budget-friendly, but can be loud and not very customizable.
Tracking Features – These include the ability to monitor heart rate and mileage on budget models, to higher-end versions that can monitor power output, cadence, and actual calories burned.
Some models even offer live, interactive classes and leaderboards like Peloton, while some 'smart' trainers (devices that attach to real bikes) can even connect to games like Zwift, allowing you to experience automatic resistance, custom courses, and the ability to compete with other riders around the world.
Pro tip: We encountered very few models that also featured a 'rope system' for the upper body, as with Slim Cycle. However, we called customer support, who advised this resistance is not adjustable (in contrast to the pedaling resistance).
They also weren't able to provide additional details as to how wide the base is (regarding stability), what the on-demand videos involve, or what the specific difference is between the 10 free videos received with every purchase, and the upgraded year-long subscription.
How to choose which stationary bike is best for you? As with most purchases, WebMD recommends starting with those features most important to you, which will likely directly impact your budget. For example, unless you plan on competing online or achieving the most realistic indoor experience possible, higher-priced options like Peloton and Zwift-enabled trainers might not provide a higher level of value.
On the other hand, if you're looking for a piece of equipment that will withstand years of regular use and can grow with you as your skill level increases, then investing in a higher-priced model with better build quality and materials might be worthwhile.
In addition to starting with the budget and those features most important to you, Consumer Reports emphasizes that one of the most important factors when buying a stationary bike is trying before you buy, since they can vary widely in fit and comfort.
Obviously, isn't something you'll be able to accomplish when it comes to online purchases like Slim Cycle. Does this mean you should keep it on your list?
Our Final Thoughts About Slim Cycle
The HighYa team's goal is to provide you with the information you need to make a more empowered purchasing decision—not to necessarily decide for you.s
But based on what we learned from the Slim Cycle website and commercial, as well as from third-party resources like Harvard Health and Consumer Reports, cycling seems to provide many potential health benefits, including those related to cardiovascular and strength. And Slim Cycle also comes with a competitive price and many must-have features for indoor fitness bikes, such as:
Adjustable magnetic resistance
The ability to track heart rate and miles via a large digital display
Two operating positions (upright and recumbent)
Access to free cycling videos, including instruction
Can accommodate a wide variety of heights
Includes backrest
Competitive price
We also think it's important to balance these potential benefits with realistic expectations. In other words, while Slim Cycle might be able to provide you with an easily accessible cardiovascular workout, successfully losing weight is just as much about what you eat as about how much you exercise. And since no meal plans are included with the bike, this is something you'll have to research on your own.
Also, with only eight pedal resistance levels and no adjustable arm resistance, Slim Cycle's ability to meaningful grow along with your fitness level might be limited.
Finally, while it's positive that Telebrands stands behind Slim Cycle with a 30-day refund policy, keep in mind that you'll lose your initial $20 S&H charge, plus whatever it'll cost to ship back to the company, if you're dissatisfied. And since customer service couldn't provide the bike's weight, there' no way to know how much this might be.
Updated review

Update

By Debra R.

,

Michigan

,

Feb 17, 2020
Verified Reviewer

After I had called FedEx they turned it around, and the day they got it back, I got my money back. Just be careful, there is nowhere on that site to do payments.

Bottom Line: No, I would not recommend this to a friend

Previous review
Feb 14, 2020

Don't order

Please do not get this terrible service, they don't listen to us at all, just ship, take your money. It's a scam. I just hope when FedEx sends back I get refunded. I will never order from them, ever. Liars, scammers, no joke. Please listen, don't ever order. Bad service, TV ad is a joke, not true. Thank you.

(

read more

read less

...)

Previous review
Feb 12, 2020

My order

I went online to order it at 4 am, can't get anyone on the phone to cancel until 8 am. I wanted the $39.99 payment per month but nowhere does it say to do that so I clicked submit and it charged me $211.00, the whole price. Not good, false ad, if you can't order online for payments so I'm canceling it all as soon as I get a person on the phone. Be careful online, thank you.

(

read more

read less

...)

---

Great price for this product

By Essie D.

,

Rhode Island

,

Feb 16, 2020
Verified Reviewer

I ordered my Slim Cycle on an off-brand website for $120, shipping included! Can't believe how much more some people have paid for it! My brother put it together for me - I'm a 75-year-old female living with a dog - and I keep it in the recumbent position because of a spinal fracture. Although I like using it, I would like to be able to get it out of the living room when not in use. Read through the instructions but couldn't find how to fold it up. Can anyone help? Thank you.

Bottom Line: Yes, I would recommend this to a friend

---

Advertisement

---

Website deception

By Jea P.

,

Texas

,

Jan 17, 2020
Verified Reviewer

In going to the website, it does not offer the payments as advertised. And, I tried several times. The infomercial offers 5 payments and nowhere on the order site does it state that. You're ready to order and it shows the full price and process. I may not about to provide credit info before options for payments. This is false advertisement and if not offered anymore, then the infomercial needs to not be wired. It may be a good product, but, for this alone, I do not recommend.

Bottom Line: No, I would not recommend this to a friend

---

Scam when placing order, horrible customer service

By Niya G.

,

Indianapolis, IN

,

Oct 12, 2019
Verified Reviewer

I will not recommend this company to anyone! We placed the order for Slim Cycle with 5 installment payments and was advised we would be charged $53.99 when the order was processed. Not only were we charged the $53.99 but also $42.79 twice which is a total $139.57. Called and spoke to Nathan at customer service who explained that the $42.79 was a preauthorized charge and would be removed in 5 business days, I asked to speak to manager and spoke to Evan Combs and he stated the same and said that their policy to verify accounts to with 2 pending charges (which were actual charges on our account not pending charges) which remain for 4 business days. I asked for the order to be canceled before when placing the order this information is never explained and is very misleading. I have been a sales rep for over 20 years and this is absolutely NOT how business is handled!

Bottom Line: No, I would not recommend this to a friend

---

Advertisement

---

Awesome!

By Jackie M.

,

New York

,

Mar 7, 2019
Verified Reviewer

I love this bike! It's super easy to put together and the workouts are great! I got the bike in 4 weeks, which is within the time frame that they gave (3-6 weeks). It takes little space and doesn't make a sound. I was surprised at the great workout. It's really sturdy. I didn't expect much because it was so cheap, but I am pleasantly surprised. I told everyone in my office to get one! It's amazing! Ignore the negative reviews, they have nothing to do with the bike itself.

Bottom Line: Yes, I would recommend this to a friend

---

Not disappointed.

By Carol D.

,

New York

,

Mar 4, 2019
Verified Reviewer

We picked up a Slim Cycle at Bed Bath & Beyond. You can use the 20% off coupon and save $40 off the price which is $199. It was easy to assemble, comfortable and so quiet! Best of all, if you aren't happy with it, you can return it to Bed Bath & Beyond and get a refund. The box says 45 pounds. I know someone mentioned that in another comment that they weren't sure of the weight and consequently the cost to ship it back. They show older people on the infomercial. My husband and I are in our sixties and fit. If you are looking for a cardio machine for your home, I'd say you won't go wrong with this.

We haven't had it very long yet, but so far we are pleased.

Bottom Line: Yes, I would recommend this to a friend

---

The bike is good but the service is not

By Douglas E.

,

Beverly, MA

,

Feb 21, 2019
Verified Reviewer

I purchased the bike in December 2018. The bike is great and the body toner is good. But the free videos are not free like the ad said.

It is only free for a length of time, after that you must purchase a subscription from the service, which was not mentioned in their ad.

Bottom Line: No, I would not recommend this to a friend

---

Great

By Donna M.

,

Joplin, MO

,

Feb 10, 2019
Verified Reviewer

Instructions for assembly are very easy to understand. I am 73 and assembled it by myself. My husband who has MS loves it and so do I. I was surprised of the quality for the price. We are extremely happy with it.

Bottom Line: Yes, I would recommend this to a friend

---

Slim Cycle - YES!

By Donna H.

,

Syracuse, NY

,

Jan 19, 2019
Verified Reviewer

I purchased at Bed Bath & Beyond with a 20% coupon from the store and a $25 gift card that I received for my B-day. So for $145.79, I couldn't go wrong! My husband put it together in no time at all as the instructions were the best I've seen. I tried out all aspects of the bike with a short workout but can't wait to actually start my full workouts on it! The only thing is that I have to figure out how it folds up. I will do that once I start my workouts this week! So far, I love it!

Bottom Line: Yes, I would recommend this to a friend

---

Great

By Scott P.

,

Pennsylvania

,

Jan 16, 2019
Verified Reviewer

I got it last week. Instructions are idiot proof. Well packaged and well made. I've used it every day. Hard to believe they can design it, advertise it, make it in China, and ship it for 200 bucks. Great value.

Bottom Line: Yes, I would recommend this to a friend

---

Ease of assembly

By Pat P.

,

Kentucky

,

Jan 13, 2019
Verified Reviewer

Must say their assembly instructions were some of the best, and I have assembled many, many items over the years. It was ready to use in approximately 30-45 minutes, unboxing and assembly both. Can't say as to how well it will perform for my workouts since I just finished putting it together, but it does work very smoothly. I will be expecting at least reasonable results.

Bottom Line: Yes, I would recommend this to a friend

---