Slim Cycle Reviews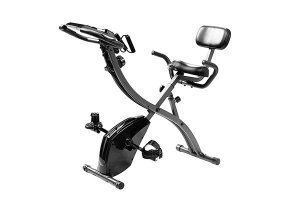 Advertised as a versatile indoor bike, Slim Cycle allegedly provides you with the benefits of cycling and lower body resistance training. Read our review here.
About Slim Cycle
Advertised as a two-in-one breakthrough that gives you twice the results in half the time, the Slim Cycle combines cardio with upper body strength training.
Additional features include the ability to transform from an upright position (for an intense workout) to a recumbent position (for a relaxed workout), eight levels of ultra-quiet magnetic resistance, and a large digital display that tracks calories, distance, and speed.
You'll also be able to see your pulse using the heart rate monitor built directly into each of the handles.
These handles, along with its large opening, also make getting on and off the Slim Cycle easy, while the 2.5-inch thick memory foam seat—which is adjustable and can accommodate heights between 4' 11" and 6' 4"—and backrest provide comfortable support for those up to 300 pounds.
The cycle folds up like an ironing board for easy storage, whether in the closet or under a bed.
The Health Benefits of Cycling
Aerobic Workout – Otherwise known as cardiovascular exercise, this raises the heart rate and if performed regularly, can help burn extra calories and improve cardiovascular health, to name just a couple of benefits.
Muscle & Bone Building – Each time you turn those pedals, you use many different lower body muscles (including many above your waist as well, such as the abdominals, arms, and shoulders), which can help them—as well as the bones they're connected to—grow stronger and bigger.
Joint-Friendly – Despite these aerobic workout and muscle building capabilities, cycling is low-impact; that is, it's easy on the joints.
Everyday Benefits – Harvard Health reports these benefits can carry over into different aspects of everyday life as well, such as "balance, walking, standing, endurance, and stair climbing."
Another potential advantage is that you can accomplish these benefits whether outside on a traditional bike, or inside on stationary models like Slim Cycle (such as when the weather's not so great, or you just need a quick early morning spin session).
If you've already decided that a stationary version is the best option for you, how can you go about choosing the right manufacturer and model?
How Much Does Slim Cycle Cost?
Slim Cycle is priced at $199.95 with free shipping. You can also select the option to make five payments of $39.99.
Your purchase will automatically come with an app containing a library 10 free, on-demand virtual rides, some of which include instruction. During checkout, you can upgrade to a full year of unlimited access to these videos for an additional $5.
You can also upgrade to the Deluxe Slim Cycle version, which includes a water bottle and holder, a heavy-duty floor mat, a metallic gunmetal finish, a double padded seat, upgraded handle grips, and a two-year extended warranty for a total of $270.90.
This package comes with:
Slim Cycle 2-in1 Exercise Bike
Slim Away Belt
Water Bottle Holder
Comfort Padded Seat Cover
Protective Floor Mat
2 Year Extended Warranty
All orders come with a 30-day refund policy, less S&H charges.
After several calls to customer support, none of the representatives we spoke with could provide additional details about how long the app's videos are available without upgrading, the bike's weight, or warranty information.
What to Look for in a Stationary Bike
If you just started researching stationary bikes like Slim Cycle, it's possible to spend anywhere from less than $200 to well over $2,000, spanning all types of designs and features.
Generally, though, you get what you pay for. Here are just a couple of examples of what this means in the real world:
Materials Quality – Often, the more you pay for an exercise bike, the better quality materials you'll receive, including aluminum construction, heavier-weight flywheels; wide, adjustable bases, and high-quality electronics (including the various sensors we'll discuss in a second).
Resistance – Magnetic resistance is the gold standard, which uses a flywheel and strong magnets to provide the widest variety. At the other end of the spectrum, fans might be more budget-friendly but can be loud and not very customizable.
Tracking Features – These include the ability to monitor heart rate and mileage on budget models, to higher-end versions that can monitor power output, cadence, and actual calories burned.
Some models even offer live, interactive classes and leaderboards like Peloton, while some 'smart' trainers (devices that attach to real bikes) can even connect to games like Zwift, allowing you to experience automatic resistance, custom courses, and the ability to compete with other riders around the world.
Pro tip: We encountered very few models that also featured a 'rope system' for the upper body, as with Slim Cycle. However, we called customer support, who advised this resistance is not adjustable (in contrast to the pedaling resistance).
They also weren't able to provide additional details as to how wide the base is (regarding stability), what the on-demand videos involve, or what the specific difference is between the 10 free videos received with every purchase and the upgraded year-long subscription.
To choose the best stationary bike for you, start with the features most important to you, which will likely directly impact your budget.
For example, unless you plan on competing online or achieving the most realistic indoor experience possible, higher-priced options like Peloton and Zwift-enabled trainers might not provide a higher level of value.
On the other hand, if you're looking for a piece of equipment that will withstand years of regular use and can grow with you as your skill level increases, then investing in a higher-priced model with better build quality and materials might be worthwhile.
In addition to starting with the budget and those features most important to you, Consumer Reports emphasizes that one of the most important factors when buying a stationary bike is trying before you buy since they can vary widely in fit and comfort.
The Bottom Line
Cycling provides many potential health benefits, including those related to cardiovascular and strength. And Slim Cycle also comes with a competitive price and many must-have features for indoor fitness bikes, such as:
Adjustable magnetic resistance
The ability to track heart rate and miles via a large digital display
Two operating positions (upright and recumbent)
Access to free cycling videos, including instruction
Can accommodate a wide variety of heights
Includes backrest
Competitive price
While Slim Cycle might be able to provide you with an easily accessible cardiovascular workout, successfully losing weight is just as much about what you eat as about how much you exercise.
With only eight pedal resistance levels and no adjustable arm resistance, Slim Cycle's ability to meaningfully grow along with your fitness level might be limited.
---
Difficulty completing correct order from BulbHead!

By Susan P.

,

Syracuse, NY

,

Oct 14, 2020
Verified Reviewer

Overall Experience:

I have tried unsuccessfully to order the Deluxe model of Slim Cycle. I have to have a bike that allows a recumbent position because of a fractured knee cap. I have called back several days in a row and received different information from a call associate. I have been told the order will ship anywhere from 3-5 days to 4-6 weeks. My initial payment has been quoted as $50+ to $142.00 for the Deluxe model. A 30% off coupon popped up and now they deny it ever showed on their BulbHead website.

I don't have hundreds of dollars to spend on a stationary bike so this seemed ideal. I am 70 years old now and have opted not to return to the gym I used to go to - where recumbent bikes were available.

So this is my review for the bike I almost received!

Any responses?

Pros and Cons:

Ideal for my home
Allows recumbent adjustment which is what I must have because of fractured knee cap
Poorly trained call center reps that could not make simply corrections to my order

Bottom Line: No, I would not recommend this to a friend

---

Great workout

By Floyd B.

,

Glen Allen, VA

,

Oct 13, 2020
Verified Reviewer

Overall Experience:

I have had this product for over a year and it is definitely keeping me in shape. I work out 30 minutes in the mornings and 30 in the evening EVERY DAY and feel great. Since it has low impact it strengthens my bad knees and low body muscles as well. I HIGHLY recommend anyone in their 60's to purchase this.

Pros and Cons:

Excellent all around body workout
30 minute workouts really pep your body up
Seat isn't that comfortable but you get used to it

Bottom Line: Yes, I would recommend this to a friend

---

Panic resolved!

By Carmen R.

,

Groveport, OH

,

Oct 13, 2020
Verified Reviewer

Length of Use: Less than 3 months

Overall Experience:

I purchased this cycle and it took about 6 weeks to get it, I totally forgot about it until it was delivered. The box was heavy and the box sat in my spare room for almost 2 weeks because it was in pieces. I am not an assembly wizard and usually get my brother-in-law to put things together for me. One night I couldn't sleep so at midnight, I decided to see if I could put this together to finally use it. I surprised myself and miracles never cease, I put it together. It is very easy and the instructions could not be any easier. I love it and the compact size is great! For all of those out there that are thinking of getting this, I will say that this is the best investment that I have made. Did I forget to mention that I am 68-1/2 years old!

Pros and Cons:

The ease of putting it together
How quiet it is
The arm bands
Easy to put away when not in use
The heavy box

Bottom Line: Yes, I would recommend this to a friend

---

Nice product for short-statured users

By Sylvia F.

,

Tampa, FL

,

Sep 25, 2020
Verified Reviewer

Length of Use: Less than 3 months

Overall Experience:

I purchased the cycle, asked a friend to put it together, and was fully ready to start using the product. However, I'm 5'10 and unfortunately could not pedal the cycle because my legs are too long. I had other friends of similar height try and their experience was the same.

The cycle is a nice stable, sturdy unit. I subsequently gifted it to my son for my grandchildren, ages 13 and 10. My son is 6'2" so he also couldn't use the cycle.

The timing was good, however, since school and other outside activities were canceled due to COVID. The kids are quite comfortable with using the cycle. The ability to fold up the cycle was also of benefit because my son lives in limited space and he can easily store the unit when it's not in use. I've recommended the product to my shorter-statured friends and those with age-appropriate grandchildren. I only gave the product 4 stars because of its limited use for me, but overall it's very good. Maybe you can post a recommended heights not to exceed, measurements.

Pros and Cons:

Upright to recumbent positions
Sturdy, convenient, well made
Easy to fold and store
Nice, bright color which attracts you to want you to use it
Unable to use because of the length of my legs

Bottom Line: Yes, I would recommend this to a friend

---

Advertisement

---

Slim Cycle is a great product but customer service is a scam

By Kathelon T.

,

Richmond, VA

,

Sep 1, 2020
Verified Reviewer

Length of Use: 3–6 months

Overall Experience:

Ordered on May 28th of 2020. Got it on July 21st, 2020. Easy to put together. Helps me to get movement in with me having hip and knee surgery. Been exercising with the bike every day. Customer service is terrible. Saying I didn't mark the 5-payment plan and that I had to pay the full amount now. In which I know I did. That's how they got me to pay the full amount. They said they couldn't change it to monthly payments. Poor customer service, no help at all. The Slim Cycle is good but I would not recommend it to my friends because of poor customer service. Should have stuck with HSN for the bike.

Pros and Cons:

Easy to put together
Easy to get on
No "cons" were specified in this review

Bottom Line: No, I would not recommend this to a friend

---

BulbHead, the worst delivery and customer service on this earth

By Tea R S.

,

Bloomfield, NJ

,

Aug 24, 2020
Verified Reviewer

Overall Experience:

I ordered the Slim Cycle on 5/13/20. They said they would not charge my card until the product is ready to ship. On 8/20/20, I had to cancel my order due to still not receiving it and my patience has run out. They charged my card and told me as of today, it would be 2 to 3 weeks for expected delivery. They would not issue me a full refund as per my request. They want me to wait for the delivery then refuse the package. No deal, just don't deliver it. These people are crazy and have no idea what they are doing. They have about 4 Customer Service #'s to call them and all of the reps are difficult to understand. If I could give them a half of star, I would. Save yourself the stress and your money and go buy one somewhere else. The absolute worst experience ever, and they still have my $212.21.

Bottom Line: No, I would not recommend this to a friend

---

Beware

By Yolanda U.

,

Indiana

,

Aug 6, 2020
Verified Reviewer

Length of Use: 3–6 months

Overall Experience:

Purchased via the internet at end of April. No confirmation email and no info as to when I would get the bike - so I was a little afraid I got "scammed". My card was charged for the first payment. A week later the bike arrives. Only received a packing slip - to show it was multipay and the balance. Cycle works great - one month later, my card is not charged. No bill in the mail, or email. Another month passes - no bill in the mail, no email.

Today, now three months later, I get a message that I have a balance due? It's after hours so I have to wait to talk to the "billing office". Called the customer service number on my packing slip to hear that because I paid via the "internet" there were some internet process problems. I ask for a mailing address to send the payment - and there is confusion regarding what I mean. "We have no address?" When I read the address on the packing slip I am told that is just a "warehouse" and I have to call the billing office. Not gonna lie, I feel a little skeptical now - wondering what I have gotten myself into.

Pros and Cons:

It is light weight
Folds easily
Easy to assemble
Not as challenging of a workout as I would hope

Bottom Line: No, I would not recommend this to a friend

---

Never received the bike

By Jane F.

,

Tucson, AZ

,

Aug 1, 2020
Verified Reviewer

Overall Experience:

THIS COMPANY HAS THE WORSE CUSTOMER SERVICE AND PHONE SYSTEM THAN ANY OTHER COMPANY I HAVE EVER ORDERED FROM.

I ordered the Slim Cycle from their website. I ordered it on 5/3/2020, they charged my card on 5/4/2020. They claimed they won't charge you until it's shipped. Three weeks later no bike, so I called. The person I spoke to said it should be here within a week. Two more weeks pass, no bike. I called, held for 11 minutes, the call dropped. Called right back, held for 10 minutes and call dropped again. I then emailed them...4 different times. They state they would respond with 48 hours. Did not respond.

I contacted my financial to dispute the charge in late June. They researched and refunded the charge on 7/14. Now today, 7/30, they finally reply with "We are sorry for the delay. We canceled your order."

Pros and Cons:

No "pros" were specified in this review
Never received the product
Phone system drops call after holding for 10 minutes
Lied about charging my card after order was shipped they charged the day after order was placed
They do not respond to emails within the stated 48 hours

Bottom Line: No, I would not recommend this to a friend

---

Do not order!

By Tonya W.

,

California

,

Jun 27, 2020
Verified Reviewer

Overall Experience:

No exaggeration, I'm getting a refund through my credit card. Ordered on Apr 21st and still have not received. Can't get anyone on the phone. No response to emails I've sent. However, you can get someone on the phone if you want to purchase. A joke and a bad business! Do your research! Do not order from BulbHead!

Pros and Cons:

No "pros" were specified in this review
It's been two months, no product
No one to talk to
No tracking number but took my full payment

Bottom Line: No, I would not recommend this to a friend

---

Never received my order!

By Wendy R.

,

Hadley, NY

,

Jun 20, 2020
Verified Reviewer

Overall Experience:

I ordered my bike at the end of April. My credit card shows that they took the money from my credit card on 5/1/2020. I have tried to reach them on the phone listed. I get put on hold stating it will be an 8-minute wait. After 5 minutes, the phone hangs up. I have tried to reach them via email and no response. I guess I will have to complain to my credit card company. Bad service and company.

Pros and Cons:

No "pros" were specified in this review
Shipment
Customer Service
Phone systems

Bottom Line: No, I would not recommend this to a friend

---

BulbHead order on TV

By Annabelle G.

,

Victoria, TX

,

Jun 9, 2020
Verified Reviewer

Overall Experience:

I ordered my Slim Cycle on 5/2/20. Paid the first payment. Once payment went through I received the success your payment went through notice. To this date, I have not received any confirmation from BulbHead or SlimCycle.com. I have called the number twice for BulbHead and both times the person that answered barely gave me any information. I was told the first time it would take 3-6 weeks. Second time I called that it had been back-ordered. Only because I called! Why does BulbHead or Slim Cycle not contact customers like other companies to advise item's tracking? I understand since we are going through a pandemic there are delays but shouldn't the company acknowledge the order received and approximate delivery date, and also if any delays?

I will never order from BulbHead again. They advertise on national TV and should not. Rating would be zero! But I had to give at least one star!

Pros and Cons:

No "pros" were specified in this review
Bad customer service
No communication to customers on orders
Customer service reps that answer are non-communicative

Bottom Line: No, I would not recommend this to a friend

---