Abs After 40 Reviews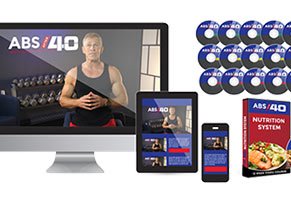 Mark Mcilyar's Abs After 40 workout system claims to boost your testosterone, get rid of visceral fat and deliver 6-pack abs, while making you feel 20 again.
About Abs After 40
Mark Mcilyar tells us that his Abs After 40 three-phase workout system can provide all the training and nutritional information needed to help men over 40 "get in the best shape of their life." How does it do this?
The Abs Over 40 programs claims to work over three phases (we'll talk more about these in a moment):
Phase 1: Fat Loss Jumpstart – Here, you'll use the program's specific training techniques to help get rid of belly fat.
Phase 2: Male Hormone Optimization – This is where Abs After 40's compound movements will help optimize testosterone.
Phase 3: Full-Auto Fat Burning Mode – With your belly fat gone and your hormones optimized, the program's A40 ab exercises will target outer and core muscles alike and help you maintain your results.
Using Abs After 40's short videos that can be watched anywhere with WIFI or a standard internet connection, Mark claims you'll use "strategically planned" compound movements to burn off stubborn belly fat, shrink inches from your waist, revitalize your body, and keep your body lean year-round with minimal maintenance.
Whether you just reached 40 or are 20 (or more!) years down the road, can you really expect the information in Mark's Abs After 40 program to deliver results? Or, will you waste your money and be in the exact same position a year from now? Let's take a look at what we learned during our research.
What Happens to a Man's Body After the Age of 40?
Although a lot of men view the big 4-0 as the beginning of a downward spiral, Dr. Vonda Wright, an orthopedic surgeon at the University of Pittsburgh, tells Esquire:
"It's a myth that 40 is a doomsday birthday. Your muscle mass does not decrease if you consistently work out at a high level. We decrease in athletic prowess because we stop training hard. If we feel weaker, we are failing our bodies — our bodies are not failing us. I think the median age of male runners in this country is 43. They're the ones out there doing personal bests in triathlons."
What does happen around the age of 40 is that the physical effects of decreased testosterone, which begins falling once you hit 30, become increasingly noticeable? This includes decreased sex drive (and even erectile dysfunction), mood swings, low energy, reduced confidence, and generally feeling like "less of a man."
Added to this is the fact that men over 40 start feeling side effects from punishing their body for so many years, resulting in increased muscle soreness and joint pain.
What does the Abs After 40 program provide to counteract this testosterone loss? Can you expect it to deliver results?
How Does the Abs After 40 System Work? Is It Effective?
Mark tells us that the Abs After 40 program gives you his exact workout journal and hormone rejuvenation exercise plan, both of which are can help you burn "the most amount of belly fat." This occurs over three different phases:
Phase 1: The Fat-Loss Jumpstart
This 30-day segment helps you avoid the vicious too much belly fat à decreased testosterone à even more belly fat cycle that men after 40 can get stuck on. You'll focus on losing as much fat as you can, as quickly as possible, without starving yourself, doing extreme workouts, or putting yourself in harm's way.
Mark even claims that this segment can be used by anyone, even if you've never dieted or exercised before.
Phase 2: Total Hormone Rejuvenation
Now that you've lost weight, phase two will focus on optimizing your testosterone levels by increasing your workout intensity and adding compound resistance exercises, which simply involve more than one muscle group (in contrast to isolation exercises). By activating as many muscle fibers as possible, this might then release the maximum amount of testosterone into your bloodstream.
Mark also claims that these compound movements are designed to be low-impact, so you should be able to complete them, even if you have joint issues.
Phase 3: Maintenance
With less weight and a flatter stomach, now you'll focus on maintaining your results through as-fast-as-possible workouts that are easy to fit in your busy schedule.
You'll also learn how to maintain your diet in light of family and social events, as well as how to prepare a week's worth of food in under an hour.
While these certainly seem useful, the problem is that they're not necessarily unique. Sure, the company claims, "the Abs After 40 program is different from all other exercise and nutrition programs because it is specifically structured to support the production and health of the male hormone system." However, a quick online search for "testosterone workouts" will provide thousands of results and dozens of programs that claim to deliver the exact same benefits.
On top of this, based on what we're told in the Abs After 40 video (e.g., belly fat is made of a unique type of fat known as visceral fat; you need to eat foods like whole eggs, coconut oil, avocados, fatty fish to maximize testosterone), this isn't any more information than what you'd learn in 5 minutes elsewhere online—for free.
For these reasons, it's unclear exactly how well you can expect Abs After 40 to work. We'll come back around to this thought shortly, but let's first take a look at what you'll pay for the fitness program.
How Much Does the Abs After 40 System Cost?
The Abs After 40 program will cost you $97, which gives you immediate access, along with three bonuses:
14-day trial for the Abs After 40 Nutritional System – Weekly videos that show you how to prepare tasty foods that can help you achieve 6-pack abs. After the trial, you'll be charged $67/month for the next 6 months.
How To Deal With Common Injuries & Gym Problems e-book – Stretching and recovery techniques that can help you deal with soreness and "old man pains."
DVD set + instant online access – Just pay for shipping and you'll get all the Abs After 40 videos on DVD. Note: This option wasn't available when we attempted to check out.
All Abs After 40 purchases come with a 60-day money back guarantee, which you can request by calling customer service at 800-655-8576. In fact, the company claims they'll even "go over your fitness goals and customize the program to fit your individual needs," if necessary.
While there's little indication of what you'll actually learn for $100 of your hard-earned money, are customers pleased with the Abs After 40 system?
Are There Any Online Abs After 40 Reviews?
In a word: no. Why? The HighYa team focuses on reviewing popular products soon after they're released, so there wasn't enough time for user feedback to accumulate at the time of our research.
However, the Abs After 40 program is brought to you by Mike Chang, a popular fitness professional and online personality who also created the 6 Pack Shortcuts program, along with supplements like Afterburn Fuel and Six Pack Sleep.
Overall, while you'll find plenty of glowing testimonials on his website, it seems like Mike and his programs/supplements have mixed online reputations, with many reviews stating that his systems aren't anything new (and that you can find much of the same information elsewhere for free) and that his supplements are high priced but provide little in return for the money.
Granted, we're definitely not saying this is what you can expect with Abs After 40, but reputation is an important factor in any buying decision. Before wrapping everything up, let's talk about the personality behind the Abs After 40 program.
Who Is Mark Mcilyar?
According to his LinkedIn profile, Mark Mcilyar is currently a spokesperson for Sixpack Shortcuts, although it doesn't appear he has any professional training in fitness or nutrition, or any work-related experience in the industry. Instead, with previous roles in consulting and sales, it appears Mark's expertise is better suited toward business than fitness.
Nonetheless, Mark apparently has a great body, so he must be doing something correctly, right? Does this mean you should purchase Abs After 40?
Will Abs After 40 Help You "Look & Feel Better Than In Your 20s"?
Is it technically possible that Abs After 40 could make you feel 20 or 30 years younger? Sure. Do we think it's likely?
Even if you didn't consider the vague program description, high price, and mixed reputation we already discussed, here's what the company says in their disclaimer:
"The results of such education are intangible, and not measured in fat loss, muscle gain, abdominal definition, or other positive results of any kind. And even when consumers implement our product in full, more often than not they do not report increases in fat loss, muscle gain, abdominal definition, or other positive results of any kind. Reports of specific fat loss, muscle gain, abdominal definition, or any positive results of any kind should therefore be understood as the exception rather than the rule. Consumers who use our products can generally expect not to see any increase in fat loss, muscle gain, abdominal definition, or positive results of any kind. It is entirely possible you will gain fat, lose muscle, lose abdominal definition, and experience other negative outcomes as a result of the advice contained in our products."
Combining all of this, it's ultimately your decision whether or not the Abs After 40 program is worth the money. At the very least though, based on the company's own admission, you might want to set your expectations pretty low.
---
Scam, run away!

By Daniel

,

New York

,

Sep 24, 2016
Verified Reviewer

I signed up for Abs After 40 and from the moment I started the process, there were endless attempts to sell me additional products.

I wanted to simply sign up, try it for a month and see how I liked it.

However, even during the sign-up, EVERT PAGE is pushing you to buy another product. Entire pages of supplements are pushed at you and you have to search for a way to get past the page without buying the product.

I was EXTREMELY CAREFUL not to buy anything other than the basic program. However, somehow, they managed to slip something by me, saying I agreed to a 14 Day Free Trial of an additional program, that after the trial would start auto billing me for more money every month.

After declining no less than 5 additional offers for products during the checkout, I finally paid and was ready to get started.

The website design is awful. It is very clear that helping you to reach your goal is NOT the goal. Selling you supplements and other "programs" is the main goal. It's all about the cash. Before I could even complete the introduction video, they were calling me on the phone trying to sell me even more crap including "couching".

You could easily spend a $1000 if you're not very careful. JUST ONCE it would be nice to have a program that is about helping the customer. I mean for the love of god, give a person a day or two to try your product before you start trying to sell them something else.

Just a passing fad, that will rip off enough fools to make this George Bush looking muscle person a fortune and help absolutely nobody.

This company is awful.

Bottom Line: No, I would not recommend this to a friend

---

Total disappointment

By Nacle

,

Ontario, Canada

,

Nov 6, 2016
Verified Reviewer

The programs are inconsistent. What Mark Mcilyar shows in the workouts is different from what app shows when you start doing them. And the app is cumbersome to use.

This is nothing but a scam to sell supplements. As you sign up, there are offers to purchase additional supplements everywhere, and during the first workout, the same. My inbox has been bombarded with emails, even after I unsubscribed from ALL emails. I have been asking for an ingredient list for their supplements but they do not send me one.

Today I received a call from a "coach", first saying that he was going to help me achieve my goals, then saying that he was going to send me 2 months worth of supplements. Note: not asking if I wanted to buy them, just telling me that he was going to send them to me. I again asked for an ingredient list, he said he does not have one. And once I said I was not going to purchase the supplements until I had that information, the offer to help me achieve my goals was retracted. Apparently, it only comes with the supplements.

This is the only site on the internet that I found a real review. Do not trust any reviews on any sites that include a link to the program. When you sign up, one of the many emails you receive indicates that if you post a link on your site or social media pages, you get a commission from any sales they make from that link.

Bottom Line: No, I would not recommend this to a friend

---

Advertisement

---

Falsified info

By Paul

,

Ontario, Canada

,

Jan 9, 2017
Verified Reviewer

I stumbled on the Abs After 40 YouTube video, of which took forever to watch. Mark just kept talking in circles, and what could have taken maybe 15 minutes, turned out to be almost an hour.

He showed a blurred out picture of Stallone, making the inference that he was a client/customer. At that point, I knew this was BS, failing to disclose that Stallone is an HGH user, which is EXACTLY what I believe Mark is as well.

I do agree that the increase of testosterone decreases fat through multi-jointed exercises, as I a personal trainer myself. So once I reached the point of the video where this "breakthrough info" would be costing me $97, I opted out.

The next day I received a call telling me that "they were going to go ahead and unlock the membership site" or something, with me responding with "no thanks, I'm not interested because I don't believe it."

Bottom Line: No, I would not recommend this to a friend

---

Abs After 40 is all about supplement sales

By Stephen

,

Australia

,

Feb 5, 2017
Verified Reviewer

I paid my $97 via credit card. I received a motivational phone call about the program and was not impressed. During the conversation, they throw in that they will arrange your supplement supply at US $1,100. Wow, stop there. After I refused, I was cut off within ten seconds. No videos arrived, nothing. The $97 is only a hook. They were happy to refund because they are a supplement sales team. If you don't purchase supplements, they are not interested.

Be wary because they are very good at pumping you up. I wish people would just be honest.

Bottom Line: No, I would not recommend this to a friend

---

Advertisement

---

Supplement pushers

By Neko

,

Seattle, WA

,

Jun 2, 2017
Verified Reviewer

Dishonest business practice. This 50 something guy has no knowledge or background in the stuff he is promoting. He is just an older model with a wavey stomach, who probably does thousands of sit-ups, pilates, or yoga. Just an old model.

Hell, a fitness trainer Delmonteque back in the day didn't need to push supplements like modern day drug pushers but just gave you exercise moves to do and foods to eat. That is all you need to get a wavey core. Save your money. Exercise more, eat less and drink lots of water. This will eventually lower your body fat so you can see those wavy lines that you already have.

You will be bombarded with phone calls selling you worthless supplements that cost crazy prices, with unknown ingredients from China.

Get a juicer and juice your vegetables and fruits, and this could be a supplement since you know what is going inside your body since you make it yourself.

Bottom Line: No, I would not recommend this to a friend

---

False flag

You are lured by the promise of an exercise program that will reduce your belly fat only to be high-pressure sold a supplement program that you must have. There is absolutely NO MENTION of this before in any advertisement.

FRAUD, pure and simple! Switch and bait at its core, NOT weight reduction.

Run from this type of program; something that is not what people claim it is and is designed to trick people. I wanted to buy it, but not be high-pressure sold! Let me be clear, run from this! Do NOT buy into the hype!

Bottom Line: No, I would not recommend this to a friend

---

Stay away!

By Bill D.

,

New Jersey

,

Aug 11, 2018
Verified Reviewer

Well, the head trainer never did what he said he was going to do!

The (so-called) head trainer called me on Thursday or Friday and said that he would send me an email with a step by step plan for me to start on Monday, 08/06/2018. I never received it, not in my wife's email and NOT in my email!

So far this program is still bull crap, The only thing I have seen and heard is them trying to upsell me on more crap!

I tried buying this program two years ago, and they were so unorganized and only focused on selling more crap instead of what they sold the program to be, that at that time I opted to get a refund, which they did! That was two years ago!

Now it seems that I may have to do this again.

I put in a support email that the head trainer never followed through on what he promised to do.

I did get an email back from support, but it seems that all they have is someone in a foreign country sending me a generic email. The best part is it is from someone I never spoke to saying it was a pleasure speaking with me today! LOL, what a joke!

STAY AWAY from this company, unless you want to keep buying more and more stuff and not get the support or training they say they will do!

Please let me know?

Bottom Line: No, I would not recommend this to a friend

---

Ripoff!

By Ron B.

,

Utah

,

Oct 22, 2018
Verified Reviewer

Appears to be a ripoff. I ordered the product, was charged twice on my credit card, and never received any products. I have emailed, called and sent letters. No response. I will try to dispute with my credit card company but will not be deceived by this ripoff again. Most likely, this will never be read by the public and will be ignored just like my emails and phone calls.

Bottom Line: No, I would not recommend this to a friend

---

WHERE IS IT

By Catherine G.

,

Paso Robles, CA

,

Jun 21, 2019
Verified Reviewer

I ordered this product on May 28, 2019. They got their money fast and I'm still waiting for it to arrive.

I'm very disappointed as I have back and knee problem and had hoped this regiment would work for me and my husband.

Bottom Line: No, I would not recommend this to a friend

---

It works

By Rob

,

Georgia

,

Feb 10, 2017
Verified Reviewer

The program has helped me drop 10 lbs in five weeks. I have stayed with it about 80% of the time, and I am just about to start phase two.

I ordered the program a year ago, and they did push supplements one time, but nothing since then. They do have coaching that you can call or email. I have used a few times. I enjoy Marc's videos, he is a pretty down to earth guy. I even found him on Facebook, and he has answered some questions.

I think the program could be better, as far as materials, work out videos and just growing the product, without the extra cost. You have to work out to make the changes. You have to want to be back in shape, and they do give you the tools to make it happen. I give them 3 out of 5 because some of the marketing photos are fake. But it's worth investing 97 bucks in your health if you really want it.

Bottom Line: Yes, I would recommend this to a friend

---

Abs After 40

By Peter

,

New South Wales, Australia

,

Jan 11, 2017
Verified Reviewer

I am very pleased with the program thus far, over the last 8 weeks and the loss of 25 pounds. It isn't all hype. The exercises are gentle enough for me, coming back from a 4-year recovery process from a work injury, yet enough to notice good progress in muscle and strength.

I'm not a fan of the supplements, but will stick with it for six months. Also, I don't appreciate the over kill of sales stuff, but that's the way it rocks aye!

I do recommend and trust the Abs After 40 program for my friends. While I can run my life around the program, it's working for me!

Bottom Line: Yes, I would recommend this to a friend

---