Active Advantage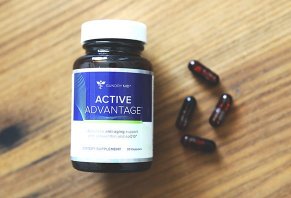 Summary
Active Advantage by Gundry MD offers energy boosted anti-oxidants to support healthy mitochondria. The overall blend of ingredients in this supplement is unique but the evidence is lacking regarding long-term usage.
Pros
Ingredients are unique
Ingredients in line with product claims supporting mitochondria function
Cons
Evidence lacking regarding the effectiveness of the tocotrienol blend for obesity prevention
Pricey even for a 30 day supply.
Active Advantage Review: Is It Safe and Effective?
What Is Active Advantage?
Active Advantage is a dietary supplement that allegedly helps support mitochondria function and ATP production.
Primarily, Active Advantage proposedly keeps your cells running optimally to give you energy and endurance.
Mitochondria are known as the powerhouse of your cells, helping to rid the body of a by-product known as free radicals.
Free radicals are linked to promoting aging and chronic diseases.
According to Gundry MD, by taking one capsule daily, you can expect the following benefits:
Improved mental stamina
Improved physical endurance
Improved bioenergy
Improved metabolism to benefit digestion
Support your body's ability to fight free radical damage
Decrease fatigue
In this article, we'll review the available research that examines the proposed benefits of Active Advantages' blend of antioxidant ingredients.
Active Advantage Ingredients: Do They Work?
According to Gundry MD, Active Advantage's blend of ingredients are responsible for the alleged benefits.
Each capsule contains the following ingredients:
Vitamin E 7 mg
MLG-50 Fulvic Mineral Powder 100 mg
Coenzyme Q10 50 mg
Mixed d-Tocotrienols 30 mg (as d-alpha tocotrienols, d-beta tocotrienols, d-gamma tocotrienols, and d-delta tocotrienols) EVNol Full Spectrum Tocotrienol/Tocopherol [from Red Palm (Elaies guineensis) Fruit]
Astaxanthin (Hawaiian Astaxanthin) (Haematococcus pluvialis) 5 mg
Next, we will determine the science backing the claims of Active Advantages blend of ingredients.
Vitamin E 7 mg
Vitamin E is an antioxidant that serves in the function of getting rid of the free radicals in your body. Vitamin E can also be obtained naturally through diet.
A review of fifteen randomized control studies tested the treatment effects of vitamin E supplementation for a period of one year.
The information provided from the view indicates that supplementation of vitamin E should not be recommended as a means for improving longevity.
Furthermore, the evidence was not compelling enough to endorse vitamin E as a means for reducing mortality.
MLG-50 Fulvic Mineral Powder 100 mg
Fulvic Acid, a Natural Health Product (HNP) is produced as a by-product of organic breakdown from microorganisms from the soil.
Fulvic Acid is intended to help to regulate the immune system, improve gastrointestinal function, and influence the cells' ability to control levels of oxidative stress.
Health benefits of Fulvic Acid come without verification or appropriate dosage recommendation established through scientific research.
Coenzyme Q10 50 mg
CoQ10 is a vitamin-like substance that serves many roles that include producing ATP for energy and defending against free radicals.
As individuals increase in age, there is an associated reduction of mitochondrial function, which can lead to an overabundance of oxidative stress.
A study performed on CoQ10 supplementation found improved duration exercise to exhaustion in healthy trained and untrained participants.
The study concluded that the improvement in exercise capacity was due to the enhanced levels of antioxidant protection.
Similarly, a review found that a majority of studies regarding CoQ10 was effective in improving fatigue levels.
It remains unclear, however, whether Ubiquinone is the most effective absorbed form of CoQ10.
Another study was performed to determine whether Ubiquinol or Ubiquinone was the most effective form to influence CoQ10 status in older men.
Participants of the study were randomized to consume either 200 mg of Ubiquinol or Ubiquinone for 2 weeks.
The results from the study found that Ubiquinol was shown to be a better supplemental form to enhance CoQ10 status in older men.
CoQ10 supplementation seems to be more effective in improving levels of fatigue and endurance.
Mixed d-Tocotrienols 30 mg
Tocotrienol is listed as an antioxidant and anti-inflammatory functional food component to assist with weight management and diabetes.
Currently, no evidence indicates that Tocotrienol has anti-obesity effects in humans.
Astaxanthin 5 mg
It is thought that the antioxidant Astaxanthin is responsible for the benefits claims you can achieve through daily supplementation of Active Advantage.
Astaxanthin is described as the strongest antioxidant based on its high potential to neutralize free radicals and other oxidants.
Astaxanthin also helps to protect the outer layers surrounding your mitochondria resulting in an increased capacity to produce energy more efficiently.
A randomized control study found Astaxanthin to be successful in lowering oxidative stress in overweight and obese subjects with a minimal dosage of 5 mg during 3 weeks of supplementation.
While Astaxanthin is shown to be safe in human clinical trials, it is recommended that you consult with your physician regarding the supplementation of this product.
Usage
Suggested use indicates taking one capsule in the morning along with 8 fluid ounces of water, right before your meal.
The proposed method of how Active Advantage works is through a 3-step body renewal process:
Astaxanthin increases mitochondria production to promote improved energy levels.
Fulvic minerals along with CoQ10 supports ATP levels to continue to fuel mitochondrial cells.
The tocotrienol blend removes the free radicals from your body that possibly contribute to decreased energy levels and increases the aging process.
Safety
Vitamin E is safe to use, but overconsumption can lead to stomach cramps, nausea, and diarrhea.
A study performed to assess the safety profile of CoQ10 and found no serious adverse effects in humans and had low toxicity with an acceptable daily intake of 12 mg/kg/day.
In an 8-week randomized clinical trial, results found that healthy adults can safely consume 6 mg of Astaxanthin per day. One capsule of Active Advantage contains 5 mg.
Active Advantage contains ingredients with dosage amounts that meet the minimum effective dose based from the review of studies.
Always consult with your physician regarding the daily usage of supplements, including when consuming Active Advantage in ways other than instructed.
What Is the Cost?
Active Advantage's current sale prices are as follows:
1 bottle: $69.95
3 bottles: $200.85
6 bottles: $377.70
Gundry MD features 90-day money-back guarantee. To process your refund, you will need to call (800) 852-0477.
The Bottom Line
Active Advantage offers a complex blend of antioxidant ingredients backed by clinical trials that align with the company's claims.
While studies support the potential role of a unique blend of ingredients, more research is required to identify long-term effectiveness.
With regards to enhancing longevity, improved energy levels, and physical endurance, there are more cost-effective strategies to experience these outcomes.
For instance, the performance of physical exercise and a well-balanced diet of fruits and vegetables are likely to help achieve the same benefits.
A systematic review of 30 controlled trials in humans found that the performance of any type of exercise training at any intensity induced an antioxidant effect.
This indicates further that exercise should be included to enhance health-related outcomes.
As Active Advantage appears to be safe to consume with no adverse effects, the first step would still require speaking to your physician when you start to notice drops in energy levels.
Customer Reviews
Posted on Sep 9, 2021
Extreme results
My colon issues are gone. My stamina is up by 100%. Energy levels are 5x better. My hair looks better.
Love this product.
Felt like my body was getting more nutrition from the healthy foods I always eat.
Length of Use: Less than 3 months
Bottom Line: Yes, I would recommend this to a friend
Pros and Cons
Better health
More energy
The cost, I'm retired on social security
Our Promise to You
In order to safeguard you and ensure helpfulness and relevance, our compliance team manually assess every customer review before it goes live.
We have a zero-tolerance policy for fake reviews, and companies cannot control or alter any reviews at any time.