How Does Coolsculpting Work: Effectiveness, Side Effects, and Cost
Coolsculpting, an FDA-approved non-surgical procedure, can improve areas of fat that are resistant to diet and exercise. Read about its effectiveness, side effects, costs, and ideal candidates.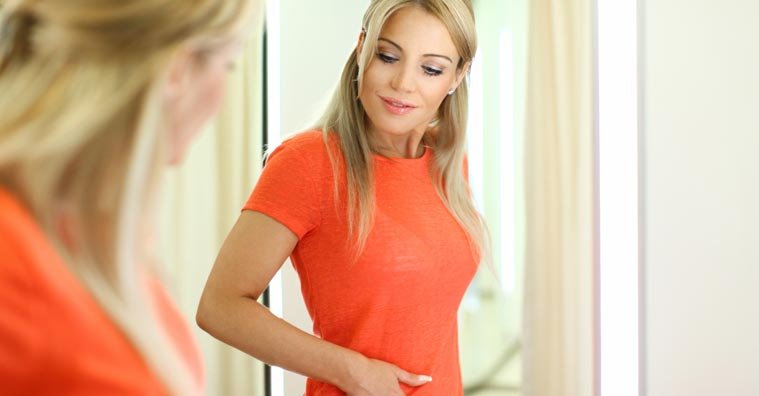 Coolsculpting is described as a non-surgical and non-invasive procedure that reduces the fat content of the area treated through controlled cooling of the tissues.
Typically, coolsculpting is used to improve areas of the body that have some excess fat accumulation that's resistant to diet and exercise, including the abdomen, arms, love handles and the inner and outer thighs – as well as the area under the chin.
This guide takes a look at how coolsculpting works, what it's used for and its overall effectiveness, according to experts. We also include the potential risks and side effects, do's and don'ts, and the cost of coolsculpting treatments.
We've interviewed several experts on this topic, including board certified plastic surgeons, a Chief Medical Officer, and board certified dermatologist, who offer details about coolsculpting so you can decide if this treatment is right for you. We've also included before and after pictures submitted by our experts, so you can see the results for yourself.
Keep in mind that this article is not intended as medical advice. Before you undergo a coolsculpting treatment, it's important to consult with your medical professional first.
What Is Coolsculpting and How Does It Work?
Coolsculpting is the most popular non-invasive treatment to remove unwanted fat, according to Dr. Kally Papantoniou, a board certified dermatologist specializing in cosmetic, laser and surgical dermatology in New York.
It works through controlled cooling of the skin to temperatures that form ice crystals in the fat cells, which damages the fat in the area treated, and then the body metabolizes this fat and heals and repairs the treated area.
Dr. Christie Prendergast, a plastic surgeon at the Kao Institute in Southern California, further explained that these fat cells are slowly eliminated by the body, leaving you more sculpted in the target areas. In general, you can expect to have a 20% to 30% gradual loss of fat in the treated areas with optimal results seen within six weeks.
Since we do not produce new fat cells, the number of fat cells that die is a permanent result, Dr. Prendergast added. "That being said, it is still possible to gain weight because surrounding fat cells can still expand with weight gain and optimal results are best achieved with a complimentary diet and exercise plan."
Coolsculpting is a non-surgical and non-invasive procedure, noted Dr. Yuly Gorodisky, a board certified plastic surgeon and owner of the West Coast Plastic Surgery Center in Southern California.
Through experimental research, he said it was found that fat cells are more sensitive to cold than other tissues, and by lowering the temperature of an area that has fat, the fat can be reduced by about 20% to 25% percent without any long-term negative effects on any surrounding structures.
Dr. Ten Lain, a board certified dermatologist at Sanova Dermatology, noted the clinical term cryolipolysis, which involves the gradual cooling of fat cells to elicit their death and eventual removal via the body's lymphatic system.
He said that fat cells are particularly vulnerable to cold temperatures, and are the first to respond to cooling as compared to the other types of tissue in the body, adding that coolsculpting uses precise cooling and feedback technology to ensure reduction of fat cells without damaging the surrounding cells.
Dr. Gorodisky further explained that by cooling the area that contains fat, the fat crystallizes, and after the area defrosts, the crystals rupture and release fat into the bloodstream which is then excreted through the liver elimination process. "The fat cells are permanently eliminated, but the process may take two to three months to complete."
What Is Coolsculpting Used For?
Coolsculpting is great for target areas that do not improve with diet or exercise, Dr. Papantoniou said, and is "a great tool" to re-contour the body. She said the popular areas to treat include the following:
Belly
Love handles
Upper arms
Back fat
Jowls
In more specifics, coolsculpting is best used to improve fat-resistant areas and enhance body contouring, Dr. Prendergast said, and is typically used to treat flanks, rolls below the buttock – also known as the banana roll – inner thighs, lower abdomen, and beneath the chin. "These are areas that will typically not have the desired fat reduction with diet and exercise alone."
Many physicians will also recommend coolsculpting for other small areas of fat, such as bra fat, Dr. Lain noted; and Dr. Papantoniou said most people will require two to three sessions depending on the size of the area being treated.
"The machine works by cool contact, with controlled temperatures that read the skin temperatures to maintain the safe effective temperature," Dr. Papantoniou explained. "Depending on the body area and the model of the machine, an area may take 35 minutes to one hour and 15 minutes. The newer machines are more comfortable and work faster, shortening treatment times."
Is Coolsculpting Effective?
Through this FDA-cleared non-surgical fat reduction treatment, results are permanent as the fat cells are gone, said Dr. Deanne Mraz Robinson, Assistant Clinical Professor of Dermatology at Yale New Haven Hospital.
She added that there are nine FDA-approved areas, including the abdomen, flanks, chin, arms, inner and outer thighs, back, bra and banana roll.
Coolsculpting delivers great results, which is why it is such a popular option for someone looking for re-contouring without having liposuction, Dr. Papantoniou said; and Dr. Prendergast noted that coolsculpting can be very effective in the right patient, which means one who is in good physical shape and health with extra fat pockets without too much skin laxity.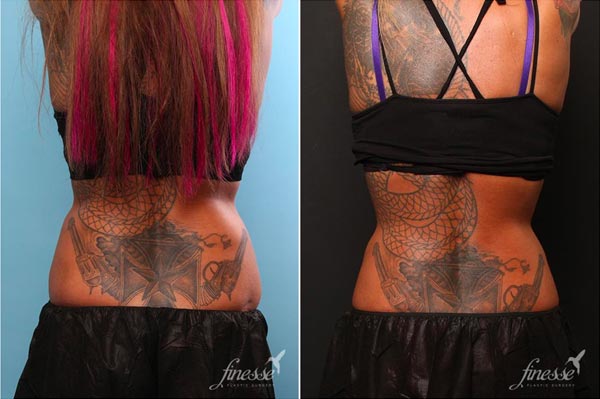 Before and after 8 weeks: Dr. Christie Prendergast's patient who underwent a coolsculpting treatment to flanks.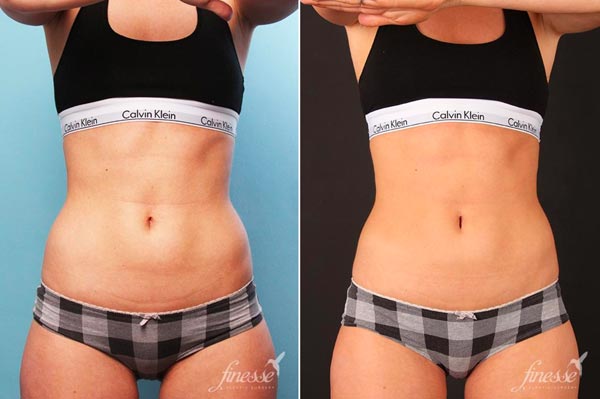 Before and after 8 weeks: Dr. Christie Prendergast's patient who underwent a coolsculpting treatment to flanks.
Hundreds of studies have been performed to verify the effectiveness of cryolipolysis – or coolsculpting – to reduce fat, Dr. Lain said, adding that the scientists who developed this technology were intrigued by small children developing cheek dimples after eating popsicles.
This simple observation led to the discovery of cryolipolysis, he said, and once it was determined that cryolipolysis could be used in other areas of the body, safety testing and technology innovations eventually led to coolsculpting.

Patient treated at West Coast Plastic Surgery Center by Dr. Yuly Gorodisky. This image shows Coolsculpting of the abdomen, before and eight weeks after.
The target is to remove about 20% to 25% of fat in the area treated, and some patients who have more excess fat may need to have the treatment repeated more than once, Dr. Gorodisky noted, adding that liposuction may be a more effective way to eliminate more fat faster, but is a more invasive option; and that weight loss is usually recommended first for patients who are overweight."
To understand coolsculpting a bit more, the clinical term for it is cryolipolysis, which is described as a nonsurgical technique for localized fat reduction, according to a study published by the National Institutes of Health entitled, "Cryolipolysis for Fat Reduction and Body Contouring: Safety and Efficacy of Current Treatment Paradigms."
This thorough study included a systematic review based on available clinical data, with an emphasis on the efficacy, methods, safety, and complications of cryolipolysis.
This study noted that with the increased risk of complications from more invasive methods such as liposuction, cryolipolysis presents "a promising method" for nonsurgical body contouring.
It also noted that only mild, short-term side effects can result, such as superficial reddening of the skin, swelling, and pain.
After undergoing cryolipolysis, common complications included superficial reddening of the skin, bruising, swelling, sensitivity, and pain; and these side effects "are generally resolved" within a few weeks after treatment.
The study indicated that no persistent ulcerations, scarring, paresthesias, hematomas, blistering, bleeding, hyperpigmentation or hypopigmentation, or infections, were described in results. Only one isolated case report described paradoxical adipose hyperplasia (a hardened area of localized fat developing) after cryolipolysis treatment.
The conclusion of the study stated that "it remains unclear" whether post-treatment manual massage and multiple treatments in the same anatomic area, enhance the efficacy of cryolipolysis.
Coolsculpting Ideal Candidates
The ideal candidate is within 20 pounds of their target weight, and expecting de-bulking of small pockets of fat, not weight loss, said Dr. Robinson, further explaining that weight loss is different because it shrinks the fat cells and is achieved through diet and exercise.
CoolSculpting eliminates fat cells, but it will not change the number on the scale.
"A patient who is too far from their ideal weight is not a good fit for this treatment as the results will not be visible in a meaningful way," Dr. Robinson said.
"On the flip side, someone who does not have enough fat will not have good results as the technology relies on the ability for the device to suction the area for most applicators, so if there isn't enough to grab onto it's not going to work."
She added that women who are pregnant are not candidates, nor are people with the following medical conditions that impact the body's ability to handle the cold:
Cryoglobulinemia, a disorder where proteins that usually only increase in response to cold are in abnormally high concentrations.

Cold agglutinin disease, an autoimmune condition where temperature change kills red blood cells.

Paroxysmal cold hemoglobinuria, a condition where red blood cells die in response to temperature change.

Raynaud's disease, a rare disorder of the blood vessels that causes the blood vessels to narrow when you are cold or feeling stressed.

Chilblains, the painful inflammation of small blood vessels in your skin that occur in response to repeated exposure to cold but not freezing air.

Nerve conditions, including diabetic neuropathy
What Are the Potential Risks and Side Effects of Coolsculpting?
After a treatment, there is an occasional bruise, and the area can feel numb for several weeks after treatment but completely resolves, according to Dr. Papantoniou.
Rarely there can be discomfort after a treatment with hypersensitivity for a few weeks, and "we treat this with over-the-counter pain medications such as ibuprofen. The extremely rare side effect is the development of a nodule, which can be treated."
In general, Dr. Prendergast said that coolsculpting a very safe procedure, however, there are side effects that can include pain, redness, numbness or tingling in the treatment areas, but "typically these are only temporary and resolve with time.
"There is also a risk of getting contour irregularities, which is why it is important to select the right candidate for the procedure and have a trained operator."
As far as the time factor is concerned for potential side effects, Dr. Lain said that after a coolsculpting treatment, many will experience redness and possibly bruising for a few days, tenderness and mild swelling in the area for about five to seven days, and slight numbing that improves over the next few weeks.
He further advised that people with certain rare, cold-sensitive diseases or conditions are not candidates.
Dr. Gorodisky noted that those who experience numbness and tingling after treatments is a temporary effect due to cold effects on the nerves; and as the nerves wake up from the numbing effects of the cold, some patients experience a lot of sensitivity that may need to be treated with medications.
"Another very rare side effect is thickening of the fat in the area of treatment," Dr. Gorodisky warned. "It is a paradoxical effect that may occur in one out of 20,000 patients and needs to be treated with liposuction."
How Much Does Coolsculpting Cost?
According to Dr. Papantoniou, the cost varies depending on the areas treated. For instance, general pricing starts at $750 and is up to $1,000 per site treated.
In Dr. Prendergast's practice, coolsculpting typically costs $600 or more per treatment area. However, the price can vary widely. "Keep in mind that if you have two areas that you are treating – both arms, thighs or flanks – you would double the costs. Additionally, it can take more than one treatment to get desired results."
Dr. Lain said the cost of coolsculpting varies widely across the country, but most patients treating one or two areas will pay between $1,500 to $5,000, depending on the amount of fat that needs to be treated.
In Dr. Gorodisky's practice, the price depends on how many treatments are performed, and the cost can range from $750 to several thousand dollars for multi-area treatments.
He further explained that each treatment covers an area of about the size of the person's palm, "so the cost for someone who is slimmer and only needs one or two areas treated will be much lower than someone who is larger and needs multiple treatments."
Coolsculpting Do's and Don'ts
Don't Expect Surgical Results
It's important not to expect surgical results, Dr. Prendergast added, because non-surgical results will not substitute for surgical results, and it is important that you have realistic expectations as well as subscribe to a continued health and fitness plan for optimal results and satisfaction. She added that coolsculpting is not a weight loss tool, "but rather a body sculpting treatment."
Don't Undergo Coolsculpting to Lose Weight
Don't undergo coolsculpting if you want to lose weight, Dr. Lain advised, because coolsculpting involves the use of a fat reduction device for relatively small areas, and is best used by those who are in relatively good shape – meaning within 15 to 20 pounds of their ideal body weight who maintain a consistent weight, but have persistent areas of fat they cannot lose.
Don't Expect Instant Results
Once the fat cells have been treated, it takes four to six weeks for them to be processed and removed by the body, said Dr. Lain, adding that it's important to have realistic expectations, because coolsculpting requires your own body to help with the process of fat cell removal, "therefore results can vary."
Do See a Trained Professional
Make sure you see a trained professional who can give you an honest assessment of whether you are a candidate for coolsculpting, Dr. Prendergast advised, adding that she often sees patients who are talked into coolsculpting and are unhappy with the results, primarily because they were poor candidates in the first place.
Do Research the Provider
It is important to do your research on your provider, Dr. Robinson emphasized, adding that she highly advises all patients see a board certified dermatologist or plastic surgeon for these treatments, "who will evaluate you as a candidate through a highly trained medical lens."
They will also likely have access to alternative therapies, she noted, which might be better options, including SculpSure, Kybella, and Emsculpt.
"Additionally, the placement of the paddles is critical to the quality of the results," Dr. Robinson added. "This isn't something you want to leave in just anyone's hands as poor placement can result in a lumpy or uneven appearance… do research on your doctor and ask to see their before and after portfolio."
What to Avoid
To get the most fat reduction, avoid anti-inflammatory medications before and after treatment, Dr. Gorodisky advised, explaining that inflammation is necessary to eliminate fat, "so this will help achieve the most fat reduction,"
Additionally, "eat healthy, massage the treated area, drink water, and exercise after the treatment to help eliminate the fat from the body."
Dr. Lain recommended avoiding changing your lifestyle or diet unless it helps to lose weight and improve your health. As an example, he said he's had many patients who consider fat removal as an excuse to eat more cake. "Remember that fat cells are still present in your body and will grow in size if you consume more calories than you burn."
Because one of the potential side effects is bruising, Dr. Papantoniou said to avoid alcohol, NSAIDs, garlic supplements and vitamin E prior to treatments to reduce risk of a bruise. She further warned that if there is an abdominal hernia present or skin condition, coolsculpting should not be performed.
The Bottom Line
Coolsculpting is an effective treatment to target exercise-resistant fat pockets that can have permanent results in the right candidate, Dr. Prendergast said. However, it is important to have realistic expectations and seek professional consultation to guide you to a treatment plan that helps you achieve optimal results.
Coolsculpting is a safe, non-invasive method to reduce fat, Dr. Lain said, and there is no downtime and minimal risks for most people.
While most achieve results they are happy with, it is not a technology that will work on 100 percent of people 100 percent of the time, he said, adding, "no technology can promise that, therefore people need to approach this procedure with realistic expectations."
Coolsculpting is an effective treatment for "fine-tuning" the shape of the body by eliminating excess fat, according to Dr. Gorodisky, who said it works well for specific issues that relate to fat excess, "and it is up to the technician or the physician who evaluates the patient to determine if the treatment will be beneficial."
However, coolsculpting is not a replacement for exercise, a healthy lifestyle, or weight loss, Dr. Gorodisky said; nor is it a replacement for liposuction, and it will not eliminate loose skin.
To obtain the best results, the limitations of the treatment must be frankly discussed, Dr. Gorodisky advised, noting that patients who expect results of surgery from this non-surgical treatment will be disappointed.
"But those who understand how the treatment works and what they can expect are truly happy and satisfied with their results."
While there have been millions of treatments performed and many scientific studies supporting the effectiveness of the treatments, some patients may not have the results they expect due to lack of appropriate communication, undergoing the treatment while not being the optimal candidate, and setting unrealistic expectations by the provider, Dr. Gorodisky added.
"A provider that can offer both surgical and non-surgical options can direct the patient toward the most effective treatment for their specific concern," he said.
» Read More: