bioClarity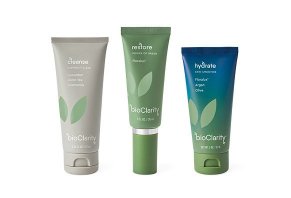 Summary
BioClarity is a line of vegan skincare products specifically formulated to treat mild to moderate acne.
Pros
All products are guaranteed to be vegan, cruelty-free
Generous 30-day return policy
Strong positive customer reviews
Cons
Won't work for severe, cystic, or nodular acne
Many customers complained the products were drying
Minimal clinical evidence that the products are effective compared to other options
bioClarity Review: A Detailed Look at Effectiveness and More
bioClarity is a vegan beauty brand that claims to sell good-for-you products that will improve your skin without exposing it to ingredients that are toxic for your body or the environment.
While bioClarity products will address many skin conditions, the brand's focus is treating mild to moderate acne.
All bioClarity skincare products are free of fragrances and harsh chemicals that could harm your skin, and they rely instead on two compounds—Floralux and salicylic acid—to clear up your blemishes.
Can an all-natural acne treatment like what bioClarity offers really work? Our analysis will help you decide whether this brand is a smart buy.
How Does bioClarity Work?
The bioClarity website offers a range of skincare products designed to address a variety of problems.
You can take the company's skincare test to learn what products will best fit your needs. The three-minute quiz investigates your current skincare routine, what your skin is like most days, whether it's sensitive, and what your primary skin concern is, among other questions.
In the end, the company will recommend a product collection that targets your stated problems.
For example, I shared I had normal skin that was prone to monthly breakouts and wanted a more even skin tone, and was recommended the Essentials Routine with a bioClarity facial cleanser ('Cleanse'), facial gel ('Restore'), and a lightweight moisturizer ('Hydrate').
bioClarity Product Line
Below is a quick summary of the bioClarity products that are currently available. Each one can be purchased individually or in collections that range from $39.95 to $69.95.
| Product | Description | Cost | Five Main Ingredients |
| --- | --- | --- | --- |
| SunFilter | Water-resistant, sweat-proof SPF 30 facial sunscreen made with non-nano 100% mineral zinc oxide | $34.95 for 1.7-oz ($31.46 with autoship) | Zinc Oxide (12%), Squalane, Butyloctyl Salicylate, C12-15 Alkyl Benzoate, Simmondsia Chinensis (Jojoba) Seed Oil, Propanediol |
| SunShady | This daily sunscreen is SPF 30 and sweat and water-resistant | $29.95 for 4-oz ($26.96 with autoship) | Zinc Oxide (12%), Squalane, C12-15 Alkyl Benzoate, Butyloctyl Salicylate, Simmondsia Chinensis (Jojoba) Seed Oil, Propanediol |
| Brighten Up, Sunshine | A clay masque that exfoliates, brightens, and moisturizes your skin to detox it from daily stressors | $24.95 for 1.5-oz ($22.46 with autoship) | Isopentyldiol, Kaolin, Bentonite, Magnesium Aluminum Silicate, Persea Gratissima (Avocado) Oil |
| Clarifying Masque | This antimicrobial face masque purifies your pores and prevents breakouts to give your skin a refreshed appearance and even out your skin texture | $24.95 for 1.7oz ($22.46 with autoship) | Illite, Kaolin, Isopentyldiol, Hamamelis Virginiana (Witch Hazel) Water, Niacinamide |
| Dewy Dew | This three-in-one facial mist works as a toner, makeup setting spray, and mid-day refresher | $19.95 for 2.7-oz ($17.96 with autoship) | Butylene glycol, sorbitan oleate decylglucoside crosspolymer, rosa canina (rose) fruit extract, hamamelis virginiana (witch hazel) extract, anthemis nobilis (chamomile) flower extract |
| Hydrate | A lightweight, oil-free moisturizer that softens skin without leaving it greasy | $14.95 for 1-oz ($13.46 with autoship) $19.95 for 2-oz ($17.96 with autoship) | Propanediol, cetearyl olivate (olive), sorbitan olivate (olive), butyrospermum parkii (shea butter), cetyl alcohol |
| Eye Will Chill | A cooling gel designed to reduce eye puffiness and dark circles | $24.95 for 0.5-oz ($22.46 with autoship) | Niacinamide, sorbitan oleate decylglucoside crosspolymer, malus domestica (apple) fruit cell culture extract, glycerin, copper-chlorophyllin complex (Floralux®) |
| Zen | A serum designed to calm down the skin and reduce the appearance of redness and irritation | $29.95 for 1-oz ($26.96 with autoship) $39.95 for 1.7-oz ($35.96 with autoship) | Niacinamide, ethoxydiglycol, chlorophyllin-copper complex (Floralux®), glycerin, pyrus malus (apple) fruit extract |
| Hydrating Masque | This revitalizing clay masque rehydrates your skin to refresh rough patches and restore its glow | $24.95 for 1.5-oz ($22.46 with auto-ship) | Polyvinyl alcohol, undecane, kaolin, cocos nucifera (coconut) water, bentonite |
| Sudsy | A body wash designed to cleanse your pores from dirt, oil, and bacteria while gently cleansing your skin | $16.95 for 6-oz ($15.26 with autoship) | Disodium cocoyl glutamate, cocamidopropyl hydroxysultaine, glycerin, niacinamide, jojoba esters |
| Cleanse | This gentle foaming facial cleanser washes away dirt and makeup and is great for all skin types | $9.95 for 2.25-oz ($8.96 with autoship) $14.95 for 4-oz ($13.46 with autoship) | Sodium c14-16 olefin sulfonate, cocamidopropyl betaine, cocamidopropyl hydroxysultaine, acrylates copolymer, glycereth-2 cocoate |
| Treat | An acne treatment gel that uses salicylic acid to battle breakouts and prevents them from reoccurring | $14.95 for 1-oz ($13.46 with autoship) $24.95 for 1.7-oz ($22.46 with autoship) | Salicylic acid 2%, butylene glycol, glycerin, ethoxydiglycol, neopentyl glycol dicaprylate/dicaprate |
| Restore | This gel-based treatment reduces acne redness and evens out your skin tone | $27.95 for 1-oz ($25.16 with autoship) $39.95 for 1.7-oz ($35.96 with autoship) | Isopentyldiol, witch hazel water, ethoxydiglycol, niacinamide, butylene glycol, |
Signing up for the bioClarity autoship program lets you save 10% off each product and receive free shipping (otherwise, shipping is $3.99 for orders under $50). You can choose a frequency from once every one to three months.
All bioClarity orders are guaranteed for the first thirty days after purchase. If you aren't happy with your product, contact the company at care@bioClarity.com or (844) 625-2748 for a full refund.
You can also cancel your auto-ship at any time through your online account or by contacting the company directly.
Is There Clinical Evidence That bioClarity Will Work?
One common ingredient in many bioClarity products is a chlorophyllin-copper complex known as Floralux. This is a proprietary ingredient made by replacing the magnesium in chlorophyll and adding copper instead.
The company claims that this plant-based ingredient contains a potent antioxidant complex that works to visibly improve skin. The idea is that the compound penetrates through the skin's epidermis into the dermis layer to address skin issues before they start and protect you from bad bacteria and damaging radicals.
While we couldn't find any clinical studies on Floralux, chlorophyll is considered valuable for treating mild to moderate acne. For example, a 2015 study found that people who used a topical chlorophyll solution for three weeks experienced significant skin improvement in the form of smaller pores and fewer blemishes.
Another active ingredient in bioClarity products is salicylic acid. Derived from willow bark, this compound is valued for its anti-inflammatory and antibacterial properties. Multiple studies have found it to be useful for treating acne, though you need to pay attention to your dose because too high of a concentration can lead to dryness and itchy, peeling skin.
A 2% concentration of salicylic acid, as found in bioClarity products, is the max dose allowed in over-the-counter formulations.
bioClarity shares the results of an internal clinical study that looked at how well its acne treatments worked to clear up skin problems for teens and young adults. The study specifically focused on a three-part treatment process that included Cleanse, Treat, and Restore.
Thirty people participated in the eight-week study, which found that they experienced an average of 50% reduction in inflamed pimples and blackheads on their faces after eight weeks, and more than a 30% reduction in whiteheads and acne lesions.
More than 90% of participants reported that they thought bioClarity reduced the number of blemishes on their skin and that they would recommend the product line to others.
Note that this study is small (just 30 participants) and that it relies on self-reporting from the participants for much of its positive findings. Likewise, the study only looks at the effects of bioClarity compared to doing nothing, rather than seeing how it compares to other acne-fighting products.
Possible Side Effects
According to the bioClarity website and online customer reviews, extreme side effects from using bioClarity products are rare, though some of the products can cause mild dryness or irritation.
According to the previously mentioned study, the only side effects of bioClarity were occasional redness, dryness, and stinging or itching. In most cases, they cleared up quickly without issue.
Some people are especially sensitive to Salicylic acid and are more likely to suffer dry, irritated skin from using it regularly. You may want to try any product that contains it at half the recommended dose amount for a few weeks to see how your skin responds to it.
Analysis of Customer Reviews
Influenster has almost 100 reviews from bioClarity customers, and they average 4.3 stars. There are also 275 reviews on Amazon for the bioClarity Acne Treatment bundle, which average 3.9 stars. Here are some of the things these reviewers wanted to share.
Common Compliments:
Products have no scent, which is excellent for those with sensitivities
Works well for adult acne
Vegan, organic ingredients a plus
Leads to long-term skin improvements
Common Complaints:
Some of the products dried out user's skin
Not as effective as Proactiv for some
Some customers were billed after canceling their subscription
Too expensive for the product size/ benefits
bioClarity vs. Proactiv
Acne-fighting product kits aren't difficult to come by; the harder challenge is deciding which ones to try. One of the biggest brands in acne eradication is Proactiv. How does the Proactiv+ line compare to bioClarity?
To start, Proactiv+ makes no claims about containing vegan ingredients, though it does promise to be gentle on your skin. Most users will purchase the full product line, which includes three products: a Skin Smoothing Exfoliator, a Pore Targeting Treatment, and a Complexion Perfecting Hydrator.
bioClarity, in contrast, lets you purchase its products individually as well as in pre-selected "routines" designed to combat specific skin problems.
As with bioClarity, Proactiv+ suggests it might take a few weeks for your skin to adjust to the products, and that you may experience some dryness and irritation in the meantime. That's partly due to the salicylic acid, though ProActiv+ products contain just a 0.5% concentration, a quarter of what's found in bioClarity.
Pricewise, a Proactiv+ kit costs $29.99 for a thirty-day supply. Most bioClarity products start at $20 each, and collections are $39.95–$69.95.
Struggling to choose between these brands? Proactiv+ offers more clinical evidence of its efficacy, and the products contain benzoyl peroxide, which is a standard treatment option for acne.
This product line may prove more effective for eradicating your skin issues, though the focus on plant-based products may be enough of an appeal for you to consider bioClarity instead.
The Bottom Line: Should You Purchase bioClarity?
bioClarity products promise to give you better skin and remove your mild acne symptoms for good. There's some evidence that these products will be effective, but less reason to think that they will work better than any other available acne treatment.
Saying that, these product's ingredients seem gentle enough that you shouldn't experience any serious side effects from using them. As with many acne treatments, dry skin is common but should only last a few weeks as your skin adjusts.
There's not much evidence that bioClarity's proprietary ingredient Floralux does much to differentiate the brand, but it still seems likely to help you get your acne under control. We recommend that anyone with moderate acne problems who prefers to use vegan products consider this brand.
Customer Reviews