MDacne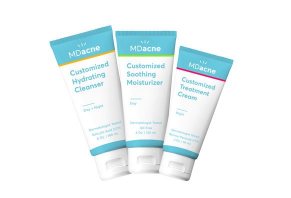 Summary
MDacne offers a smartphone APP that provides customized skincare and ongoing dermatologist support for those suffering from mild to moderate acne.
MDacne Reviews: How It Works, Ingredients, Side Effects
Acne is the most common skin condition in the United States, with more than 50 million Americans – 85% of those between the ages of 12 and 24 – experiencing at least minor acne annually.
Unfortunately, only 10% of people with acne ever see a dermatologist, said Dr. Yoram Harth, a Board-certified Dermatologist and Co-Founder of MDacne.
"The rest rely on 'one size fits all' products they see in drugstores and online, which are frequently irritating or simply ineffective and don't come with any additional support," he noted.
In our review, we will take a closer look at MDacne, a mobile app that analyses a user's skin and creates customized skincare products specifically for them. The MDacne Personalized acne treatment app can be downloaded for free.
It's important to keep in mind that this information is not intended as medical advice. Before you try any new products on your skin, talk to your Board Certified Dermatologist, or medical provider, first.
How MDacne Works
When MDacne was founded in late 2016, it was just the MDacne app, which provided a free skin analysis and product recommendations, said Dr. Harth, a former research fellow at Columbia Presbyterian Hospital in New York, and winner of the Wall Street Journal Award for the Invention of Blue Light Phototherapy for the treatment of acne.
"In early 2018, we launched the MDacne customized products and services," Dr. Harth said. "For the past year, we have provided users with everything they need from their initial analysis to successful acne treatment."
With MDacne, a user takes a selfie in the comfort of their home, and the app analyses their skin.
"Based on the analysis, they can order and a full kit of acne treatment products that are personalized to their acne severity, persistence, skin type, and sensitivities," Dr. Harth explained.
Users also have access to all the services in the MDacne app including ongoing chat support with a dermatologist, progress tracking, and free fine-tuning of their product ingredients to ensure they get the best results.
"Combined, this results in an increased commitment to their acne treatment program and significantly better results," Dr. Harth said.
Comparison To Competitors
According to Dr. Harth, MDacne is the world's first and only service that provides a full, customized kit of acne treatment products along with continuous dermatological support and progress tracking, all right on your phone.
He noted this has several significant advantages over other acne treatment options:
Speed: With the MDacne, a user can have her/his skin analyzed in seconds. No need to wait weeks for a costly, in-office appointment with a dermatologist.

Accuracy: MDacne uses a mobile AI technology trained on close to half a million images providing a dermatologist-grade skin assessment.

Products: Users receive a full kit of customized products including everything they need for effective acne treatment delivered right to their doorstep.

Personalization: The products are personalized to the user with different active ingredients in different percentages to maximize efficacy while minimizing irritation.

Ingredients: MDacne is the first to combine medical-grade ingredients with plant-based boosters for the best results.

Support: Users receive ongoing support throughout their treatment to ensure they get the best results possible.
Is MDacne better than other acne treatments? Yes, according to Dr. Harth, who emphasized: "MDacne is significantly more effective than other acne treatments."
In the over 25 years he has been working as a dermatologist, he has seen that effective acne treatment depends on two factors: matching a person to the right products for their skin; and ongoing monitoring and fine-tuning of the treatment as needed.
"Currently, the most popular acne treatment systems on the market still provide mostly 'one size fits all' solutions," Dr. Harth explained. "Because they are not personalized, the treatment efficacy and commitment are usually low. Besides, they typically do not provide that continuous monitoring and support to users that is crucial for effective acne treatment."
MDacne Products & Effectiveness
MDacne products use special, micronized forms of the most effective anti-acne topical medications: Benzoyl Peroxide and Salicylic Acid.
Benzoyl Peroxide: Considered the single most potent topical medical ingredient for the treatment and prevention of mild to moderate acne. MDacne's proprietary micronized MDclear™ Benzoyl Peroxide, which is clinically proven to diminish blackheads and whiteheads, was specially formulated to kill acne bacteria and to provide the highest possible anti-acne efficacy with reduced skin irritation.

Salicylic Acid: MDacne's proprietary, soluble salicylic acid (MDclear™ SalAc) was specifically formulated to provide the highest anti-acne efficacy with minimal skin irritation. Customized for the treatment of acne-prone, sensitive skin, it is clinically proven to unclog pores, reduce acne breakouts and help fade post-acne brown spots.
"These ingredients are at the top of the list of the latest American Academy of Dermatology acne treatment guidelines," Dr. Harth said. "Combined with powerful, natural, plant-based boosters, the products have medical-grade efficacy without the need for a prescription."
The Kit Includes
MDacne subscribers receive a kit in the mail that includes the following:
A customized treatment cream for nighttime that's formulated to clear acne with minimal irritation.

A customized hydrating cleanser that's formulated to remove all dirt and oil, protect the skin's barrier layer and unclog pores.

A customized soothing moisturizer for daytime that's been specially created to protect the skin barrier, reduce redness, enhance healing and help reduce post acne brown spots.
Users tend to feel their skin is cleaner and more refreshed in just a few days.
"As with any effective acne treatment, visible improvement is usually seen after 3 to 4 weeks with significant improvement at 8 to 12 weeks," Dr. Harth said.
Additional Treatment Boosters
MDacne's products also contain many beneficial ingredients for the skin.
"These are already infused in the products," Dr. Harth said. "We actually believe that we are the world's first company to combine medical-grade anti-acne medications – Benzoyl peroxide, salicylic acid – together with best anti-acne plants-based ingredients. The same principles are implemented in our new Active Oil-Free Sunscreen, Dark Spot Remover, and Body Acne Treatment Cream."
These additional treatment boosters include the following:
Aloe Barbadensis leaf juice: Natural skin soother that attracts and retains moisture.

Deionized water: Purified to remove trace minerals, toxins and increase ingredient stability.

Ascorbic acid (Vitamin C): Helps reduce dark spots, even skin tone, and boost the skin's natural healing.

Camelia Sinensis (Green tea): Reduces post-acne hyperpigmentation and dark spots.

Glycyrrhiza Glabra (Licorice) Root Extract: Provides antioxidants to help prevent and correct pigmentation.

Hamamelis Virginiana (Witch Hazel extract): Has anti-microbial and anti-inflammatory properties for preventing future breakouts.

Tocopheryl Acetate (Vitamin E): Prevents free radical skin damage and protects the skin's natural barrier.

Cucumis Sativus (Cucumber) extract: Decreases water loss and helps balance sebum production.
Ideal Candidates
Considered effective for all people with mild to moderate acne, MDacne is suitable for both teenage and adult acne and safe for all skin type and tones.
In addition to treatment of facial acne, MDacne subscribers can also purchase medical-grade products for the treatment of body acne as well as post-acne dark spots (i.e., hyperpigmentation) plus a new oil-free sunscreen, all launched in January of 2019.
On the flipside, people with severe or cystic acne typically will not be able to see full clearance of their acne even with the most effective topical treatments, Dr. Harth said.
"While we certainly can help them reduce their breakouts, we also recommend they consult their dermatologist to consider other treatments, such as oral medications as well," he noted.
Potential Side Effects
As with all other effective acne medications, some users may experience some initial dryness and irritation as their skin adjusts to the potent products.
"However, this typically subsides within a few weeks of continued use of the products," Dr. Harth explained. "Additionally, we do provide complimentary fine-tuning of the product ingredients as needed to ensure best results and minimize any irritation."
As far as the overall safety factor is concerned, all MDacne products are dermatologist designed, tested, and of course, FDA-cleared to be safe and effective for the treatment of acne, Dr. Harth emphasized.
"All our products are paraben-free, phthalate-free, cruelty-free, and vegan."
The Cost
MDacne has a monthly subscription cost of $29.95 and shipping is free. The MDacne Personalized acne treatment app can be downloaded for free.
The subscription includes a full kit of customized products, as well as access to the premium services in the MDacne app, including unlimited access to chat support with a dermatologist, selfie progress tracking, free fine-tuning products ingredients, and more.
Customer Feedback
Numerous customers have claimed to see great results with the MDacne app and products, including a young woman named Monica who stated that "every time I talk about this product, I end up gushing over it." After using her kit for three weeks, "it has changed my life, no exaggeration. Anyone, teenaged to adult, suffering with any kind of acne, needs to try this product."
Another young man, Ricardo, used the kit for five weeks, and stated that "I'm experiencing fantastic results with my skin and my self-confidence has skyrocketed…there isn't any other product I've tried that has helped me so much in so little time."
As far as the app itself is concerned, reviews are mixed on Apprview.com, which rated the MDacneapp with 3.8 out of 5 stars. Apprview.com, which reviews mobile apps, is not affiliated in any way including development, production, management, marketing, design, or otherwise with any iOS app.
One customer on Apprview.com who gave the app 2 out of 5 stars stated that "this app doesn't do too well distinguishing between acne and freckles." Another who rated the app with 1 out of 5 stars noted that it "doesn't work" and that "I have a lot of freckles so it scanned all of them."
However, one customer who gave the app 5 out of 5 stars claimed it's "Miraculous!!!" and stated that during the first week, "it took my skin a little to adjust to the night cream due to my skin being super sensitive." After doing MDacne for a little over a month, "I'm honestly in love and would recommend to anyone who has tricky skin like I do. MDacne is the first face cleanser that has ever worked for me and I've tried everything!"
Another customer who gave the app 5 out of 5 stars stated that "I am nearly 18 and have struggled with acne since I was 12, switching from product to product." This customer went on to say that nothing seemed to work, "but this summer I discovered MDacne! It has literally changed my whole life. I feel so much more confident! I would highly recommend this for anyone! Also it is super affordable!!"
In other customer reviews on the iTunes App Store, which gave the app 4.2 out of 5 stars based on more than 1.4 thousand ratings, one customer stated, "It's so affordable, easy to use, and the best product I've personally ever used," while another claimed that "My skin shines and I have little to no acne now. And one of the best things? They are cruelty free."
Many MDacne users have allowed the company to share their acne stories on social media, including Sheila Hollins-Jackson from Waukegan, Illinois, who said these are "not just some products they throw in a box."
"With your smartphone, you are able to download the app…it walks you through…and it's going to assess the severity of your acne," she said.
What she loves about this app, and the MDacne company, is that she's receiving "high-quality" ingredients. Additionally, "you're also getting unlimited chat access with a dermatologist; you're getting access to a community of other people that are using the app…you can also track your skincare progress within the app."
Her kit in the mail, which she described as "sheik and pretty," included her three customized skincare products with specific use instructions, as well as a pamphlet with a QR code to scan for the app to get started.
"This whole kit is only $29.95, and you have a 60-day money back guarantee," Hollins-Jackson said.
She especially likes the extras that come along with the app, including a how-to video, tips on changes she can make in her diet to improve her skin, and ways to reduce blackheads without damaging the skin. The app also keeps her accountable, asking questions such as, did you follow the routine? Did you sleep well?
"It's right here with me," she said. "Every day they have daily tips. This is really, really cool and I love the fact this is right on my phone."
She especially likes the aspect of the app that allows her to take selfies to track her progress.
"Sometimes when you're doing acne treatments or skincare treatments, it takes time for them to work; it's not an overnight process, sometimes you don't see a difference when you're looking at your acne every day," Hollins-Jackson said. "When you track it in an app like this, it's much better…when you see that progress – it gives you that boost of motivation."
The Bottom Line
The mission at MDacne is to "democratize" the treatment of acne and to provide a highly-effective acne treatment at a fraction of the time and cost of a dermatologist office visit.
As far as the time consideration is concerned, MDacne lives up to this claim by providing information and access at the touch of your fingertips with a smartphone app. This alone is a huge time-saver because the app eliminates the need to travel to an office for a one-on-one consultation. You also save money because you're not paying for an office visit.
The money aspect also includes saving dollars on gas for travel, because you can use the app at any time – from wherever you are. MDacne also offers free shipping, which consumers always appreciate.
In other positive factors, MDacne products are claimed to be FDA-approved, clinically proven and medical grade. These three factors are especially important when it comes to products you're putting on your skin. And for $29.95 per month for three personalized products – that's a great deal.
Another significant point is that more than half a million people to date have used the MDacne app to analyze their acne and receive a personalized treatment plan.
Many of their customers claim that they've struggled with acne for years and tried many other products with limited or no success. But with MDacne, they say they receive support and personalization to help clear their acne—and ultimately regain confidence. These customer testimonials are powerful, considering they're given by real people who have posted their photos and reviews on social media platforms.
Customer Reviews
Posted on Mar 1, 2020
Worst customer service.
I never usually write reviews but I had a bad experience and I want others to know. I was emailing back and forth with an agent called Monique. She wasn't able to assist me properly. I ordered my free trial package and when I tracked it on UPS it says the product was delivered, and I didn't actually receive anything. Now, instead of Monique giving me proper solutions and figuring out what to do next, she started asking me to ask around my building if any neighbors saw my package. First of all, unprofessional, she is basically calling me a liar. Second of all, without even being told, I took those necessary steps because I want my package. I wouldn't go out of my way to email back and forth if I did receive anything. Then lastly, instead of helping cover shipping costs and sending a new package, I'm asked to pay AGAIN. For products I didn't use, so double the cost for a product I can't say will work 100% or even 50%. I wanted to like you guys but this is terrible customer service.
Bottom Line: No, I would not recommend this to a friend
Posted on Apr 1, 2019
The best acne treatment out there
I am 24 years old now. Acne from the age of 14. I tried everything. Dermatologists, Proactiv, Curology.
Nothing worked. I was skeptical at first about MDacne, but it seems that the personalization of the products does the trick. Based on your selfie analysis they send you products that are very effective but still non-irritating. It literary cleared my skin in less than 2 months. Highly recommended.
Bottom Line: Yes, I would recommend this to a friend
Our Promise to You
In order to safeguard you and ensure helpfulness and relevance, our compliance team manually assess every customer review before it goes live.
We have a zero-tolerance policy for fake reviews, and companies cannot control or alter any reviews at any time.