Proactiv+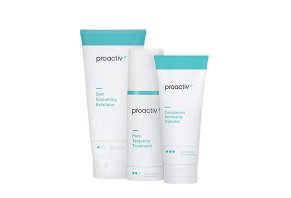 Summary
Proactiv+ is a multi-step daily acne treatment designed to clear up your skin and prevent mild to moderately severe breakouts.
Pros
Active ingredients are clinically proven effective for mild to moderate acne
Considered safe for long-term use
Cons
More expensive than similar product lines
May cause skin irritation during the first few weeks
Nonactive ingredients may cause adverse side effects
Proactiv+ Review: All You Need to Know
Far from being merely a problem for adolescents, an estimated 50 million American adults deal with breakouts every year, making acne treatment a $1.2 billion industry.
Proactiv+ is a daily treatment for mild to moderate acne designed to fight the signs of breakouts with prescription-strength ingredients that go directly into your pores for deeper cleansing powers.
Since the company's start in 1995, Proactiv claims to have helped more than 20 million people with their skin problems and has become the #1 acne brand in America.
The Proactiv+ line consists of three products—an exfoliator, a pore targeting treatment, and a hydrator—that work together to clear up hormonal breakouts and adult acne for men and women.
This product line is not recommended for anyone with severe cystic or nodular acne.
How does Proactiv+ compare to other acne treatments? Should you commit to using it long-term? Learn from our analysis what your best path forward should be.
How to Use Proactiv+
With the Proactiv+ product line, Proactiv claims to have combined the principles of Combination Therapy with "Smart Target" technology to send acne-fighting medication to your pores for healthier skin and fewer blemishes.
This technology purportedly delivers active ingredients directly into your pores to reduce the potential for dryness and irritation.
Proactiv+ is a three-step system designed to be used twice per day in the morning and evening. For each session, you will complete the following steps:
Apply a coin-sized dollop of the Skin Smoothing Exfoliator to dampened skin, massaging it with a circular motion for two minutes. Rinse with warm water and pat until dry.

Apply at least two pumps of Pore Targeting Treatment to your clean, dry skin and gently smooth it over your face, allowing it to absorb fully. Don't wash it off!

Apply at least a coin-sized amount of the Complexion Perfecting Hydrator to your dry skin, gently smoothing it over your face until it fully absorbs. You can apply more over the day as needed.
Proactiv+ is designed for long-term use. You might experience a two to four-week adjustment period as your skin gets used to the products' active ingredients, during which you may find that your skin is dry, red, or irritated.
Note that Proactiv+ doesn't claim to cure acne and that the company states your blemishes may return when you stop using the product line.
Analysis of Ingredients
Proactiv+'s three products include dozens of ingredients each, but the company only lists two active ingredients between the two of them: Benzoyl peroxide (2.5%) and salicylic acid (0.5%).
Benzoyl peroxide is a standard treatment option for mild to moderate acne. It works to kill bacteria and remove dead skin cells from your pores so that your skin stops getting inflamed and overproducing oil.
Though it's considered safe for most people, benzoyl peroxide can produce side effects like skin irritation, excessive dryness, and itchiness or flakiness. Those with sunburns or naturally sensitive skin are most likely to react negatively.
Regarding concentration, a study from 1986 found that a 2.5% concentration of benzoyl peroxide was as effective as a 5% or 10% concentration and was less likely to cause harmful side effects than those concentrations. Another study from 2013 verifies these findings.
Salicylic acid is another common acne treatment. Like benzoyl peroxide, it works to unplug blocked pores so that dirt and oil are dislodged and your pimples shrink. It tends to work best for whiteheads and blackheads, rather than the pus-filled pimples that benzoyl peroxide targets.
As salicylic acid is milder than benzoyl peroxide, concentrations vary in prescription products from between 0.5 and 5%. Both salicylic acid and benzoyl peroxide target different types of acne, so Proactiv+ combines them for a full spectrum treatment.
Are there any Proactiv+ ingredients to worry about? Below are some compounds that have potential risk factors, as reported by the Environmental Working Group (EWG) database.
Ceteareth-20: This synthetic compound acts as an emulsifier and a surfactant in personal care products. Though considered safe for topical use, it shouldn't be used with on damaged skin because you risk absorbing it into your bloodstream and possibly triggering organ damage or general irritation.

Sodium polyacrylate: This chemical polymer is often added to products for its absorbency powers. It's considered toxic if swallowed and can irritate the eyes on contact. Some people also experience skin irritation when using it topically.

Potassium hydroxide: Also known as lye, this inorganic material is highly caustic and is used both in soapmaking and as a thickening agent. Too much exposure can lead to skin and eye irritation, and it may be fatal if swallowed in pure form.

Sodium hydroxide: Like potassium hydroxide, this compound has strong corrosive qualities and can cause skin and eye irritation if you are overexposed to it.

Phenoxyethanol: This common cosmetic preservative is linked to skin irritation ranging from eczema and hives to life-threatening allergic reactions.

Kojic acid: Made from multiple types of fungi, kojic acid is often used topically and is considered safe at concentrations under 1%. Some people experience skin redness and irritation even at this concentration.
There's also evidence that its longterm use can make you more susceptible to sunburns, which is part of the reason why Proactiv recommends that you always apply sunscreen when using its products.
Key Takeaways
Because of how potent these compounds are, especially when combined, many people experience dryness and irritation for the first few weeks of use. You might want to start with smaller amounts and gradually work up to the recommended doses if your skin reacts badly.
Pricing and Kits
On the company website, Proactiv+'s pricing ranges depending on which kit you purchase:
Price
What's Included
Proactiv+ Teen Kit
$39.95 (free shipping)

Proactiv+ 3-Step System
Blackhead Dissolving Gel
Emergency Blemish relief

Proactiv+ Complete Kit
$39.95 (free shipping)

Proactiv+ 3-Step System
Clarifying Night Cream
Advanced Dark Spot Correcting Serum

Proactiv+ 3-Step System
$29.95 ($5.99 shipping)
You can also choose one bonus gift to be included in your order:
Gel Head Brush Set: cushioned skin polisher that exfoliates while removing makeup, dirt, oil, and other impurities.

Oil Control Kit: T-zone oil absorber that makes your pores smaller and provides up to eight hours of shine-free skin. It also includes an Amazonian clay mask.

Deluxe Brush Kit: Cleansing brush with three different brush heads to remove dirt, makeup, oil, bacteria, and other impurities.
You can then decide whether you will receive standard-sized 30-day-supply products or larger-sized 90-day supply bottles for three times the price.
Each purchase automatically signs you up for a subscription. Approximately every twelve weeks, you will receive a new 90-day supply of Proactiv+ products (the larger-sized products) for the same purchase price as your first order, plus $2.99-$3.99 for shipping. This 90-day payment is broken down into three monthly payments.
You can adjust how often you receive new Proactiv+ kits through your online account from every four weeks to every 20 weeks. This is also where you can pause or cancel your subscription at any time.
All Proactiv+ orders qualify for a 60-day money-back guarantee. Even empty bottles qualify for this return. To initiate a return, you can place the merchandise back in a box with an original invoice and send it to Proactiv, 6390 Commerce Court, Groveport, OH 43125.
Your money will be refunded, minus shipping costs. If you need further help, contact Proactiv+ customer care at (800) 309-4796.
Analysis of Customer Reviews
More than 30 HighYa readers have left reviews for Proactiv+, and they average 2.7 stars overall. Here are some of the most common comments.
Common Compliments:
Effective for long-term acne reduction
Clears up acne problems quickly
Led to smoother, clearer skin
Worked better for many than traditional Proactiv products
Common Complaints:
Bad customer service experiences (difficulties canceling subscription accounts)
Many customers didn't realize they were signing up for a subscription
Too harsh for long term use
Some users developed cystic acne after using Proactiv+
Proactiv+ vs. Popular Alternatives
For those shopping around for a multi-step acne treatment kit, it pays to look at other options, including the original Proactiv line as well as two bestselling brands on Amazon.
Proactiv+
Proactiv Original
Acne Free
Clear Zit Acne Treatment
Price
$29.99–$50 for 30-day (depending on whether you sign up for a subscription)
$44.95 for a 60-day supply
$18.38 for a 60-day supply
$19.99 for a 60-day supply
Set Includes

Skin Smoothing Exfoliator

Pore Targeting Treatment

Complexion Perfecting Hydrator

Renewing Cleanser

Revitalizing Toner

Repairing Treatment

Oil-Free Acne Cleanser

Witch Hazel Mattifying Toner

Oil-Free Acne Lotion

Pore Targeted Exfoliator

Pore Targeted Treatment

Pore Targeted Hydrator

Active Ingredients
Benzoyl peroxide (2.5%), salicylic acid (0.5%).
Benzoyl peroxide (2.5%)
Benzoyl peroxide (2.5%)
Benzoyl peroxide (2.5%), Salicylic acid (0.5%)
What's interesting about this comparison is that it shows that each of these product lines contains the same primary active ingredient—benzoyl peroxide at 2.5% concentration.
This makes sense, as we stated earlier that this compound is commonly used in acne medications and that a 2.5% concentration is considered the right ratio for skin benefits without causing excessive irritation.
Seeing this similar ingredients list, it becomes less clear why Proactiv+ costs more. In fact, you will pay almost five times more for a 60-day supply of Proactiv+ (without a subscription) than if you purchased the Clear Zit Acne Treatment Kit from Amazon, which contains the same ratio of benzoyl peroxide and salicylic acid.
Maybe the brand recognition and the extra ingredients in Proactiv make this higher pricing worth it, but there's a good chance you might achieve similar results from a far cheaper product.
The Bottom Line
The Proactiv product line has been an acne-fighting leader for decades, and Proactiv+ builds on that legacy with powerful ingredients that are clinically proven to combat mild to moderate acne.
This kit works both to prevent and clear up existing acne, and it's formulated to be mild enough for daily use. However, this means you might need to commit to using it long term if you want to maintain any results you achieve.
Proactiv+ is a premium brand, and it has pricing to match. You can find far cheaper alternatives available, many of which should work almost identically since they contain the same active ingredients.
Overall, we think that Proactiv+ is one viable option out of many for addressing your skin outbreaks. Just keep in mind that you might need to invest in prescription-strength products if you deal with cystic acne or other severe cases.
Customer Reviews
Posted on Mar 23, 2019
Good product, terrible customer service
I first ordered this product in January 2019 and was impressed, so I ordered a second batch. However, apparently, I had inadvertently ordered a repeat order (which isn't clear on the order form) and as a consequence, another parcel arrived the next day with a 90-day order at a cost of £80. I immediately queried this with customer service who explained that I had ordered a repeat order, I said that this was a mistake and therefore I would like to return it and requested a returns label. The representative said they did not send out returns postage labels and it would cost around £4 to return. I was unhappy with this but he then said that if I wished to keep the product, they would charge me £45 as a goodwill gesture and they would cancel the repeat order. I thought that this was a fair compromise as it was a good product (even though it is expensive).
However, on checking my credit card statement the other day, I noticed that I had again been charged £30! I rang the company up and was told to wait whilst they checked my original phone call (even though she had told me what it said on my order)! After a long wait, the girl said she was unable to trace my original call but they would cancel the last payment and would not charge any further payments. However, I said that this was said previously and so requested an email confirmation. the rep assured me that she would email, but two days later and I have still not received this email Due to the terrible customer service, I would not use or recommend...
Bottom Line: No, I would not recommend this to a friend
Posted on Jun 14, 2018
Works for me
I've read Proactiv reviews that completely demonize the product and some that sing praises about it, but I am definitely one person who recommends that anyone with an acne problem give the trial pack a shot.
As a teenager I was lucky, as an adult not so much. I used Proactiv in my early twenties, and it worked great for about a year. All of a sudden it was like my skin became immune to it and my acne problems came back. I wrote Proactiv off as useless and quit using it. Later, in my early thirties, my mom insisted I try it again, and I did. This time it has been 100% effective for going on three years. Your age, hormones, health, skin type and skin sensitivity all very likely determine how effective it will be.
I recommend giving it a shot if you're curious and if it doesn't work, cancel your subscription. If it does, great!
Bottom Line: Yes, I would recommend this to a friend
Posted on Jun 11, 2018
Acne be gone
I've used this since high school! Thank you for helping me get rid of my acne. I like the texture and the way it foams up; it doesn't dry my skin up too much. The texture also exfoliates my skin, giving it a nice scrub.
Bottom Line: Yes, I would recommend this to a friend
Posted on Apr 4, 2018
Scam
After ordering a 3-Piece supply, I was totally unaware that next month they'll be helping themselves to your bank account! This is unacceptable and fraudulent in my opinion. The product actually made no difference.
Bottom Line: No, I would not recommend this to a friend
Posted on Mar 16, 2018
Amazing product!
I bought Proactiv Plus 3-step plan because my skin was dry, with lots of spot breakouts and red veins coming through in my cheeks. Best money ever spent! After 3 days my skin feels like brand new skin and the spots and red veins have vertically disappeared. I didn't expect to get results like I have. Super smooth and clear skin in just 3 days. Will definitely continue to purchase this product.
Thank you Proactiv Plus.
Bottom Line: Yes, I would recommend this to a friend
Posted on Dec 6, 2017
It's okay
I tried this when I was younger and yes it did help me, but it was very harsh. I feel as if you can get just as effective results using natural products without the harsh ingredients.
I would recommend for people to at least try it, as I did gain some benefits from the product.
Bottom Line: Yes, I would recommend this to a friend
Posted on Sep 20, 2017
Do not buy, PLEASE.
I first ordered the trial pack back in January of 2015. It was ok, but not worth paying for, so I canceled the account. In April of 2015 I got a package from them and since I did not return it, I paid even though I didn't order it and the account was canceled. I re-canceled the account. In July of 2015, they sent me ANOTHER unwanted package from a twice canceled account charging me $138.41 USD. (I did not give them a credit card thank goodness). This time I got smart and didn't even accept it from the post office, just returned it straight to the sender. For two years now I have been fighting them, they have wrecked my credit by bringing in a collection agency.
I got another letter today saying I owed this money and I have had ENOUGH. I called them and they were rude and unwilling to help, spoke to a supervisor who said we didn't get it back, you owe us, and the collection agency will get it. I am freaking out by this time.
Then the LIGHTBULB was TRACKING. I called back and spoke nicely and asked for the tracking number. I was told they use Landmark Global to send packages and I got the tracking number. While they were on the phone, I was on my computer tracking the package. Low and behold, PROOF I sent the package back, and they received it! I took screenshots of the proof and kind of lost it. I demanded another supervisor, and he tried to tell me I had six months to dispute the charges. Are you KIDDING ME?! I told him I had proof, and he didn't care.
It was only when I threatened to sue and add pain and suffering for the two years of hell they put me through did things finally change in my favor. Now, they say my account is clear and if I want to order again (LMAO, as if I would ever order from them again), they assured me that they would contact the collection agency and set things right. I said if I got another letter from them or the agency, I was suing anyway.
Do not buy from Proactiv! PLEASE.
Bottom Line: No, I would not recommend this to a friend
Posted on Mar 2, 2017
Best product ever
I was skeptical at first, but after a couple of weeks, my skin was looking amazing. There is such a big difference in smoothness, and it doesn't look dull and dirty anymore. Above all, I have no more spots, pimples or blemishes and it got rid of my scars too. I absolutely love it.
Bottom Line: Yes, I would recommend this to a friend
Posted on Jun 2, 2016
Bad reaction to 'new' Proactiv+
I used the original Proactiv skincare system for a few years with good success. After years of spot related problems into my late 40's I was happy. No side effects. Then the new Proactiv+ replaced the original system and I had no alternative but to try, as the old system was to be made obsolete according to my enquiries on their helpline. This is when my problems started.
I had no instant reaction to the new product. I did not like the texture of the new cleanser or the new moisturizer.
A few months later problems started that I did not initially connect to Proactiv+. Dermatitis started under my eyes. Lips started to feel dry. My eyes started to feel sore & dry. As the months went by I visited the doctors 3 or 4 times as the situation got worse. My lips cracked and peeled. On occasions bled. Dermatitis was treated with steroid cream but came back as soon as I stopped using it. Eventually a second stronger cream was prescribed. And my eyes became gritty, uncomfortable & bloodshot, for which I had to have drops and gels to alleviate. I took vitamins thinking I had some deficiency and kept a food/drink diary trying to eliminate the cause.
Eventually my doctor suggested stopping use of makeup and skincare products for a month even though all these products I'd been using for some time. The first thing I stopped was my Proactiv+ skin care. Almost instantly it was obvious Proactiv+ was the cause of my problems.
After a few weeks of not using Proactiv+ I no longer have dermatitis. My lips instantly felt better. Although there are lines inside my lips where damage is still showing, I no longer have any dryness. My eyes feel alleviated but not 'normal' so not sure if Proactiv+ is the cause of my eye problem yet, but it is obvious it was an irritant to them. So I will have to wait a little longer.
After e-mailing Proactiv, who needed constant prompting to reply, I am still awaiting a refund for all the 'new' Proactiv+ I have used. They offered a part refund to wrong card details and have ignored my correspondence since then. Customer service is very, very poor unless you are buying, then it us very, very good.
Bottom Line: No, I would not recommend this to a friend
Posted on May 16, 2016
Love it!
I used regular Proactiv with no results and have had incredible results with the Plus version. My skin is smooth, firm, radiant, pores are almost non existent and acne is gone. I'm always complimented on my skin. I also drink a lot of water too which works with it. Everyone's skin is different but for me this is the best I've ever had and I believe it works. I do buy at the kiosk. I had autoship but found I wasn't using all the product so I canceled it with no problems.
Bottom Line: Yes, I would recommend this to a friend
Posted on Sep 1, 2015
Would buy again
I wish I had started to use this many years ago. So I use Proactiv Plus for 3 weeks and my skin never looked better while using just cosmetics (only with pills it looked better). I use them 6 days a week and on 7th day I use hydrating masks and other treatment. I saw some peeling of skin after first 3 days, but then I started to use smaller amounts. Now it's all gone. Got several bumps, but pores are smaller, no redness or oily cheeks. My skin is mixed to oily and dehydrated. I can see older spots are drying. Recommending to friends.
Bottom Line: Yes, I would recommend this to a friend
Our Promise to You
In order to safeguard you and ensure helpfulness and relevance, our compliance team manually assess every customer review before it goes live.
We have a zero-tolerance policy for fake reviews, and companies cannot control or alter any reviews at any time.