Breethe App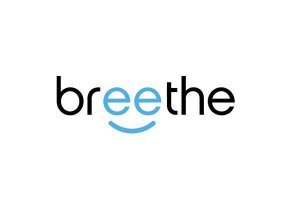 Summary
Breethe is a meditation app designed to help you improve your mindfulness, even if you're a complete beginner. It's a solid choice but nothing special above its competition.
Breethe App Review: Important Things You Need to Know
What Is Breethe?
Breethe is a meditation app designed to help you destress and establish a regular meditation practice. The app emphasizes short meditations and claims that you can de-stress and sleep better after just a five-minute session with a personal mindfulness meditation session.
Lynne Goldberg founded Breethe because of her experience with the benefits that meditation had on her own life. After dealing with multiple deaths in the family as well as a divorce and job loss, Goldberg eventually made it to a yoga retreat that introduced her to meditation.
This transformative experience caused her to course-correct, and she soon earned certifications as a meditation coach and yoga instructor.
Breethe came as a way to bring this same breakthrough to other people. The app is designed to introduce users to a wide variety of meditation and mindfulness content designed to help you get more in touch with yourself.
Features
When you open the Breethe app for the first time, it prompts you to choose the topics you most want help with.
Options include learning how to meditate, getting more sleep, dealing with less stress and anxiety, experiencing better performance at work, losing weight, learning how to meditate, and more.
The app takes your selections and prompts you to enroll in a free 14-day trial, at the end of which you'll automatically be signed up for monthly membership unless you opt-out beforehand.
If you choose not to enroll in a subscription, you will still have access to about 90 free meditations. This limited version of the app doesn't expire.
You can choose from hundreds of meditations. Most range in length from three or four minutes to over twenty.
Each meditation on the app is sorted into categories. These include:
Anytime, anywhere
Life situations
Learn to meditate
Themed weeks
Kids and family
Less guidance
Meditative music is also available.
Many meditations give you the option of adjusting their timing so that you can customize each session length to your preferences. The app allows you to adjust the sound of the instructor and the background music separately from each other.
An entire section of the app is devoted to improving your sleep, which includes a variety of meditations, bedtime stories, sleep visualizations, and sleep-inducing music and nighttime sounds.
About the Meditation Courses
Breethe also offers mediation courses and seven-day themed weeks to help you hone your practice. The app suggests you begin with its twelve-week "Learn to Meditate" course to develop a foundation for your practice through daily 20-minute sessions.
Other themed week courses include:
Better Sleep
Feeling Happier
Stress Less
Weight Loss
Generating Joy
Mindful Sex and Intimacy
Effortless Sleep
Getting What You Want
Mindful Parenting
Beyond guided meditations, you also can follow different mindfulness classes designed to guide you through different mental exercises, such as thinking about what it would feel like to be a baby and feeling the way that stress manifests itself in your body.
Finally, the app offers inspirational talks and masterclasses that touch on different topics related to meditation. These courses are fully audible and touch on topics like managing pain, understanding the purpose of your soul, finding inner peace, and setting yourself up for love.
You can use the Breethe app on your phone, tablet, or computer, and your progress will be synced across each platform.
The Cost
Monthly Membership: $12.99
Yearly Membership: $89.99
2 Year + Free Lifetime Upgrade: $149.99
Lifetime Membership: $399.99
What Are Popular Breethe Alternatives?
Two popular options are Insight Timer and Meditation and Relaxation PRO.
Insight Timer is a less a meditation app and more of a social platform for meditation teachers to upload their own content for meditators to follow.
The app logs more meditation hours than any other app and hosted almost 25,000 meditations. You can follow specific instructors, search for guided meditations by length or style, or meditate to background music or with the app's customizable timer.
Many people love Insight Timer because all of the platform's standalone meditations are available for free. If you want to follow a multi-day course, you'll need to sign up for a $59.99 annual or $9.99 monthly membership.
However, the app has less of a sense of cohesion than its competitors because of the range of people guiding meditations. This means that small details like production quality can differ dramatically, which might make it take you longer to find meditations you like.
Meditation and Relaxation Pro can be considered a stripped-down version of Breethe. The app costs $5 a month or $20 for a lifetime membership, and it offers meditations and multiday courses in about a dozen categories.
These include improving focus, getting more sleep, adding happiness to your life, and more. It's possible to adjust the length and background music of each meditation, though many reviewers have reported that the sessions started to feel repetitive after they had used the app for three months.
Meditation and Relaxation Pro costs just a fraction of what you'll pay for Breethe, which makes it a relatively low-risk way to commit to a meditation app if you're a beginner and want more guidance than you will receive in the free version of Insight Timer.
The Bottom Line
Says Trish Tutton, a speaker and mindfulness expert, "There are so many benefits to meditation, [including] feeling a greater sense of well-being, calm and happiness and of course managing day to day stress with more ease."
"In my experience," she told us, "meditation has helped me in many areas of my life, from managing stress to being more focused and productive. It's also really benefited my students and me when it comes to relationships."
But is Breethe actually a better meditation app than other options? Compared to other meditation apps, we like the amount of content that Breethe offers through its free version and the fact that some meditations are three minutes or shorter.
Beginning meditators often feel overwhelmed by the thought of sitting quietly for too long, but a short session usually seems doable enough to commit to.
In other parameters, such as price and content range, Breethe seems to be pretty middle of the pack. You'll pay more than you would for a Meditation and Relaxation Pro subscription, though it's the same price per month as Headspace.
However, this app has received the lowest reviews of any we have looked at. Most of these negative reviews seem to deal with buggy software that causes the app to crash, so it may only be a temporary issue.
If you're interested in starting a meditation habit, a mediation app is a stellar place to start. We don't see much reason to recommend Breethe specifically more than any other brand, though it's a solid option worth considering.
Download several meditation apps and take advantage of their free trials. It shouldn't take much experimentation to learn what platform is the best fit for you.
Customer Reviews
Posted on Apr 1, 2021
Long-time Breethe subscriber - it's worth it
I started with the free content on Breethe and my premium subscription is now in year three. I was a former meditator, and work in a health field where anxiety and stress are rampant among helpers and patients alike. This gave me a chance to recall what I learned before and add many new skills and strategies. I am applying the insight in real time at work and home. The content is varied, insightful, and educational and really helps you to understand important processes such as the sleep cycle, how the mind and body interact in anxiety and panic, and the impact of our fast-paced lives on our health. As a health professional, I can confirm that the information is psychologically sound and no one tries to sell you anything. I use it morning and night and have had a few "mini-retreats" during Covid-2020 using the Breethe app, periods of silence, nature walks, and improved nutrition - with awesome results! I have shared my enjoyment of this app with colleagues and clients and some family members. (I have less than 5 apps that I routinely use, so I am not one to keep an app that I do not use.) I will continue to use it and continue to recommend it. I have never had any issues with the technology at all.
Length of Use: 2+ years
Bottom Line: Yes, I would recommend this to a friend
Pros and Cons
Healthy and accurate information
No upselling
Beautiful visual and audio
I think people shy away from buying after using free content
Our Promise to You
In order to safeguard you and ensure helpfulness and relevance, our compliance team manually assess every customer review before it goes live.
We have a zero-tolerance policy for fake reviews, and companies cannot control or alter any reviews at any time.