How to Update the Information in the Article
Last updated on:
The Business Profile Page consists of two main elements – HighYa's editorial article and the consumer review forum.
The editorial article is written by one of our journalists using publicly available information, expert sources and opinions, interviews, and our own research, topic knowledge, and experience.
We do our best to provide the most accurate information. However, we completely understand that companies, products, and services are always changing and naturally information that we gathered about them at the time of our research can become outdated.
To ensure that your company is represented in the most accurate way, we have developed an efficient process of updating the information in the editorial article.
Our Update Process
The updating process is typically split into the following three stages:
1. Information Change Request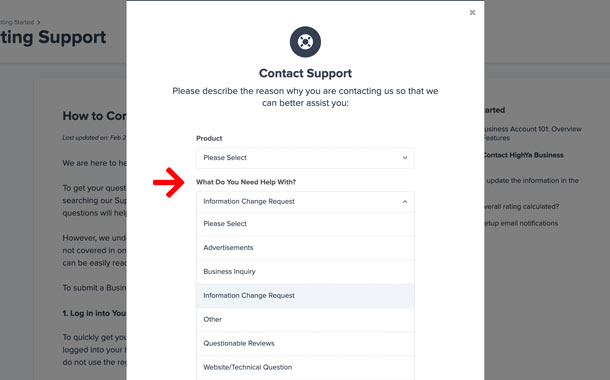 Using our Support Form, please submit a ticket requesting an update. To expedite the process, please make sure to do the following when filling out the form:
Select the product/service for which the changes are needed
Select the following reason for the support ticket: "Information Change Request"
Provide detailed information about the changes.
2. Research
Once we receive your request, we assign a journalist to review the information that you have provided.
Each case is unique and takes a different amount of time to complete. Some updates require only a section to be changed, while others warrant a complete article re-write.
In some cases, we will reach out to you via email or a call to gather additional information.
After we complete our research, we let you preview the new article to verify that all information is correct.
3. Update Is Published
Once we hear back from you to confirm that all information is correct, the new article is published live on your Business Profile Page.
FAQ
Can a company update the article themselves?
No, the editorial articles can only be updated by our journalists.
How much does an update cost?
All updates to the editorial articles are free of charge.
How many updates can a company get?
Within reason, we will process the necessary updates to reflect the most current up-to-date facts of the brand or company.
To your continued success,
HighYa Business Support Team