Copper Fit Rapid Relief Wraps Reviews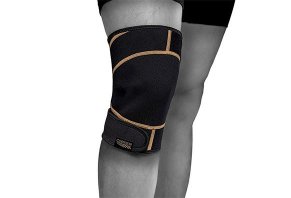 After freezing its gel packs in the freezer or warming them up in the microwave, Copper Fit Relief Wraps claim to deliver heat and cold therapy right where you need.
About Copper Fit Rapid Relief Wraps
Using form-fitting, anatomically-designed gel packs that fit into an insulated pouch, Copper Fit Rapid Relief Wraps promise to deliver effective hot or cold therapy to your elbows, ankles, shoulders, or knees, while retaining the ability to move about.
Combined with an adjustable, one-size-fits-most design, as well as copper-infused fabric to help reduce odors, these compression sleeves claim to provide effective relief from muscle and joint soreness and keep you mobile during recovery.
But, are Copper Fit Rapid Relief Wraps the only game in town? And if not, how can you decide which options will deliver the most bang for your buck? Stick with us over the next few minutes, and we'll help you find some actionable answers.
How Does Hot/Cold Therapy Work & Is It Effective?
Cold and heat can both be effective treatments for pain and inflammation, but they work via fairly different pathways.
According to PainScience.com, ice works best for injuries, since it acts as "a mild, drugless way of dulling the pain of inflammation and taking swelling down a bit." On the other hand, "Chronic pain, especially back pain, often involves lots of tension, anxiety, hypervigilance, and sensitization, and comfortable heat can soothe a jangled mind and nervous system."
This is because cold reduces blood flow to a specific area, as well as nerve activity, while heat dilates blood vessels and increases the flow of oxygen and nutrients. It can also help increase soft tissue flexibility and stimulate sensory receptors in the skin, and decrease pain transmission signals to the brain.
But they emphasize that these treatments, whether delivered using Rapid Relief Wraps or another hold/cold therapy product, aren't ideal in all situations: "Heat can make inflammation significantly worse," they say, while "ice can aggravate symptoms of tightness and stiffness; it can also just make any pain worse when it's unwanted."
Bottom line: If you're experiencing frequent pain, schedule an appointment with your doctor, who can help diagnose the cause and prescribe an appropriate treatment. But for mild, temporary stiff joints and muscles, heat therapy can help provide some measure of relief, as can cold therapy for sharp pain and inflammation.
But, are all hot/cold therapy devices designed like Copper Fit Wrap Relief Wraps, or are there meaningful differences? We'll dive into this important question in a second, but let's first quickly discuss the price and the manufacturer.
How Much Do Copper Fit Rapid Relief Wraps Cost?
Rapid Relief Wraps are sold exclusively on Amazon and Walmart.
Amazon: $19.99 (Knee)
Amazon: $19.99 (Shoulder)
Walmart: $17.99 (Knee)
Walmart: $27.98 (Shoulder)
Who Makes Copper Fit Rapid Relief Wraps?
With nearly 20 years in business, Wayne, NJ-based Idea Village has released hundreds of products, including the extensive Copper Fit lineup.
Although they had nearly 90 closed complaints (most seemed to reference product and customer service concerns), the company held an A+ rating with the Better Business Bureau, as of 2/27/2020.
Are There Other Hot/Cold Wraps Like Copper Fit Rapid Relief?
Whether at your local pharmacy, big box retailer, or sporting goods store, or popular online marketplaces like Google Shopping or Amazon, you'll find a wide variety of hot and cold therapy wraps available in just about every imaginable size, shape, color, and design.
For example, popular options at the time of our research included the Vive Hot Cold Wrap ($13, Amazon), which features a long, rectangular design with a Velcro strap on each end. Simply place in the freezer or microwave and wrap around many different areas of the body, including the back, neck, shoulder, hip, knee, and ankle.
Another option was the Thermipaq Relief Wrap ($15, Walgreens), which featured a similar rectangular design, but with a single Velcro hook-and-loop strap. Like Copper Fit's Rapid Relief Wraps, though, it advertised the ability to address pain and inflammation on the shoulders, knees, elbows, and back.
In addition to several similar generic products priced between $20 and $30, if you're looking for the lowest priced option, we found many standard hot/cold gel packs in the size of your choice priced as low as a few dollars.
When combined with a standard ACE bandage for only a few dollars more, it might not feature the exact same design and insulated pouch as Rapid Relief Wraps, but it could deliver much of the same customization and hot/cold therapy, but at a rock-bottom price.
Our Bottom Line About Copper Fit Rapid Relief Wraps
In many instances, it's beneficial when a single product can address many different concerns. Think of a vacuum that can effectively clean several different flooring surfaces, as one random example.
Related to the product in question, if you frequently experience pain, soreness, and inflammation in many different areas of your body (such as someone who regularly participates in a variety of sports activities), then a multi-functional product like Rapid Relief certainly seems like it could deliver meaningful value.
Just keep in mind that you're still limited to either the elbow or ankle with one model, or the shoulder or knee with another, so these wraps might not be quite as multi-functional as some of their hot/cold competitors.