DermaWand Reviews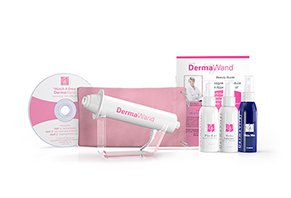 DermaWand is an at-home anti-aging device that uses radio frequency energy to reduce wrinkles and improve your skin's texture skin with two treatments a day.
What Is DermaWand?
Ready to love your skin again? That's the question posed by DermaWand, a handheld device that uses radio frequency (RF) energy to deliver skin-smoothing treatments in the comfort of your own home.
DermaWand positions itself as a kind of middle-ground treatment—more effective than anti-aging creams and lotions, but not as invasive and costly as injectables or plastic surgery. With regular use, the device claims to:
Visibly reduce fine lines and wrinkles
Tone and tighten sagging skin
Help to reduce enlarged pores and uneven texture
Reduce the look of puffy eyes
With over 2.5 million devices sold worldwide, DermaWand's claims are obviously striking a chord with consumers. The device has also been promoted on network television, thanks to spots on Rachel Ray and Dr. Oz.
But can any at-home device really deliver the dramatic anti-aging benefits DermaWand promises?
To answer that question, we'll take a look at how DermaWand works, the technology behind the device, and customer reviews of their results. But first...
Who's Behind DermaWand?
The creator, inventor, and overall face of DermaWand is Christina Boves. Boves conceived the DermaWand after 30 years as a cosmetic advisor and instructor. In this video, she states that her inspiration came from the understanding that aging skin needed daily treatments to improve—and that anti-aging creams and lotions just weren't cutting it.
Boves turned to radio frequency (RF) treatments because of their high rate of success lifting, smoothing, and giving the skin a youthful appearance.
She states that skin still needs moisture and that the DermaWand isn't intended to completely replace your skincare routine. However, as a skin professional, Boves claims that none of the topical products that she had access to could match the results she saw from daily RF treatments, which inspired her to create a device that was both safe and effective for at-home use.
Christina Boves partnered International Commercial Television Inc. (ICTV), a health and beauty retailer that makes and sells the DermaWand.
ICTV advertises primarily through infomercials. However, unlike many As Seen On TV brands, ICTV holds an A+ rating with the Better Business Bureau (as of 9/27/16).
Christina Boves' experience combined with a positive BBB rating of ICTV certainly places DermaWand in a positive light as a legitimate product, so it's about time we learned how the device works.
How Does DermaWand Claim to Work?
In a nutshell, DermaWand utilizes radio frequency (RF) waves to stimulate your skin. According to DermaWand's website, this works in three ways.
Thermal Therapy
First, radio frequency waves create thermal energy—"thermal" being warmth—that are delivered via microcurrents down past the skin's surface. (Meaning that you can't just fall asleep on a heating pad to get the safe effect.
From there, thermal treatments kick the body's wound-healing response into high gear, resulting in collagen formation that firms and plumps skin.
What temperature needs to be reached for an RF treatment to be effective?
Research shows that the skin must reach 40-45 degrees Celsius to trigger new collagen production. In another video (unrelated to DermaWand) showing an in-office RF skin treatment, Dr. Robert Sigal states that their device reaches approximately 42 degrees Celsius (that's 107 degrees Fahrenheit for us Americans). Any higher, says Sigal, and the thermal energy affects the fatty layer under your skin, which is undesirable.
Potential customers should note that it's not stated what temperature DermaWand reaches. We'll come back around to this point in our conclusion, but remember that there's a very small window of ideal RF energy when it comes to thermal treatments. Too low, and they won't be effective. Too hot, and you risk permanently damaging your skin by melting supporting fatty structures and scarring from burns.
Skin Stimulation
Another aspect of DermaWand's treatment is stimulation. The device claims to deliver gentle microcurrents at 100,000 cycles per second. This supposedly creates a massaging effect that improves circulation, bringing fresh blood and oxygen to the skin.
DermaWand's claims aren't off base—massaging motions are known to increase blood flow to an area. Stimulating the skin also encourages lymphatic drainage (fluid retention), so this is likely where DermaWand derives its claims of reducing under eye puffiness.
Enriched Oxygen
Finally, DermaWand claims to give off "enriched oxygen" while in use, bathing your skin in a mini atmosphere of fresh, "after a rainstorm" fragrance. According to the device's website, enriched oxygen helps breathe new life into your complexion and tighten your pores.
Without detracting from the potential benefits of thermal treatments and improved circulation, we'd like to point out that this proposed aspect of DermaWand's claims perpetuates a common myth: that pores can be "tightened."
Your pores aren't tiny, tubular muscles that can constrict and relax. They're hair follicles that emit sebum (oils). Depending on how oily or dry your skin is, your pores may naturally be larger or smaller than the next person's. However, whichever size your pores may be, it's determined by genetics—and it's permanent.
Yes, you can temporarily reduce the appearance of large pores by applying cold water or certain masks. This plumps up the surrounding skin. They can also get larger throughout your lifetime as your skin begins to sag.
Considering DermaWand's promise to tighten your overall complexion and reduce signs of sagging, aging skin, those using the device might see a reduction in pore size. However, we have been unable to find any research proving that pores can ever be permanently cajoled into a smaller size than they were during your complexion's peak.
How to Use DermaWand?
Approximately the size and shape of a Clarisonic toothbrush, the DermaWand is a corded device, meaning that you will have to be positioned near an outlet when you treat your skin.
When using DermaWand for the first time, you're instructed to remove the bulb cap, then turn the dial to Setting 1. Try the device on the back of your hand first, to ensure there are no adverse reactions and that it feels comfortable.
Ready to start your regular treatments? DermaWand is supposed to be used twice a day, once in the morning and once at night. To use the DermaWand, follow these steps:
Cleanse your face with your preferred product and rinse with warm water.
Be sure that your skin is completely dry before proceeding.
Apply a nickel-sized amount of DermaWand Pre-Face or your favorite moisturizer, giving special attention to your delicate eye area.
Turn the dial to Setting 1 and place the bulb tip directly against your skin. The website states that you'll feel a "unique sensation" that's described as a gentle tingling feeling.
Begin sweeping your DermaWand across your entire face.
After finishing general sweeps, start with the lifting exercises that are shown in the DermaWand's accompanying guide. According to DermaWand, the more exercises you perform each day, the sooner you'll see the new you.
DermaWand states that treatments only take three minutes. However, it seems likely that this time estimate is limited to sweeping the device across your skin and that extra time should be left for facial exercises if you want to see fast results.
When to turn the DermaWand's dial past Setting 1? According to the product's website, feel free to crank it up once you no longer feel the same gentle tingling feeling that you did to start. Continue increasing the intensity on the dial a little bit at a time until you have reached your maximum comfort zone.
Note that, if your DermaWand has not been used before, or if the DermaWand has not been used for several days, it may take up to one minute for the bulb to glow.
A few words of caution: While DermaWan is FDA-certified for safe in-home use, users are directed to take care and discontinue use if you experience any excessive peeling, redness or persistent dryness.
Additionally, if you're prone to broken capillaries, then you shouldn't use DermaWand for risk of further irritating your skin. Those who suffer from heart conditions, have pacemakers, conditions of the nervous system, or who are pregnant should also avoid using DermaWand.
How Much Does DermaWand Cost?
Considering ordering DermaWand? Your device comes with several accoutrements, including
DermaWand Radio Frequency Wand
DermaWand Cosmetics Bag
Instructional DVD
DermaWand Beauty Guide
Additionally, DermaWand is sold as part of the DermaVitál System. This set of skin care products includes:
DermaVitál Pre-Face Treatment
DermaVitál Hydra Infusion Treatment
Hydrating Skin Mist
Hydra Support Moisturizer
(Note that while these products are included, their continued use is not required for the lifetime of the DermaWand device.)
How much will the DermaWand and accompanying system (marketed as a free gift) cost you?
The total cost is $120, plus $14.95 S&H, and a $19.95 processing fee (totaling $154.90). However, potential customers are invited to try DermaWand risk-free for 30 days—just pay the $14.95 P&H up front.
According to the fine print, if you're not satisfied with your DermaWand within those first 30 days, you can contact their customer service at 1(800) 799-6808 for a refund. Note that the $14.95 is not refundable.
However, if you decide to keep your purchase, here's what happens:
Approximately 30 days after your receipt of DermaWand, your card will be automatically charged $39.95 plus $19.95 P&H. (That's $59.90 total.)
The remaining of two payments of $39.95 will be automatically charged to your card in 30-day increments.
As long as you're aware of the terms when purchasing DermaWand, the three sequential charges shouldn't be a surprise. However, consumers can sometimes be blinded by the phrase "risk-free."
Just remember that risk-free doesn't mean that the product is free—and, considering that you only have 30 days to try DermaWand, you may need to go through the trouble of calling customer service and driving to the post office relatively quickly after receiving it to avoid future charges.
What Are Customers Saying About DermaWand?
While there are some very terrible reviews of DermaWand claiming that the product is a scam, other reviewers state that the product worked well for them with continued use over many months or years.
While many reviewers felt that the price point is attractive when compared to other surgical methods (or even repeated spa treatments), DermaWand doesn't work overnight, and users complained that its cost wasn't worth the results they achieved. Other criticisms of the device included:
Fear of using DermaWand near the delicate eye area
An odd smell when using the device
Discomfort when increasing power levels due to an uncomfortable zapping sensation
One reviewer points out that "DermaWand 'irritates' the skin—causing it to swell and give the appearance of being smoother and tighter—thus the reason it is promoted as 'temporary.'"
Positive DermaWand reviews on Amazon stated that the product did make their pores appear smaller and skin tone more refined. Others stated that it was very effective on their neck and chin, although some reviewers hypothesized that older users might be more pleased with the results, as changes in their skin are more apparent.
Since this is our second time covering DermaWand, we can add that the device currently holds a 3.3/ 5-star rating on HighYa, as averaged from three reviews—two being overwhelmingly positive.
First, the caution: Christine warns that those suffering from neuropathy should steer clear of DermaWand, as the RF treatments will aggravate nerve conditions and possible lead to a reaction. However, Christine was able to return her device for a refund without a problem.
The remaining two reviews state subtle-yet-positive results. Brenda Taylor says that regularly using DermaWand helps her 59-year-old skin to glow, and she wishes she'd started with the device years ago.
Sarah, who rated DermaWand 4/ 5-stars, says that regular use has led to an improvement in both her skin texture and pore size. DermaWand also slightly (albeit temporarily) plumps her lips and reduces eye puffiness. However, it has not helped tighten and tone the skin on her face and neck.
Bottom Line: Is DermaWand Worth Your Hard-Earned Dollars?
Can I level with you? After years researching anti-aging products and devices, you start to suspect that everything is a hoax. However, after reading reviews and researching DermaWand a second time around, I'm personally tempted to buy the device.
But, before you get out your credit card to swipe, just a few words of caution:
Like many at-home anti-aging devices, DermaWand promises the same results that you'd see after professional treatments, but with the convenience and reduced cost of performing them at home.
This promise puts DermaWand in a difficult position of straddling the line between safety and efficacy.
Sure, the device might utilize the same technologies as those wielded by professionals, but it's very unlikely that DermaWand reaches the same temperature as RF devices that are used in a skin clinic. Why? Because those providers have the training and experience required to avoid adverse effects.
But, can it deliver professional results? Due to the product's website failing to disclose its operating temperature and my experience researching anti-aging devices, it's my opinion that it's unrealistic to expect that DermaWand will create drastic changes in your skin's appearance.
That isn't to say that DermaWand is ineffective! Only to mean that your satisfaction with DermaWand depends much on your expectations, so be sure that they're realistic.
Bottom line: If you're willing to put in the time for twice-daily treatments, understand that purchasing DermaWand leads to a succession of three charges, and don't expect that regular use will have the same effect as a facelift, you might very well be absolutely pleased with a DermaWand purchase.
And, if you're not? At least reviews show that the device can be returned for a refund without much of a fuss.
Stay Away if you have Neuropathy

By Christine

,

Ohio

,

Sep 15, 2016
Verified Reviewer

I bought the DermaWand because one of my eyes seem to droop. Since it said droopy eyes I figured I would try it. Took it out if the box and read the instructions. Then decided to try it. At first, my face felt great, like a face massage. I didn't use it for that long and I put it away. About an hour later I had pins and needles feeling in my face. Then down my neck and it kept getting worse. It felt like bee stings in my face. Because of the bee sting sensation I called my neurology doctor and told him what was going on and what I had used. The nurse called me right back and said that was a definite no-no. She said what I did was aggravate the nerves in my face from the DermaWand and due to my neuropathy triggered a reaction.

She said things like that are not good for people like me to use. I called that day to return it. They weren't pleased about adding a warning on the wand for people with neuropathy. I was able to return the item without a problem and get my money refunded.

Bottom Line: No, I would not recommend this to a friend

---

DermaWand scam

I owned an original DermaWand. It was good quality, high power, and with noticeable results in 4-6 weeks.

This "DermaWand" is nothing but a cheap imitation. Poorly constructed, powerless, NO results within the "30-day" return scam policy!

The price is outrageous for such poor quality. This is just another rip-off product, making false claims to take advantage of women.

It is sickening that they get away with this.

Bottom Line: No, I would not recommend this to a friend

---

No bulb replacement for me

The glue must have dried out and the bulb popped off the end. I couldn't see it and accidentally stepped on it. I called DermaWand for a replacement. They refused without supplying a proof of purchase. Well, I purchased it from them, but they have no record. Granted it was a long time ago, but they wouldn't even sell me a new bulb at all. They told me to buy a new DermaWand. Buying a new one would be over $100. Their website says a bulb is $25. What kind of customer service is this?

Bottom Line: No, I would not recommend this to a friend

---

Does NOT work

By Shahna D.

,

Texas

,

May 7, 2019
Verified Reviewer

Have been using DermaWand for 12 weeks, every day, and I see no difference in my skin and neither does anyone else. Was hoping this was real but disappointed to say it is a fake product and does nothing. The price is akin to being ripped off legally. What a scam the people at the top do to people that can't afford cosmetic surgery.

DermaWand is a scam.

Bottom Line: No, I would not recommend this to a friend

---

Advertisement

---

SCAM!

By Tania D.

,

Canada

,

Oct 5, 2019
Verified Reviewer

Purchased a DermaWand Pro in May of 2019. The end shattered on me. Luckily it was not on my face at the time. Called the company and they refused to send me a PRO, which is a higher unit than the DermaWand. The customer service you receive from this company is awful. I have never had such a hard time replacing or receiving the same unit I purchased.

This company is a scam!

I had to put in a star, they deserve NO stars!

Bottom Line: No, I would not recommend this to a friend

---

Not received product

By Carrol B.

,

Fairfax, VA

,

Jan 27, 2020
Verified Reviewer

I paid for the product and never received it. I ordered it on October 2, 2019, I am very disappointed and have asked for money back and still nothing. I have reported it as a scam since no one has bothered to contact me to tell if the product was on the way or my money would be returned. Four months is not good business.

Bottom Line: No, I would not recommend this to a friend

---

I am burning up

By Jancee S.

,

Chehalis, WA

,

Feb 11, 2020
Verified Reviewer

I purchased the DermaWand from HSN 7 or 8 years ago. I faithfully followed all directions. We moved and I neglected using it. I liked the feel of it and I had gradually increased the number...

So 2 months ago, I pulled the DermaWand out of my drawer and used a cream I had on hand, not one you have recommended...I briefly used it on my marionette lines, around my mouth and jaw. Days later I noticed redness in those areas. I checked the number on my DermaWand and it was on "7". I have no idea if the cream or the 7 power caused the redness. I am in burning pain now. I am embarrassed to go to the doctor and tell them what I have done. I am 70 years old and I didn't realize it was up to the "7".

I have used makeup to hide it, other medicated creams. It will not go away. All I ask for is, what cream will heal this? Should I see my doctor? I know. I am older now and I feel I used poor judgment with my DermaWand. Can someone please advise? I am disgusted with myself and embarrassed.

Bottom Line: Yes, I would recommend this to a friend

---

Worth the investment

By Sarah

,

Cincinnati, OH

,

Jul 6, 2015

I've been using this device off an on for over a year, and I must say that I can tell a difference when using it. Results are subtle, and regular use definitely helps, but I can see improvement in texture and pore size, also a slight plump for lips (temporary, of course) and reduction of puffiness around eyes. Hasn't seemed to help elasticity of lower face/neck, nor tone or dark spots. However, I would say it is worth the investment, especially when compared to price tag for fillers at a doctors office.

Bottom Line: Yes, I would recommend this to a friend

---

Love results from DermaWand

By Donna M.

,

Smyrna, GA

,

Apr 25, 2019
Verified Reviewer

Okay, I'm going to briefly write WHY I love my DermaWand. But first, if people write crappy reviews due to price, they're just basically trying to find something wrong. They are like the reviewers who will hate a book on Amazon because they didn't like the second-hand book and it cost them $5. I just wanted to write that first.

The price for DermaWand will vary according to any special deal on a TV. I personally paid less than $154 (which included S&H, and I had no problem with that price). They take out monthly payments, and I appreciate that. Unlike those commercials where

"You only pay $4.99 for these vitamins and if you don't like it, send it back!" Until you see a charge on your card for $105 five days later that NOBODY told you nor was it in the tiny print! Those are scams!

DermaWand is NOT A SCAM!

Okay, now onto the results: I am 58, nearly 59 and have been blessed with great skin. BUT, my face is falling! I'm getting a double chin, those lines on foreheads and jowls! UGH. So my years are definitely catching up!

The first two weeks I worked the DermaWand on my face twice a day. Of course, you're not going to see immediate results, but I never saw my skin so dewy smooth and the tiny lines were working themselves away. Then after two weeks, I, unfortunately, was involved in a car accident, hit and run no less. So I had to have neck surgery and put my DermaWand away for six months.

I picked it back up three months ago and again my skin is dewy perfect for a (nearly) 59-year-old mom and grandma! When I'm at a point of 120 days, I'm sending in my before pic and an after pic. I absolutely have no complaints with this product! It's easy to use, I did use the first setting but went up high because it didn't bother my skin. I've had no bad redness, or anything out of the ordinary - seriously NOTHING. I'm British too and we have a heritage of white skin (ok at times pasty). NOW my skin looks like it did when I walked long walks near the Sea Side, meaning Brits have GREAT skin because we believe in the great outdoors and even though our food is bland, it always helped my skin!

The only, only reason I gave 4 stars was because I was on the automatic renewal of skin care products, and the price for 5 -6 products was good, BUT, I canceled the auto renewal since I didn't need them. The problem was a salesperson forgot to put it in the computer and I kept receiving them. I kind of gave up explaining "I don't need all these products" and totally forgot! The next thing I knew, I received the full amount for three months of products back on my debit card! That really impressed me and I wrote them directly to thank them for every penny returned! If I need anymore, which I will, I'll just order again!

So it's NOT 4 stars, it's 4.8 stars...and this mom of 5 stands by DermaWand! So all the reviews and haters that are not necessary (I'm sure there are real ones). Please take it from me...it works! Or this tightwad would have NEVER paid for anything over $100 to see results in the near future!

Thank you for allowing me to write this review and NOBODY told me or held my arm behind my back to

write it either! Nor did I get a red cent...just wanted to add a funny.

Bottom Line: Yes, I would recommend this to a friend

---

Cannot be without it

By Gina G.

,

Scottsdale, AZ

,

Jun 6, 2019
Verified Reviewer

I got this and made sure I had an open mind about whether it was effective or not because I believe a person's mindset can affect the results they will see so I made sure my mindset was nuetral. When I first used it I kept it on the low setting and even though it was painless, I was too scared to turn it up higher because I have a fear of electricity, lightning, zaps, and being shocked because I received a hefty zap on the palm of my hand as a kid when I plugged something into an outlet and it left a black scorch mark on my hand. So I was afraid to increase the level until my gay hairdresser told me "Giiiirl, turn that UP! It feels so good and look how good my skin looks!" So I gradually increased it and it only feels uncomfortable (like pins and needles) if you hold the wand about 1/8 of an inch away from your skin. As long as the wand is making contact with the skin it feels just fine. I have a very young appearance anyway even though I'm 51 but I also don't act my age (my humor is silly and sometimes juvenile, but funny nevertheless), and I dress way younger because I have the body for it (I am the same size I was in high school) and my hairstyles tend to veer to the younger side (bangs, pigtails, braids, temp dreadlocks, etc.) so people have a hard time believing I'm 51.

But one thing I was noticing was forehead lines (but they can be obscured with bangs), lines between my eyes at the top of my nose, and an outline under my eyes, they are dark circles, just circles with a slight puff but not puffy if that makes sense. When I reached the highest setting (9), I started using it every day for 15 minutes straight but I never use it at night because I lack the motivation but after using it diligently for 6 months straight all the issues I noticed were gone. I always keep my DermaWand wrapped in the bubble wrap it came in and always make sure I put it away after every use, but I went to use it a few days ago (maybe a week ago) and both the plastic thing that covers the bulb that makes contact with your skin has completely broken off and the bulb inside was shattered. I have no idea how that could have happened as careful as I am with this thing. Did it spontaneously just shatter? I can say, all I know is I don't have the money right now to buy another one and they will only sell you a bulb if you can show proof of purchase, but I bought mine off Craigslist (unopened/never used), so I couldn't produce proof of purchase so I haven't been able to do the treatments and my face has gone right back to its previous state, so when I buy a replacement I will have to start all over again to get to the results I was at before. It does work after a few uses, but significant results come gradually over time so all that work I put into diligently using it for 15 minutes a day, never skipping a day, I have lost, so if you are considering buying one, buy it directly from their website so you can show proof of purchase if your bulb breaks and you need to buy a replacement and do it swiftly because if you wait too long you will lose what results you have seen up to that point.

Also, just a tip on making sure they don't keep charging your card, make sure you have a bank that allows you to log in online and create virtual one-time use card numbers linked to your actual card number then after the charge goes thru, log into your bank account and close that virtual card number. You will still be able to get a refund issued back to that card number if you decide to return it within the 30 days because it's linked to your actual debit card account, but no charges can be debited after you close it out. Hope this review helps.

Bottom Line: Yes, I would recommend this to a friend

---

I never start my day without it!

I absolutely think everyone should have one. I saw a difference in my skin the first time I used it. My pores are nice and my skin really glows. I'm 59 and I wish I had this years ago!

Bottom Line: Yes, I would recommend this to a friend

---