Dr. Ho's Pain Therapy System PRO Reviews
Claimed This company has claimed this profile, is getting alerted on any new customer reviews entering this page, and may engage in dialogue with its customers to address their matters.

Companies cannot pay money or provide goods in order to remove or alter customer reviews.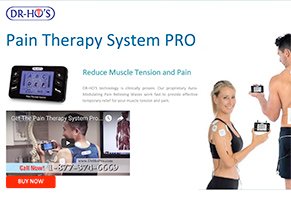 Dr. Ho's Pain Therapy System PRO features proprietary Auto-Modulating Pain Relieving Waves technology that can effectively reduce your chronic pain.
About Dr. Ho's Pain Therapy System PRO
Dr. Ho's Pain Therapy System PRO uses clinically proven proprietary technology, known as Auto-Modulating Pain Relieving Waves, to provide powerful, effective, drug-free pain relief with no side effects.
Whether you're suffering from back pain, shoulder pain, knee pain, leg pain, or pain affecting your upper or lower body, Dr. Ho's professional-grade Pain Therapy System PRO can provide temporary relief by blocking the transmission of pain signals and reducing muscle tension.
Since Pain Therapy System Pro recharges quickly (no batteries needed), features an auto-off timer, 7 different modes, and customizable intensity, you'll be able to discreetly use it at work, while traveling, or just going about your normal day.
Chronic pain can affect just about every part of your life. Working. Sleeping. Trying to spend an enjoyable day with your loved ones.
But have you finally found a solution—some might say a godsend—with Dr. Ho's Pain Therapy System PRO? Or, can you get the same relief for less locally? We'll explore all your most important questions.
Dr. Ho's Backstory
According to his website, Dr. Michael Ho is a Doctor of Chiropractic and Acupuncture who has treated thousands of patients during his more than 18 years in practice.
In his mission to help his patients reduce their chronic pain and lead healthier lives, he's developed an entire line of products, including the Dual Therapy Muscle System, Digestive Detox, and the Compression Belt.
In general, Dr. Ho's products seem to come with mixed online customer reviews. While some claim that they work well and to have experienced positive results, most complaints appeared to center around failure to work, poor quality, high prices, and less-than-stellar customer service.
What about Dr. Ho's Pain Therapy System PRO specifically? We'll get to that in a moment, but let's take a look at how it works first.
The Basics Behind TENS Therapy
Transcutaneous Electronic Nerve Stimulation (TENS) systems typically involve two main parts: a small battery-powered box that attaches to any number of electrodes (usually between 2 and 4 for at-home units like this). The box creates an electrical current, which passes through the electrodes into your skin.
Once this occurs, these electrical signals travel along nerve fibers until they reach the brain, which can block or "scramble" them, so that pain is reduced. In a best-case scenario, your pain could even be temporarily eliminated.
The problem with TENS therapy is that modern medicine doesn't understand exactly why this pain reduction takes place. On top of this, TENS seems to wok well for some patients and not at all for others (even among those suffering from the same condition), and clinical evidence showing the efficacy of TENS is shaky.
Regardless of its efficacy though, there are dozens (maybe even hundreds) of at-home TENS units you can buy. Is there anything that makes Dr. Ho's Pain Therapy System PRO unique?
How Does Pain Therapy System PRO Stack Up?
Because the basic technology behind TENS therapy has been around for years, there are a whole lot of at-home units you can choose from, including options like New Age Massager, Shock Relief, Quell, and more.
Compared to these options, Dr. Ho's Pain Therapy System PRO claims to be meaningfully different in several ways:
It uses three different therapeutic technologies to provide pain relief, including TENS, EMS, and the company's "proprietary Auto-Modulating Pain Relieving Waves." Basically, these constantly change so that your body can't adapt to the sensation, thereby providing the best pain relief.
There are two independent ports that allow you to get better coverage by treating multiple body parts simultaneously.
Includes a belt that can provide TENS therapy and back support at the same time.
Uses professional grade gel pads that "ensure a comfortable, effective treatment."
To use Dr. Ho's Pain Therapy System PRO, the process works over 6 steps:
Connect port cables to the Pain Therapy Pro unit.
Connect gel pads to port cables.
Peel self-adhesive gel pads from the plastic sheet.
Place gel pads onto your skin directly over any tense or painful muscles.
Turn on the unit, select your mode, and slowly increase the intensity until "you feel the most soothing and relaxing massage."
Set the timer (20, 30 or 40 segments).
Is Dr. Ho's Pain Therapy System PRO Expensive?
Dr. Ho's PRO Pain Therapy System is available in three different packages:
Basic – Includes 8 small massage pads, 2 large Flex Tone massage pads, the Pain Therapy Massage Belt with built-in massage pads, and the circulation promoting foot massage pads: $159.96
Deluxe – Includes everything found in the Basic Package, plus 16 additional small massage pads and 4 additional Large Flex Tone massage pads: $199.96
Ultimate – Includes everything from the Basic and Deluxe packages, plus Dr. Ho's Neck Comforter with Spinal Secrets DVD and the Relief Book, as well as the reusable Magic Heat Pad: $229.96
Once you need to purchase replacement pads, they're available directly on Dr. Ho's website (4 pairs of small pads and 2 pairs of Flex Tone pads) for $49.99.
Each Pain Therapy System Pro also includes a pain relief pad placement chart and therapeutic exercises to "maximize range of motion of muscles and joints, and pain relief," as well as a 30-day refund policy.
Before we wrap everything up, let's take a look at what customers are saying about Dr. Ho's Pain Therapy System.
Is Dr. Ho's Pain Therapy System Pro Relieving Customers' Pain?
On Amazon, Dr. Ho's System had an average rating of 3.6 stars based on 13 customer reviews, most of whom seemed pleased with the product's effectiveness at reducing pain and ease of use. As is to be expected with any pain relief product, the most common complaints referenced failure to work and high price.
Similarly, the Pain Therapy System PRO had an 4-star average rating on HSN.com, with most of the same compliments and complaints.
Although Dr. Ho has been treating patients for nearly two decades and selling products for years, he wasn't listed with the Better Business Bureau at the time of our research. And as we mentioned above, many of his other products come with mixed online customer reviews.
Given everything we've talked about here, should you roll the dice on Dr. Ho's Pain Therapy System PRO?
Is Dr. Ho's Pain Therapy System PRO a "Must Have" For Pain Sufferers?
As you explore all your TENS options (you're already off to a great start!), you'll quickly learn that some people swear by them, while others only curse them. Why? Because just like any other pain relief product, what works fantastically for you might not work at all for someone else. Finding relief from chronic pain is an individualized process, so TENS may or may not be for you.
But honestly, it's more a question of value than it is efficacy. What do we mean by this?
Basically, if you visit your local pharmacy or just about any big box retailer with a pain relief section, you'll quickly find that there are a handful of at-home TENS options that might work just as well as Dr. Ho's Pain Therapy System PRO—but at a much lower cost. Sure, Dr. Ho's proprietary Auto-Modulating Pain Relieving Waves and other proprietary technology might provide more options and offer a more user-friendly experience, but it doesn't necessarily mean you'll experience any better pain relief results than OTC models available locally.
Our recommendation? If you're experiencing chronic pain—regardless of where it is—talk with your doctor before ordering any products. They can help you choose the right one based on your specific diagnosis, potentially saving you a lot of money in the process. Then, we might recommend trying out one of these less expensive local models before going all out on the Dr. Ho's System.
Thumbs down big time

By Cheryl S.

,

British Columbia, Canada

,

Feb 27, 2020
Verified Reviewer

Bought this a few years ago. Followed all instructions, and could never get it to start. Wasn't worth the time and money to send it back. I wouldn't even give it 1 star. Hard to know when it won't start.

Bottom Line: No, I would not recommend this to a friend

Feb 28, 2020

Hi Cheryl, we are very sorry to hear that you had issues with your system. Our PRO system does require charging prior to use, but we would have been happy to troubleshoot your system had you reached out.

We do offer a 24-hour support line to our customers, and a 90-day money-back guarantee (less shipping). It also includes a 1-year warranty so had you called us we would have either assisted via troubleshooting or replaced your system for you.

---

This product is a SCAM.

By Lance M.

,

New York

,

Jan 21, 2020
Verified Reviewer

This order is a scam and the product is a SCAM. They will charge your account $99 regardless if you like it or not. Don't get this product, it is not worth the headaches. The customer service is garbage and unprofessional.

Bottom Line: No, I would not recommend this to a friend

Jan 27, 2020

Hi Lance,

When purchased directly from us, we offer a 90-day money-back guarantee (less shipping). This ensures you have enough time to use the product as results may take 3-4 weeks for some people with serious conditions.

However, when you purchase from another retailer, we have NO CONTROL over other retailers' return policies. The customer service and refund policy are up to each individual retailer. In this situation, we do not have your order information (as you purchased from another retailer) so we have no course of action to offer you a refund. Your comments regarding customer service should be regarding the retailer you purchased from, not DR-HO'S.

---

Advertisement

---

Garbage

By Ghislain B.

,

Manitoba, Canada

,

Aug 16, 2019
Verified Reviewer

That is the worst piece of garbage I ever bought. Never in my whole life I'm going to buy that. Supposed to be a doctor, more like a charlatan. They text me back and I never saw a penny, yet it has been over 6 months. I can say goodbye to my money.

Bottom Line: No, I would not recommend this to a friend

Aug 19, 2019

Hi Ghislain, thank you for reaching out to us. It is not in our policy to ever "text" with customers, so I am unsure who you are dealing with regarding your purchase. I invite you to please contact our Customer Care team at 1-877-374-6669 and we can verify your purchase and provide receipts to you.

---

Mixed bag

By Anne M.

,

Northern Idaho

,

Aug 8, 2019
Verified Reviewer

I purchased the Dr. Ho Pro Deluxe Package in June 2019. While the main unit works extremely well for relieving pain and muscle spasms from my generalized dystonia, the smaller pads separate too easily (after 1 or 2 uses) and are no longer viable.

I replaced the Dr. Ho pads with much better quality professional-grade TENS pads in order to benefit from the Pain Therapy System. These new pads are also much less expensive.

The travel foot therapy pads, however, did not work well for me at all. I followed instructions, used the system while seated, and found no relief. Instead, the plastic knobs had nearly embedded in my skin and my son had to peel them off both of my feet. Thankfully, no skin was punctured.

I have found that using the professional-grade TENS pads on the bottom of my feet provide the best results for my foot pain.

Dr. Ho's did offer me replacement pads, but I opted to stick with what I know works.

The electronic unit for Dr. Ho's Pain Therapy System is excellent and offers much more pain relief than a typical TENS unit. However, the gel pads are overly priced for the poor quality, and the traveling foot therapy pads aren't worth the pain for tender feet.

Bottom Line: Yes, I would recommend this to a friend

---

Advertisement

---

They do not give all your money back when you return it

By Anna V.

,

Galloway, NJ

,

Jul 22, 2019
Verified Reviewer

I am senior on a fixed income. I thought this would work but it has not. I returned on July 1 and they charge a fee for returning the product, which I knew I had to pay for shipping it back. I paid $159.00 so on the payment plan I only got back $102.00. I think they are ripping people off. They charge you for their shipping, for shipping the product out to you. Do not buy this product, it does nothing for you.

Bottom Line: No, I would not recommend this to a friend

Aug 6, 2019

Hello Anna, we are sorry that you did not get the relief you were searching for. As per your call with our team, we noted that we do offer a full refund, less the shipping cost. This policy is stated on our website, and was also explained during our call to you. I see that you were refunded on July 5th for $205.95 and were NOT charged a restocking fee. Kindly verify with your credit card company the amount you received back, as our records show that you received a full refund less the cost of shipping.

---

Be careful when you buy the circulation promoter

By Raylene S.

,

Colorado

,

Apr 30, 2019
Verified Reviewer

Be careful when you buy the circulation promoter. You cannot return this even when you break the seal! What a rip off. I just turned on the circulation part for the feet. Because I did this, I can no longer return. So how are you supposed to test it, because when you test it, it is not returnable. How are you supposed to test a product and then not to be able to return this! What a rip off!

Bottom Line: No, I would not recommend this to a friend

Apr 30, 2019

Hi Raylene, we are sorry to hear you had issues with this unit, however, our Return Policy covers a 90 day period when you purchase directly from us. https://drhonow.com/en_ca/90-day-money-back/

I encourage you to call our Customer Care team at 1-877-374-6669 to resolve this issue, as you can certainly return after you have used the unit, provided it is within out 90 days.

If you purchased from another retailer, you would have to abide by their return policies, as we can not control other retailers return policies.

---

Absolutely love it.

By Daniel S.

,

Joliet, IL

,

Mar 19, 2019
Verified Reviewer

I just got it today from HSN. I must say I am completely satisfied. I have spent the day trying the different attachments and finding my settings. I have not felt this tense free since high school. The foot pads work magnificently. Aches and pains are gone that I didn't even realize I had. I will definitely be keeping an eye out for more of Dr. Ho's products. Thank you for what is probably going to be the best night sleep I have had in a while.

Bottom Line: Yes, I would recommend this to a friend

Mar 21, 2019

Hi Daniel! Thank you so much for letting us know how much you love it! We are so glad that you are feeling pain-free and sleeping well!

---

Awful

By Natty P.

,

Canada

,

Feb 19, 2019
Verified Reviewer

I was sent a faulty remote. It stopped working after months and they expect me to pay $25 plus shipping. SCAM, I will never buy stuff from TV again.

Poor business. Customer service does not understand English at all.

Bottom Line: No, I would not recommend this to a friend

Apr 30, 2019

Hi Natty, sorry to hear you had an issue with your remote. We have a 1-year warranty for our products. If you have your receipt, we can repair/replace your unit.

---

Great product

By Dianne C.

,

New Zealand

,

Jan 20, 2019
Verified Reviewer

I've used this product for years, bought more gel pads, no problem. I'd never used gel pads dampened, made them dry first. Neighbour borrowing tens as she has nerve damage and numbness in foot, today she has done feeling in foot. Looking to buying a machine for herself.

Bottom Line: Yes, I would recommend this to a friend

Mar 5, 2019

We are glad to hear that you are enjoying our unit! We do recommend spraying the pads with water before and after as it helps conduct the electricity, and the pads will last longer!

---

Works wonders!

By Susan S.

,

Alabama

,

Nov 27, 2018
Verified Reviewer

I have purchased the Dr. Ho's TENS Unit and was so glad! It's user-friendly, easy to figure out. The TENS Unit was able to reach the intensity close to that which the chiropractor's office had! This is much better, it is there when you need, and is rechargeable like a cell phone! It gave me the quality of life, until last week when a friend came over with a friend - who stole it! I have been devastated! They knew I have cancer and severe back problems that is painful with other chronic pain conditions. Oh, please note, if you have a heart defibrillator, etc. - you cannot use a TENS unit.

Bottom Line: Yes, I would recommend this to a friend

Mar 5, 2019

We are glad to hear that the unit worked for you, but we hope you get it back from your friend soon!

---

Great product!

By Daniella H.

,

Timnath, CO

,

Sep 11, 2018
Verified Reviewer

I used to be a patient of Dr. Ho in Toronto and had the original pain therapy system, which helped me a lot with migraines, neck, shoulder and back pain.

It got lost as I moved around a lot. I recently had a severe muscle spasm in my mid/lower back. I remembered Dr. Ho's system and ordered a new one online. After two weeks of painkillers, muscle relaxant and a cortisone injection, I still had quite a lot of pain, until I started using the pain therapy system. As in the past, it helps me a lot, and I felt relief after just one session.

Bottom Line: Yes, I would recommend this to a friend

Mar 5, 2019

It's wonderful to hear that you are getting the relief you need with our system. In addition, we are happy that you remembered us from your clinic days!

---