Dr. Marty Nature's Feast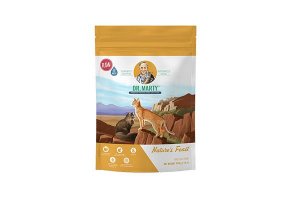 Summary
Dr. Marty Nature's Feast freeze-dried raw cat food includes natural ingredients like turkey and sweet potato but science says a raw diet may not make your cat healthier than the average dry food.
Dr. Marty Nature's Feast Review: Is It Worth It?
Dr. Marty Nature's Feast Cat Food is a freeze-dried raw food intended to boost your feline's overall health.
Many of the dry cat foods you find on the shelf have fillers like corn, rice, soybean and other ingredients that don't contribute to your cat's overall health. Dr. Marty provides an alternative food option that focuses on meats, vegetables, and eggs.
A key concept behind this food is that giving your cat raw ingredients is better for them than the typical ingredients you find in most dry cat foods.
Our review of Dr. Marty Nature's Feast will help you get a clear understanding of its pros and cons and help you decide if this a good option for your cat.
Feeding Instructions
Every bag of Nature's Feast has 12 oz. of food. How much of that bag you give your cat depends on his or her weight:
5 lbs.: 1/2 cup per day
7 lbs.: 2/3 cup per day
10 lbs.: 3/4 cup per day
12 lbs.: 1 cup per day
15 lbs.: 1 1/8 cups per day
17 lbs.: 1 1/4 cups per day
20 lbs.: 1 1/2 cups per day
Mix the food with enough water to moisten all the food, let it stand for three minutes and then your cat can eat it.
Each cup of food weighs about 1.2 ounces, which means one bag will last you between 7 (20-lb. cat) and 21 days (5-lb. cat).
Ingredients
The ingredients in Nature's Feast are meant to give your cat higher energy levels, easier digestion, joint and coat support, and strong brain health:
Omega-3 Fatty Acids: EPA and DHA
Meats: Turkey, beef, duck, salmon, beef Liver, turkey heart, turkey liver
Fruits and Veggies: Sweet potato, eggs, pea flour, carrots, apples, blueberries, cranberries, pumpkin seeds, spinach, ginger
These ingredients are freeze-dried. The fresh ingredients undergo a freezing process that, in theory, preserves all the nutrients. Dr. Marty's website says most lower-quality cat food manufacturers cook their food to the point that the ingredients lose their nutrients.
Scientific Efficacy of Freeze-Dried Raw Cat Food
Freeze-dried pet foods are becoming more and more popular. However, the veterinarians at the Cummings Veterinary Medical Center at Tufts University have done a considerable amount of research in this area.
They've concluded that raw-food diets (including those heavy in raw meat) have their pros and cons but, in general, aren't necessarily a "healthier" choice for your pet.
"No scientific studies have shown benefits of raw diets. Their appeal is based on word of mouth, testimonials and perceived benefits," the university's pet nutrition team wrote in a post about raw diets for pets.
This conclusion doesn't mean that your cat won't benefit from eating Dr. Marty Nature's Feast, though. The food's multiple types of meat give it a higher fat content than the average dog food, which results in positive changes to your cat's coat and digestion.
Furthermore, the food's lack of fillers (corn, rice, soybean) benefits your cat, as cats are natural meat eaters and need as little filler as possible in their food.
Finally, Nature's Feast's omega-3 fatty acids are most important for young cats, particularly to protect against brain abnormalities. EPA and DHA are an important part of an adult cat's diet, too. They're proven to aid in growth and reproduction.
Possible Side Effects
Nutrient Deficiency
One of the dangers of a raw diet that emphasizes meat is that your cat could miss out on important nutrients. Tufts University points to a European study that found that 60% of cats on a raw food diet had a nutritional imbalance.
Nature's Feast counteracts this side effect by giving your cats a wide range of nutrient-rich vegetables in each serving.
Sickness from Bacteria
Another possible side effect is that your cat could get sick from bacteria in the freeze-dried meat. There's a higher chance of your cat eating freeze-dried food contaminated with salmonella than the average dry cat food. But, overall the risk to your cat is relatively low.
Diarrhea
Finally, your cat may have diarrhea when he or she first starts eating Nature's Feast because of the increased fat content from the meat-heavy ingredients. For example, popular cat food Friskies Seafood Sensations dry food has an 11% fat content, whereas Nature's Feast has 23%.
To ensure your cat doesn't have an acute reaction, slowly transition them to Dr. Marty Nature's Feast by mixing in the new food into the old food little by little until the transition is complete.
Price and Return Policy
The cost per bag depends on how many you buy at one time:
1 bag: $59.95
3 bags: $170.85
6 bags: $323.70
Your orders come with free shipping.
If you're planning on feeding this food to your cat for the next few months, consider the cost of this food. A 10-lb cat will eat about three bags a month, which is around $171, whereas a 20-lb cat will eat around $323 of food per month.
Dr. Marty allows you to try your food for up to 90 days after it ships from their distribution center. To start your return, call the company's customer service line at (800) 670-1839. They'll give you a return authorization number you'll include in your shipping box, along with any used and unused bags of Nature's Feats.
There aren't any limits on how much food you have to send back, either. We confirmed with a phone rep that you can feed your cat all the food from your order and, if you aren't satisfied, can get a refund. All you have to do is send back the empty bags.
This is an excellent return policy because it gives you the freedom to feed your cat Nature's Feast long enough period of time to notice improvements in their appearance and health.
How Nature's Feast Compares to Other Freeze-Dried Raw Cat Food
When you compare one cat food to another, you get a sense of context both for pricing and ingredients.
We researched leading freeze-dried cat food on popular pet marketplace Chewy.com and Amazon to give you insight into why Dr. Marty Nature's Feast may or may not be better for your cat than other food.
Nature's Feast vs. Stella & Chewy's
Stella & Chewy's is the most popular freeze-dried raw cat food on Amazon and Chewy.com.
One bag of Stella & Chewy's turkey flavor comes in 18-ounce bags:
Costs $2.22/oz.
Turkeys are raised cage-free
Has probiotics
If your budget is limited but you want to feed your cat freeze-dried raw food, Stella & Chewy is less half the price per ounce ($2.22/oz.) than Nature's Feast (around $5/oz.).
Additionally, the food's probiotics are a nice perk if your cat has certain digestive conditions. However, if your cat is healthy, you may want to avoid Stella & Chew's because probiotics can cause noticeable side effects like bloating and diarrhea.
Nature's Feast vs. Primal
Primal is another popular, highly-rated option on Chewy's and Amazon. Primal's food comes in big nuggets rather than small kibble. You'll need to break up each nugget and soak it in water before feeding it to your cat.
Here's a summary of the food's cost and features:
$2.21/oz.
No gluten or fillers
Organic vegetables
The big difference between Primal and Dr. Marty is that Primal requires preparation on your part. If you feed your cat in the morning before you go to work, Nature's Feast takes less time to prepare and maybe the better time-oriented choice.
That being said, if you're someone who prefers organic ingredients, Primal's organic vegetables are a better fit.
The Bottom Line
Nature's Feast's mix of meats, vegetables, and omega-3 fatty acids give your cat a well-balanced diet. This food is a good choice if you want to give your cat a raw-food diet.
However, this food won't be a good fit if you have a limited food budget. If this is you, experts recommend trying grain-free dry cat food. While it won't contain 100% raw food, the lack of grains ensures you aren't giving your cat unnecessary filler.
Customer Reviews
Posted on May 18, 2022
Kitty is adjusting well to her new diet.
Kitty cat is adjusting well to her added diet of freeze-dried raw food. Still has her sardines, which she absolutely loves. I feel better knowing this is a well-balanced meal for her and it is so convenient to use.
Miss pussy cat is just 7 months old now with no health issues and her immune system is as she was born with, not infiltrated. She loves the food dry. This is going to make taking her places a breeze and it will be light as well!
I am very happy to have come across Dr. Marty's human-grade meal. I have not trusted any commercial cat food to be wholesome. This takes the guesswork and time out of trying to feed her right according to her feline needs.
Thank you so much for all you do to help keep our fur babies healthy and happy and their caregivers too as a result!
Length of Use: Less than 3 months
Bottom Line: Yes, I would recommend this to a friend
Pros and Cons
Great product
Great follow-up
Quick response to any questions
No "cons" were specified in this review
Posted on May 14, 2022
My cat did not care about this food
My cat did not like the food and walked away from it. I notified the company and I never got my money back. I was willing to ship it back to them or do whatever it takes but never got a response. Extremely bad customer service.
I will never buy any products from this company.
Length of Use: Less than 3 months
Bottom Line: No, I would not recommend this to a friend
Posted on May 5, 2022
Nature's Feast
She loves it! It took a little while to get her to eat it, but now she won't eat anything else. I ran out of Tobi's treats and tried to give her something else with no success.
Length of Use: Less than 3 months
Bottom Line: Yes, I would recommend this to a friend
Pros and Cons
The truth
The customer service
The price
I wish delivery was quicker
Posted on May 5, 2022
Amelie likes!
After the recommended transition, she's happy to get her Dr. Marty munchies every day! It's comforting to know that she's getting excellent food and, God willing, will be with us for a long time.
Length of Use: Less than 3 months
Bottom Line: Yes, I would recommend this to a friend
Pros and Cons
Great customer service
They are knowledgeable
Eager to help
I wish the cost was a bit less
Posted on May 4, 2022
The cat loved this food.
Took a while to get here. The cat loved the food. I like the info that is sent with the food. This is the first time I was told how much food to give according to weight. Interesting "cat facts" are included.
Length of Use: Less than 3 months
Bottom Line: Yes, I would recommend this to a friend
Pros and Cons
No "pros" were specified in this review
It is very expensive
Posted on Apr 23, 2022
My cat loves this food
My Emotional Support Cat Bindy will be 7 this June. Since starting her on Dr. Marty's food, she has brighter eyes and plays more. She acts more healthy than she ever has. She still gets a little Pro Plan Unitary wet food but loves Dr. Marty's dry. She has a water fountain and drinks a lot of water. She had crystals and blood in her urine about a year ago but has been better. My vet wants to check her again after a month on Dr. Marty's. I tell all my friends who have pets about Dr. Marty's pet food.
Length of Use: Less than 3 months
Bottom Line: Yes, I would recommend this to a friend
Pros and Cons
Fast shipping
No "cons" were specified in this review
Posted on Apr 22, 2022
Kitty Reba loves the Feast!
Kitty Reba gobbles up Dr. Marty's food. I serve it to her after 3 minutes of soaking it in warm water. She never used to eat her breakfast in one sitting. But now she does with Dr. Marty's food. It's a winner – wet or dry! There's no going back to the other food.
Length of Use: Less than 3 months
Bottom Line: Yes, I would recommend this to a friend
Pros and Cons
Freeze-dried doesn't spoil when it stays dry, I can moisten just one serving at a time
Food is expensive, but I understand why because it's high quality
Posted on Apr 10, 2022
Got 2 cats off kibble real quick
My 2 outdoor cats — one of which was adopted at 2 months by my dog and was a super hunter, another old cat roaming for years, also adopted by the dog — became indoor cats and immediately liked Nature's Feast, especially without added water.
Length of Use: Less than 3 months
Bottom Line: Yes, I would recommend this to a friend
Pros and Cons
Prompt, easy delivery
Easy ordering
Beneficial health
No "cons" were specified in this review
Posted on Apr 7, 2022
Great product, astronomical price
My girl Cleopatra loves the food, especially mixed with a little bit of the "crack" food for flavor. He coat is so floofy lately and her energy levels are higher than I've seen in a while.
I gotta say, though when I ordered I thought I was getting 12 pounds of food and when I opened the package to discover only 12 OUNCES, I was absolutely floored. I get that it's good food, but even Orijen, which is widely considered the cream of crop cat food, gives you 4 pounds for the price of your 12 measly ounces. Seriously, I thought you had bait and switched me, but I re-read the order and I guess I just didn't comprehend that I would pay $30 for 12 oz and made it pounds in my mind.
I guess only rich people (which I am definitely not) can afford healthy cats anymore. Capitalism wins again. Hrumpf...
Length of Use: Less than 3 months
Bottom Line: No, I would not recommend this to a friend
Pros and Cons
Exceptional quality
Profiteering
I feel manipulated
Posted on Apr 7, 2022
Hyperthyroidism in my cat
My cat Phoebe was nearing 18 years old. She had been on medication for 9 months with no change in her blood test results. I researched and found many websites that recommended home cooking and food prep for your cats and tried to maintain her in that way, and she did fairly well for another 2 years.
More research showed me that a raw diet was essential but I feared that it was not the best option at her age. I had taken her off all dry food, but she was still vomiting her wet food daily, mostly in the morning. I started her on Dr. Marty's formula and she stopped vomiting almost immediately. Within 2 days I saw improvement but sadly I believe her condition had gotten to a tipping point.
When she ultimately refused Dr. Marty's formula I went to all raw fresh food and saw the benefits. I wish I'd had the information I needed when she was younger to feed her properly. Phoebe did pass away 4 weeks later but I believe Dr. Marty's formula could have given me a different outcome if I'd started it earlier. My new vet agreed and recommended Dr. Marty's diet as well.
Length of Use: Less than 3 months
Bottom Line: Yes, I would recommend this to a friend
Pros and Cons
Ease of ordering
Subscription
Belief in the products
Expensive
Posted on Apr 7, 2022
Happy cat and peace of mind for mom!
My 4-year-old boy Sunny loves Nature's Feast! He has been eating it for 100% NF for 6 weeks now after a longer transition period (he can have GI upset). Litter deposits are much improved, eliminating the need for twice-daily doses of Miralax (saving money). His glucose level normalized, his coat is softer and shinier, and his energy and mood are greatly improved!
The order process was smooth, and any product shortages or delivery delays were communicated promptly and apologetically. The promotional offers and guarantee made it easier to stock up on a new item that I otherwise would have.
Pricing is higher than the above-average commercial "healthy" organic pet food, but looking at the big picture - I'm saving overall.
Improved health means fewer vet visits and the reduction or elimination of maintenance medications. Online ordering and delivery to my doorstep is a time, energy, and fuel saver. Less anxiety and stress for me as a conscientious cat mom wanting the best raw diet for my fur family without the expertise to create it means better quality of life for me and by default, those around me. No crazy cat mom here, lol!
Looking forward to seeing long-term health benefits of Nature's Feast! Thanks, Dr. Marty, for providing a solution to a problem in feline health that I felt in my gut for years was quality of diet based and didn't know where to turn.
Length of Use: 3–6 months
Bottom Line: Yes, I would recommend this to a friend
Pros and Cons
Local veterinarian-owned
Small USA-based business
Promo codes for first-time purchases
Great communication practices
Offered products that met a critical need for beloved fur family
No "cons" were specified in this review
Our Promise to You
In order to safeguard you and ensure helpfulness and relevance, our compliance team manually assess every customer review before it goes live.
We have a zero-tolerance policy for fake reviews, and companies cannot control or alter any reviews at any time.