Embr Wave Reviews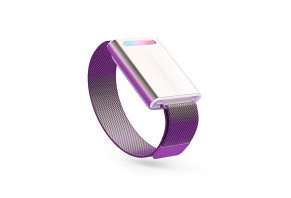 Embr Wave is a personal temperature control bracelet that leaves you feeling warmer or colder than your internal temperature, depending on the setting you select.
About Embr Wave
Embr Wave is a wearable tech bracelet that regulates your sense of temperature through alternating pulses of either hot or cold, depending on which you specify.
According to the company website, the device lets you control how you perceive the surrounding temperature by making you feel warmer or colder within seconds. Just as holding a hot cup of coffee can warm your whole body, the bracelet promises to offer you thermal relief on demand.
Developed by MIT scientists, the Embr Wave bracelet is designed with a flat aluminum top and a colored display that users can adjust from blue to red for cooling or warming effects. Because the wrist is one of the most thermally sensitive parts of the body (according to the product designers), changes in its external temperature will affect what temperature you feel overall.
While the bracelet doesn't claim to raise or lower your internal temperature, the website states that it's designed to trick your brain into feeling that you're at a more comfortable temperature, especially in environments that are otherwise outside of your control (like the subway or an air-conditioned office).
But does the technology really work as promised to change your perceived temperature? Let's look at the facts behind how Embr Wave works to find out.
How Does Embr Wave Work?
The company website tells us that Embr Wave works by warming or cooling one spot on your body (usually the wrist) to help you feel more comfortable without changing your core body temperature.
MIT tells us that the device works by touching the skin with a thermoelectric tile that changes temperature when activated by an electric current. To trigger cooling, users can click the left side of the device. Heat is activated from the device's right side. You can adjust the overall sensitivity by wearing the tool on the inside (more sensitive) or outside (less sensitive) of your wrist, and change the temperature rating to one of 16 pre-set settings.
With regular use, the company expects the battery will last for 2-3 days (or 25-50 sessions).
How do the mechanics of Embr Wave work? Digital Trends tells us that the device depends on the Peltier Effect. Discovered in 1834 by a French Peltier, this phenomenon is defined as heating or cooling caused by an electric current flowing across two different conductors. As the current moves between the conductors, the transfer of energy heats up one side while the other cools down.
In short, Embr Wave works through a series of these "Peltier coolers" that are powered by a small battery that produces waves of heat or cooling, depending on what you select. But how does such a small device affect your personal temperature? The company claims it succeeds by harnessing the power of thermal comfort.
About Thermal Comfort
MIT tells us that the concept of thermal comfort is based on the idea that the comfort level of certain body parts will affect the comfort of your entire system. For example, your hands and face are often the warmest part of your body if you feel overheated, and cold feelings usually begin in the fingers or toes.
Embr Wave takes advantage of this principle by reverse engineering it. This means that the device purposely heats or cools a sensitive trigger point on the body (your wrists) to affect the perceived temperature of your entire body. In this way, the bracelet's thermal sensations activate the regions of your brain that control pleasure and temperature changes.
One concern the device's manufacturers have worked to combat is the problem of users quickly adjusting to the temperature changes so that they don't affect them. For instance, after a few seconds of jumping in a cold lake, your body starts to adjust to the temperature change.
Embr Wave claims to prevent this by providing the heating or cooling in rhythmic waves that stop you from acclimating to the temperature change so that they continue to affect you.
What Are the Benefits of Embr Wave?
Tricking your body into thinking it's a different temperature might not sound enjoyable, but Ember Wave believes there are many benefits to the practice. According to the product website, early product testers found that wearing the bracelet reduced a constant source of discomfort from their day, causing them to improve their productivity.
Who Is Embr Wave Designed For?
The device's manufacturers believe that almost everyone can benefit from personal temperature regulation, though the Wave is especially useful for anyone who continually feels cold or hot while others are comfortable. The bracelets also work well to combat medical conditions like menopausal hot flashes and the symptoms of MS.
What Does Scientific Research Say About Embr Wave?
At the time of writing, we found that the Embr Wave website mentioned that they conducted multiple studies on the benefits of the device's technology, though they don't link directly to any of them. A summary of the site's report on their research is below:
A UC Berkeley study funded by the National Science Foundation found that Embr Wave's technology succeeded in improving tester's temperature comfort levels.
A leading engineering firm (EYP Inc) found that 72 percent of their employees felt more in control of their personal temperatures when using Embr Wave.
Is there other research available about the effects of thermal comfort?
From our research, most of the existing studies on thermal benefits are focused on its adaptability for designing comfortable interior spaces. We found little research exists that looks into its effectiveness when used on personal wearables like Embr Wave.
In our view, the popularity of the device's Kickstarter campaign might inspire further research on the topic in the near future. For now, the best way to gauge Embr Wave's effectiveness is to see what users think of it.
What Do People Think of Embr Wave?
Online reviews paint a positive picture of the effectiveness of Embr Wave. The product website contains numerous five-star reviews that mention that users felt "blown away" by the how comfortable the unit made them feel and state that it helped them combat their hot flashes. Some users noted that they wished it had an automatic feature to prevent hot flashes while they slept.
On Facebook, the device averages about four stars out of five. Some users stated that the device seemed glitchy, that the cooling and heating functions occasionally switched, and that it felt too bulky and fragile for the $300 price tag. Many thought that the manufacturers needed to work out more of the kinks before they would be willing to recommend the product to a friend.
Overall, the biggest complaint we noticed about the device was that customers felt that the heating and cooling functions weren't as strong as expected and didn't make a significant difference in their overall comfort level. However, many reviewers said the exact opposite, so your experience with Embr Waves might depend on your overall skin sensitivity to temperature.
Digital Trends writer Drew Prindle wrote about his unexpectedly positive experience with the device. He found it pleasant to wear for several days at a time and noted that the heat and cooling features were subtle but surprisingly effective. When he took it off for several hours, he found that he missed it, even though he hadn't realized how much of an impact it was having at the time.
Will Embr Waves work for you? As we previously stated, that might come down to your overall skin sensitivity (and whether or not your unit is glitchy). The best way to know for sure might be to try one out for a few hours and see how different you feel when you take it off again.
How to Buy Embr Wave
At the time of writing, Embr Wave is primarily available on the company website. Each bracelet sells for $299, comes with a 1-year warranty, and qualifies for free U.S. shipping. The company states that each unit includes a 30-day guarantee, meaning that you can return it within the first 30 days of purchase for a full refund.
To request a return authorization, you can contact Customer Service at hello@embrlabs.com. Of note, shipping and handling costs and any taxes paid aren't refundable.
What Products Are Similar to Embr Wave?
Beyond Embr Wave, what are some other options for personalized heating and cooling? Our research came up empty on products that are equivalent to the Wave, but two devices that set out to satisfy similar temperature regulating problems include FlexiFreeze Ice Vests and wearable fans.
The FlexiFreeze Ice Vest is designed to physically cool down your core temperature by surrounding it in ice. Unlike Embr Wave, the vest sidesteps thermal comfort to cool you down your core instead. While it's likely overkill for most cooling situations, the garment is meant to be used by anyone who overheats quickly or suffers a medical condition that makes temperature regulation difficult (like MS).
If you want to regulate your temperature for a medical condition, an ice vest might be a better option than the Embr Wave. However, the ice in the vest will only last for a few hours before it melts, and it doesn't provide any option for warming you.
For those who appreciate the battery-powered cooling technology of the Embr Wave, a low budget option might be a wearable fan. Again, these devices aren't designed to trigger your temperature sensors and trick your brain, but instead to physically cool down your core temperature.
Many people appreciate the convenience of personal fans for outdoor work and stuffy situations, but they tend to be more conspicuous than a slim bracelet like Embr Wave. However, if you'd rather spend closer to $15 than $300 for your temperature needs, a wearable fan might be a better solution.
Bottom Line
A personal heating and cooling device that effortlessly regulates your body temperature might sound too good to be true, but our research into Embr Wave reveals that the wearable makes that a reality for some people.
Customer reviews were overall enthusiastic about the difference that Embr Wave made in their lives.
Some people noted, however, that the device seemed glitchy and didn't work as promised, those who found that it worked as described wrote that it worked to make them feel more comfortable in both hot and cold situations.
While it seems clear that there are cheaper measures you can take to regulate your body temperature (such as wearing extra clothing), Embr Wave promises to offer an unobtrusive, personalized solution that will alter your temperature quickly, making it useful for managing medically-induced temperature discomfort like hot flashes.
If you're willing to pay $300 for personal heating and cooling, Embr Wave is an innovative solution that could transform your life.