Embr Wave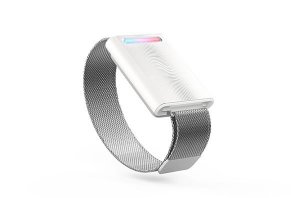 Summary
The Embr Wave is a personal temperature regulation device the size of a smartwatch that will help you feel more comfortable, regardless of your actual temperature. The device is expensive but may offer relief.
Pros
A unique device, few (if any) equivalent alternatives
App integrated for lots of customization
Clinical research shows the effectiveness of temperature control for better health, mood, and sleep
Cons
May be expensive for the benefits
Only performs one feature, you may need to wear a regular watch as well
Not waterproof
Minimal clinical research that looks specifically at the device
Embr Wave Review: What You Should Know
The Embr Wave is a thermal wristband that claims to keep you feeling like you are at a comfortable temperature, regardless of whether you usually run hot or cold.
It looks similar to a smartwatch, and with a press of a button, it will deliver hot or cold currents through your arm so that your sense of temperature adjusts accordingly.
This localized temperature comes in waves that are designed to maximize your thermal comfort, regardless of whether you are sitting in a too-chilly office building or are in the midst of a hot flash.
It's meant for any situation where you would want some help regulating your temperature, whether due to menopause, hormonal treatments, or other medical conditions.
In this analysis, we take a detailed look at this device to help you decide if it right for you.
How Does Embr Wave Work?
The Embr Wave operates through the Peltier Effect, a phenomenon discovered by 19th-century French physicist Jean Charles Athanase Peltier. The main idea is that when electric currents flow between different conductors, the transfer of energy causes one side to heat up while the other cools down.
The Embr Wave is powered by a small battery that stimulates these electric flows so that the skin near your wrist feels either hotter or colder within seconds.
To use the device, you'll simply wear it on your wrist and press either the blue or red side, depending on whether you want a cooling or warming sensation. Both will be delivered in waves that activate your thermal senses for quick relief.
The Embr Wave won't affect your core temperature. Instead, it "tricks" your brain into thinking you are hot or cold by stimulating the thermoreceptors in your skin.
This gives you a near-immediate sensation of comfort without requiring you to change anything else. It's a similar sensation as to how holding a hot drink helps you feel warmer, and putting ice cubes on your wrist can cool you down.
However, instead of delivering a steady stream of altered temperature, the Embr Wave will send it in short pulses that are a more effective way to change your perceived temperature.
This prevents you from getting used to the changing temperature so that you continuously feel a sense of relief instead.
Embr Wave's battery should last for 15 to 20 warming or cooling sensations, which amounts to about 2–3 days of regular use. Stronger temperatures and longer sessions will wear the battery out faster.
The lithium-ion battery should last for over 1,000 charges before it falls below 80% of its original capacity. The company suggests it should last for at least five years with charging every other day before you'll need to charge it slightly more frequently.
The device is rated as water-resistant but not waterproof, which means you shouldn't submerge it in water. It's best to take it off before showering or washing your hands to ensure it stays safe.
Is There Clinical Evidence for Embr Wave?
The Embr Wave website links out to several studies that focused on the impacts of thermal wellness. Here's a summary of this research:
A 2018 UC Berkeley study funded by the National Science Foundation with 23 participants found that Embr Wave's technology succeeded in improving tester's temperature comfort levels, especially if they felt any discomfort before using it.

2019 research, in collaboration with Johnson & Johnson, is focused on exploring the connection between wearable tech and hot flashes. This research hasn't yet been released publicly.

A sleep study from 2005 looked at the connection between body temperature and overall sleep quality. Participants underwent minute changes in skin temperature to see how it affected their sleep to determine which temperatures led to the best overall results.

Research from 2008 explored the relationship between feeling physically warm and interpersonal warmth. It found that participants who held a hot therapeutic pad (as opposed to a cold one) were more likely to choose a gift for a friend instead of themselves.
Only one of these studies looks specifically at the Embr Wave and the others were instead focused on ways that temperature regulation can affect you in general. This means they offer little evidence that wearing the Embr Wave will let you experience the impacts they found.
Possible Side Effects
While the company states that Embr Wave is as safe as placing ice or a warm beverage against your wrist, it's possible that regulating your temperature can lead to some unwanted side effects.
Placing anything that's hot or cold on your skin for extended periods can constrict or dilate blood vessels and lead to mild irritation or redness. This effect should go away within a few hours of use.
The device isn't designed for certain situations, which include sitting at the beach, working out, or any other time when you are in extremely hot or cold temperatures. It's better to use it to cool off after working out than to wear it while exercising.
It's best to talk with your doctor before using it if you are pregnant or have a pacemaker or other medical device.
The Embr Wave App
The Embr Wave bracelet is designed to be used with the company's companion app.
This app makes it possible to digitally control your wave through your phone and track your progress over time. It's also possible to set cooling and warming settings to preset modes from Quick (3 min), Hot Flash (10 min), and more.
You can also use it to set your desired temperature and the total duration at it. The app will also update you on your Embr's battery life and indicate when you need to charge it.
It's also possible to use the device without the app. You'll simply press on the blue or red side of the bracelet to adjust the temperature and enjoy the default 10-minute Essential Mode.
It's best to download the app even if you don't plan to use it regularly so that it can be used to download firmware updates, set up your preferred default mode, and make the heating and cooling functions more powerful.
Pricing and Guarantee
Embr retails for $299. You can also sign up for 0% interest Affirm payment plans to pay between $25–$100 per month until it is paid off.
Current color options include rose gold and silver, and you can add extra bands ($25) or a case ($35) to your order.
Standard shipping is free, but you can also pay for 2nd Day air for $24.32.
All orders qualify for a 30-day guarantee. This means that you can return your device within this period for any reason and receive a full refund, minus about $4–$6 for return shipping.
Embr Wave comes with a one-year manufacturer's warranty against any problems, though this doesn't cover any damage caused by abuse, misuse, or other forms of neglect.
Analysis of Customer Reviews
We looked at various reviews of Embr Wave across the web. Here are the main takeaways.
Compliments:
Works as described for instant heating or cooling
Helped users feel more comfortable during the flu
Works to minimize hot flashes by about 75%
Complaints:
Expensive, clunky
Only offers minimal temperature control
Serves same functionality as a small fan
Makes it difficult to type (the device sits on the underside of the wrist)
Only works indoors
Alternatives to Embr Wave
Those looking for a discrete way to keep themselves at a comfortable temperature have a few options to consider besides Embr Wave. One is a similar Hot Flash Cooling Bracelet from Kulkuf, and another is a personal fan.
Similar to Embr Wave, the Kulkuf device is a battery-operated bracelet that you wear on your wrist for quick symptom relief. However, it only has a cooling feature and comes with just three settings. You also can't connect it to an app for extra control. Despite these limitations, the bracelet still retails for $199.
Another, simpler alternative to the Embr Wave (and one that many reviewers mentioned) is to use a personal fan for cooling.
One popular option is the Cool On the Go Personal Cooling System, a small rechargeable fan that will offer up to five hours of hands-free cooling at high speed. You can use regular AA rechargeable batteries within the fan, though they must be charged with the included Volt AC adapter.
This fan currently comes in four colors and retails for $54.95. The price is a distinct advantage over Embr Wave, and some people will appreciate the more direct form of cooling. You can blow the fan directly in your face on a hot day or after exercising to get immediate relief that a bracelet might not be able to match.
However, carrying around a personal fan can be inconvenient in many situations, while the Embr Wave is as discrete as a smartwatch.
The Bottom Line
The Embr Wave bracelet offers a unique option for controlling your perceived sense of temperature. This device relies on a centuries-old technique of pulsating electric currents to trick your brain into thinking that you feel warmer or colder than you do, depending on your preference.
If you're always shivering in the office or can't walk around the block without breaking out in a sweat, wearing the Embr Wave may help you feel more comfortable.
We like this device's slim design that looks similar to a smartwatch, and how the integrated app makes it possible to customize the length and intensity of the heating or cooling.
Although $300 is a lot to spend to change your perception of temperature, those who struggle with temperature regulation might find some much-needed relief with the Embr Wave.
Customer Reviews