Fisher Wallace Stimulator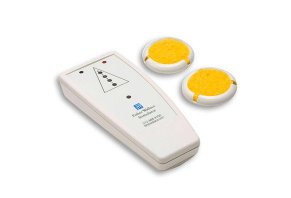 Summary
The Fisher Wallace Stimulator is a neurostimulation device that is alleged to improve your depression, anxiety, and insomnia by stimulating your brain to produce serotonin with a gentle electrical current. Strong support for these benefits is lacking, though there may be a chance that the device is helpful for those with anxiety and depression.
Pros
FDA cleared and requires a telehealth or in-person visit for authorization to purchase
Some low-level evidence demonstrates a potential benefit in managing depression and anxiety
Favorable return policy
Cons
Most of the available research is insufficient to draw strong conclusions
Expensive
Unlikely to be effective alone, so working with your doctor to determine a comprehensive plan is essential
Fisher Wallace Stimulator Review: Does It Work?
What is the Fisher Wallace Stimulator?
The Fisher Wallace Stimulator is proposed to use a gentle electrical current to stimulate your brain to produce Serotonin in order to help address your anxiety, depression, and insomnia.
Serotonin is a neurochemical that is involved in various components of your behavior such as mood, memory, fear, addiction, and sexuality. Because of these roles, low levels can negatively impact a wide array of factors associated with your health and well-being.
As serotonin is implicated in many disease processes, its receptors are often a target of psychiatric and neurologic medications. In addition to prescription drugs, group and individual therapy, as well as dietary supplements, are often used in managing conditions related to low serotonin levels.
The Fisher Wallace Stimulator is another option. According to the website, you can expect the following with regular use of the device:
Improve symptoms related to depression
Improve symptoms related to anxiety
Improve symptoms related to insomnia
Stimulate serotonin production
The company states that the Fisher Wallace Stimulator is FDA cleared to treat your depression, anxiety, and insomnia and that you may notice the benefits in as little as 1-week of daily use.
As these conditions have the potential to negatively impact your life, finding relief without the unwanted effects of prescription medication can be advantageous.
In this article, we'll help you determine if the Fisher Wallace Stimulator can live up to these claims by reviewing the available research for the proposed benefits.
Using Your Fisher Wallace Stimulator
The Fisher Wallace Stimulator is alleged to improve depression, anxiety, and insomnia by administering about 1 – 4 mA of electricity through electrodes placed at your temples. According to the company, you may feel nothing at all or a slight tingling at the electrode sites.
If you do not have a medical device implanted in your head, neck, or heart, and you're 21 years of age or older, you may be qualified to use the Fisher Wallace Stimulator.
Keep in mind that the FDA requires authorization from a licensed medical provider before you use the device. To receive authorization, speak with your doctor in person or schedule an $18 telemedicine visit with a provider through the company's website.
When you've received the appropriate clearance, your Stimulator can be shipped.
Using your device is fairly straightforward if you pay careful consideration to the following steps:
Ensure you place 2 AA batteries
Plug one end of the wires into the device, and attach the electrode receptacles to the other end of the wires
Submerge the sponge receptacles into a cup of water or run them under the faucet
Ensure your headband is properly fitted
Slide the sponge electrode underneath the headband and ensure that the bottom of the electrode is above the top of the ear
Power on the device to level 2.
Feel free to read, watch TV, or meditate during your session.
After 20 minutes, the device will shut off automatically (with a beep). Rotate the dial clockwise into the "off" position.
According to the company, you should use the device at level 2, 20-minutes once or twice daily, for at least 2-weeks to determine if it is of benefit, though you may experience relief within the first week.
If your mood and sleep disturbances go into remission, you can use the device on an as-needed basis or 3-4 times weekly to maintain the results. Also, the company claims that the Stimulator can be safely used in conjunction with antidepressants and other medications.
Is There Any Science Behind the Fischer Wallace Stimulator?
The potential benefits of the Fisher Wallace Stimulator have been investigated in clinical research trials.
In 2015, 7 patients with bipolar depression were randomized to treatment with the Stimulator and compared to 9 who were treated with a phony device. The treatment group significantly improved scores on a validated depression survey, bodily pain, and cognitive function when compared to the control group after 2-weeks of daily use.
Also, there was no difference between groups regarding measured safety parameters such as drowsiness, blurred vision, dizziness, and headache.
A larger study examined the effects of the STimulator in patients admitted to a drug addiction facility. Nearly 100 patients received treatment with the stimulator for an average of 5 treatments; these patients were less likely to drop out of the program when compared to those who opted out of Stimulator treatment.
Keep in mind that as this study was not published in a reputable medical journal, it likely did not undergo the rigorous peer-review process that helps to ensure that the research methods used were sound.
Fortunately, similar cranial electrostimulation (CES) devices have been investigated in other settings. The results of these studies can help shed some more light on the potential effects of the Fisher Wallace Stimulator.
In the 90s, a review analyzed results from the 14 best trials available at that time. Researchers concluded that CES may be effective in the treatment of anxiety. They pointed towards the need for more blinded, randomized trials, as well as the importance of reporting complete data.
More recently, researchers set out to review the benefits and side effects of CES. They analyzed the results of 26 trials and found that most trials were limited in that they had small sample sizes, short durations, and biases related to inadequate blinding of subjects and research personnel.
Thus, the evidence is too insufficient to make recommendations for CES to help manage conditions like fibromyalgia, headache, muscle and joint pain, and insomnia. Researchers did note low-strength evidence demonstrating that CES may benefit those with anxiety and depression, however.
While studies examining the effects of the Fisher Wallace Stimulator specifically are promising, these results must be taken with a grain of salt. One study has yet to be published in a peer-reviewed journal, while the other included only 7 patients in the treatment group.
The larger analyses of the best available data point towards a possible benefit for the use of CES in anxiety and depression, though most of the data is insufficient to draw strong conclusions.
Is the Fisher Wallace Stimulator Safe?
The Fisher Wallace Stimulator uses a gentle electrical current that is likely safe for regular use, though there are a few things you must consider before use.
Those with implanted medical devices like nerve stimulators or pacemakers should avoid using the Fisher Wallace Stimulator as it may interfere with their ability to function properly.
The company also recommends avoiding the Stimulator if you have a heart condition or have reacted poorly electrical stimulation in the past. The company also mentions skin irritation as a possibility if electrodes are not sufficiently wet prior to placement.
The following side effects were reported in this review:
Worsened symptoms of depression
Poor concentration
Fatigue
Flashing lights
Tingling or itching of ears and temples
Scalp irritation
Dizziness
Depression, anxiety, and insomnia all have the potential to negatively impact your quality of life. As the research for the Fisher Wallace Stimulator is not compelling, at best, it may be part of being ore comprehensive treatment plan.
For these reasons, you should include your doctor in your management plan.
The Cost
Once you've received the appropriate authorization, you can purchase the Fisher Wallace Stimulator directly from the website.
There is currently a $300 discount + free shipping promotion, so the Stimulator is priced at $499. The kit includes:
Fisher Wallace Stimulator
An Electrode Headset
A Velcro Headband
6 Sponges
A Carrying Case
The Instruction Manual
You also have the option to finance your Stimulator through Klarna. You can determine your eligibility for this plan on the purchase page in about 60-seconds. If approved, you can pay as little as $84 per month.
Replacement products like sponges, headbands, and lead wires are also available for purchase. Prices range from $24-$48.
While they recommend 2-weeks of daily use to determine efficacy, the company actually provides a full 30-days for you to trial your Stimulator. If unsatisfied, contact support for your free return shipping label or any other inquiries.
What Are the Alternatives to the Fisher Wallace Stimulator?
There are other CES devices currently available similar to the Fisher Wallace Stimulator. You're required to first obtain an order or prescription by a licensed healthcare provider.
Alpha-Stim is one example. Their device alleges to treat depression, anxiety, insomnia, and pain. The company claims that there's a chance your insurance may provide some coverage, though out of pocket costs will range from $800-$2,000 in the event that you're not covered.
As the Fisher Wallace Stimulator requires a purchase authorization or prescription from a licensed medical provider, it is not sold on Amazon. However, the company does offer the Circadia. At $499, it is designed to clone the CES technology used by the Fisher Wallace Stimulator, though it is intended for sleep and stress management only.
Given the price point and lack of strong support, these options are probably not that appealing. Even if these devices are effective, they are probably best used in conjunction with other forms of medical management.
The Bottom Line
The Fisher Wallace Stimulator and other CES devices lack strong clinical support for the proposed benefits. There may be a possible benefit for depression and anxiety, however.
These devices are typically safe, though individuals with implanted medical devices should avoid use. Also, remember that the Stimulator requires telehealth or in-person visit with a licensed provider for purchase authorization.
Depression, anxiety, and insomnia are complex conditions that often involve multiple forms of treatment. All can be dangerous if management is delayed.
Thus, it is unlikely that the use of the Stimulator alone can offer long-lasting relief. Speak with your doctor about your symptoms to determine the safest and most effective means of care.
Customer Reviews
Posted on Dec 21, 2022
Seriously calming
Will this make you totally zen like you feel at the end of yoga class? Yes, absolutely. And will that zen continue to build up in an internal oasis within yourself that you can return to in moments of life when you otherwise would've been in the throes of anxiety? Yes, absolutely.
This helped me have that inner "pep in my step" to my perspective and just have that feeling that it was a good day and I was capable of accomplishing things, like the world was my playground again vs. feeling overwhelmed, immobile, and pinned down under the weight of crushing anxiety and depression.
I wasn't ever able to get off my meds completely, but this did help me to lower my dosage, and when I got lazy and stopped using the device, I really missed it and not only noticed more anxiety and depression, but also less energy and more headaches as well.
It's worth it.
Length of Use: 1–2 years
Bottom Line: Yes, I would recommend this to a friend
Pros and Cons
Instant peace
Benefits build over time
Easy to use, very nice bedtime routine
Wire to sponge pad broke, company replaced for free
Headband sucks, I use mine with a sleeping eye mask
Posted on Nov 29, 2022
Desperate for relief, but it just did not work
I wanted so badly for this product to work for my anxiety, which is a constant struggle. I used it as directed and after seeing no results, I increased to the highest strength and used it for twice as long as suggested (40 min. vs. 20 twice a day). Still nothing. It has been about 5 weeks and I've had no improvement. I was out of town at the end of the trial and was unable to return during the 30-day money-back period, so for me, it was an expensive and failed experiment.
Length of Use: Less than 3 months
Bottom Line: No, I would not recommend this to a friend
Pros and Cons
No "pros" were specified in this review
It did not work — at all. Not even a little bit.
Expensive.
Posted on Aug 31, 2022
It appears to be working
I have used the device for approximately 9 days and I see results. I have improved sleep, energy, and sex drive.
I would recommend buying the warranty because parts are expensive and mine broke after only a short time of steady use.
Length of Use: Less than 3 months
Bottom Line: Yes, I would recommend this to a friend
Pros and Cons
Easy to use
Appears to work
Breaks easily
Cost is high
Posted on Jul 9, 2022
Finally got around to trying it
When I initially read the directions for the device, it said that your hair and scalp had to be wet, so I just skipped it. Then, months later, I finally did use it, and from the first time, I could tell the difference in my mood and thinking. Honestly, I am not suicidal, but I have been watching the news with the anticipation that life is going to end soon, as we destroy ourselves with no need for me to hasten my own demise. Now, since using the device, I have my humor back, and feel good about life. I'm doing well thanks to the Fisher Wallace Stimulator!
Length of Use: Less than 3 months
Bottom Line: Yes, I would recommend this to a friend
Pros and Cons
Using it takes only a little time
Compact
Easy to use now that I'm used to it
Wetting hair and scalp, dripping water
Batteries wear out, or get weak
Sponges will wear out
Posted on Jul 1, 2022
Miracle from God!
I am still on my 30-day free trial and I can tell you it truly has been a miracle from God! I have been on antidepressants/anti-psychotic/anxiety, pain meds, and more for most of my life! I noticed a difference the first day! I now am off antidepressants, and anti-psychotic meds, working on getting off of the anxiety med, I have no pain, have a clear memory, sleep better and can comprehend and recall many things I could not do, especially since last fall when I had Covid-19. I have so much energy, I haven't felt this good since I was 153 lbs. and 47 years old! I am now 64, 270 lbs., losing weight as well, and thinking of going back to work, because I feel so good! I just can't believe it! I have been telling everyone about it and several are going to try it!
Length of Use: Less than 3 months
Bottom Line: Yes, I would recommend this to a friend
Pros and Cons
Easy to use
Took away so many health issues
I got my life back
No "cons" were specified in this review
Posted on May 4, 2022
Waiting 5 weeks for a refund on a scam
They got device returned and verified almost 20 days ago. What is the problem now? I hate companies that lure you in with false advertising and then fail to refund returns. Waiting for 1 more day and then climbing my claim to upper, upper management.
Length of Use: Less than 3 months
Bottom Line: No, I would not recommend this to a friend
Pros and Cons
No "pros" were specified in this review
Refunds
Posted on Apr 6, 2022
My stimulator never worked!
I bought a stimulator from them right before Covid. It never worked! I called and what seemed like a teenager told me it was because I got used to it. Did she not hear me, it never worked! How did I get used to it? I have asked on many occasions for someone to get back to me. That was alot for me, but I was desperate. I have never heard back!
Please don't waste your money! They can blame Covid all they want, but they always had time to solicit people to invest in a newer better model. Obviously, they knew this one was no good! Their customer service is the worst! I will post everywhere I can, and try to help people realize. As you can see, they do have a very poor rating, but they only pick a few good ones to post on their site. It should be against the law that they get to post good ones and leave bad ones out! That right there tells you how dishonest they are!
Length of Use: Less than 3 months
Bottom Line: No, I would not recommend this to a friend
Pros and Cons
No "pros" were specified in this review
The fact it never worked from day 1
Their customer service doesn't care
That they can make such medical claims, but don't have to stand behind it
Posted on Apr 15, 2021
Very expensive, not well made.
I'm only about 2 weeks in and now on level 3. Seems to be helping depression. But, the headband and Velcro are difficult to get to stay on as it is already stretching and unraveling. The unit is very poorly made. Needs a stronger headband and way more Velcro.
Length of Use: Less than 3 months
Bottom Line: Yes, I would recommend this to a friend
Pros and Cons
Seems to be helping depression/anxiety but it's too soon to tell
Very poorly made for the price
Headband should be stronger with more Velcro
Posted on Mar 1, 2021
This has made a HUGE difference, major improvements, for me.
I have been utilizing the Fisher Wallace device for about 2 weeks now, as prescribed, twice a day for 20 minutes. I noticed the calming effects even in the first session, and the lasting effects after about a week. I have struggled with significant generalized anxiety disorder and moderate depression since my 20s and perhaps even earlier. I am now in my mid 40s continuing with talk therapy but have in the past tried many prescription drugs over the years. Anxiety benzodiazepines, like Xanax, included, which also nearly led to my committing suicide, so I am sworn to never medicate my mental health issues with pharmaceuticals again.
After starting treatment with this simple device my horrible anxiety is seemingly gone. Negative self-talk and depressive feelings greatly reduced and replaced with a feeling of being OK, even feelings of optimism in spite of the quarantine being at the 1-year marker! I have had many nights of sleeping right through now with the FW device, though in the first days I did have a few intense dreams/nightmares that seem to have subsided. Great sleep, despite my longstanding issue of insomnia.
Length of Use: Less than 3 months
Bottom Line: Yes, I would recommend this to a friend
Pros and Cons
Relieved anxiety!
Greatly reduced depressive thoughts, more energy.
Better quality sleep and ability to fall back asleep when awakened have been restored.
Feelings of calm when using the device.
More energy.
Takes a bit of adjusting to get the sponges in the right spot, but the device indicates when you've got it.
Having to wet the sponges.
Having to hide the fact I'm using this because it looks weird to family.
Cost prevented me from buying one for years, but the Corona stimulus and discount made it possible finally!
Posted on Nov 22, 2020
Did absolutely nothing
We tried the stimulator over the course of several months on two different family members. We finally concluded that it had no discernible effect on either one. I also became suspicious when we were offered a large package of sponges in return for a positive review.
Length of Use: 1–2 years
Bottom Line: No, I would not recommend this to a friend
Pros and Cons
No "pros" were specified in this review
Completely ineffective
Posted on Jul 20, 2020
What happened after using the FWS?
It is difficult to determine whether it has been a good or bad experience because I still feel bouts of depression like I did before. Maybe, but only maybe, those bouts stay with me for a shorter time but not much to be proud about.
Length of Use: 2+ years
Bottom Line: No, I would not recommend this to a friend
Pros and Cons
Easy to use
Automatic shut off after 20 minutes
Not effective in my case
Disappointed by the publicity given to the product
Our Promise to You
In order to safeguard you and ensure helpfulness and relevance, our compliance team manually assess every customer review before it goes live.
We have a zero-tolerance policy for fake reviews, and companies cannot control or alter any reviews at any time.