Gundry MD Bio Complete 3
Claimed This company has claimed this profile, is getting alerted on any new customer reviews entering this page, and may engage in dialogue with its customers to address their matters.

Companies cannot pay money or provide goods in order to remove or alter customer reviews.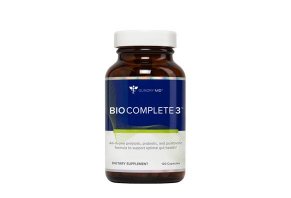 Gundry MD Bio Complete 3 makes exciting claims about how it can help your gut, weight, and health, but a lack of research about the supplement's main ingredient raises questions about its effectiveness.
Gundry MD Bio Complete 3 Review - Does It Work?
Medically Reviewed by Anthony Dugarte, M.D., C.S.C.S
This article contains links that should you click and make a purchase, we may earn a commission from the sale. See our Advertiser Disclosure.
Bio Complete 3 is a supplement that claims to improve your gut health and combat leaky gut through butyrate and fiber.
A bottle of Bio Complete 3 has a 30-day supply of capsules. According to the company website, two capsules should be taken twice daily.
Our review of Gundry's Bio Complete 3 will examine how to take it an what it does, what its ingredients are, and the scientific evidence for the supplement's efficacy.
Bio Complete 3 Ingredients: Do They Work?
Each capsule contains the following main ingredients:
Tributyrin: 1,000 mg
Sunfiber: 200 mg
Bacillus coagulans: 16 mg (2 billion CFU)
Tributyrin is a form of butyrate, a short-chain fatty acid that probiotic bacteria produce as they break down starches. Butyrate is formed by the fermentation of unabsorbed carbohydrates and is known as a post-biotic.
Sunfiber is what's known as a "prebiotic" or food that your body's probiotics need. In addition to supporting the actions of probiotics, they are thought to benefit weight management, digestive health, and immune function.
The final ingredient, bacillus coagulans, is a probiotic. These friendly gut bacteria live in your gut and may offer a wide array of health benefits.
The core of Bio Complete 3's claimed efficacy is butyrate, a "postbiotic" that your body typically produces as good bacteria work in your stomach and intestines.
By taking postbiotic as a supplement, you supply it to your intestines as an addition to what your body is already making.
Butyrate in low concentrations (<2mM) in your intestines can be helpful but that taking too much (5 or 8mM) of it can harm your intestinal barrier. The 1000mg of tributyrin in Bio Complete 3 falls well within the safe range.
The studies that analyzed butyrate's effect on the intestinal lining were done in a laboratory setting, so it is unclear if these levels are comparable to what would be safe in real life.
As for helping with weight loss, the analysis said the current research indicates some positive results in mice, but there were no mentions of human studies.
With that said, the preliminary research is promising that butyrate can help with weight loss in obese individuals.
A few studies showed that levels of butyrate could contribute to obesity instead of combating it. Keep in mind, these findings were in laboratory and animal models; this does not guarantee the same effects in humans.
We talked with a Seattle-based doctor who told us that butyrate is helpful in some cases but not in most. That is because it takes evaluation to understand if taking supplemental butyrate will solve the issues the patient is dealing with.
Another source, board-certified gastroenterologist Dr. Lawrence Hoberman, told us that butyrate plays an important role in nourishing the lining of the colon.
While he didn't say how effective butyrate could be when consumed as a supplement, he said you can boost your production of it by taking prebiotics and probiotics that promote the growth of the good bacteria that produce butyrate.
Finally, an additional study in a 2011 edition of the World Journal of Gastroenterology analyzing existing studies about butyrate's effectiveness found myriad uses fatty acid. However, more studies would need to be done to pinpoint for which conditions it works best, HighYa's medical advisor Dr. Jason Reed, PharmD, said.
As for Bio Complete 3's other ingredients, there's extensive literature supporting the benefits of taking fiber (Sunfiber) and probiotics.
Daily doses of B. coagulans MTCC 5856 at 2 billion CFU improved digestive symptoms and reduced inflammation in 40 patients with IBS.
Gundry MD does not share the specific strain of B. coagulans, however. This makes it challenging to compare to the available literature as the effects are strain specific.
Tthe study says the probiotic had a positive effect on IBS patients. This does not mean that it will have a positive effect on healthy patients. More studies would have to be done to find out if taking bacillus coagulans would be worth taking for healthy people, Reed said.
Sunfiber may also offer benefits, particularly in those with IBS. Three grams per day over a week improved bloating and gas when compared to placebo. Though benefits were seen, doses more than 10x higher than what is offered by Bio Complete 3 were used.
Also, similar results may not be seen in healthy subjects.
Takeaway: Although some support exists for these ingredients, results seen in laboratory and animal settings may not relate to human subjects. More research is needed to support the claims made by Gundry MD.
Safety and Side Effects
Earlier, we'd mentioned that the Gundry MD phone rep told us that those who are new to gut supplements should start with two capsules a day.
This is because taking four capsules could have a pretty substantial effect on your gut; the phone rep used the word "shock."
Also, taking butyrate at doses much larger than what is found in Bio Complete 3 may actually damage the lining of your digestive tract.
You may experience mild gas and bloating, which are commonly reported side effects with probiotic use. These symptoms are easily relieved by reducing the dose or discontinuing the supplement.
Cost and Return Policy
This supplement comes at three price points:
1 Bottle: $69.95
3 Bottles: $188.95
6 Bottles: $353.70
Gundry MD covers their supplements with a 90-day, money-back guarantee. If you aren't happy with Bio Complete 3 within the first 90 days after your purchase, you can contact customer support at (800) 852-0477 to start your refund.
Their website says that they'll process your refund with "no questions, no hassle." We read through the fine print and found no hidden rules or exceptions that negate the guarantee.
The Bottom Line
This supplement presents some serious question marks about its ability to follow through on its claims to improve your gut health and help you lose weight.
There isn't a consensus among medical experts that taking butyrate supplements will provide the benefits found in testing done in labs and on animals. Therefore, we think buying this supplement is a risk because the outcome is unknown.
That being said, the fiber and probiotics the supplement contains are a starting point if you're looking to improve your gut health.
Fiber, in particular, is well-known for helping with regular bowel movements, lowering glucose levels, and dropping your blood cholesterol.
Probiotics are a burgeoning field with new research appearing regularly.
Special Offer
Looking for a Way to Get in Shape, Lose Weight, and Improve Your Health?
We recommend the Noom wellness app based on our extensive research and high customer rating. Noom is offering our readers a 14-day trial for a limited time. Click here for this special offer and to learn more about the program.
---
---
Bio Complete 3 caused constipation and blockage

By Patricia I.

,

Austin, TX

,

Jan 20, 2020
Verified Reviewer

Overall Experience:

I do not have any chronic gut problems but Dr. Gundy's video was so compelling I decided to give it a try to see if it helped with weight loss as promised. After taking the Bio Complete 3 as directed for 12 days, I noticed that I was feeling constipated, having chronic urges to try to have a BM, and having diarrhea along with the feeling of having a blockage that the loose stools were attempting to work their way around. I had such a hard time, that I purchased an enema, glycerin suppositories, and Seneca tea which finally assisted in clearing the blockage and returning to normal bowel movements. When I wrote to Dr. Gundy MD, I was shocked to receive a reply from a customer service rep who asked me the IDENTICAL QUESTIONS that I was asked a few months ago when I returned pro-biotics to DR. MARTY, a veterinarian who sells probiotics for dogs. My dog had a serious skin reaction to his probiotics. I am thinking the two companies are one and the same, and selling junk science to unsuspecting customers.

Bottom Line: No, I would not recommend this to a friend

Jan 21, 2020

Patricia, I'm very sorry that our Bio Complete 3 was not the right fit for you. We understand that everybody is different so we ask that our customers consult their physician prior to starting any new supplement. Those are not typical side effects so I have escalated your issue to our Customer Relations team. Please expect to hear back within 1-2 business days. With that said, I ask that you email me at aria@gundrymd.com as I'd be more than happy to issue you a full refund. In regards to Dr. Marty, we are in no way associated with that company. Thank you for leaving a review.

---

Caused intestinal blockage and severe stomach pain

By Jennifer F.

,

Mineola, TX

,

Feb 18, 2020
Verified Reviewer

Overall Experience:

I had no previous gut or intestinal problems but Dr. Gundry's video made me want to try the Bio Complete 3 for weight loss and energy. I started taking the 4 pills per day as directed and I felt fine for the first 7 days. Then I started having stomach pain and usually in the middle of the night. The pain became more and more severe. I initially thought it may have been something I ate so I paid attention to everything I was eating. After 3 weeks of this stomach pain, I finally realized the only difference in my diet was the Bio Complete. I've had horrible stomach pain and had to use Milk of Magnesia to help. I've never experienced anything like this. I missed days of work by being laid up on the couch. It's been awful.

I want my normal life back.

Bottom Line: No, I would not recommend this to a friend

Feb 20, 2020

Jennifer, I want to sincerely apologize for the experience you had with our Bio Complete 3. These are not typical side effects of the product so I am very sorry to read you had to go through this. As always, we ask that our customers consult their physicians prior to starting any new supplement to ensure there are no interactions or allergic reactions to the ingredients. I want to let you know that I've escalated this to our Customer Relations team. Please expect one of our representatives to contact you to get more feedback and ensure you are doing better. In the meanwhile, I will ensure you are fully refunded. I hope you are feeling better and my email is aria@gundrymd.com if you ever have any questions or concerns.

---

Advertisement

---

Constipated

By Doris S.

,

Arkansas

,

Mar 1, 2020
Verified Reviewer

Overall Experience:

Since battling constipation for 50 years and overweight most of those, I decided to try Bio Complete 3 after alerting my doctor to what I was doing. Taking 4 capsules (as directed on the bottle) at the same time each morning, the constipation is worsened to where 2 oz.prune juice, 1 stool softener, 2 tbsp Metamucil, and 4 pieces of fruit a day (apple, orange, banana and fruit cups in its own juice) have caused me to resort to enemas. I am on Weight Watchers and have lost over 100 lbs, but still watch every item I put in my mouth. When I finish the bottle I will return to regular probiotics as I have COPD and need to protect myself. Not planning on reordering unless I see results in six days when the bottle is empty.

Bottom Line: No, I would not recommend this to a friend

Mar 2, 2020

Hi Doris, thank you for consulting your physician prior to beginning Bio Complete 3 and for giving the product a try. I'm very sorry to read that this was your experience. We understand that our products may work well for some but not others, which is why we will always stand by our 90-day money-back guarantee. I've gone ahead and initiated a full refund for your order; please expect an email confirmation within the next 1-2 business days. If you have any other questions, please don't hesitate to reach out to me at aria@gundrymd.com and I'd be more than happy to assist you.

---

Bio Complete 3

By Edward H.

,

Nampa, ID

,

Mar 14, 2020
Verified Reviewer

Overall Experience:

Into my 2nd bottle and it has not worked for me. I lost my regular bowel habit and hard to go to the restroom, and also have gained weight instead of losing! I think I wasted my money! I had used Restore before with no problems!

Bottom Line: No, I would not recommend this to a friend

Mar 16, 2020

Edward, I'm very sorry Bio Complete 3 was not what you had expected. As always, we do recommend our customers consult their physicians prior to starting any new supplement. We understand that our products work differently for everybody so we will always honor our 90-day money-back guarantee. Please email me at aria@gundrymd.com and I'd be happy to get that process started for you right away.

---

Advertisement

---

Bio Complete 3 review

By Olufemi F.

,

Pennsylvania

,

Mar 23, 2020
Verified Reviewer

Overall Experience:

I have been using Bio Complete 3 for about 3 weeks now after watching the presentation of Dr. Gundry about how the supplement can help with weight loss. I never had a problem with bloating or moving my bowels but I thought it will help me to lose some weight. I didn't see any changes with my weight after taking 4 capsules a day and my body started to feel different lately. I have been taking Centrum Silver as my supplement for a long time and my doctor knows about it. I have not mentioned Bio Complete 3 to my doctor because I have not been to my doctor's office since I started taking it. I don't think that I will be buying any refill at this time.

Bottom Line: No, I would not recommend this to a friend

Mar 24, 2020

Hello, my name is Aria Goodman with Gundry MD. Thank you for giving Bio Complete 3 a try but as always, we ask that our customers consult their physicians prior to starting any of our supplements to ensure that it is the right product for them. I'd like to offer you a full refund - please email me at aria@gundrymd.com. Thank you.

---

Updated review

Not for me

By Gideon C.

,

Indio, CA

,

Apr 7, 2020
Verified Reviewer

Overall Experience:

This product was not for me and there was some misunderstanding on the return policy, but when I called them they made it right. Thank you.

Bottom Line: No, I would not recommend this to a friend

Previous review
Apr 4, 2020

Not happy at all!

Continued until the end of 30 days and not feeling at all what they say. Sent 5 of the 6 bottles purchased and they refunded 5 bottles, not the 100% guarantee that they advertise. I have contacted them via email several times but never a sincere response. In my opinion, this is just another marketing scam at its finest! Please be aware and do your research before buying this product.

(

read more

read less

...)

Previous review
Feb 19, 2020

Not sure about this product yet!

I have been taking this product for 20 days now and I do not see or feel any different. I take 2 pills when I get up and 2 pills when I go to bed and BM's are ok at best, I was definitely expecting better. Also, it seems confusing on how to take them, some say 2 pills a day some say before meals, etc. I will keep on trying and see what happens in the next few weeks.

Feb 20, 2020

Hi Gideon, thank you for giving Bio Complete 3 a try and for sharing your feedback. Most users report feeling noticeably smoother digestion, less cravings, along with an increase in energy, vitality, and muscle strength on their first day of use…usually within the first few hours. However, the most dramatic results were reported after consistent use over the course of 4 weeks and beyond so I encourage continuing taking the product, with your physician's approval. In regards to recommended use, Simply take two small capsules twice per day, preferably before a meal. Bio Complete 3 has been formulated to be ultra-fast absorbing - so it can go right to work safeguarding your gut - resulting in a boost in energy and health you can truly feel. If you have any other questions, please don't hesitate to reach out to me directly at aria@gundrymd.com and I'd be more than happy to help!

(

read more

read less

...)

---

No luck

By John I.

,

Citrus Springs, FL

,

Apr 25, 2020
Verified Reviewer

Overall Experience:

I took the product religiously for 1 month with no change in appearance or feeling.

Worst of all I'm being stonewalled on my attempts to get their money-back guarantee. I'm beginning to think it's a scam.

Bottom Line: No, I would not recommend this to a friend

Apr 27, 2020

Hello John, we're so sorry to hear about your experience. Some of our customers see a difference in 30 days, while others may see results in 90 days. We understand that everyone is different, which is why we provide a 90-day money-back guarantee. I've gone ahead and initiated a refund for your order. Please keep an eye out for a confirmation email. If you have any other questions, please don't hesitate to reach out to me at aria@gundrymd.com.

---

Though too early to tell - day 1 resulted in bloating and generally feeling nauseated

By Ellen R.

,

Stamford, CT

,

May 19, 2020
Verified Reviewer

Overall Experience:

I was really taken in by the videos about lepton and other nightshades and nuts that contributed to a leaky gut. Despite eating "clean", I was consuming a lot of tomatoes and zucchinis. I'd been putting on weight despite not changing my eating habits so thought I'd give this a try. Immediately the Bio Complete made me feel nauseated and bloated. Lots of gurgling going on. I took 4 pills as prescribed before dinner. I was up all night feeling uncomfortable and all the next day too. I ate only leptin-free foods but still miserable. I didn't take any supplements today. I guess I'll wait to see how tomorrow goes and if I'm feeling ok I'll reduce the dosage. Also, despite eating leafy greens the color of BMI was also more yellow. I'm not feeling terribly hopeful at this point but we'll see in a few days.

Bottom Line: No, I would not recommend this to a friend

May 20, 2020

Hi Ellen, I'm very sorry to hear about your experience with Bio Complete 3. As always, we ask that our customers consult their physician prior to starting any new supplement to ensure it is the right fit. With that said, it does take a couple of weeks for our bodies to adjust to any new supplement introduced to the body. If you decide that Bio Complete 3 is not the right fit for you, please email me at aria@gundrymd.com and I can cancel your subscription order and provide a refund for your order. Thank you!

---

Bio Complete 3

By Marsha F.

,

Myrtle Beach, SC

,

Mar 12, 2020
Verified Reviewer

Overall Experience:

I have been using Bio Complete 3 for 3.5 weeks. There is no doubt that I am having less constipation, which is great! However, my concern is that the color of my bowels has turned yellow. This has me concerned. The color is usually brown. I stopped taking the Bio Complete 3 for 2 days and although slightly constipated (again) the color returned to brown. I have read that yellow bowel color is not good. I'd like to know if anyone else has had this problem and if after time this goes away.

Bottom Line: No, I would not recommend this to a friend

Mar 12, 2020

Marsha, as always, we ask that our customers consult their physicians prior to starting any new supplement to ensure that it is the right fit. With that said, I suggest that you stop taking Bio Complete 3 until you've done so. You can find a full list of ingredients on our official website. If you find that Bio Complete 3 is not the product for you, please email me at aria@gundrymd.com and I'd be more than happy to assist you with a full refund.

---

Six bottles

By George P.

,

Albuquerque, NM

,

Jun 13, 2020
Verified Reviewer

Length of Use: Less than 3 months

Overall Experience:

I was so looking forward to this product working for me. Sadly, after finishing a bottle and half of Bio Complete 3 over the last month and a half, the product has not had any effect on me. I know there is a money-back guarantee, and I hope I can get my money back. Please advise on how to proceed, thank you.

Pros and Cons:

I received the product promptly
It did not work for me

Bottom Line: No, I would not recommend this to a friend

Jun 15, 2020

Hi George, thank you for giving Bio Complete 3 a try and I'm sorry to hear that our Bio Complete 3 was not the right fit for you. I've gone ahead and escalated your order for a full refund - please keep an eye out for a confirmation email within the next 3-5 business days. If you have any other questions, please don't hesitate to reach out to me at aria@gundrymd.com. Thank you.

---

Starting the program

By Martin N.

,

Boone County, KY

,

Jan 25, 2020
Verified Reviewer

Overall Experience:

My weight is 212lbs and I am in excellent health and shape. My issue is stubborn belly fat ugh. So here I am starting the program today. I have six bottles and I am taking 4 pills and drinking 9 oz 1 pt of water. So in 30 days I will revisit and tell you my progress. I measure 44" around my belly. With a 31" waist. So I am hoping I will reduce belly to 43 in a week then 42 in two days, 41 in two days. Wow, that means I need another .5 lb to drop a day to reach the 30-day goal. I have to admit this may take 2 to 3 months. We shall see. "Good luck chap," as the Brits would say.

Bottom Line: No, I would not recommend this to a friend

Jan 27, 2020

Martin, thank you for giving Bio Complete 3 a try! Keep us updated on your progress and if during your trial you have any questions or concerns, please don't hesitate to reach out to me at aria@gundrymd.com and I'd be more than happy to assist you! Thank you!

---