Gundry MD Bio Complete 3 Reviews
This company has claimed this profile, is getting alerted on any new customer reviews entering this page, and may engage in dialogue with its customers to address their matters.

Companies cannot pay money or provide goods in order to remove or alter customer reviews.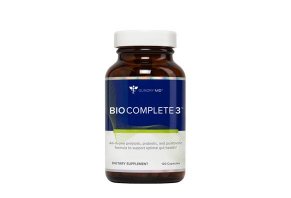 Summary
Bio Complete 3 is a dietary supplement by Gundry MD offering prebiotic, probiotic, and postbiotics that are proposed to support optimal gut health. Probiotics have been studied extensively with scientific support for improving GI and immune health.
Pros
Research provides scientific support of probiotics for GI health
Prebiotics, probiotics, and postbiotics are identified as being generally recognized as safe
90-day money-back guarantee
Cons
Lack of strong research supporting decreased levels of fatigue
Product effectiveness in weight loss and management requires exercise and diet
Bio Complete 3 Review: Is It Safe and Effective
This article contains links that should you click and make a purchase, we may earn a commission from the sale. See our Advertiser Disclosure.
Bio Complete 3 is a dietary supplement containing a proprietary blend of prebiotics, probiotics, and postbiotics that is alleged to support gut health.
To date, most gut health research focuses on gut microbiota, which serves as the site that contains the highest number of bacteria.
Gut health is an extension of your immune system which employs a group of good cells/bacteria that work with the host to promote health.
Because Bio Complete 3 relies on probiotics, its group of bacteria helps develop the microorganisms in the gastrointestinal tract to promote balance and ensure optimal function.
Gundry MD claims that you will experience the following benefits with daily use of their dietary supplement:
Weight loss
Decrease levels of fatigue
Improved digestion
Decrease cravings
Immune system support
In this article, we will help you understand if there is any science backing these claims by reviewing the available research for the active ingredients.
Effectiveness of the Ingredients: Do They Support the Proposed Benefits?
A serving size is four capsules that contains a proprietary blend of ingredients:
Tributyrin (as CoreBiome ®): 1000 mg
Sunfiber®: 200 mg
Bacillus coagulans (ProDURA®) (2 billion CFU): 16 mg
According to the company, you need to take two capsules, which are absorbed quickly, twice per day before eating to experience benefits for your gut.
Below, we will go over the roles of these ingredients to see if the evidence supports the claimed benefits of Bio Complete 3:
Gas, Bloating, Diarrhea, and Constipation Relief
One of the many claims proposed by Gundry MD is the ability to reduce gas, bloating, diarrhea, and constipation.
Sunfiber® is a dietary fiber contained in the proprietary blend of Bio Complete 3.
Studies have found that a diet that is rich in dietary fiber can be an alternative to promote healthy weight while serving to promote a positive balance in the GI tract, and releasing and regulating hormones that associate with feelings of fullness.
A study demonstrated that Sunfiber®, when given in doses of 5 g/day, was able to normalize stool consistency and promote gut microbiota changes.
Bacillus coagulans is lactic acid and a probiotic culture that aids in the digestion of carbohydrates and proteins. B. coagulans can help to enhance the benefits of prebiotics to help promote the growth of more healthy gut bacteria.
B.coagulans was supplemented in 36 patients diagnosed with Irritable Bowel Syndrome. These patients experienced a significant decrease in clinical symptoms of bloating, diarrhea, vomiting, abdominal pain, and stool frequency.
Immune Support
Medical literature suggests that diets should include probiotics and prebiotics to enhance the immune response. When consumed in adequate amounts, probiotics and prebiotics may provide various health benefits.
A review was able to recently reveal the benefits of prebiotic and probiotics to enhance the immune response to seasonal influenza vaccine in healthy older adults. However, the amount in this study was more than double the amount contained in Bio Complete 3
The functional properties of dietary fibers, such as Sunfiber®, help protect against intestinal infections, activate bowel function, aid in nutrient digestion and absorption, and stimulate the immune response.
However, the dosage amount contained in the proprietary blend of Bio Complete 3 is much less than was used in the available literature, so it may not be adequate in providing the proposed benefits for immune support.
Weight Loss Aid and Decreased Cravings
Partially hydrolyzed guar gum (PHHG), now named Sunfiber®, is currently being used in various forms in beverages, food products, and medicinal foods.
Guar Gum is a dietary fiber and, due to its gel-forming capabilities, is involved with reducing macronutrient absorption and slow gastric emptiness.
Tributyrin is a compound of butyrate that is composed of a short-chain fatty acid that serves as a versatile molecule that is produced in the gut by fermenting dietary fiber and can be enriched in butter and other dairy products.
Butyrate has shown some promising effects in various diseases, including obesity, diabetes, inflammatory bowel disease, and colorectal cancer.
A study of Tributyrin suggests that oral administration of 2g/kg of tributyrin 3 times per week effectively protects against a diet-induced obesity and insulin resistance in mice.
The study showed that tributyrin was directly linked to the inhibition of the proinflammatory mediator production of the white blood cells, protecting skeletal muscle against insulin resistance.
Muscle and Joint Pain Relief
More research is required to determine the role of the proprietary blend of the ingredients in Bio Complete 3 for alleviating symptoms of achy muscle and joints.
However, an older study found a decrease in the inflammatory response. Improved muscle integrity was the most effective when B. coagulans were administered with hydroxymethyl butyrate.
Further, butyrate may serve a role in strengthening the intestinal barrier function.
A study done in both humans and mice produced data that suggests a preventative approach for inflammatory diseases by targeting impaired intestinal barrier function.
This study suggests that a dose of 1 g butyrate may be able to decrease the onset of arthritis from occurring, which is similar to the dosage that is contained in Bio Complete 3.
Summary
The benefits proposed by Gundry MD for the Bio Complete 3 may provide varying results due to dosages that are much less than the ones used in the available studies.
Safety
Tributyrin, when taken orally, can be safe at lower doses, but higher doses greater than 10 g/kg can be toxic. However, the dosage contained in Bio Complete 3 is only 1 g.
No adverse effects were noted when PHGG/Sunfiber® was provided in a study at a dose of 5 g/day in patients with chronic abdominal pain and IBS.
B. coagulans have a history of safe consumption in humans, as indicated from a review of toxicology testing studies.
When comparing dosage amounts, a study found that a B. coagulans dose of 2x10(9) CFU/day was found to be safe and effective in diarrhea-predominant irritable bowel syndrome for 90 days of supplementation.
It is best to take the Bio Complete 3 dietary supplement as indicated on Gundry MD's website. Dosing of any amount should never be increased.
While the safety profile for Bio Complete 3 is favorable, it may not address the underlying cause of your problem.
Therefore, you should seek your physician's opinion if you are experiencing issues affecting your quality of life.
Pricing and Return Policy
Bio Complete 3 is available for sale on Gundry MD's website and they have options available to provide you savings.
1 Bottle (30 capsules): $49.95
3 Bottles: $134.85
6 Bottles: $254.70
Orders that are over $60 ship for free in the US.
Gundry MD provides a 90-day money-back guarantee, however, this does not cover shipping and handling. In order to process your refund, you will have to contact customer service.
Alternatives to Bio Complete 3
TruBiotics by One A Day could be another option to support digestive and GI health.
TruBiotics offers 2 probiotic strains that have been studied extensively and it is reasonably priced when compared to the many probiotic supplements we have reviewed.
TruBiotics is available in-store or online through Walgreens, CVS, and Rite Aid. It is likely that you will save more with this product but you would be missing out on certain probiotic strains.
Walgreens: 30-count $18.99; 45-count $29.99
CVS: 30-count $21.99
Rite Aid: 3-count $14.99
The Bottom Line
Bio Complete 3 ingredients may offer support in weight management, though some studies used higher doses to achieve results.
The available research also supports the benefits of probiotics in relieving GI issues, with clinical trials being performed in humans.
To achieve the effects of weight loss, however, you should also include a daily routine exercise, and a well-balanced diet to achieve the same results.
Probiotics may offer benefits that support a variety of digestive and health-related issues. However, it is important to first identify the source of any symptoms you may be experiencing.
Further, the proprietary blend of probiotics in Bio Complete 3 has been studied extensively, especially as it pertains to improving the balance of good and bad bacteria that lines your GI tract.
However, because the proprietary blend of ingredients contained in Bio Complete 3 is smaller when compared to dosage in studies, it may not provide the proposed benefits.
Special Offer
Looking for a Way to Get in Shape, Lose Weight, and Improve Your Health?
We recommend the Noom wellness app based on our extensive research and high customer rating. Noom is offering our readers a 14-day trial for a limited time. Click here for this special offer and to learn more about the program.
---
Customer Reviews
Posted on Aug 17, 2022
Excellent product!
I am very thankful for this product. Would recommend it to others. I am ordering again. I was having an issue with my BM, but it has become much better after using this product.
Length of Use: Less than 3 months
Bottom Line: Yes, I would recommend this to a friend
Pros and Cons
It has helped my BM
No "cons" were specified in this review
Posted on Jan 19, 2022
Bio Complete 3
As a vegan, I am always trying to strike the perfect balance to keep my gut regulated.
It has only been 2 weeks but I have noticed a difference in that my stomach is not as bloated in the evenings, feels calmer during the day, and I do not lack energy at all. I know in my gut, this is a great product (perhaps better than the rest I have bought from Gundry MD before).
A great fan of Dr. Gundry.
Length of Use: Less than 3 months
Bottom Line: Yes, I would recommend this to a friend
Pros and Cons
Size of the pills
It does not have an unpleasant taste to the palate
I know it is helping my gut regulate
That we have to swallow 4 pills
Other extra ingredients made me somewhat nervous if not explained what they are
Not told when to have the suggested doses
Posted on Apr 23, 2021
I love this product!
The first week was amazing! The second week was exactly as you described it would be. Now I have been experiencing some diarrhea? I wondering why, nothing has changed in my diet. I am also craving salt?
Length of Use: Less than 3 months
Bottom Line: Yes, I would recommend this to a friend
Pros and Cons
Regularity
Have shared a bottle with my daughter
Easy to swallow
No "cons" were specified in this review
Posted on Apr 23, 2021
Excellent
I received my pills 3 days ago after waiting more than a month ago and when received them I took one immediately and have increased the dosage to 3 per day and I feel much better.
Length of Use: Less than 3 months
Bottom Line: Yes, I would recommend this to a friend
Pros and Cons
Just feel better
No "cons" were specified in this review
Posted on Apr 23, 2021
Trying something new!
The capsules are easy to take. Noticed a difference in my bowel movements in two days and my regularity increased dramatically. There seems to be no noticeable negative after-effects in taking the product.
Length of Use: Less than 3 months
Bottom Line: Yes, I would recommend this to a friend
Pros and Cons
Taking the capsules is not difficult
Helps regularity improve
Increase overall well feelings
Initially the capsules have a strange taste
Recommended use should be expanded on the bottle to show it should be taken after breakfast and dinner
Posted on Apr 23, 2021
Amazing
Amazing, I've dropped 17lbs in a little over 2 weeks after using the recommendation of 4 capsules a day starting out. Greatly appreciated.
Length of Use: Less than 3 months
Bottom Line: Yes, I would recommend this to a friend
Pros and Cons
Immediate results
No side effects
Odorless and tasteless
No "cons" were specified in this review
Posted on Apr 23, 2021
Results
I started taking the Bio Complete 3 just three weeks ago. Prior to starting, I had been experiencing problems with loose/watery frequent stools along with some urgency. Not a week went by and I already had vast improvement. My stools were normal in consistency and down to once a day.
I have not noticed a decrease in my sugar cravings, but am certainly willing to give it more time.
Length of Use: Less than 3 months
Bottom Line: Yes, I would recommend this to a friend
Pros and Cons
Improvement in bowel symptoms
The 4 caps a day, would prefer one a day
Posted on Apr 23, 2021
Reply to Bio Complete 3
I have had discomfort for many years and have tried many products. I am almost finished with my first bottle. Have noticed that my stomach is not as bloated PTL.
Will continue with the product, knowing that it takes time due to where I was is not where I am at!
I truly appreciate the concern from Dr. Gundry that he reaches out to see if it is working or if you have any concerns. True professional, thank you.
Length of Use: Less than 3 months
Bottom Line: Yes, I would recommend this to a friend
Pros and Cons
Less bloating
Movement
Confident with his knowledge and research
No "cons" were specified in this review
Posted on Apr 22, 2021
Product performance
Not only is the product working as described but the tips on what and what not to eat have made a huge difference, in my life!
Length of Use: Less than 3 months
Bottom Line: Yes, I would recommend this to a friend
Pros and Cons
The results
Easy to swallow
Cost
No "cons" were specified in this review
Posted on Apr 22, 2021
Bio Complete 3
I have had trouble with my digestion for years. I have tried giving up gluten, dairy, sugar, and eliminating as much fat as possible. Since taking Bio Complete 3 for the past month, I feel nearly normal. I no longer have diarrhea after eating.
Length of Use: Less than 3 months
Bottom Line: Yes, I would recommend this to a friend
Pros and Cons
Easy to take
No longer have elimination emergencies
Cost
Posted on Apr 22, 2021
Help needed for digestive issues
So far it seems to be working well with no side effects. I had a colonoscopy last month due to a lot of digestive issues. They found two polyps, one small and one large. The large one was located in the cecum which is an area that can easily be missed. I waited for things to heal and for things to calm down before starting your products.
So far, everything seems to be doing well. I ordered the Bio Complete 3 and the Total Restore as I felt like your products would be helpful to keep my system healthy.
Length of Use: Less than 3 months
Bottom Line: Yes, I would recommend this to a friend
Pros and Cons
Fast ordering process
Quality
Guaranteed
The price is not low enough for some who may need it
Our Promise to You
In order to safeguard you and ensure helpfulness and relevance, our compliance team manually assess every customer review before it goes live.
We have a zero-tolerance policy for fake reviews, and companies cannot control or alter any reviews at any time.