Hairology Reviews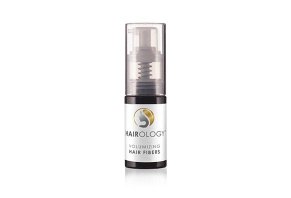 Summary
Hairology Volumizing Hair Fibers uses a mix of keratin fibers and silica to create fuller-looking hair that can cover bald spots and blend in with your existing hair.
Pros
Boost confidence with thicker looking hair
Resists weather, so hair stays in place all day
Reduces the appearance of baldness
Is affordable
Cons
Size of bottle is small, might not last a long time
Potential long-term harmful effects to scalp and hair
Could be noticeable to others
Can smear and turn into a green paste
What Is Hairology?
Hairology Volumizing Hair Fibers is a hair thickener that covers thinning, balding hair and blends in with individual hair color by use of clinging keratin fibers which instantly provide the look of fuller hair.
By implementing natural oat proteins and keratin fibers, Hairology Volumizing Hair Fibers gives an immediate, weather-proof solution for anyone struggling with hair that is thinning, balding or damaged from over-coloring.
Hairology doesn't just conceal thinning hair, the company says. It uses, "thousands of natural keratin fibers with oat proteins" to "magnetically attract to your hair," which results in a natural-looking, fuller head of hair. The product also uses silica, which is something we'll address later in this review.
Directed towards women, Hairology Volumizing Hair Fibers comes in four tones of "Smart Shade" to offer the perfect blend with each unique hair color.
Hairology Volumizing Hair Fibers is an "As Seen on TV" product, trademarked under the IdeaVillage Products Corporation, a company in business since 1999 that produces practical items that are both inexpensive and yet exceptional in quality, they claim.
Let's look further into the claims of Hairology Volumizing Hair Fibers and the long-term effects that these kinds of products can have on your hair's problem areas.
How Hairology Volumizing Hair Fibers Works
Before applying the product in your hair, you should first determine which "Smart Shade" option is right for you. They come in four colors:
Black- For dark brown to black hair
Brown- For medium to dark brown hair
Blonde- For medium to dark blonde hair
Gray- For light to medium gray hair
Hairology Volumizing Hair Fibers works with a simple "Point & Pump" device that evenly sprays the fibers onto your hair.
There are a few helpful steps to keep in mind when using the Hairology Volumizing Hair Fibers, which were found on a video tutorial from ulta.com for this product.
First, you should have clean and styled hair before applying the volumizing fibers, avoiding products that contain oil, gel or give shine as it can interfere with how the fibers will cling to your hair. This can also liquefy and cause the keratin fibers to dislodge, according to the product's webbsite.
Step two from Ulta's video tutorial says to, shake the bottle and swirl it around in order to prime the product for use. This step can also be repeated any time the spray nozzle starts to slow down in its flow.
Step three is to place a towel around your shoulders before spraying to avoid getting color on your clothing.
The next step is to gently rub the keratin fibers into the applied areas. It is also recommended to finish off with a finishing spray, such as hairspray, to keep the product in place for the whole day.
Hairology Volumizing Hair Fibers claims that is will not be affected by sweat or wind, and can easily be washed out with your everyday shampoo.
The Cost
Hairology is available at the following retailers:
Amazon: $5.54 (2.02 FL OZ)
Bed Bath & Beyond: $19.99 (0.19 FL OZ)
Ulta: $14.99 (2.02 FL OZ)
Comparison To Other Brands
With a high demand in products offering solutions for thinning hair and/or baldness, Hairology is one of many keratin hair fiber brands.
The Luxe Hair Thickening Fibers, is one such product, which boasts a 2-month supply in their 0.88 ounce-bottle, priced at $18.95 on Amazon.
This product is designed is for both men and women and claims to reduce the appearance of hair that is thinning and balding.
The natural fibers stick to your hair using the keratin, and can even be brushed out after application. Luxe Hair Thickening Fibers also claims that it will not clog up the pores in your scalp.
Luxe Hair Thickening Fibers comes in seven color options, including:
Black
Brown
Medium brown
Light brown
Dark blonde
Medium blonde
Gray
20 Customer reviews on Amazon rate this product at 3.6 out of 5 stars. Some phrases that reviewers used often include that it was a "game changer," it hides "thin spots in seconds," and "the amount for the price can't be beat."
On the other hand, some concerns customers had were related to the product's nozzle design, where the holes were too big and caused the powder to come out too quickly. That resulted in customers complaining that using too much of the powder at once doesn't give a "natural" look.
Another popular product is on Amazon Toppik Hair Building FIbers, which offers "full hair, full confidence," by boosting existing hair with "statically charged fibers" that cling to your individual hairs.
Toppik also claims to combat the natural effects of the wind, sweat and rain. Toppik Hair Building Fibers is available in several size options, with the larger can being 12 grams and costing $24.95. The product comes in nine different colors, including:
Auburn
Black
Dark brown
Gray
Light blonde
Light brown
Medium blonde
Medium brown
White
This product is rated at 3.8 out of 5 stars on Amazon, and customers said that it was, "a boost to my self-confidence," "works great," and "camouflages well."
Concerned customers pointed out that this more expensive product is not a long-term solution, and works best for people with moderate hair loss. Otherwise, reviewers noted, the powder can look caked on.
Overall, the reviews are either highly positive or quite skeptical of the results for any of the brands we've looked at.
It seems that the takeaway is to make sure to use a moderate amount of product for more natural looking hair, and to avoid getting the product on anything but your hair (clothes, flooring, etc.). If price is an issue, the two products we saw on Amazon were cheaper than what Hairology offered
Pros and Cons
In terms of what Hairology, Luxe and Toppik represent, they all use a similar method and ingredients for you to achieve the desired look of thicker hair.
As we researched the details of what is beneficial or harmful in these types of products, we were able to get some insight from plastic surgeon Dr. Anthony Youn, a holistic beauty doctor and author of "The Age Fix."
Youn said that keratin fibers are effective in making your hair fuller but that they have certain key drawbacks.
"Keratin fibers are a well-established and easy way to immediately thicken the hair. They are usually composed of very small particles of hair along with other ingredients like silica and ammonium chloride.
When sprinkled on top of hair they cause the hair to immediately look thicker. They usually stay in place even if exposed to rain and wind. Shampooing removes them, however," Youn told us.
He went on to say that the powders present a safety concern, as they present "the potential risks" of repeated inhalation.
"We know that breathing in silica is not a good idea. I know of no long-term studies that have looked at these potential risks, so it would probably be a good idea to wear a surgical-type mask when applying the keratin fibers to your hair in order to avoid breathing them into your lungs," he said.
The Bottom Line
Hairology does seem to provide an immediate result for those looking to cover up bald spots, or thinning hair. It especially is beneficial for people with intermediate hair loss but doesn't work as well on people with serious hair loss.
Hairology Volumizing Hair Fibers can boost confidence, be a quick solution for whatever event you might need to attend, including photoshoots or dates. It is easy to apply and easy to remove with a regular shampoo.
However, customers were on opposing sides when it came to reviewing Hairology and other similar brands, but overall the praise outweighed the individual negative experiences people had with these kinds of products.
It is important to follow the proper steps in the application process for you to avoid a negative experience of your own.
Customer Reviews