Hello Products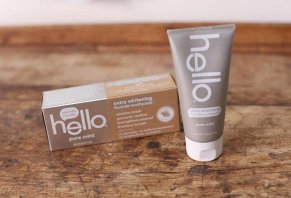 Hello is a line of natural-friendly dental products that promise to help you get your cleanest teeth without harming animals or the environment.
Hello Toothpaste, Mouthwash, and Toothbrush Review
Hello is a brand of naturally friendly™ oral care products, available for single purchase or on a subscription basis.
The company offers toothpaste, mouthwash, and toothbrushes for a range of age groups and issues. Many of these products promise to provide whitening benefits, sensitivity relief or are fluoride-free.
The hello brand began in New Jersey in 2013 and has since expanded to offer products in national chains across the country
According to their website, hello is striving to improve how you approach oral health by providing personal, relevant, beautiful and natural products. Is it worth signing up for a subscription? We dug into the facts to help you decide.
What hello Dental Products Are Available?
At the time of writing, hello offered a range of oral health products, including the following:
Toothbrushes ($3.49 - $3.99): Kid and adult sizes

Toothpaste ($3.99 - $9.99): Over a dozen varieties were offered at the time of writing, including whitening, flavored, sensitive relief, fluoride-free, kids, and toddler varieties.

Mouthwash ($5.99 - $6.99): Mint, charcoal, and kid-friendly mouthwash were available at the time of writing.

Charcoal Products ($3.99 - $15.99): Charcoal-based whitening toothpaste (with and without fluoride), mouthwash, and infused toothbrushes. Sold separately and in bundles.

Dental Floss (coming soon): Charcoal-activated floss
There are some interesting facts to dissect about some of the claims these products make, and the following three questions are designed to address them.
What's the Deal with Activated Charcoal in Dental Products?
There's a lot of mixed information about the value of activated charcoal in dental products, so what should you believe?
According to Authority Dental, activated charcoal is created by heating high-carbon materials like wood, coconut shells and sawdust until they form a porous dust with plenty of surface area to bind with what it comes in contact with.
Because of this binding capacity, activated charcoal has long been used as a medical aid for removing toxins. Recently, it's become incorporated into dental products under the explanation that the charcoal will bind to plaque and tooth stains to remove them.
While the nuanced research is still forthcoming, there's evidence that charcoal does work to remove external tooth stains to some degree- essentially by scrubbing them away.
However, as Rockcliffe Dental founder Dr. Anatolij Koniouchine told us, this abrasiveness can damage the enamel of your teeth over time by leading to scratching or chipping if you scrub too hard.
For this reason, it's critical that you use activated charcoal products carefully to prevent problems from developing. Those with thin enamel or tooth sensitivities should consider avoiding them altogether, while everyone else should take care never to use charcoal products too aggressively.
How does hello address these concerns? Their FAQ page says the company's activated charcoal toothpaste is less abrasive than charcoal powder and falls within the ISO (International Organization for Standardization) standard for enamel safety.
» For Further Reading: Does Activated Charcoal Teeth Whitening Work?
Do hello Products Help with Sensitivity?
According to the Mayo Clinic, mouth sensitivity is the feeling of sharp, temporary pain in your teeth, typically when you consume something hot or cold. This pain is generally caused by worn tooth enamel, exposed tooth roots, an old filling, gum disease, and numerous other factors.
hello offers a sensitivity relief fluoride toothpaste with coconut oil that is designed to relieve sensitivity pain and whiten teeth at the same time.
The company website says this toothpaste contains the maximum FDA-approved amount of potassium nitrate, a compound WebMD tells us naturally desensitizes the nerve endings in teeth, which can reduce your mouth pain within a month of brushing.
What Is Leaping Bunny Certification?
The hello website tells us that their products have achieved Leaping Bunny Certification, which verifies that they are cruelty-free through every stage of the supply chain. In other words, neither individual ingredients nor finishes products are tested on animals.
Likewise, hello tells us that they focus on sourcing ingredients responsibly from sustainable bamboo and stevia, and all boxes are made from 100% recyclable paper.
What Subscription Options Are Available with hello Dental Products?
While it's possible to buy all hello products individually, the company also offers a subscription program. To sign up, you first choose your delivery box frequency, deciding between monthly deliveries or deliveries every two or three months.
hello lets you choose between their products to build a customized subscription box for yourself, though it's also possible to select a company-curated box. Each subscription comes with a free toothbrush and mini toothpaste, and all orders over $30 qualify for free shipping (it's $5 per order otherwise).
While the hello subscription program is set up so you receive the same products each month, the company tells us that it's possible to modify your subscription at any time through your online account. You can also pause or cancel your subscription at any time without penalty.
According to the company's terms and conditions, they operate with a 100% satisfaction guarantee. This means you can request a full refund or replacement for any product you don't love within 30 days of receiving it. All requests can be directed to the company through email (hi@hello-products.com), by phone at 855-HI-HELLO or through the company's contact page.
Customer Reviews of hello Dental Products
When it comes to personal care products, we can learn a lot about their effectiveness from looking at customer reviews. Do users like hello dental products? We checked out their thoughts on Amazon and Influenster to find out.
Amazon sells a range of hello brand toothpaste, toothbrushes, and mouthwashes, most of which were ranked at least four stars out of five at the time of writing.
We looked closer at comments behind the Activated Charcoal Teeth Whitening toothpaste and noticed numerous comments about how well the product worked to whiten users' teeth. Many people mentioned that the paste stayed completely black in their mouths (offer brands turned grey) and that the mint taste was refreshing, not overpowering.
Others wrote that the toothpaste successfully lowered their tooth sensitivity when they used it at least once a week, though one reviewer wrote that the toothpaste seemingly messed her teeth because it was too abrasive. She reported that her teeth and gums hurt after using it and that she developed patches of discoloration soon after two months of use.
The reviews on Influenster were fairly similar, as the brand scored 4.25 stars out of five on the site.
Many people reported that they appreciated the transparency of ingredients in each toothpaste tube, as it let them avoid fluoride and sodium laurel sulfates. Most customers stated that they liked how the toothpaste made their mouthfeel and that they were content with the quality of the products they received in their subscription.
Are There Similar Subscription Services to hello?
The hello brand of dental products is far from the only company striving to fill the natural dental-care niche. A few others you might find worth trying include Boka and Goodwell.
Like hello, Boka is a subscription oral health company that has a focus on the role of activated charcoal and dental care. However, the two companies differ because Boka offers an electric toothbrush with replaceable heads, while hello brushes are made of biodegradable bamboo.
You'll pay $70 initially for your Boka brush, and then $16 per quarter for replacement heads and toothpaste. Each Boka brush tip contains activated charcoal, and the brand offers a single variety of toothpaste, which relies on nano-hydroxyapatite instead of fluoride (you can buy a tube on its own for $10).
For those more interested in sourcing sustainable products, Goodwell offers subscription programs for bamboo toothbrushes, binchotan toothpaste, and floss.
You'll pay $15 every two months for one toothbrush, toothpaste tube, and floss, and the company offers other subscription tiers for premium and electric brushes. Like Boka and hello brand brushes, the bristles are infused with activated charcoal.
How should you decide which dental health subscription brand is best? That depends on what you're looking for and how much you value customization. hello wins points from us for letting users create a custom subscription box at their desired frequency, and they offer the most extensive range of toothpaste and mouthwashes.
However, their brushes border on basic and the company doesn't offer electric options. If a high-tech toothbrush is important to you (or you use one already), we recommend looking elsewhere, as you won't use the free toothbrushes they provide in each order anyways.
Our View: Is hello Subscription Worth Considering?
After dissecting these facts, we can conclude that hello is branding itself as a user-friendly subscription program for sourcing healthy, sustainable dental products.
The company earns points from us for their flexible subscription plan, though the pricing is higher than the competition, plus your monthly order is rarely likely to be over $30 and qualify for free shipping.
This dental brand stands out for its variety of products and toothpaste flavors, but activated charcoal products aren't the right option for everyone, especially those with enamel problems or sensitive teeth.
For this reason, we think it's critical to be cautious before using charcoal-infused products to make sure you don't cause lasting damage to your mouth.
That being said, hello has hundreds of positive reviews from past customers, proving that the company delivers on many of their promises. If you're interested in seeing what the hype is all about, we don't think you'll regret sampling hello dental products.
Vegan & Cruelty Free! Can't get better than this.

By Gail H.

,

New Jersey

,

Sep 26, 2019
Verified Reviewer

I tried the Hello brand anti-plaque and whitening fluoride-free toothpaste simply because it's vegan and cruelty-free (in other words no rabbits or other animals were tortured in the making or testing of this product).

That is of the utmost importance to me because the unnecessary (Hear that? UNNECESSARY) repeated testing and experimentation of products on innocent animals causing severe and excruciating pain which is performed on hundreds of thousands of animals annually is unacceptable.

These animals are kept in tiny cages for their entire life, void of any enrichment toys to keep them mentally sane, unable to follow their natural instincts, they are exploited over and over by so-called scientists and companies simply to make a profit and earn a salary. Then, in return, when their bodies are spent, unable to handle this torture anymore thereby are no longer of any use to these labs they are killed in horrific ways including neck-breaking gassing and suffocation.

All because of Consumers who don't give a crap, want what they want in a product, and don't care about animal suffering as long as they themselves do not have to do the dirty work nor have to view any of it or listen to their screams. They are tortured repeatedly. This is nothing more than a Holocaust.

But on the bright side, this is a great product, works well and tastes wonderful. I recommend anybody who has an ounce of compassion in themselves to at least try the product. Then if you choose to go back to your cruel products responsible for torturing maiming and ultimately killing innocent lives there's nothing I can do. As long as you can sleep at night knowing what you are requesting and paying for as a consumer. We have the power to stop this crap by supporting companies that are cruelty-free and vegan like Hello.

Bottom Line: Yes, I would recommend this to a friend

---

Advertisement

---