LA Fitness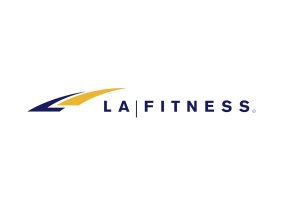 Summary
LA Fitness sets itself apart from competing gyms by offering pools in nearly every location as well as child-care facilities that watch your kids while you work out.
Pros
Most locations have a pool and sauna
Childcare provided at nearly all locations
Signature Clubs offer a premium experience
You can negotiate your membership fee
Group classes are included in membership fees
Cons
The cancellation process is cumbersome
You have to pay for racquetball court reservations
Expensive if you just need weights and cardio equipment
LA Fitness Review: Is It the Right Gym for You?
LA Fitness is a popular gym offering memberships you can buy for as little as $34.99 a month.
Their claim to fame is their reasonable pricing that includes access to fitness classes, a heated lap pool, whirlpools, saunas and, at some locations, child care.
The company started in 1984 and has since grown to more than 800 clubs in the United States and Canada. Their mission is to do what they can to improve your physical and emotional well-being through inclusive, amenity-laden facilities.
Exactly how LA Fitness does that is what you'll discover in this review. Our goal is that you'll get a clear sense of what LA Fitness is all about and whether or not it's a good fit for you.
Membership Cost and Options
All LA Fitness memberships are month-to-month. You can choose to sign-up in-person or online. If you sign up online, you'll pay the following prices:
Single-club: $34.99/month, $49 annual fee, $0 initiation fee
Multi-club: $39.99/month, $49 annual fee, $0 initiation fee
You'll have to pay your first and last month's membership fee when you sign up. Also, the following states may have different pricing when you join online: AZ, AK, KY, LA, NY, OH, SC, TN, and DE.
Your initiation fee will vary based on which promotion LA Fitness is running online or at your local club. It can go as high as $99. In that case, you'll probably get a lower monthly fee since you're paying more upfront.
LA Fitness will charge you $10 a month if you want to pause your membership for travel, sickness and other situations that make it impossible to work out.
Negotiating a Lower Membership Fee in Person
Your monthly fees could be lower than what's listed online if you go to a club and negotiate with a sales rep. For example, a sales manager at my local LA Fitness quoted my monthly payments as low as $20 if I came into the club to sign up.
I went into an LA Fitness to research pricing and found that the sales rep was willing to discount my membership equal to what I'd have to pay to get out of my Planet Fitness membership.
If you're not comfortable with negotiating in-person but you want to lower your monthly payment, call the club you want to sign up at and talk with a sales rep over the phone. Agree over the phone on a price, then head to the club to finalize it.
Single-Club vs. Multi-Club Memberships
If you're a business traveler, you might entertain a multi-club membership. However, most business hotels provide enough workout equipment to keep up with your routine, even if it means cutting back some of your usual exercises in favor of more cardio work.
Multi-club memberships may be good for you, too, if there's a club next to your school or work. This gives you the flexibility to sneak out during your lunch break or between classes to get a workout in.
However, if you tend to use the gym closest to your home no matter where you work or go to school, the single-club membership will suit you.
Five-Day Pass
If you want to try out your local LA Fitness before you join, the easiest way to do it is to go about a week or two before you want to sign up for a gym membership and ask for a five-day pass.
When I went to my local LA Fitness to research pricing, the salesperson seemed willing to give me a free pass only if I was making my membership decision soon. I noticed another customer getting the same treatment.
How to Cancel Your Membership
To cancel, you'll need to go to your My LA Fitness online account and print out a cancellation form. Fill out the form and either take it to the Operations Manager at the nearest LA Fitness or send it to the following address: P.O. Box 54170; Irvine, CA; 92619-4170.
You should not be charged for another month of dues as long as the form's envelope is postmarked at least 5 business days before your due date.
Amenities
All LA Fitness locations will include the following amenities:
Free weights, weight machines, and cardio machines
Several free group fitness classes
Lap pool, whirlpool & sauna
Lockers
Racquetball and basketball courts
Racquetball courts are first-come, first-serve. You'll have to pay $7 a month if you want to reserve a court.
Some locations – LA Fitness doesn't list them on their site – have additional amenities that may or may not cost you an additional fee to use:
Babysitting
Juice bar
Swim school
Because pricing for these amenities could change from club to club, we can't give you an exact quote on how much these services will cost.
We did, however, give our local LA Fitness club a call and found that babysitting was up to $15 a month and allowed one two-hour session per day.
LA Fitness Signature Club Amenities
Signature Clubs will cost you more each month but include:
Full-size basketball courts
Towel service
Executive-style locker rooms with bigger showers
Digital lockers
These locations are low in number and tend to have higher membership fees. However, you may find the club worth it if, for example, you go to work after the gym and want better locker-room amenities while you get ready for work.
Personal Training
LA Fitness organizes your personal training sessions based on your fitness needs as determined in a free assessment before your first session.
You have three payment options for these sessions: 6- and 12-month contracts or per-appointment. The fee is $160 a month for once-a-week sessions, with pricing varying for single appointments. This price, though, will vary by location.
Remember, though these personal training sessions are contract-based, and you could be charged up to 50% of the price of your remaining sessions if you cancel your contract before it's completed.
Group Classes
All or nearly all of your group classes will be free depending on which location you go to. These classes include the following workout styles:
Pool workouts
Belly dancing
HIIT
Spin
Hip hop dance
Kickboxing
Pilates
Latin dance
Zumba
Step
The variety of classes the gym offers are varied enough to keep your interest over time, especially if you enjoy multiple dance styles.
One way to get the most out of these classes is to find an instructor you like and attend their classes or classes each week. The connection you feel with them and their teaching style helps you stay consistent with your workouts.
Analysis of Customer Reviews
Customers who leave good reviews for LA Fitness most often praise the gym's amenities, citing a love for the gyms basketball courts, pools and saunas.
The main consumer complaint against LA Fitness is its rigid terms of membership contracts.
The gym will not let you out of a contract once it's signed, which is something we saw time and again from customers on HighYa.com and other review sites. LA Fitness' unwillingness to bend on membership contracts carries over to their personal training contracts, too.
A few readers mentioned that they felt the sales reps who sold them a membership were misleading and made claims that didn't match what was in the contract and in the customer's billing statements.
The Takeaway
You'll be most happy with your LA Fitness membership if you read your contract carefully and understand your membership terms.
Doing this removes the surprise of additional fees and allows you to enjoy the many amenities that draw praise from LA Fitness customers.
LA Fitness vs. Planet Fitness and 24 Hour Fitness
The following chart shows you how LA Fitness compares to the competition regarding the most important parts of your membership. Pricing is based on online prices, which can differ from what the clubs offer in-person:
| | LA Fitness | Planet Fitness | 24 Hour Fitness |
| --- | --- | --- | --- |
| Cheapest single-gym membership | $34.99 | $10 | $31.99 |
| Cheapest multi-gym membership | $39.99 | $22.99 | $31.99 |
| Sign-up fee | Up to $99 | Up to $29.00 | Up to $29.99 |
| Annual fee | $49.00 | $39.99 | $49.99 |
| Cancellation fee | None | $58.00 | Remaining months on contract |
| Free classes | Yes | No | Yes |
| Child care | Yes | No | Yes |
If you want to know which gym is best for you, consider:
How much you can afford each month?
Does your schedule require you to work out at multiple locations?
How comfortable you are with negotiation?
Which amenities are non-negotiable?
Prioritize these questions in an order that makes sense for you, then find out which gym best fits your priorities.
The Bottom Line: Who Is LA Fitness Good For?
LA Fitness is an excellent all-around gym because of its extensive amenities and free classes. These two features mean that they can cater to almost any customer. Furthermore, the variety of amenities and classes means you can expand and adjust your workout routine over time.
In addition to these scenarios, we think this gym is a good fit for the following type of people:
You Need Childcare While You Exercise
Many LA Fitness locations have childcare facilities you can use when you work out. This makes their gym convenient if the only time you can work out is with your child. Furthermore, their two-hour time limit means you have enough time to take a class and do a workout on their cardio equipment, weight machines or in their pool.
A Pool Is Necessary to Your Workout
Nearly all LA Fitness locations have a pool, which is part of what makes their facilities unique. If swimming laps is part of your exercise regimen or is your workout plan, your local club's pool may be the only reason you join.
You Thrive in Group Workouts
LA Fitness' extensive list of group classes means you have dozens of options each week for classes that put you next to other people who are pushing toward a goal just like you. The natural accountability you feel in your group workouts will help you meet your fitness goals.
You're Willing to Negotiate Membership Prices
LA Fitness salespeople are willing to negotiate plan pricing depending on how much you want to pay each month and if you're willing to sign a year-long contract. If you're good at getting what you want through negotiation, you'll find that you could talk your monthly fees down below $25.
You're Bored with Your Budget Gym
Budget gyms give you plenty of cardio and weight stations to get fit but often lack additional amenities. If you've grown tired of what your budget gym has to offer, LA Fitness' pools, saunas, and basketball courts provide a significant upgrade over your current experience.
Customer Reviews
Posted on Aug 9, 2018
Less value going forward
I have been a member for about 15 years and have generally been a satisfied customer. But I think the company is changing its business strategy for the worst. A fairly new club that opened near me about two years ago offers no racquetball, no sauna, no jacuzzi, and a very narrow pool. I was told that will be typical for new clubs going forward. Thus, the amenities mentioned in the article cannot be taken for granted.
Bottom Line: No, I would not recommend this to a friend
Posted on Apr 18, 2019
5 year member
I've been a member of LA Fitness for 5 years. We got a great deal when our former gym closed and LA bought up their contracts keeping the original terms. They have great amenities. This is the only gym I've belonged to that have a lap pool, courts, and dedicated rooms for group classes. BUT, I'm pretty angry with them right now over their personal training policies. I've been paying for and using sessions for over 2 years. Then my trainer left and a very close family member was diagnosed with cancer. So I decided to stop the sessions for a while until I knew what the family's new normal was going to be. Apparently, when you cancel training sessions, you don't get to keep any remaining sessions you have already paid for. So basically, they get to steal 2 months worth of training, i.e. $320.00, from me. I won't be making that mistake with this gym again. The monthly fee is too good to quit the gym, but I'll hire a non-employee PT when I start back up.
Bottom Line: Yes, I would recommend this to a friend
Posted on Jan 11, 2020
You don't "NEED" my darn email address!
I was going to renew my membership to the local club. The guy at the counter started from the BEGINNING of the GD application, after I already told him the ONLY information that had changed was my insurance company...what's your zip code, email address...etc. I do NOT give out my email address anymore because of the CONSTANT email scams! He said he couldn't complete the membership without it. I turned around and walked away! Good bye LA Fitness!
Bottom Line: No, I would not recommend this to a friend
Posted on Sep 10, 2019
Overall value vs cost.
My first impression of LA Fitness was so-so.
But the big "+" was the short drive from my house.
I joined with myself and my two girls. At first was the tour. It went well but was met by a salesperson that didn't show much enthusiasm and sounded very routine.
The initial cost ended up being around $350.00. That included the first month's dues and a registration fee. I don't have the original breakdown but sounded high.
I feel that their goal is to constantly pound you for more money. A trainer wanted to coach me for an additional $160.00 a month.
There is also a yearly fee they charge that was collected after my first month there!
Bottom Line: No, I would not recommend this to a friend
Posted on Dec 5, 2017
Do NOT sign up for personal training
Please save yourself the time and money and DO NOT sign up for personal training. To save face I won't name names, but they put on this persona that they are really in it to help you and further your goals, but really when the time comes for renewals, cancellations, etc., they clearly don't care about you other than squeezing all they can out of you and getting in their numbers.
It's a horrible game preying on the vulnerable. I was so excited and had high hopes for personal training at LA Fitness, but could not have been more disappointed with my experience. There are so many other superior options, not to mention more affordable. Please don't fall into this awful trap!
Bottom Line: No, I would not recommend this to a friend
Posted on Dec 30, 2017
I do not recommend this club to anyone, especially those who have children!
When you want to register in LA Fitness, completely pay attention to all the terms of their contract!
If you want to cancel your membership, even after the first meeting, and only after a week of using this club, you will experience the worst customer service among American clubs!
They make money with their unfair policies! They will charge you for two months at first, and you just have three days for canceling with a refund! This means you have no time to change your mind. This time for cancellation means no refund after registration.
I tried two different locations (San Francisco on Highway 121 and McKenny in Custer), and both have similar problems. The children's care club is awful, it is an empty room without proper toys and someone who cares them continuously. The lowest standard and quality in their small swimming pool and bathroom.
Bottom Line: No, I would not recommend this to a friend
Posted on Feb 3, 2018
If you like spit on your work out machines, this is the place for you!
My letter to the LA Fitness CEO - Louis Welch says it all.
Hello Mr. Welch,

I am contacting you today because I have been a member of LA Fitness in Beverly Hills for about 6 months. In that time I have enjoyed my time going to the club and regularly visit it about 5 days a week for about 2 hours a day.

To cut to the chase, today I cancelled my membership. The reason is, because a little over week ago a member, was using the elliptical machine next to me. Out of the side of my eye, I noticed he kept leaning forward, and I would hear a hocking noise through my head phones. This was about every 30 seconds or so.

I tried not to look over thinking he just had a cold or whatever. But it quickly became obvious that he was spitting into a towel he had laid across and into the cup holder on the machine. I was shocked. It was gross. All the machines were full on that first day so I kept up my routine, hoping one would open up. Before one did, I noticed he took a second towel he had draped across the monitor and switched it with the spit soaked one. (Putting the spit one onto the monitor.) (At least there is no flu going around... right?) Finally a machine opened up and I switched to it to get away from the guy.

A couple of days later, I'm working out on the same row of machines, and several are open, yet this guy now picks the one right next to me and starts up again. Coincidence or not, I just go there to work out and want no trouble with anyone. So I move.

Today, I was working out again on the same row and again several machines are open around me, and I hear someone whistling from beside and behind me. I don't pay it any mind then I see a towel go down over the cup holder and the guy then comes around to the front of the machine and hangs a towel on the monitor, still whistling. I look over at him, he looks at me and he hocks a wad of spit into the towel.

I stopped and asked him what he was doing? He said what? I said did you just spit onto the machine? He said so what if I did its none of your business and mind your own business. I told him it was and is my business. I work out on these machines and its gross and nasty. Not to mention everyone is trying not to get sick. And I said do not do it again. Again he said who are you to tell me what to do. That's when I said lets go see the manager and see if he's ok with your routine of spitting onto the equipment.

I went up and found GM Mr. Crosby. A very nice gentleman. He was appalled by what I told him and we went looking to find the member. The member had left the area. When we came back up to the front the member was now talking with PTD Mrs. Alex Valero. I told Mr. Crosby that this was the person. The member admitted to what he was doing and again said over and over in an aggressive manner that it was none of my business. He was not apologetic; in fact he said that he was not scared of me and that he would break me in two. At which point I did say well do it then. I had every right to stand up for myself and will always stand up against bullies. He did not break me in two.

I then walked away with Mr. Crosby and he thanked me very much for being there and bringing this disgusting event to his attention. I told him that I did not want to be in a gym with this person again. And no one should spit on the equipment or threaten members. I then went back to work out.

To my surprise, Mrs. Valero and OM Mrs. Ruta came up to me when I was back on the machine, and I thought they were going to apologize and maybe thank me for taking the steps that I did, as Mr. Crosby had. Instead they told me the member was going to simply be given a warning. And that I was going to be given a warning too.

I asked for what? Mrs. Valero said I was aggressive. I stated that if I was going to be given a warning then I was going to cancel my membership immediately. When we walked back up front Mrs. Valero now said I said that I was going to kick the member's a**. I was with Mr. Crosby the entire time. I asked Mr. Crosby if I had said that, and he said no I had not said that. Mrs. Ruta then let me know that I should have told them sooner that the member was spitting. Really nice.

The fact that a member spits on the equipment and then found it entertaining to get up next to me on several occasions like a bullying stalker should be of great concern to Mrs. Valero and Mrs. Ruta.

LA Fitness should not be a High School. Mrs. Valero however, since I have been a member, is seemingly unable to even answer a simple "Hi" or "Good morning"... so much so that I gave up even saying it to her. Because she'd look you straight in the face after hearing a "Good morning" and act is if you weren't even there. That aside, her handling of this event, should be troubling for LA Fitness as it was for me. I guess she was friends with the human sprinkler.
If you like people spitting on your work out machines, well this is the place for you!
Bottom Line: No, I would not recommend this to a friend
Posted on Mar 12, 2018
Personal training scam
‪Anyone who has an LA Fitness membership, be warned. They are running a personal training scam and will try to get you to pay month to month. But they actually are signing you up for a year. Corporate didn't help at all! Worst customer service!
Bottom Line: No, I would not recommend this to a friend
Posted on May 29, 2018
Never sign up with LA Fitness!
Don't EVER sign up for services with LA Fitness. They make false promises, their trainers are dangerously incompetent, and they will NOT let you out of your contract, even after THEY have injured you and you can NO LONGER receive their services. Worst decision I ever made was to sign up with LA Fitness!
Bottom Line: No, I would not recommend this to a friend
Posted on Jun 21, 2018
Horrible
The air conditioner is not on at certain times, and the Wi-Fi is on a timer and doesn't work in most parts of the gym. The staff just does not care at all any time it's a problem. Their response is "we have to contact the head office," which is just a BS answer and nothing changes. I would not recommend LA Fitness at 1628 N el-central. I'll do my two months here and am going to a better gym like Equinox gym; it's more, but I'm sure it's better than this dump. I hate LA Fitness. Stay away.
Bottom Line: No, I would not recommend this to a friend
Posted on Jul 9, 2018
Sales associates do not listen actively
I signed up for a 5-day free pass to try out the club. I wanted to see what the basketball games were like. I was given a 1-day pass even though they emailed a 5-day pass. I was told if I didn't go through their questionnaire and tour I'd have to pay $15. They asked what my goal was and I said to play basketball. They tried to force personal training on me when it is completely irrelevant. I told them I will sign up if the games are good. They tried to force me into a 1-year membership. Salespeople are a joke there. They just kept data dumping on me rather than understanding what I want. Nice club, mentally challenged staff. Games were pretty weak. 24 Hour Fitness Irving is much more competitive and safe (lots dudes fouling in jorts and sandals).
Bottom Line: No, I would not recommend this to a friend
Our Promise to You
In order to safeguard you and ensure helpfulness and relevance, our compliance team manually assess every customer review before it goes live.
We have a zero-tolerance policy for fake reviews, and companies cannot control or alter any reviews at any time.