Memotenz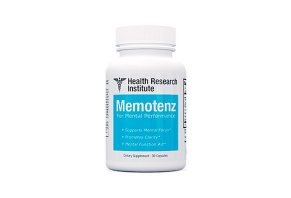 Summary
By taking two to four capsules of Memotenz per day, the manufacturer claims you'll experience improved memory, mental energy, and overall brain performance, without side effects. Research backs the efficacy of the ingredients used in this formulation but due to a lack of knowledge of the quantities of these ingredients, it's difficult to fully recommend this supplement.
Memotenz Review: Does This Supplement Work For Your Brain?
What Is Memotenz?
Memotenz is a nutritional supplement that allegedly helps improve memory, increase mental energy, and overall focus without side effects.
The manufacturer recommends taking one to two capsules of Memotenz per day, preferably with food, first in the morning with breakfast and again in the evening.
There are some factors associated with the increasing the risk for conditions that can affect your cognitive function like Alzheimer's, Parkinson's, or stroke.
Common risk factors can include age, being sedentary, poor diet, lack of mental stimulation, and the absence of social connections.
In this article, we'll highlight the available research that examined the Memotenz ingredients to help you determine if this supplement lives up to the claims.
Memotenz Ingredients
Each capsule of Memotenz contains the following:
Ginkgoxine Ginkgo Biloba Extract 50 mg
Proprietary Formula 727 mg: St. John's Wort, L-Glutamine HCl, Phosphatidylserine Complex, Bacopa Monnieri, Dimethylaminoethanol Bitartrate, Acetyl-L-Carnitine
Many of Memotenz's ingredients are commonly included in dietary supplements that claim to boost brain function. In this section, we'll detail what we were able to dig up in our literature review.
Ginkgo Biloba Extract
Ginkgo is an herb found mainly in China that is commonly included in products with brain-boosting benefits.
Ginkgo's ability to support brain function may be related to its blood flow-promoting actions.
Healthy college students improved short-term performance on memory tasks by taking 120mg of ginkgo.
Also, a review of 8 randomized trials found ginkgo to be effective in improving mental function in subjects with schizophrenia or dementia. Strong conclusions could not be drawn for ginkgo's effects on depression, anxiety, and addiction due to the lack of evidence, however.
St. John's Wort
In a review of 20 preclinical studies, St. John's Wort was effective in improving cognitive function, particularly in stress-impaired rodents.
Most of the support for its effect in humans is related to an ability to improve symptoms related to depression. More work is needed to characterize the brain-boosting effects.
L-Glutamine HCl
Glutamine is an amino acid that may boost immune function, support digestive health, increase exercise performance, and support brain function.
In terms of its cognitive effects, glutamine was recently studied in a randomized trial.
Researchers concluded that 2,000mg doses negatively affected response selection during reaction time tasks. Thus, even at large doses, glutamine does not support sequence learning performance.
Phosphatidylserine Complex
This phospholipid may offer some cognitive benefits.
In elderly subjects with declining memory, 300mg doses of phosphatidylserine daily over a 3-month span helped improve memory recognition, executive functions, and mental flexibility on computerized tests.
Similarly, both 100mg and 300mg daily doses were effective in improving memory and delayed recall in elderly subjects throughout 6-months.
Bacopa Monnieri
Bacopa is a tropical herb that may boost brain function. Healthy adults treated with 300mg of bacopa enhanced memory, learning rate, and visual processing.
Similarly, a 90-day randomized trial found that 300mg daily doses of bacopa were superior to placebo in improving spatial working memory accuracy.
Dimethylaminoethanol (DMAE) Bitartrate
DMAE is produced naturally in your body, though it is also obtained in foods like fatty fish. Like many of the other Memotenz ingredients, DMAE is commonly included in supplements that allege to support brain function.
Nonetheless, there is not much research suggesting DMAE can offer benefits. A study in the 70s found 600mg of DMAE 3x daily reduced depression and anxiety in elderly subjects over 4-weeks.
Acetyl-L-Carnitine
This amino acid may boost energy, weight loss, and cognitive function.
L-carnitine doses at 3,000mg daily were safe and effective in boosting cognitive function in healthy adults, though this effect was demonstrated only in the short-term.
In those experiencing mental decline associated with chronic alcoholism, 2,000mg doses over 90-days improved performance on a battery of cognitive function exams.
Side Effects
Memotenz's blend of ingredients is generally safe when used as recommended. In fact, many of the ingredients were safely tested in human subjects at much higher doses than those included in Memotenz.
Also, Memotenz is stimulant-free, which allows you to avoid caffeine-related side effects that are commonly associated with brain-boosting dietary supplements.
It is important to make specific mention of St. John's Wort, however. While it may have a lower risk for serious side effects when compared to medications commonly used to treat depression, St. John's Wort can cause dry mouth and constipation.
Additionally, this herb is well known to negatively interact with blood thinners, birth control, cardiac medications, HIV drugs, and medications used to treat depression and anxiety.
If you're experiencing symptoms related to cognitive decline, do not hesitate to speak with your doctor. This is also a prime opportunity to discuss the use of Memotenz or similar products before you try them.
How Much Does Memotenz Cost?
Memotenz is available from the website for $35.99/bottle – this represents 70% off of their regular price.
Per the terms listed on their website, all orders come with a 30-day money-back guarantee, less S&H and a 20 percent restocking fee. To request one, you'll need to reach out to customer service at (310) 256-2605 or support@health-research-institute.info.
Amazon offers a 3-pack for $190. They include a 30-day return policy, though you can avoid the restocking fee with this option.
Are There Other Brain Supplements Like Memotenz?
Whether purchased from various online outlets, local retailers, marketplaces like Amazon and Walmart.com, or direct from the manufacturer, there are perhaps hundreds of brain health supplements competing with Memotenz—many of which contain several (or even all of) the same ingredients.
Pricewise, you can find these supplements sold for anywhere between $15 and $100+.
Qualia Mind is a great example. They offer a complex blend that includes Memotenz ingredients like ginkgo, bacopa, and L-carnitine, though they also offer neuro vitamins, antioxidants, choline donors, and additional adaptogens and amino acids.
Ranging from $70-$140/bottle, Qualia Mind is priced comparably to Memotenz, so you won't save money. You may still be interested as each serving packs in many more ingredients when compared to Memotenz.
Many of them lack robust scientific support. When you add this to subpar reviews and a hefty price tag, this may not be the cognitive support you're looking for.
The Bottom Line
While most of the ingredients offered in Memotenz have some research backing their cognitive effects, it is challenging to conclude as manufacturers of this supplement do not disclose the individual quantities for those included in the proprietary blend.
However, we do know that you'll consume about 1460mg of the blend when used as directed. Many of the Memotenz ingredients have been individually tested at doses 2x larger than the entire Memotenz blend.
This makes safety more likely, though this supplement may not contain large enough quantities to give you the cognitive support you need.
And while the company seems to stand behind the supplement with a 30-day refund policy, it's not a completely risk-free transaction, since you'll have to pay to ship your bottle(s) back to the company, while also paying a steep 20 percent restocking fee.
Together, we think the most valuable use of your time—and potentially your money—will be to start by talking with your doctor, before placing an order for Memotenz, or any other brain health supplement for that matter.
Customer Reviews
Posted on Apr 28, 2020
Most effective for these seniors
We're in our 70s and my wife was diagnosed with Alzheimer's Disease a year and a half ago.
She's been taking Rx for the entire year and a half: not much change and slowly worse.
So, after the first year into her disease, we started taking a Ginko Biloba 120MG capsule, with a few positive effects. Then, two capsules: a little more effective but not much.
I ordered 3 bottles of Memotenz instead of one bottle - for a small discount - and I took it, myself, for 30 days. I didn't really notice a difference, but I wasn't paying attention. Assuming there wasn't much difference, I didn't take any more after the first 30-capsule bottle.
But, then, after a week or so, I notice I was having trouble with recalling words and never actually capturing them. So, I realized that I had better recall and very little trouble with words in the past two weeks or so when I was taking Memotenz. So, we, both, decided to take a two capsule dose of Memotenz.
We, both, noticed a substantial improvement the next day. Now, three days into the 2-capsule dose, it's been great to have our minds back - for me - and I notice that my wife is "with it" again. She's alert, responsive, engaging in conversation, and helping around the house.
For these Seniors, we are ordering another round of Memotenz; this time with max quantity and max discount.
Bottom Line: Yes, I would recommend this to a friend
Posted on Sep 15, 2019
They don't really care
Yesterday, September 6th, 2019, I received a shipment of Memotenz of 3 bottles. The expiration date on them is October 2019. So, I have a supply for 90 days, and 66+% of them expire before I can take them, according to the recommended dosage.
What is this about? Oops - we made a mistake? If it was a mistake, what else are they mistaken about?
Bottom Line: No, I would not recommend this to a friend
Our Promise to You
In order to safeguard you and ensure helpfulness and relevance, our compliance team manually assess every customer review before it goes live.
We have a zero-tolerance policy for fake reviews, and companies cannot control or alter any reviews at any time.