ActivatedYou Morning Complete
Claimed This company has claimed this profile, is getting alerted on any new customer reviews entering this page, and may engage in dialogue with its customers to address their matters.

Companies cannot pay money or provide goods in order to remove or alter customer reviews.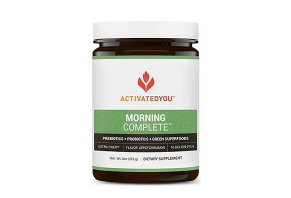 With a blend of 8 proprietary formulas, including superfoods, veggies, and probiotics, Morning Complete by ActivatedYou claims to deliver all-in-one health.
ActivatedYou Morning Complete Review - Is It Safe and Effective?
Morning Complete by ActivatedYou is a green apple-flavored dietary supplement drink allegedly helps provide you with more energy as well as the digestive benefits commonly accomplished by probiotics and probiotics.
To use, add one scoop of Morning Complete's in eight ounces of your choice of liquid (ActivatedYou recommends water or green tea) and consume
This article reviews the available medical literature to examine the effectiveness and safety of the ingredients found in this supplement. Learn if it's right for you.
Ingredients
Overall, Morning Complete's easy-dissolve formula is comprised of eight different proprietary blends, each of which contains anywhere between two and nine ingredients.
Because of the sheer number of ingredients here, we'll divide each blend into its own section. We'll then discuss any related clinical evidence that we discovered in our review of the available literature.
Prebiotic and High Fiber Blend, 4.05g
Compared to probiotics (more in a second), prebiotics are non-digestible fibers that may support overall health by serving as food for the friendly bacteria found in your digestive tract.
Morning Complete contains chicory root fructooligosaccharides and cinnamon bark, which are common prebiotic ingredients.
Fructooligosaccharides are thought to reduce hunger by making you feel full. This benefit was seen at 16g doses over 3-4 months, though doses less than 10g did not affect appetite.
Probiotic-boosting effects seem to be possible even at lower doses; 4-15g/day improved constipation and increased friendly gut bacteria in healthy subjects.
Unfortunately, as ActivatedYou only offers the total for the blend, we do not have information for the amounts of each ingredient.
The amount of fructooligosaccharides is likely much smaller than doses that were proven successful in both curbing appetites and boosting probiotics.
Green Superfoods Blend, 735mg
A mix of vegetables ActivatedYou claims can help optimize nutrient intake and overall wellness, including spinach, broccoli, kale, mulberry leaf extract, alfalfa leaf, barley grass, and berberine HCl (from Berberis aristata root).
These plants contain many essential vitamins, nutrients, and other substances. A few examples include:
Spinach – High levels of calcium, phosphorus, potassium, vitamins A and C, and riboflavin.
Broccoli – Strong antioxidant abilities due to the presence of ingredients like ferulic acid, vitamin C, sulforaphane, and indole-3-carbinol.
Kale – Lutein, beta-carotene, calcium, magnesium, phosphorus, potassium, vitamin C, vitamin A, iron, folate, protein, and fiber.
The berberine included in this blend is an ammonium salt from plants found in Europe, Asia, and Africa. They may offer anti-inflammatory, neuroprotective, and diabetes fighting effects.
A randomized trial, demonstrated that 500mg of berberine three times daily over a 3-month span improved insulin sensitivity, waist circumference, and insulin secretion in subjects with metabolic disease.
As this particular blend totals 735mg and includes 5 other ingredients, it's safe to say that the berberine content does not come close to the 1500mg doses found to be successful in the study.
Metabolic Enhancing Blend, 390mg
This Morning Complete blend promises to help support a healthy body weight using a mix of green tea leaf extract, ginger root, white tea leaf extract, turmeric root extract, bitter melon fruit extract, and black pepper.
Green tea is a common ingredient in products that claim to have metabolism-boosting effects, though this ingredient is thought to offer many other effects.
Caffeine and catechin, an antioxidant, are likely responsible for many of green tea's effects.
Green tea doses ranging from 90-400mg up to 3x daily all seemed to boost energy expenditure to the same degree when combined with 200mg of caffeine.
The combination of 500mg of green tea and exercise improved body weight, BMI, waist to hip ratio, and body fat percentage to a higher degree than accomplished with exercise alone.
Antioxidant Blend, 100mg
This blend contains the following food extracts that could help your body as it ages: Lyceum berry, pomegranate fruit extract, and Polygonum cuspidatum (50% resveratrol).
These antioxidants are thought to fight off free radicals. Molecules thought to be associated with a wide variety of negative effects ranging from aging to cancer.
Pomegranate may offer anti-inflammatory effects. In diabetic patients, those that consumed 250mL of pomegranate juice daily for 3-months had reduced levels of blood tests that indicate inflammation.
Sugar Balancing Support, 100mg
A three-ingredient blend that promises to help maintain healthy blood sugar levels using gymnema sylvestre leaf, fennel seed, and pine bark extract.
Pine bark contains a chemical called pycnogenol, an extract obtained from trees found in France. In a review of 5 trials with over 300 participants in total, 150 mg/d of pycnogenol or greater seem to reduce levels of blood tests associated with inflammation.
Again, this blend consists of multiple extracts that total 100mg. Clearly, the pycnogenol content will not exceed the 150mg dose found to be effective.
Cellular Function and Liver Support, 55mg
This blend contains algal oil DHA powder, organic aloe vera leaf, and milk thistle seed extract.
Silybin is the active ingredient in milk thistle and is thought to safeguard the liver from toxic substances.
In 87 patients with liver cirrhosis, those randomized to receive140mg of milk thistle 3x daily for an average of 41 months lived longer than those that received a placebo. Another study found this same dosing regimen to be associated with few deaths from liver-related diseases.
The milk thistle content of the Cellular Function and Liver Support Blend is much smaller than the doses tested in the current literature.
Adaptogens, 55mg
This Morning Complete blend contains astragalus root extract, rhodiola rosea root extract, and diindolylmethane.
Astragalus is an herb found all across Asia and thought to offer a number of effects like boosting immune function or regulating blood sugar.
While astragalus improved sugar and fat metabolism in diabetic mice, support for these effects in human studies are lacking.
More research is needed to determine the safety and effectiveness in human subjects.
Probiotic Blend, 10 billion CFU
Beneficial bacteria strains play a huge role in our digestive health, as well as our body's immune response.
So, by balancing the digestive tract using supplements that contain these strains, common benefits include reduced gassiness and bloating, increased energy, improved digestion, and decrease irritable bowel syndrome symptoms.
Morning Complete contains many popular bacteria strains found in standalone supplements, including B. coagulans, L. gasseri, L. plantarum, L. fermentum, L. casei, L. acidophilus, B. bifidum, B. longum, L. rhamnosus, and S. thermophilus.
Lactobacillus acidophilus is commonly included in probiotic blends and is thought to offer relief for diarrhea and stomach discomfort, while also supporting immune function.
A review of 34 randomized studies found that daily doses of L. acidophilus ranging from 2 hundred million to 2 hundred billion were effective at reducing the risk for diarrhea.
It's important to keep in mind that there are over 20 L. acidophilus strains, and they all behave differently.
As these effects are strain-specific, you can't predict how Morning Complete's blend will behave as they do not offer information for the specific strains of each probiotic.
Potential Side Effects
It is challenging to provide details regarding safety as ActivatedYou provides only total amounts for each blend, but not the amounts for each individual ingredient. Additionally, studies detailing long-term use for these products are lacking.
Nonetheless, the available studies we've reviewed can offer some takeaways for this product.
Pre and probiotics blends are generally safe, though mild side effects can include stomach pain, gas, bloating, and diarrhea have been reported.
As Morning Complete offers many strains that comprise the 10 Billion CFU total, the individual strains are probably included at safe doses.
Ingredients in the Super Foods blend, like berberine, were tested safely at much higher doses than what is found in Morning Complete. This blend may offer doses that are safe but not effective.
Green Tea's safe intake level is 338mg; Morning Complete's total metabolic blend includes multiple ingredients and totals 390mg. The other blends contain ingredients that have been similarly safe in human subjects.
Astragalus has not been extensively tested in humans, however. This ingredient and many of the others included in Morning Complete lack long-term studies.
As the safety of these blends has yet to be characterized over long durations of time, it is best to include your physician in the decision to use this or any dietary supplement.
The Cost
ActivatedYou priced Morning Complete as follows:
1 Bottle: $79
3 Bottles: $213 ($71 per bottle)
6 Bottles: $403 ($67.17 per bottle)
All orders come with a 90-day satisfaction guarantee, less S&H, which you can request by contacting customer support at 800-720-8403.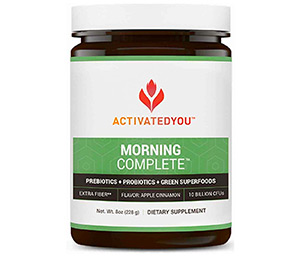 Buy Morning Complete from Amazon:
Morning Complete costs $78.52 for one jar, with free shipping. ActivatedYou suggests you take one scoop each day, so one jar is equal to a 30-day supply.
Bottom Line: Is Morning Complete Right for You?
Morning Complete's blends contain numerous ingredients that seem to offer a wide variety of benefits.
It's important to balance this information by pointing out that all of the supplement's ingredients are part of proprietary blends, so there's no way to know if it contains the same amounts found in supporting clinical studies.
While the amounts included are likely safe, they may be too small to offer many of the proposed benefits, however.
Furthermore, at between $67 and $79 per bottle depending on quantity ordered, it certainly isn't the least expensive whole-health powdered supplement we've researched, either.
Unless you're deficient in the ingredients it contains, most of us don't need to take a dietary supplement.
Speak with your primary physician to help determine whether or not you're deficient in any nutrients.
---
This company is actively collecting reviews from its customers. All reviews submitted are subject to moderation and approval to ensure they meet our

Review Guidelines

.

Feel better!

By Carla L.

,

Arizona

,

May 26, 2018
Verified Reviewer

Overall Experience:

I take it every morning at about the same time before breakfast and have more energy during the day. It is easy to swallow even though it is a big capsule and usually I have trouble swallowing those. Also, I like the eating tips!

Bottom Line: Yes, I would recommend this to a friend

---

It works!

By Lisa B.

,

Las Vegas, NV

,

May 27, 2018
Verified Reviewer

Overall Experience:

I eat a fairly clean diet and have been taking good quality probiotics for years, but was still having trouble with chronic bloating and occasional constipation. Since taking Morning Complete, these symptoms have decreased dramatically. It is mild tasting and pleasant. My bloating has decreased significantly, and I am now "regular" two times a day. I have already recommended this to my friends. I LOVE this product!

Bottom Line: Yes, I would recommend this to a friend

---

Morning Complete

By J B.

,

United Kingdom

,

May 27, 2018
Verified Reviewer

Overall Experience:

I've been using Morning Complete for two weeks. I didn't expect to notice any significant difference, but I'm really pleased with the changes I'm experiencing so far. I have more energy and the usual mid-morning and afternoon slumps in energy levels are not as severe as normal. I'm hoping that this improves further with continuous use. Whilst I don't particularly like discussing toilet habits, it's making me go more frequently, and everything seems a little easier. I'm not disappointed with any of the changes I've experienced so far and believe that I'll begin to feel other benefits over time. I'm always a little skeptical about the claims made about products, but I can honestly say I'm delighted with the changes I've experienced so far.

Bottom Line: Yes, I would recommend this to a friend

---

Happy results

By Dilia R.

,

Idaho

,

May 29, 2018
Verified Reviewer

Overall Experience:

So glad I came across this product! It has easily been incorporated into my morning routine and gives me a good start to the day no matter how long my work shift ends up. My weight has definitely stabilized, I never feel bloated or sick to my stomach and even feel my complexion has improved! Yay!

Bottom Line: Yes, I would recommend this to a friend

---

Advertisement

---

Stomach is flatter.

By Robin A.

,

West Virginia

,

May 30, 2018
Verified Reviewer

Overall Experience:

I have been using this for a month. I feel better. I am regular. I notice that my stomach is flatter. I am not as bloated. I have tried so many different products. Thank you, ActivatedYou.

Bottom Line: Yes, I would recommend this to a friend

---

Morning Complete gives me my morning lift

By Toni S.

,

Utah

,

May 30, 2018
Verified Reviewer

Overall Experience:

As soon as I saw the video that Hannah did, I knew it was something that would help me. I suffer from extreme fatigue, and I believe this morning complete is getting me crucial nutrients that my body was lacking. I am feeling a difference, and I am so pleased that I was open to trying it. Thank you so much for this wonderful product.

Bottom Line: Yes, I would recommend this to a friend

---

Overall Experience:

I have been using Morning Complete by ActivatedYou for approximately 3-4 weeks. At first, the small amount of caffeine gave me mild headaches. I am sensitive to caffeine but did not get a bad headache like I would have with regular tea or coffee. I have felt like I have more energy and want to move more which is great as I typically have a sedentary job and lifestyle.

I am currently trying to lose weight by trying to eat healthier foods and eating small frequent meals. I feel that Morning Complete by ActivatedYou has helped me feel less heavy and bloated, even after "cheat days." I also feel like Morning Complete has helped speed up my metabolism to help me get past a weight loss plateau I was experiencing.

Overall, all I feel great using Morning Complete by ActivatedYou!

Bottom Line: Yes, I would recommend this to a friend

---

Great start to the day

By Laura K.

,

Staten Island, NY

,

May 30, 2018
Verified Reviewer

Overall Experience:

The Morning Complete was a great addition to my morning. The taste isn't bad, and it helps me get the right ounces of water in. Additionally, it contains supplements that improve my daily intake.

Bottom Line: Yes, I would recommend this to a friend

---

Overall Experience:

I decided to try Morning Complete because my digestion is not so regular and I sometimes suffer from painful bloating. This product has really helped my digestion, and I feel much cleaner and energized because of it.

Bottom Line: Yes, I would recommend this to a friend

---

Morning Complete is changing my life.

By Aneta C.

,

California

,

Jun 3, 2018
Verified Reviewer

Overall Experience:

After a few weeks I realized that I was using less insulin, my stomach was not so bloated, and I dropped 2 lbs. I feel it is well worth the price to continue with this product and see what improvements develop.

Bottom Line: Yes, I would recommend this to a friend

---

Feeling good

By Yvonne G.

,

Seaford, NY

,

Jun 4, 2018
Verified Reviewer

Overall Experience:

I have been using Morning Complete for three months. I like the taste of the green apple flavor. I drink one everyone morning, and I feel so much better no more bloating and digestive issues. I have lost a few pounds too. Thanks Maggie Q.

Bottom Line: Yes, I would recommend this to a friend

---