Naja Lingerie Reviews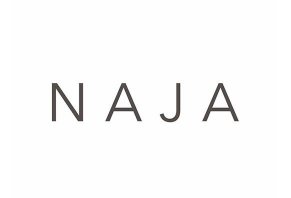 Naja Lingerie offers a female-focused line of brilliantly patterned and lace lingerie with luxury-level attention to detail and a side of social consciousness.
About Naja Lingerie
The San Francisco-based Naja Lingerie offers up cheeky and glam knickers, bras and swimwear in whimsical prints and fashionable cuts — all at affordable prices.
You may have already heard of Naja Lingerie, as they've been recently garnishing a lot of press for their Underwear For Hope campaign. Partnering with the Golondrinas Foundation in Colombia, Naja promises to educate and empower single or head of household mothers in some of the poorest areas around the globe.
Founder Catalina Girald started Naja Lingerie out of dissatisfaction with the industry standard of over-sexualizing lingerie instead of focusing on the wearer's enjoyment. Before Naja, Girald earned an MBA from Stanford and her Juris Doctorate at Boston College Law. She states that, as a successful professional, it was impossible to identify with many big-name lingerie brands and hopes Naja Lingerie can disrupt the industry with their female-focused products.
Naja Lingerie Products and Features
The online-only shop has three categories of products: bras, knickers and swim:
Knickers
Their panty category offers the widest selection and most fun. Cheeky boyshorts printed with an indelicately placed koala or a juicy burger run $18 per pair. Naja Lingerie's cotton underwear is made from hand-harvested Peruvian Pima cotton and even feature an inspirational quote in the lining.
The lace options take themselves a little more seriously, with high-fashion cuts that you might find at La Perla. Standard lace full-bottom briefs, high-waisted vintage styles and several cuts of thongs are all available in beautiful patterns or jewel tones. These run anywhere from $15-28, and are made from nylon lace instead of itchy polyester.
Bras
Designed with an unexpected attention to detail, Naja Lingerie bras feature extras like memory foam cups, interior bra prints and ultrasonic-sealed bra straps. The majority of their bras are under $65 (there is a fancily printed bustier for $110) and are offered in sizes 32B to 36DD.
Naja's printed bras consist of a basic line and three groups including "The Secret Lives of Sparrows," "One Night in Cashmere," and "Miyoko Loves a Dragon." The collections are characterized by surprising prints on the interior of all the bra cups. All of the fabrics from Naja's capsule collections are exclusively designed for by a local San Francisco Tattoo artist and individually hand-printed.
Naja Lingerie's lace bralettes are made with wide straps and some side boning. These come in pretty jewel tones and promise to provide comfortable support, even for women who generally require underwires.
Naja Lingerie also offers an Eco Friendly line, available June 2015. Sewn from a fabric made out of recycled plastic bottles (PET), the Eco Friendly bras feature sweat-wicking, antimicrobial properties and breathable memory foam cups.
Swim
Only four products are currently listed in Naja Lingerie's swim section: a monokini and a one-piece, both available in two different prints, and both made from the same recycled plastic fabric.
Cute and slightly conservative, the swimsuits are all over $125 and are sized small through large.
Underwear for Hope
A percentage of every purchase goes towards supporting Naja Lingerie's entrepreneurial sewing program. Women who complete the program are then employed to sew the lingerie wash bags, which Naja Lingerie includes with every purchase.
Additionally, Naja states that, "All panties are made in a factory solely owned by women who employ single mothers/female heads-of-household."
Final Thoughts on Naja Lingerie
Naja Lingerie does offer affordably priced products with a whimsical appeal. Their claims of luxury-level details can't be verified due to the lack of reviews, but the materials used infer a high-quality product.
The feel-good nature of Naja's socially conscious mission is somewhat undercut by the understanding that women educated in the sewing program are only employed to make lingerie bags, not the entire product.
Whether or not their femme-focused quotes printed inside each panty really floats your boat is personal taste. However, for the money, Naja offers unique cuts, creative designs, and (hopefully) quality manufacturing.
---
Poor quality and fit

By Joanna M.

,

Toronto, Canada

,

Dec 18, 2019
Verified Reviewer

Overall Experience:

I am very disappointed with my purchase. I regret my purchases. The sports bras have no support and structure. When doing my pilates the sports bra is shifting in all the wrong places. I don't understand, the sports bras should have been tested out. I am a 32B and my chest keeps getting exposed. The jacket I got is a very cheap fabric.

Waste of money, do not buy from them.

I made 2 orders simultaneously, I went to contact Naja right away if they could ship the orders together to avoid a $20 and $26 USD shipping fee. There is no phone number, just an email, no one answers their chat. They answered 2 days later and said no. I was surprised at the attitude after I had purchased 5 items from them. Which I am going to end up donating as I will never wear them, after trying them out. Lesson learned for me not to shop online for clothes. Very poor customer service on Naja's part.

This company will not last, I cannot see people being repeat customers with the poor fit and cheap fabric. Looks amazing in the pictures, beware!

Bottom Line: No, I would not recommend this to a friend

---

Falling apart products

By Esme T.

,

Montreal, Canada

,

May 15, 2019
Verified Reviewer

Overall Experience:

I was very excited to order from a sustainable company at first. Shipping to Canada, my 2 pairs of underwear cost $40. That's $20 for one underwear, which I expected to be good quality.

After a few weeks of wear, one of them started losing its adhesive plastic, which later came off completely. I send a photo of them to customer service and requested that I be compensated in some way.

They said that they had actually discontinued those models for similar reasons and would be able to offer me 15% off my next order.

Are you serious?! You discontinue a product because it's defective and you only offer a 15% discount...I should have either be refunded or sent another pair free. They are not wearable anymore.

I sent a second email and they never responded.

Very disappointed in this company and will not be ordering from them again.

Bottom Line: No, I would not recommend this to a friend

---

Advertisement

---

Horrible service and even worse social media channels

By Rae W.

,

New York

,

Sep 26, 2018
Verified Reviewer

Overall Experience:

Not only does the company have horrible customer service, but the owner (who handles its social media) also has a penchant for creating racially insensitive posts on all of their social media channels. More than once, they'd make comments about their models and customers. And when anyone makes the slightest criticism, like about their customer service in returning products or the fact that their social media activity offends their audience, they like to resort to petty, bullying retorts on their channels and removing comments/hiding reviews because their rating went down. Never have I ever experienced such disrespect from a company that is supposedly "woke."

Bottom Line: No, I would not recommend this to a friend

---

Horrible customer service and sizing

By Noël Masal

,

New York, NY

,

Jan 26, 2018
Verified Reviewer

Overall Experience:

I bought the Chloe Bra Courtesan Black in a size 32B. When I got it, I tried it to see how it felt. It was too tight, which was annoying because I had measured myself and chose a size based on their size chart.

I sent it back with the tag still on and an exchange slip for a larger size. After a week, I had still not heard anything from Naja about the exchange. I emailed them, and they said they found a "bad odor" on the bra and it was not refundable. I couldn't believe that I would be left hanging until I had to contact them.

I told them that I only ever tried it on and that I spent $50 on the bra plus shipping AND return shipping, so the least they could do is send me the bra back. THEY NEVER EMAILED ME BACK. Naja stole at least $60 from me!

Bottom Line: No, I would not recommend this to a friend

---

Advertisement

---

Terrible customer service and business ethics

Overall Experience:

I don't ever post reviews. As a matter of fact, this is my first one to date, but I am absolutely appalled at Naja and their poor customer service as well as their ethics in general.

I returned two leggings and two sports bras within the 15-day policy and they accused me of wearing them. The tags were attached, and I have documented that I requested to return within one to two days of receiving their items. I for sure didn't try one of the items on because it was a duplicate order (I kept one). I even kept three of their items, which makes me even more appalled at the fact that they are trying to pull this. When I requested a phone number to speak with one of their supervisors, they said that "they provide phone service."

I will never be using this company again. I can't even enjoy the items that I did keep because I am so utterly disgusted with the way that this company does business. I have never in my life had an experience like this with a clothing company. I feel so violated!

Bottom Line: No, I would not recommend this to a friend

---

Sale items cannot be returned

Overall Experience:

I ordered 3 bralettes but they were too small. I wanted to exchange them for a larger size but they would not accept returns on sale items. I'm disappointed because I was excited to buy from a company that cared for the environment. But Naja doesn't care about their customers. I will not buy from this company again.

Bottom Line: No, I would not recommend this to a friend

---

Wonderful and fast

Dawgs, South Korea

,

Sep 27, 2017
Verified Reviewer

Overall Experience:

I ordered a bra six months ago, and it wasn't quite what I thought it was, but now I wear that bra all the time! I bought two more that came within nine days of ordering them, and I live on a military base in South Korea! They are well made, well packaged and very cute. I love this company and what they stand for, and I appreciate all the details included in my order.

Bottom Line: Yes, I would recommend this to a friend

---

Amazing!

Dillon, CO

,

Jul 3, 2017
Verified Reviewer

Overall Experience:

I've been getting Naja emails for a long time and finally decided to order when they had a sale. I ordered two bras, one of which was out of stock and a glitch on the website still allowed me to purchase it. They were very prompt on letting me know and returning my money. They also gave me $15 off on my next order. The other bra I bought did take a little over two weeks, without a tracking number or updates, so I considered calling them but never ended up doing it because my bralette arrived.

The quality really impressed me. It's definitely the nicest bra I've ever owned. I was so impressed that I pretty much immediately returned to spend the $15 off I'd received. I ended up spending $150 because I loved the patterns and products. What really made me want to buy from them is their ethics, though. It seems like this company is doing everything right and I'm happy to spend more money on a company that is actually trying to help the world. And in exchange for helping them, I get the best quality and most beautiful underwear? Sign me up!

My second order did not disappoint. This time I got their low rise panties, two more bralettes, and some sports leggings. All of it is awesome and incredibly soft! I know I will buy from them again, but I should probably wait until I get my next paycheck.

My only issue with Naja is that they don't have a place for reviews on their website. It makes buying from them seem like a gamble, which is probably why more people don't buy from them. They also need to give the customers tracking numbers for orders.

Bottom Line: Yes, I would recommend this to a friend

---

Not as advertised + bad customer service

By Roser

,

Barcelona, Spain

,

Nov 27, 2016
Verified Reviewer

Overall Experience:

I ordered a Sparrow bra and culotte. I was super excited because they look very pretty on the website and the reviewers there seemed to be really happy with them.

However, when I opened the box, the first thing I noticed was an unexpected set of colors with very neony-pinkish tones. From their description and pictures on the website, I was expecting something way sober.

"STYLE: ISABEL. Our most comfortable everyday wired demi bra uses our signature super soft memory foam cups. The strapless cut is flattering for nearly every breast shape. Cups provide just the right amount of coverage without adding volume. Finished with adjustable straps and a hook + eye closure at the back.

PRINT: Lace sparrow tattoo print. Interior Print: lace rose tattoo. Original design by Tamiko Rast."

Let me be clear: The "lace rose tattoo print" lining was changed for a very ugly combination of neon pink and yellow Mexican skulls. These were clearly colors that do not match the exterior of the bra.

Had I been told that this changes would be made beforehand, I might have bought it anyway, but receiving it without any prior notice left me very unsatisfied. All the excitement about wearing this and collaborating with a company like this were gone once I opened the box.

I asked about how to get a refund on this set, and nobody replied. However, they were very keen on posting cutesy pictures and empowering posts, but not on helping customers. Until I complained about it on facebook, no one helped.

I may buy other products from them in the future, since I find both the ethics of the company and the products to be interesting. However, I would really appreciate it if something could be done about their inability to talk to their customers or to give proper explanations when asked.

Bottom Line: No, I would not recommend this to a friend

---

Worst customer service ever

Overall Experience:

I was pretty excited when I found out about Naja. It seemed like a company whose ethics I could really approve of (a rarity in the world of lingerie). I decided I wanted to buy one of their bras as a bachelorette party gift for my best friend.

Fortunately, I glanced over their Facebook page before ordering and noticed multiple complaints about slow shipping times and lack of company response to requests for info. So I sent the company an email asking about shipping times. I also asked about multiple pricing discrepancies on their website. (Which should have been a warning sign, but I was trying to give them the benefit of the doubt.)

I got no response -- NONE -- despite the fact that I was a potential customer. And at least one of their customer service reps/social media managers was online, because of... guess what? They deleted all the posts from the person on Facebook who was complaining that they were unresponsive. That's right. They didn't publicly respond. Instead, they deleted the evidence. And they never responded to my email at all. Even though it was time-sensitive. I ended up having to go with a different company instead.

Reading the complaints here, it seems this is a pattern. And I have trouble believing in the ethics of any company which treats its customers so poorly. (After all, if this is how they treat the people who PAY them, I have to wonder how altruistic they really are to the people who they employ.)

Bottom line: Pretty as some of Naja's stuff is, they've lost me as a potential customer. Not a company I ever want to deal with again.

Bottom Line: No, I would not recommend this to a friend

---

Completely absent customer service

By AK

,

Chicago, IL

,

Sep 17, 2016
Verified Reviewer

Overall Experience:

My customer experience with Naja has been entirely unsatisfactory from the start. I signed up for their marketing emails both because I was interested in updates about the brand, but also because I was pleased that they offered a 10% off promo, which I intended to use right away as I was excited to place an order. While my marketing emails started coming in, I received no promo code. I had to contact customer service in several ways (including over social media) over several days before I finally got a response.

Unfortunately, by that time, one of the two items that I had intended to order was out of stock. I responded to the previous email asking if it would be stocked again soon. I have never received a response to that email.

When I finally did complete my order with another item -- one I didn't like as much and was also more expensive -- it turns out that they had had a warning message on their home page indicating that all orders were delayed while they moved to new facilities. Unfortunately, I completed my order from a still-open browser page fro my previous shopping -- which meant that I did not not enter their site through the home page and therefore did not see any notice about shipping delays. This should have been an unmissable pop-up warning during the order completion process, not a passive message on a page that a user isn't guaranteed to see. I only learned of it after emailing yet again to inquire after the status of an order for which I had been charged but received no shipping confirmation for.

I have asked them to cancel my order as it will not be ready in time to give as a gift as intended. I have still received no response to this request after more than one full business day. One of the items I ordered is final sale and cannot be returned, so if they don't honor my cancelation due to their extreme lateness and lack of sufficient communication, I will be stuck with an item I have no use for as I'm forced to find another gift from a brand that can actually deliver in time for my gifting deadline this weekend.

Bottom Line: No, I would not recommend this to a friend

---