NoctuRest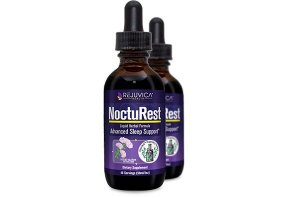 Summary
NoctuRest is a liquid herbal supplement from Rejuvica that is designed to allegedly help you get a better night's sleep. Does this supplement actually work?
NoctuRest Reviews - Does It Help With Sleep?
What is NoctuRest?
NoctuRest is a liquid dietary supplement that allegedly helps improve your sleep when taken before bedtime.
According to the Centers for Disease Control and Prevention (CDC), many adults are falling short of the 7-hours of sleep recommendations. While these numbers vary from state to state, it appears that about 30-45% of adults aren't getting the rest they need.
Many proposed remedies range from "sleep hacks" to medical management. NoctuRest falls somewhere in the middle of this spectrum.
Rejuvica claims that taking a dropper-full of NoctuRest 30-minutes before bedtime will support restful sleep and have you waking up feeling refreshed, all while avoiding dangers associated with prescription sleep-aids.
A lack of sleep can negatively affect your relationships, work, and other important commitments.
In this article, we'll highlight the available research supporting NoctuRest's ingredients to help you determine if this supplement can help you achieve meaningful rest.
Is There Any Science Behind the NoctuRest Active Ingredients?
NoctuRest offers a blend of ingredients that are commonly included in supplements with sleep benefits.
Each quarter teaspoon dose is equivalent to a single dropper-full and contains the following:
Magnesium Citrate - 20mg
Theanine - 50mg
Melatonin - 3mg
Proprietary Blend - 1.23ml (Valerian Root, Passionflower, Lemon Balm Leaf, Hops, Chamomile Flower)
Though 3 ingredients are not included in the proprietary blend, each offers suspected sleep benefits.
Magnesium is a mineral essential for many important functions in your body. A randomized trial demonstrated its association with sleep.
Elderly subjects that took 500mg of magnesium daily for 2-months experienced longer and better quality sleep when compared to placebo.
Theanine is found in green tea and often incorporated in a wide variety of wellness supplements. In subjects with stress-related symptoms, 200mg daily over 4-weeks improved sleep when compared to placebo.
Melatonin is another extremely common ingredient in sleep supplements. In a review of 19 studies, those using melatonin improved time to fall asleep, sleep duration, and sleep quality.
The studies reviewed used doses up to 5mg for as long as 126-days, larger doses and longer duration were associated with better results.
Proprietary Blend
As Rejuvica has only provided the dose of the total blend, it is impossible to know the actual quantity of each ingredient. While this is all they are legally obligated to disclose, it makes the comparison to the doses used in research challenging.
Nonetheless, we'll highlight some of the key findings from our review of the available literature.
Valerian Root
This herb has been used for thousands of years, specifically for its sedative properties.
Despite its widespread inclusion in sleep supplements, the available scientific support is mixed at best. A review of 37 studies concluded that though valerian root is safe for use, its clinical efficacy as a sleep aid is not supported.
Liquid formulations are typically offered at 2-4ml doses, much larger than the dose for NoctuRest's total blend.
Passionflower
This plant is native to tropical regions and may offer medicinal benefits.
This extract has not been extensively studied in human subjects. In rats, 500mg/kg of passionflower increased the duration of sleep.
Lemon Balm Leaf
This herb is cultivated all over the world. Related to mint, it may offer many benefits related to mood, anxiety, and cognitive function.
The sleep-related effects of lemon balm have not been extensively studied, though the combination of valerian root and lemon balm improved sleep in kids with restlessness.
Hops
You may recognize this ingredient from its frequent use in brewing beer. Hops may also improve sleep, however.
In those that consumed 1g of hops daily in a non-alcoholic beverage over 2-weeks, sleep quality and duration were improved when compared to the control group.
Chamomile Flower
Chamomile is frequently found in teas and other dietary supplements with proposed sleep benefits.
A review of 12 randomized trials found that although chamomile did not seem to affect anxiety or insomnia, use was associated with improved sleep quality.
NoctuRest Side Effects
Prescription management for troubled sleep is not without risk. The use of these medications can negatively affect your appetite, digestions, and alertness. When not used as directed, they can also be habit-forming or even fatal.
Avoiding these issues with natural blends is definitely a plus, though NoctuRest may offer other risks.
These ingredients are generally safe for use, though some side effects have been reported. These side effects mainly relate to gastrointestinal effects like diarrhea, stomach pain, and nausea. More systemic effects like headache, nervousness, and drowsiness have also been described.
When present, these side effects are typically mild and resolve by reducing or discontinuing use. Other more serious risks that are unrelated to NoctuRest itself can also occur.
As there are a number of reasons that can cause your troubled sleep, NoctuRest may not address the true source. In some instances, it may be dangerous to treat the symptoms rather than the underlying cause.
Stress commonly causes restlessness. While your sleep may improve after your big exam or when you meet your work deadline, other stressors can be more deeply rooted. If you are experiencing symptoms of depression, speaking with a medical professional is vital.
Sleep apnea is another common but dangerous cause of troubled sleep. Properly managing this condition often requires lifestyle changes, as well as medical management.
Waking up in the morning with a headache may be associated with sleep apnea, though it can also be related to other serious conditions. If these headaches are positional (worse with lying down, for example), they may be related to alterations in intracranial pressure - the pressure in your skull.
If these headaches occur with other symptoms such as fever, night sweats, appetite changes, weight loss, or fatigue, seek medical attention.
What Does NoctuRest Cost?
NoctuRest is available directly from the product page. The current purchase options are listed here:
Single Bottle (48 servings): $34
Value Bundle: 2 Bottles: $60
Super Pack: 3 Bottles: $86
Mega Pack: 6 Bottles: $162
Your order ships in 1-3 days, and the final shipping cost is calculated at checkout.
Rejuvica does not offer auto-shipping options, though they do back your purchase with a 60-day guarantee. You'll receive a full refund, less shipping charges, even if you've used up the whole bottle.
Email Help@Rejuvica.com or call (949) 274-4594 to initiate a return process.
Amazon offers the same single bottle pricing, though they do not provide bundles or packs. While shipping is free, you won't save elsewhere and will also be subject to their 30-day return policy rather than Rejuvica's 60-day guarantee.
What Are the Alternatives?
If you're looking for similar natural sleep aids, digging up some of the other available options won't be hard.
A 30-day supply of Physician's Choice Sleep Aid is $18.94 at Amazon, it packs valerian root, theanine, melatonin, and chamomile into every capsule. You'll save some money though you'd be missing out on the other ingredient offered in NoctuRest's blend.
You may not be missing out on much, however. Many of NoctuRest's ingredients have suspected sleep benefits, though many have not been extensively studied.
Many of the ingredients offered in NoctuRest can be obtained individually. As their blend contains so many ingredients, it is highly unlikely that this would be a more cost-effective (or convenient) option.
Improving your sleep hygiene may offer the most bang for your buck, as these techniques are proven and most of them will cost you nothing.
Some steps you can take are:
Limiting caffeine, nicotine, and alcohol near bedtime
Avoiding frequent or prolonged napping
Keeping your bedroom comfortable and quiet
Avoiding screen time in bed
The Bottom Line
While NoctuRest packs in a variety of ingredients long thought to offer benefits to those with troubled sleep, most have mixed or lacking scientific support.
Costly when compared to some other sleep aids, NoctuRest may lack the punch you need to see meaningful results.
This is reflected in many of the reviews for this product.
Almost 1,500 users rate NoctuRest 3.6-stars at Amazon. The less than stellar reviews seem to revolve mainly around a lack of results. Some unhappy customers did report that this supplement improved the ability to fall asleep, though sleep quality was unaffected as they continued to wake up frequently.
Pricey, lukewarm science, and lack of results all point towards the conclusion that you may be better off starting with more cost-effective means of improving sleep. Try addressing your sleep hygiene and speaking with your doctor to get to the route of the issue.
Customer Reviews
Posted on Aug 30, 2019
NoctuRest
I have not been able to fall asleep for the past few years because of hot flashes for 12 years. I now have the NoctuRest by my bedside and fall asleep before I know it, and when a hot flash wakes me up I just put drops under my tongue and before I know it I'm back asleep. I have tried everything and I mean everything from CBD to sleeping pills and this has done the job with no side effects. ALL I CAN SAY IS I WILL NEVER LET IT RUN OUT. I live in Alberta in the summer and Yuma, AZ in the winter months but I will never run out. Thank you.
Bottom Line: Yes, I would recommend this to a friend
Posted on Jun 26, 2019
Finally I can sleep 6 hours straight, even 9 if I choose to continue to sleep
I tried so many different things for the past two years, I was like a zombie feeling sorry for myself being so tired, awake most of the night. This product put me asleep in 30 minutes, most every night I sleep thru 6 hours. I can take another dose around 3 am and get 3 hours more, if I need to. I am very grateful to the manufacturer. In the morning I do not feel like I had taken anything. I have zero side effects. Thank you, Manufacturer, keep up the good work. I also thank everyone who had taken time to write their reviews which resulted in my getting the product. With good night sleep, I have a lot of energy and no depression because of lack of sleep.
Bottom Line: Yes, I would recommend this to a friend
Posted on Oct 23, 2018
Not the success I had hoped for
I started with the double dose as they recommended for severe or long time symptoms. It seemed to help me get to sleep although lots of other things do that. I was not able to sleep for more than a few hours and taking more drops did not help me get back to sleep.
I used the whole bottle, about three weeks, and no additional improvement. I will keep looking. I will see if their money back guarantee is true.
Bottom Line: No, I would not recommend this to a friend
Our Promise to You
In order to safeguard you and ensure helpfulness and relevance, our compliance team manually assess every customer review before it goes live.
We have a zero-tolerance policy for fake reviews, and companies cannot control or alter any reviews at any time.