NordicTrack FreeStride Trainer FS7i Reviews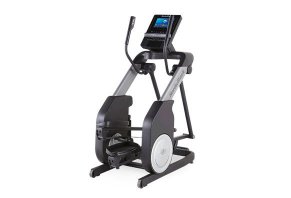 The NordicTrack FreeStride Trainer FS7i is a 3-in-1 alternative motion machine that claims to combine a stepper, elliptical, and treadmill into one low-impact device.
What Is NordicTrack FreeStride Trainer FS7i?
NordicTrack FreeStride Trainer FS7i uses a unique floating suspension design that delivers nearly zero impact and promises to provide all the benefits of three machines in one—a stepper, elliptical, and treadmill—while ergonomically adapting to the way you move.
This means you'll be able to take short up-and-down steps, smooth elliptical-like strides, or stretch a wide running gait up to 38 inches simply by changing your stride. It all depends on your preferences and the workout you're looking to achieve.
Using the FS7i's simple handle controls, you'll also be able to adjust your incline or resistance on the fly to focus on specific muscle groups, without interrupting your workout.
And with interactive iFit technology, you can use the 7-inch touchscreen display to choose a workout from the library, create a custom route with Google Maps, access interactive training tools that adapt to your progress, and even work out with friends across the globe.
If you just finished watching the FreeStride Trainer commercial, you're probably pumped up and ready to get fit. You're likely intrigued by this machine's unique design as well, along with its potential to improve your health.
But before you hand over thousands of your hard-earned money, join us as we discuss what we learned during our research, which can help you make a more empowered buying decision.
NordicTrack FreeStride Trainer FS7i's Main Features
FreeStride Trainer vs. Traditional Elliptical Machines
At first glance, the FS7i looks a lot like a traditional elliptical machine.
But upon closer inspection, you'll notice that its pedals ride on belts, versus on rails attached to a crank. According to NordicTrack, this is the difference that allows you to experience smooth rotation, nearly zero impact, have total control over your stride length, and to be able to effortlessly change between strides.
Compared to traditional ellipticals, the FS7i features a center drive design that makes it about half the size and boosts dependable stability. You'll also be able to adjust stride angle, resistance, and incline at the touch of a button with OneTouch controls, allowing you to focus on different muscle groups like thighs, hips, rear, and abs.
FS7i's 24 levels of resistance are provided by magnets, which control a heavy 20 lb. flywheel that's precision weighted and balanced to deliver a smoother, more natural ride.
Finally, we're told FS7i's simple assembly process takes less than half the time of a traditional elliptical. Other miscellaneous specifications include:
Dimensions: 68.4" L X 28.5" W X 62" H
375lb weight capacity
Autobreeze workout fan that automatically adjusts speed to match the speed of your workout
Built-in water bottle holder
Oversized pedals
Front-mounted, built-in transport wheels
FreeStride Trainer's 7" Touchscreen & iFit Coach Compatibility
Outside of its belt-based design and multi-stride functionality, the FreeStride Trainer's most notable feature is its 7" web enabled color touchscreen that allows you to swipe through your stats, surf the web while you work out, watch sports, or browse social networking sites.
This screen will give you access to 35 workout apps that were designed by a Certified Professional Trainer, across three different categories (calorie burning, intensity, and performance). The included wireless chest strap will help you stay in the proper heart rate training zone.
On the exterior, this touchscreen features two, 2-inch speakers and a 3.5 mm jack that's compatible with most smartphones and tablets, giving you the ability to listen to music without earbuds.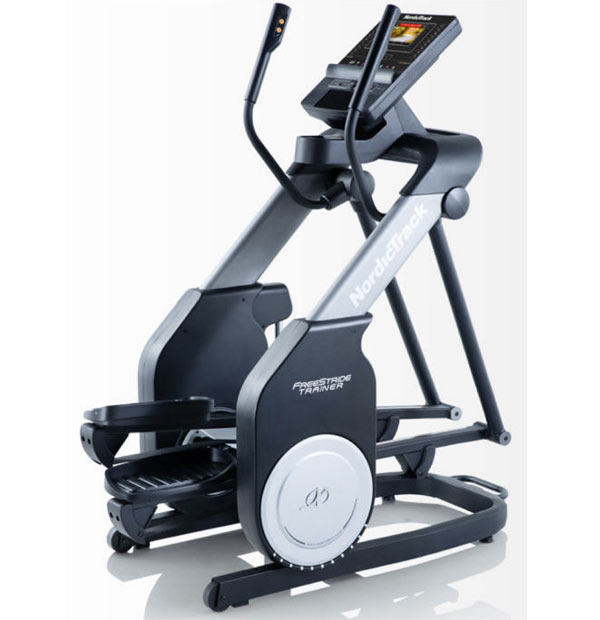 With its unique belt-based design and 7" touchscreen, the FreeStride FS7i promises to deliver three-in-one capability, along with onboard tracking and entertainment. Image credit: ICON Health & Fitness, Inc.
With an iFit Coach subscription, this screen will also provide you access to a library of hundreds of workouts, or create your own with the help of Google Maps. Not only will you be able to watch your progress, but the FS7i will also automatically adjust its incline or resistance to match the terrain.
How Much Does the NordicTrack FreeStride Trainer FS7i Cost?
The NordicTrack FS7i is priced at $1,999, plus free shipping.
Important note: Although the NordicTrack website advertises payments as low as $64 per month on approval with Fortiva Retail Credit, only 12 months of this involves no interest (or, about $170/mo).
If you don't pay it off in full within 12 months, however, all the past interest will be applied to your account at once. So, while you might technically be able to pay as little as $64 per month, it will take you a long time to pay off your balance if you choose this repayment route.
All NordicTrack FreeStride Trainers come with a 30-day money back guarantee, less to and from shipping charges, as well as a 10% restocking fee. We spoke with customer service and learned that these two fees would cost you about $350 combined ($150 for initial shipping; $200 for restocking).
Customer service also told us that you could expect your return shipping to be about $150 (the FS7i's boxed weight is 280 lbs), meaning that you'll be putting $500 on the line for giving it a try.
All FreeStride FS7i's come with a lifetime warranty on the frame, a 5-year warranty on parts, and a 2-year warranty for labor.
If you need to request a refund, file a warranty claim, or just ask questions about the FreeStride Trainer, a NordicTrack customer support representative can be reached at 866-896-9777.
What Will You Pay For an iFit Coach Subscription?
According to the iFit website (a subsidiary of NordicTrack), an iFit Coach subscription will cost you $9 per month.
Note: This is in sharp contrast to the iFit Coach plan used with devices like the ProForm Studio Bikes, which also includes daily spinning classes, but is priced at about $39 per month.
While the FreeStride Trainer's touchscreen is internet-capable, you'll need to have a home Wi-Fi connection to access its iFit features. And if your FS7i is placed in a room other than where your router is located, remember that this could impact signal strength.
How Much Does FreeStride FS7i's Maintenance & Replacement Parts Cost?
According to NordicTrack's parts list for the FS7i, you'll pay anywhere between a couple of dollars for minor replacement parts, all the way up to $1,300+ for a replacement touchscreen.
Inside the manual, we also learned that NordicTrack offers two different service plans. Preventative maintenance service plans entail:
Includes an annual preventative maintenance and performance check at your convenience
Unlimited in-home repairs; no shipping required
Covers parts and labor on all manufacturer's defects, as well as wear and tear on parts
At FS7i's price of $1,9999, this plan will cost you an additional $339.99 for 3 years and $489.99 for a 5-year plan.
Standard service plans include:
Unlimited in-home repairs; no shipping required
Covers parts and labor on all manufacturer's defects, as well as wear and tear on parts
1-year is priced at $109.99, 2 years at $139.99, and 3-years at $179.99.
It appears that these plans are handled through UTS (Universal Technical Services).
What Can We Learn From Customer Feedback for the FreeStride Trainer FS7i?
There were 67 customer reviews for the FreeStride Trainer on the NordicTrack website at the time of our research. While no star ratings were provided, most seemed positive, complimenting the device's quality construction, ease of setup, and flexible functionality.
Amazon Customer Feedback for FS7i
On Amazon, the FS7i had an average rating of three stars at the time of our research, although just seven customer reviews. Interestingly, these seemed evenly dispersed among 1, 2, 3, 4, and 5 stars.
As on the NordicTrack website, most compliments appeared related to effective workouts and low impact on joints. Most complaints referenced handgrips that were uncomfortable and too big, unnatural motion (more like cross country skiing instead of running), and frequent parts replacements (especially related to belts).
Consumer Reports Puts the FreeStride Trainer to the Test
Back in September 2015, Consumer Reports tested the NordicTrack Free Stride against the Octane Fitness Zero Runner and Precor Adaptive Motion Trainer. What did they find?
Among a panel of 18 Consumer Reports employees, who ranged in age, weight, and fitness levels, they liked its touchscreen display, the ability to gauge progress during workouts, and the built-in controls in the handgrips.
On the other hand, they found that the limiting stops (to prevent users from exceeding stride length) were noisy and distracting, and the retaining lip on each pedal was short, causing one panelist's foot to slip off the machine during their first two sessions.
From an ease of assembly perspective, they reported that "a less experienced consumer might have serious trouble." In the end, the panelists gave the FreeStride Trainer the lowest marks of all the machines tested, stating that:
"…many couldn't get past the mechanical deficiencies. The motion of the machine was difficult to control, as it tended to favor its own striding length. The "stops" that control pedal travel caused a loud bang as they contacted the roller, so much so that several panelists thought there was a problem with the machine. We think this jarring noise will be a major turnoff for some consumers."
What about FreeStride FS7i's Manufacturer?
Like all NordicTrack machines, the FS7i is manufactured by ICON Health & Fitness, Inc., based out of Logan, UT.
The company wasn't rated with the Better Business Bureau as of writing, although they had 50 customer reviews and 700+ complaints as of 3/14/17.
Overall, most of these appeared related to problems with functionality/defects, difficulty obtaining parts and repairs under warranty, along with less-than-stellar support experiences.
On both iTunes and Google Play, ICON's iFit app had an average rating of about two stars. While some reported great functionality, many of these complaints revolved around functionality problems.
FreeStride Trainer FS7i vs. Bowflex Max Trainer & Other Alternative Motion Machines
While alternative motion machines can encompass a wide variety of designs, they all combine elements of treadmill and elliptical machines. Many also add a stair-stepper-type motion.
These types of machines have only been around for a few years and they tend to be priced fairly high, so there isn't a whole lot of competition. Here, we'll compare some of the more popular options:
| Product | Price | Special Features & Motions | Refund Details | Warranty |
| --- | --- | --- | --- | --- |
| NordicTrack FreeStride Trainer FS7i | $1,9999 | Combines a stepper, elliptical, and treadmill; Belt-based floating suspension, Nearly zero impact. Strides up to 38" | 30 days; responsible for S&H both ways, 10% restocking fee | Lifetime frame, 5-year parts, 2-year labor |
| Bowflex MAX Trainer | $999 - $2,199 | "Reverse elliptical" motion, 14-minute workouts, virtually zero impact | 6 weeks; responsible for return S&H | M3: 1-year parts; M5 & M7: 2- and 3-years, respectively. All models come with a 90-day labor warranty |
| Octane Fitness Zero Runner | $3,299 - $8,399+ | Use same muscles as running outside, but with zero impact. Custom fit. View stride activity. Strides up to 58" | 30-day; responsible for S&H; 30% restocking fee | Lifetime frame; 3-5 years parts; 90 days detachable powerbands; 1 year labor |
| Precor Adaptive Motion Trainer | $8,295 - $12,395 | Adjustable stride height, 36" stride length, commercial-grade construction, touchscreen on some models | No refunds after product is delivered or installed | 7 yrs – lifetime frame; 5-10 yrs motor; 6 mo – 10 yrs parts; 1-2 years console/screen; labor 1 year |
| LifeFitness FlexStrider | $8,999 | 10" LCD touchscreen, On-the-fly stride length adjustment, Natural ellipse path, Fingertip control | 30 days, less S&H; 25% or maximum of $500 restocking fee | Lifetime warranty frame; 3 years parts; 1 year labor |
Overall, it seems that most of these options offer similar essential features, such as color screens, long stride lengths, multiple functions, fingertip control options, and even warranties.
Outside of this, it's really all about where you place your emphasis. For example, if budget is your number one consideration, Bowflex Max Trainer's models feature the lowest price, along with no need for an ongoing subscription service, but it doesn't feature adjustable stride or height.
By all appearances, Octane's Fitness Zero Runner seems to most closely mimic a true running experience, and also comes with the longest stride at 58". But it doesn't offer resistance, incline adjustability, or onboard programs that change intensity.
Precor might be your best option if you're looking for commercial-grade quality, but it's also the highest-priced option and can't be refunded after delivery.
Bottom Line on NordicTrack's FreeStride Trainer FS7i
If you're looking for one of the lowest-priced alternative motion machines available with a color touchscreen then the FS7i might be right up your alley.
But will this price necessarily deliver a better value? Based on Amazon customer feedback, along with Consumer Review's comparison insight, it appears some of the (much higher-priced) competition might be worthwhile if you're concerned about noise, true running motion, or a perhaps more agreeable handgrip position.
And while the FreeStride Trainer comes with a 30-day refund policy, keep in mind that you'll lose $500—or about 25% of the purchase price—in non-refundable S&H and re-stocking fees if you're dissatisfied with its performance.
Avid elliptical user

By Mindi H.

,

New York

,

Aug 14, 2019
Verified Reviewer

I have used elliptical trainers for a minimum of three days a week for 20 years. This particular machine is NOT recommended. It allows for minimal cardiovascular exercise, and puts tremendous strain on joints. Wrists, elbows, and knees suffer after using the FS7i machine. I have the 5-year extended warranty. A technician was sent to my home due to the issues mentioned. It was stated the machine is to blame. I contacted NordicTrack directly. NordicTrack's customer service representatives are poor. I called to discuss my concerns. All they did was state their 30-day warranty. I asked to speak with a supervisor and was transferred to another representative where the same poor service was given. I again asked for a supervisor and was transferred to the extended warranty after specifically stating I did not want to be transferred to them because there is no repair necessary. I WILL NOT do business with NordicTrack in the future. BEWARE!

Bottom Line: No, I would not recommend this to a friend

---

Will never order from NordicTrack again

By Karen R.

,

Pennsylvania

,

Apr 2, 2019
Verified Reviewer

NordicTrack FreeStrider not worth the money

I ordered a NordicTrack FreeStrider. It arrived with a belt that was frayed and after a few uses wrapped itself around the interior of the machine causing the peddles to not move at all. I had to wait for a tech to come out and fix and replace the part. After a few more months of very minimal use, the motor lift broke and the machine would not incline. It took numerous emails to get what I needed from customer service answering the exact same questions repeatedly. I had to take apart the machine and replace the mechanism myself. About the same time frame later and just as minimal use, the motor lift is again not working and customer service is as atrocious. I will never order from NordicTrack again.

Bottom Line: No, I would not recommend this to a friend

---

Advertisement

---

Don't buy from NordicTrack

By Paula Q.

,

Virginia Beach, VA

,

Mar 13, 2019
Verified Reviewer

I ordered my machine in December 2018. Arrived 1/17/19. Paid for white glove service. They came with no tools. Put it together and the first time I used the machine, pieces fell off and the machine rocked to a point it was unsafe.

Seven phone calls later and five hours on hold, I was sent 16 screws to try and fix myself, and finally had a tech come out. No washers used, screws not secure. Ordered washers. Finally the machine was done on 3/1/19. NordicTrack refused to refund the white glove service because "they had to pay for a tech to come to my house and fix the machine." No consideration to me for a paid product I could not use for three months and not to mention three different 1/2 days of vacation used for their mistakes. AND no manual to show how to operate the machine.

SAVE YOUR MONEY. Service is ridiculous. Should have read the over 700 reviews on Consumer Affairs. Only gave this a one-star rating because in order to post you have to pick a star. Otherwise it would have been ZERO.

Bottom Line: No, I would not recommend this to a friend

---

Horrible service - DO NOT BUY!

By J N.

,

Missoula, MT

,

Jan 12, 2019
Verified Reviewer

We bought this machine in November. It clearly had problems from the start. Customer service takes an average of 40 minutes to get through. Sometimes it just sent me to a deadline.

Once through, the customer service (which is ICON, the manufacturer) said "she'd never buy a NordicTrack." She also said she was in a call center where she was hired three months ago in a class of 20 and only three of them remained.

It also seems as if NordicTrack knew this part was defective before it was sold and they are backordered by the 100s. In an earlier call (I'm now on my 5th separate call to customer service; each one taking 30+ minutes on average to get through), the agent said: "we just got 50 of these consoles in, but I don't think you're far enough up on the list to get one." THAT'S how routine faulty equipment and bad service is. It's pretty acceptable and normal. Not at all what you would expect paying nearly $2000 for equipment. We bought this because we thought we were getting a quality machine.

It just seems like the whole operation, from manufacturer to customer service, is fundamentally poor in quality and not very concerned about it once they get your money. Buyer beware.

Bottom Line: No, I would not recommend this to a friend

---

Advertisement

---

This is a lemon: Poor quality, horrible customer service.

Oregon

,

Mar 14, 2018
Verified Reviewer

I've had the machine for seven months. It was a little challenging to assemble at first, then it worked for only for three months and then it broke. The resistance goes all the way to max level, making it unusable. While the machine is covered by warranty, you don't get a tech when you call for help first two times. They actually make you do the repair yourself. And my repair was very involved. And it did not work. Three times. On the third time we got a tech, who came, but could not fix the machine; the waiting for parts is at least two week, and the waiting for a tech is at least three weeks. They refuse to refund and unable to fix it. Also, the call center people have no troubleshooting skills. I feel they sent some parts just because it is difficult to replace them and most people would quit.

Bottom Line: No, I would not recommend this to a friend

---