Nugenix Total-T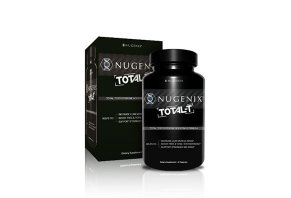 Nugenix Total T's newly updated formula promises to offer a science-backed method of boosting muscle mass, strength, and overall energy, without stimulants or fillers.
Nugenix Total-T Review: Hype or Legit?
Nugenix Total T is a dietary supplement that uses a blend of essential vitamins and high-quality extracts to help you increase lean muscle mass, boost your vitality, send your energy and sex drive through the roof and skyrocket your performance, regardless of age.
The website advertises that all of the supplement's ingredients are "backed by rigorous, double-blind, placebo-controlled studies conducted by medical experts," and that they're found in the dosages confirmed by clinical evidence.
They also repeatedly emphasize what you won't find in Total T, including potentially unsafe stimulants, fillers, or artificial ingredients.
Together, Nugenix tells us that Total T is one of the most advanced supplements on the market, with 63% reporting greater satisfaction with muscle and strength and 82% indicating they felt more energetic.
But, can you realistically expect similarly revolutionary results, recharged energy levels, and reclaimed youthfulness by taking three capsules per day, as they advertise?
Before diving into the formula, let's kick things off by discussing the underlying condition that Total T promises to address.
In General, How Do Supplements Like Nugenix Total T Work?
As we outline in 7 Ways to Naturally Increase Testosterone Levels, testosterone is a critically important male sex hormone primarily produced in the testes. It floods the body during puberty and causes an increase in sex drive, sperm production, muscle mass, bone density, and red cell production, and continues playing a pivotal role in fat usage and overall mood throughout life.
Often around the age of 30, a man's testosterone production decreases about one percent per year, which can be exacerbated by factors like obesity and tobacco use.
Eventually, this hormonal decrease reaches a point where it can lead to unwanted effects like decreased sex drive, increased weight, reduced mood and energy levels, and thinner, weaker bones (to name just a few).
This is where supplements like Total T come in; whose names frequently allude that they can increase testosterone levels using natural, non-prescription ingredient blends.
From a high-level perspective, is there clinical support that these products will deliver meaningful bang-for-the-buck, though?
Low Testosterone vs. Related Symptoms
In a nutshell, websites like the Natural Medicines Database and WebMD indicate that none of the ingredients commonly found in these supplements, or any other OTC ingredients for that matter, "have sufficient clinical evidence that they can meaningfully boost testosterone levels or impact the hormone's function."
With this in mind, these same sites point out that some ingredients frequently found in these formulas could help address side effects commonly associated with low testosterone levels. These include erectile dysfunction, fertility, and premature ejaculation.
Let's carry this thought over to the next section as we explore Total T's specific formulation.
Taking a Closer Look at Total T's Ingredients
Per the supplement facts label shown on the Nugenix.com website, their Total T supplement contains the following ingredients:
Vitamin B6 2 mg
Vitamin B12 2.4 mcg
Zinc 1 mg
L-Citrulline Malate 1125 mg
Fenugreek Extract (Testofen®) 600 mg
elevATP® Blend [Ancient Peat Extract (trace minerals) and Apple Fruit Extract] 150 mg
Eurycoma longifolia Extract 100 mg
Boron 10 mg
Based on what sites like the Natural Medicines Database and WebMD report, is there medical support for Nugenix's advertising claims related to Total T?
As outlined in the previous section, they cumulatively indicate there's insufficient clinical evidence that any of these ingredients can actually boost your body's testosterone levels. They might help ease some of the related side effects, though.
Let's quickly break everything into easily digestible groups:
Zinc & L-Citrulline
Taking 440 mg of zinc per day is listed by these sites as possibly useful for treating muscle cramps. 15 mg daily may strengthen weak bones (osteoporosis), and 35 mg may improve depression in those who haven't responded to antidepressants. Keep in mind that at 1 mg per dose, Total T contains considerably less than these amounts.
On the other hand, taking 2.4 g to 5 g daily for seven days (or one 8 mg dose immediately before activity) may help improve some types of exercise performance. Again, at 1,125 mg (1.125 g) per dose, Total T offers meaningfully lower amounts of l-citrulline than what's reported in the clinical evidence.
Testofen
Testofen is a proprietary formula from Gencor that contains fenugreek extract standardized for 50% Fenuside.
Per the Natural Medicines Database, it "has been studied in clinical research. Based on this research, this product's Effectiveness Rating is" possibly effective for addressing sexual dysfunction and improving sexual performance.
Still, WebMD lists Fenugreek itself as having insufficient clinical evidence supporting Nugenix's claims for Total T.
ElevATP
ElevATP is another proprietary ingredient found in Total T, this time manufactured by FutureCeuticals, which contains a combination of ancient peat extract and apple fruit extract.
To support their energy claims, FutureCeuticals lists on their website an eight-week, placebo-controlled study conducted in 2016 involving twenty-five healthy, resistance-trained, male subjects.
Overall, participants experienced improvements during squat and deadlift exercises, as well as for vertical jump peak power and peak velocity. Therefore, they concluded: "Supplementing with ancient peat and apple extract while participating in periodized resistance training may enhance performance adaptations."
With this said, neither WebMD nor the Natural Medicines Database had entries for peat at the time of our research. Both indicated insufficient clinical support for apple extract's health benefits.
Eurycoma Longifolia & Boron
These sites listed Eurycoma longifolia (also frequently referred to as Tongkat Ali), as possibly effective for improving the quality and concentration of sperm in infertile men (200 mg daily for 3-9 months). They also tell us taking 300 mg per day for three months could help boost sexual desire and quality of life.
WebMD lists boron, on the other hand, as having insufficient clinical evidence indicating that it can improve "body mass, muscle mass, or testosterone levels in male bodybuilders," or any of the other claims made by Nugenix for Total T.
Now, let's transition from effectiveness to side effects.
Are There Potential Side Effects When it Comes to Total T's Ingredients?
Again looking at the cumulative reporting from WebMD and Natural Medicines Database, the most common side effects (no specifics outlined) related to Total T's ingredients include:
Nausea, Upset Stomach, Stomach Pain – Vitamin B6, Zinc, L-Citrulline, Fenugreek
Diarrhea, Vomiting – Vitamin B6, Zinc, Fenugreek
Headache – Vitamin B6, Fenugreek
Coughing – L-Citrulline, Fenugreek
In some instances (again, no additional details provided), they indicate that vitamin B6 could also lead to loss of appetite, tingling, and sleepiness while emphasizing that zinc can cause some people to experience a metallic taste, or even kidney and stomach damage.
For these reasons, WebMD tells us, "routine zinc supplementation is not recommended without the advice of a healthcare professional."
L-citrulline may lead to heartburn, urination changes, and swelling in some people (rare), whereas fenugreek has caused some to experience side effects like gassiness and bloating, swelling, low blood sugar, and even severe allergic reactions.
Finally, taking more than 20 mg of boron per day may harm a man's ability to father a child. The Total T supplement contains half this amount per dose, but it's important to mention here in case you consider upping your intake.
Cumulatively, this is why it's always critical to have an in-depth conversation with your healthcare provider before purchasing any dietary supplement, Total T or otherwise.
How Much Does Nugenix Total T Cost?
If purchased from NugenixSamples.com, customers will pay $4.99 S&H (we were also charged $0.42 after entering a CA zip code) for a two-week supply of Total T.
Eighteen days after your order, Nugenix will enroll you in their autoship program if you don't contact them to cancel. This means you'll receive a 90-capsule bottle of Total T once per month, and will pay $69.99 plus $4.99 S&H each time.
Pro tip: You can avoid this autoship program by purchasing Total T via the main Nugenix.com website, for the same price. It's also available from popular online retailers like GNC, Amazon, The Vitamin Shoppe, CVA, Rite Aid, and Walgreens, to name just a few, for about the same price.
All Total T orders delivered through Nugenix's subscription program come with a 30-day refund policy, which increases to 180 days for standard deliveries, even if you've used the entire bottle.
Customers can reach Nugenix's service department by calling 855-714-3234 or sending an email to support@nugenix.com.
Testosterone Supplements Competing For the Same Customers as Nugenix Total T
Testosterone dietary supplements have flooded the market in recent years, so there's no shortage of stimulant-free options from which you can choose.
And as we discussed earlier, these formulations frequently share similar ingredients as Total T, including fenugreek/Tongkat Ali and boron. You'll also frequently find additional ingredients like ashwagandha, saw palmetto, nettle, horny goat weed, sarsaparilla, and wild yam.
As a few examples, browsing top-rated results on Amazon returned results like:
Nugenix Total T: $68 for 120 capsules
Genius Test: $55 for 120 capsules
Boost-XT: $20 for 60 capsules
Prime Labs Men's Testosterone Booster: $19 for 60 capsules
PRIMASURGE Testosterone Booster for Men: $27 for 60 capsules
T6 Testosterone Booster: $50 for 60 capsules
How to Choose the Right Testosterone Supplement for you?
While the budget is at the top of many consumers' minds, it's important to start by pointing out that based on our years of research, customers typically don't report experiencing better results when paying more for a dietary supplement. This relates to low testosterone or any other condition.
Furthermore, as a medical condition, your physician is the best person to help you determine whether or not depleted testosterone levels are causing your side effects. And if they are, they can help you decide which medically sound steps will help maximize your results, while also avoiding potential side effects and medication interactions.
Where does all of this leave you when it comes to Total T?
Our Conclusion About Nugenix Total T
It doesn't matter whether we're referencing Total T or any competing formulation, organizations like the National Institutes of Health and the American Academy of Family Physicians (to name just a couple) indicate that unless you're deficient in an ingredient (a relatively small percentage of the population), most of us don't need to take a supplement or multivitamin.
Think you might have a deficiency in some area of your diet? Not to sound redundant, but your doctor's the only one who can formally diagnose your condition and recommend a suitable treatment plan—as well as whether or not this should involve supplementation.
With these essential details in mind, most online Nugenix customers reported positive experiences with Total T on sites like Amazon, GNC.com, and Walgreens.com at the time of our research, although this doesn't mean you'll necessarily experience the same.
But if you don't, the company backs all direct subscription orders with a 30-day money back guarantee, and all standard orders with a six-month refund policy, even if the bottle is empty.