Testro-X Reviews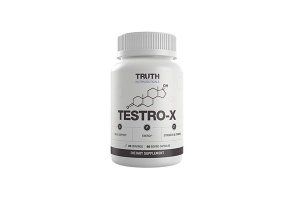 Testro-X's formulation of natural ingredients, minerals, and adaptogens that claim to help increase testosterone, reduce stress, and improve recovery and muscle growth.
About Testro-X
Using a blend of nine natural, scientifically backed ingredients, Testro-X is a dietary supplement that promises to deliver a complete solution for boosting your body's testosterone production, resulting in reduced stress levels, increased energy, reduced signs of aging, and improved sleep.
In fact, in one of the supplement's videos, co-founder Christopher Walker tells us that Testro-X's minerals and adaptogens can help your body "undergo its natural processes that produce testosterone much more effectively," allowing it to eventually produce its own testosterone without any extra stimulus.
Christopher also tells us that Testro-X comes with laboratory testing showing that 100% of what's listed on the label is actually in the supplement, and that each ingredient represents the most bioavailable form possible. All without fillers and other garbage.
After regularly taking three capsules following dinner during the week (weekends are off), Testro-X promises to assimilate in your body and deliver benefits, with no known side effects. This is whether you're a man or a woman.
Alright, sweeping the sales-speak aside, there are three primary claims made by Testro-X's manufacturer. That it:
Uses ingredients supported by 52 peer-reviewed studies
Effectively increases testosterone production
Balances hormone levels, reduces stress levels, increases energy, decreases aging symptoms, and helps boost sleep
In this article, we'll discuss what we learned during our research about Testro-X, along with our extensive experience writing about similar supplements, all aimed at unpacking these claims and helping you make a more informed decision.
Is There a Link Between Testosterone Levels & Stress?
Testosterone is a hormone found in men (and in much lower concentrations in women) that results in all the associated physical characteristics like chest and facial hair, a deepened voice, and increased penis and testes size, as well as heightened sex drive.
Made by the adrenal glands, cortisol is another common hormone in the body, but one that helps process glucose and manages stress. In response to this perceived threat by your fight-or-flight instinct, cortisol elevates your heart rate, increases blood pressure, suppresses immune response and digestion, and boosts the amount of glucose in the bloodstream.
But the Testro-X website mentions that "your testosterone levels can have a positive or negative effect on your stress levels. In fact, in very many cases, higher stress levels means lower testosterone, and vice-versa." Is there scientific support for this claim?
Interviewed for Everyday Health, Daniel Shoskes, MD, a urologist at the Cleveland Clinic, says that while some studies have shown an inverse association between cortisol and testosterone levels:
" … there is an old saw in research that you need to remember. Association does not equal causality. There is very little evidence that stress lowers testosterone and even less evidence that lowering stress will raise testosterone.

That being said, we do know that acute and chronic stress have physiologic effects on the body. So, lowering stress could help with low testosterone symptoms like low libido, low energy, and depression."
What about Testro-X's ingredients, specifically?
Are Testro-X's Ingredients Effective For Boosting Testosterone Or Reducing Stress?
Testro-X's label indicates the supplement contains the following ingredients:
Magnesium (as Magnesium Citrate) 150mg
Zinc (as Zinc Gluconate) 15mg
KSM-66 Organic Ashwagandha Root Extract 400mg
Forskohlii Root Extract 250mg
Inositol 200mg
Glycine 200mg
L-Theanine 100mg
Boron (as Boron Citrate) 10mg
Bioperine Black Pepper Fruit Extract 10mg
According to their summarizations of the available clinical evidence, WebMD and Examine.com indicated that magnesium could potentially help address a wide range of conditions, including constipation, indigestion, high blood pressure, and irregular heartbeat. Examine also listed two studies indicating it could improve sleep quality and boost testosterone.
They indicated zinc might also be effective for a whole host of conditions, including diarrhea, acne, age-related vision loss, depression, bad breath, osteoporosis, and warts. Examine listed five studies related to testosterone, although only one referenced potentially increased testosterone, but not necessarily any of the other benefits referenced on the Testro-X website.
The KSM-66 in Testro-X is a proprietary ashwagandha extract, which the manufacturer claims has been clinically tested for everything from stress and anxiety to telomerase activity. WebMD labeled the overall clinical evidence for Ashwagandha's efficacy related to any condition as "insufficient," while Examine.com referenced three potentially positive studies for its effect on anxiety and cortisol levels each, along with one related to stress.
Forskolin is an ingredient we've frequently written about in the realm of weight loss, although WebMD indicated insufficient evidence for anything other than a heart condition called idiopathic congestive cardiomyopathy. Examine.com cited one study for testosterone.
WebMD listed inositol as "possibly effective" for addressing panic disorder, obsessive-compulsive disorder (OCD), polycystic ovary syndrome (PCOS), acute respiratory distress syndrome, and psoriasis. Similarly, Examine.com listed 14 studies related to PCOS, four for anxiety, three for panic attacks, and one for OCD symptoms.
While Examine.com referenced moderate to very high levels of evidence for l-theanine's relaxation and anxiety benefits, WebMD indicated "insufficient evidence" for any of its benefits.
Regarding boron, WebMD didn't list any benefits related to testosterone or stress, while Examine.com referenced three trials. However, they also qualified these with statements like "requires some more robust trials" and "it is seemingly unreliable."
Finally, Bioperine is a proprietary black pepper extract that promises to help improve the bioavailability of any ingredients it's mixed with, although it doesn't provide any additional benefits itself.
Neither WebMD nor Examine listed any testosterone-boosting or stress-reducing benefits for glycine.
Will you experience any side effects from Testro-X's formulation, though?
Will Testro-X's Ingredients Cause Side Effects?
The Testro-X website tells us that each ingredient is completely safe for human consumption, and we didn't encounter any statements otherwise on WebMD or Examine.com.
However, these sites indicated that in some instances, magnesium might cause stomach upset, nausea, vomiting, and diarrhea. It can also interact with some antibiotics, muscle relaxers, and medications for high blood pressure.
Similarly, inositol can sometimes lead to nausea, tiredness, headache, and dizziness.
Finally, per WebMD, "Theanine has been used one time per week for 3 weeks. It is not known if use for longer periods of time is safe."
What will you pay for Testro-X's nine-ingredient blend?
How Much Does Testro-X Cost?
Testro-X was available in the following quantities:
1 Bottle (90 capsules): $49.95 ($44.95 through auto-refill)
2 Bottles: $86.95
3 Bottles: $99.80
All orders come with free shipping within the U.S. You could also purchase Testro-X through Amazon, although only single-bottle orders were available at the time of our research.
If you choose the auto-refill option (aka VIP Club Access), you'll continue receiving a new bottle of Testro-X once per month and charged $44.95 each time.
Testro-X comes with a 60-day refund policy, less S&H. In order to request one or to stop your automatic shipments, Truth Nutraceuticals' customer service department can be reached at 800-214-9820 or help@truthnutra.com.
At these prices, are customers reporting boosted testosterone and reduced stress?
Does Testro-X Come With Positive Customer Reviews?
There were 47 customer reviews on Testro-X's website, with an average rating of 5 stars. There, common compliments referenced effective results (improved sleep, increased energy and stamina, boosted sex drive, etc.), along with no side effects. Of the few complaints, most referenced no results.
On Amazon, we found a total of 89 customer reviews and an average rating of 3.1 stars for Testro-X. Many of the compliments and complaints mirrored those found on the Truth Nutraceuticals website.
From a company perspective, Truth Nutraceuticals (aka The Better Foundation LLC) was co-founded in 2016 by Christopher Walker, who graduated from Duke University in 2011 with a degree in neuroscience. He is also a partner in AnabolicMen.com.
On the Testro-X website, Christopher tells us that he was inspired to create something worthwhile after seeing how much junk was in other formulas, without clinically effective dosages and scientific research.
Related Article: 6 Ways to Naturally Improve Your Focus, Energy, Productivity, and Decrease Stress.
We learned that The Better Foundation LLC (DBA TruthNutra) is based out of Melbourne Beach, FL, although they weren't listed with the Better Business Bureau at the time of our research. According to their website, though, they sell a wide range of supplements.
How Does Testro-X Stack Up Against Other Testosterone Supplements?
You don't have to go much farther than entering the phrase "testosterone supplement" or "testosterone booster" into any search engine to understand that Testro-X is up against some stiff competition. We've even reviewed dozens of the most popular options here at HighYa, including Spartagen XT, Alpha Limit, and Bio Testosterone XR.
How does Testro-X compare?
In our experience, it's refreshing to write about a testosterone supplements company that clearly publishes all of the ingredients it contains, including their dosages, without any kind of proprietary blends. In our mind, this alone speaks volumes about the company's customer-oriented focus.
Truth Nutraceuticals also lists more than 880 citations on their website, intended to back up the claims made for each of their supplements, which isn't something we encounter often.
And at $49.95 per bottle, Testro-X seems to come with a middle-of-the-road price point, without forcing you into any kind of "free" trial.
Does this necessarily mean you should go ahead and place your order? Let's carry this thought over to the final section as we wrap things up.
Our Final Thoughts About Testro-X
Based on the summarizations of the currently available clinical evidence, WebMD and Examine.com indicated that several of the ingredients found in Testro-X's formulation could, indeed, increase testosterone and improve relaxation/reduce anxiety.
However, many of these ingredients only had one or two studies supporting these claims, so the existing evidence might not be considered robust in all instances.
Given this, will Testro-X provide results in line with its price? We didn't test the supplement firsthand, but each of our bodies is different, so what works fantastically for one person might not work at all for another. Despite Testro-X's mostly positive online reputation, we could even see this play out in the supplement's customer feedback referenced earlier.
If you give Testro-X a try, though, and aren't satisfied, Truth Nutraceuticals seems to stand behind it with a 60-day refund policy. Just keep in mind that you'll be responsible for return shipping charges.
But will Testro-X really help you safely transition from testosterone replacement therapy, as claimed in one of the supplement's videos? With regular use, will it continue to help boost your testosterone levels, even once you've stopped taking it?
These claims didn't seem to be supported by robust clinical evidence, so you'll definitely want to talk with your doctor if you're looking to achieve these benefits.
6 out 7 people found this review helpful

49 feeling more like 29 years old

By Chris C.

,

South Carolina

,

Feb 10, 2019
Verified Reviewer

I used Testro-X for about 6 months. The first thing I noticed was that I wasn't tired by lunchtime. I work on an estate doing everything from yard and garden to keeping up the equipment and structures. Before I started on Testro-X, I would be tired by lunch and if I did anything strenuous I paid for it for a couple of days. After a couple of weeks taking Testro-X, I was going all day and still had the energy to do things around the house after work. I wasn't sore anymore after splitting firewood or climbing up and down ladders all day. I waited for 6 months to write a review because I wanted to see if it delivered consistent results. I'm not a weight lifter so I can't say it built a lot of muscle, but I can say that I felt a lot better and my man parts started working again.

Bottom Line: Yes, I would recommend this to a friend

---

26 out 32 people found this review helpful

Surprised With Noticeable Results

I've always been pretty skeptical of testosterone supplements, but I got awesome results from Testro-X.

The first day I took it, I felt very calm and relaxed, which was a really nice feeling. I didn't have any negative side effects and there were no stomach issues.

I kept taking the product for the following week and noticed my energy getting better during the day and my sleep getting better at night.

Towards the end of the week I noticed that I was feeling pretty great - very motivated to tackle my goals and stay focused and productive at work.

Not to get too graphic, but I also noticed that I was waking up with more morning wood than I ever had before and I felt "friskier" than normal, which was a pretty awesome effect of Testro-X.

After a month my muscles seemed to get harder, and I was getting a lot stronger in the gym. I felt like I started seeing some of the longer-term effects of increased testosterone.

I also noticed my skin looking better in general (not sure if this is supposed to be an effect of testosterone or not), and the bags under my eyes went away.

The best way I can say it is that I just looked healthier overall.

I think I'm going to be taking this supplement for a long time based on how much it's helped me.

Bottom Line: Yes, I would recommend this to a friend

---

Advertisement

---