Testro-X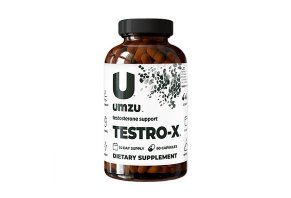 Summary
Testro-X is a dietary supplement that allegedly helps boost your testosterone levels. Research reveals promising ingredients, but there are some drawbacks.
Testro-X Review - Can It Help Boost Testosterone Levels?
What Is Testro-X?
Using a blend of nine natural ingredients, Umzu claims that Testro-X will deliver a complete solution for boosting your body's testosterone production.
Most men experience a decline in testosterone levels that typically occurs around the age of 40. Low levels can be associated with unwanted effects like fatigue, erectile dysfunction, low libido, and increased body fat.
According to Umzu, you may be able to avoid these issues with Testro-X. They claim that you can expect the following just by taking 3 capsules daily before bed:
Increased testosterone production
More muscle growth
Higher sex drive
More energy
Better sleep and recovery
Umzu states that these benefits are made possible by Testro-X's scientifically-backed blend of minerals and adaptogens.
In this article, we'll discuss what we learned about Testro-X during our literature review to unpack these claims and help you make a more informed decision.
Are Testro-X's Ingredients Effective for Boosting Testosterone?
Testro-X blends many ingredients that may elevate testosterone, increase energy, kickstart your metabolism, and enhance your focus. According to the product label, each serving contains the following ingredients:
Magnesium (as Magnesium Citrate) 150mg
Zinc (as Zinc Gluconate) 15mg
KSM-66 Organic Ashwagandha Root Extract 400mg
Forskohlii Root Extract 250mg
Inositol 200mg
Glycine 200mg
L-Theanine 100mg
Boron (as Boron Citrate) 10mg
Bioperine Black Pepper Fruit Extract 10mg
Magnesium
Magnesium may support metabolism, nerve transmission, and bone health.
Its testosterone-boosting benefits were demonstrated when 10mg doses increased testosterone levels in both sedentary adults and athletes over 1-month.
Nonetheless, much more work is needed to identify the long-term effects of magnesium supplementation.
Zinc
Zinc is an essential mineral that is commonly included in dietary supplement blends. It may support growth and development, wound healing, protein synthesis, and immune function.
Zinc's suspected ability to boost testosterone levels is likely related to its inhibitory effect on an enzyme (5-alpha reductase) that converts testosterone to dihydrotestosterone (DHT).
Zinc at 30mg daily for 8-weeks did not improve muscle endurance, body composition, or testosterone levels in healthy subjects. Zinc at 30mg per day for 56-days did not increase T levels in healthy young men.
While early laboratory studies pointed to potential benefits, zinc's ability to boost testosterone has not been well supported in human subjects, even at doses 2x greater than those offered in Testro-X.
Ashwagandha Root Extract
Ashwagandha is an Indian herb that may offer memory, immune, and antioxidant capabilities.
In a randomized study, consumption of 600mg of ashwagandha was associated with better attention, information processing speed, and memory.
Forskohlii Root Extract
This extract is obtained from the roots of a tropical plant. It has not been studied extensively, though researches have investigated forskohlii's association with body composition and testosterone.
In 30 obese and overweight subjects, those that took 250mg of Forskohlii twice daily for 3-months lost more body fat, developed more lean muscle, and boosted testosterone more than those in the placebo group.
Inositol
This carbohydrate may offer a wide variety of health benefits, including mood enhancement.
Those that took 12g of inositol daily for 1-month improved their depression when compared to the placebo group.
Glycine
This amino acid is often included in blends that claim to improve sleep because of its suspected ability to act upon the central nervous system.
Supplementing glycine in rats induced REM sleep and shortened the duration of time needed to fall asleep.
L-Theanine
L-theanine is an amino acid that may improve mental focus. While it is produced in your body, it can also be obtained in both black and green teas.
Those that combined 97mg of L-theanine and caffeine improved accuracy on mental examinations, though much more work is needed to characterize the long-term effects of this supplement.
Boron
Boron is a trace mineral that may increase testosterone in addition to a number of other suspected health benefits.
Healthy men that consumed 10mg of boron over 1-week elevated their testosterone. Similar effects were seen in postmenopausal women that consumed 3mg of boron daily.
These results were not seen in 19 bodybuilders that received 2.5mg of boron
So far, the research investigating boron's ability to increase testosterone offer mixed results.
BioPerine Black Pepper Extract (BPE)
Another spice popular in cuisine and supplements, it is thought to offer metabolism-boosting benefits.
Overweight individuals randomized to treatment with 6mg of BPE each day decreased their BMI and body fat.
Will you experience any side effects from Testro-X's formulation, though?
Will Testro-X's Ingredients Cause Side Effects?
Nutraceutical blends are often appealing as they can offer more favorable safety profiles when compared to some of the available medical treatment options.
Nonetheless, altering hormone levels on your own does raise some concerns. The ingredients included Testro-X are generally safe when used as directed, though digestive symptoms like stomach pain and diarrhea can occur.
Also, you should check the Controlled Substances Act for any banned substances if you're training for or taking part in formal competition.
While the ingredients offered in Testro-X have not demonstrated an ability to elevate testosterone to unsafe levels, doing so can be associated with many unwanted effects.
Signs that your testosterone may be too high can include:
Facial and body acne
Voice changes
Excess body hair/ male pattern baldness
Mood fluctuation
Regulation of your hormone levels require the delicate interplay between a variety of systems within your body. Managing levels on your increases the chances of side effects, thus you should not manage your testosterone without the supervision of a medical professional.
If you think your testosterone may be low, it's safest to first speak with a physician.
How Much Does Testro-X Cost?
Testro-X is available for either single-order or auto-refill options.
One 90-capsules bottle will last you one month and costs $54.95 for single orders. Opting for the auto-refill option drops the cost to $46.71 per bottle, regardless of how many you order.
Amazon also carries Testro-X, though you'll pay almost $60 per bottle.
Testro-X comes with a 60-day refund policy, less S&H. To request a refund or stop your automatic shipments, contact Umzu's customer service department at 1-800-214-9820 or help@umzu.com.
Our Final Thoughts About Testro-X
Testro-X offers a blend of ingredients that do have some available scientific support for benefits like elevating testosterone, improving sleep, burning fat, and building lean mass.
However, many of these ingredients only had one or two studies supporting these claims, so the existing evidence might not be considered robust in all instances.
The lack of strong research for some ingredients may be reflected in the customer reviews at Amazon. At 3.7-stars on 230 reviews, those that were unsatisfied report lack of results as well as side effects like anxiety and acid reflux.
While the most common side effects appear to be mild, you should refrain from managing hormone levels without the guidance of a medical professional.
Speak with your doctor if you think your testosterone levels are low. Medical management of your symptoms may be warranted. If a dietary supplement is appropriate, they may be able to offer one with more robust research.
Customer Reviews
Posted on Feb 10, 2019
49 feeling more like 29 years old
I used Testro-X for about 6 months. The first thing I noticed was that I wasn't tired by lunchtime. I work on an estate doing everything from yard and garden to keeping up the equipment and structures. Before I started on Testro-X, I would be tired by lunch and if I did anything strenuous I paid for it for a couple of days. After a couple of weeks taking Testro-X, I was going all day and still had the energy to do things around the house after work. I wasn't sore anymore after splitting firewood or climbing up and down ladders all day. I waited for 6 months to write a review because I wanted to see if it delivered consistent results. I'm not a weight lifter so I can't say it built a lot of muscle, but I can say that I felt a lot better and my man parts started working again.
Bottom Line: Yes, I would recommend this to a friend
Posted on Jul 24, 2017
Surprised With Noticeable Results
I've always been pretty skeptical of testosterone supplements, but I got awesome results from Testro-X.
The first day I took it, I felt very calm and relaxed, which was a really nice feeling. I didn't have any negative side effects and there were no stomach issues.
I kept taking the product for the following week and noticed my energy getting better during the day and my sleep getting better at night.
Towards the end of the week I noticed that I was feeling pretty great - very motivated to tackle my goals and stay focused and productive at work.
Not to get too graphic, but I also noticed that I was waking up with more morning wood than I ever had before and I felt "friskier" than normal, which was a pretty awesome effect of Testro-X.
After a month my muscles seemed to get harder, and I was getting a lot stronger in the gym. I felt like I started seeing some of the longer-term effects of increased testosterone.
I also noticed my skin looking better in general (not sure if this is supposed to be an effect of testosterone or not), and the bags under my eyes went away.
The best way I can say it is that I just looked healthier overall.
I think I'm going to be taking this supplement for a long time based on how much it's helped me.
Bottom Line: Yes, I would recommend this to a friend
Our Promise to You
In order to safeguard you and ensure helpfulness and relevance, our compliance team manually assess every customer review before it goes live.
We have a zero-tolerance policy for fake reviews, and companies cannot control or alter any reviews at any time.