Nugenix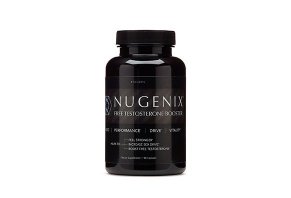 While Nugenix Free Testosterone Booster contains multiple ingredients that are commonly included in products that allege to increase T levels, most seem to lack strong scientific support. If you think your T levels may be low, speak with a doctor to determine the cause.
Nugenix Review - Can It Help Boost Your Testosterone Levels?
What Is Nugenix Free Testosterone Booster?
Nugenix Free Testosterone Booster is a dietary supplement that is alleged to boost free testosterone (T) booster through a blend of natural ingredients.
Testosterone is a steroid hormone that wears many hats. It plays a role in supporting lean muscle mass, bone density, heart health, carbohydrate metabolism, mood, in addition to maintaining sexual health.
A decline in T levels commonly occurs around the age of 40 even in healthy individuals, though disease and other health-related conditions can be associated as well.
As T offers so many benefits, deficiency may lead to many unwanted effects like:
Fatigue
Mood changes
Erectile dysfunction
Low libido
Decreased bone density
Diminished muscle mass
Increased body fat and
Most of your T is bound to circulating proteins, but it is unbound, free testosterone that is largely responsible for the many health benefits.
Nugenix Free Testosterone Booster is alleged to boost free T by taking just 3-capsules per day. In fact, the company claims that Nugenix will help you feel stronger and increase sex drive.
In this article, we'll help you determine if there is any merit to these claims by reviewing the available scientific support for the Nugenix blend of ingredients.
The Active Ingredients: Do They Work?
Nugenix Free Testosterone Booster is alleged to elevate your T with the following ingredients:
Vitamin B-6 - 2mg
Vitamin B-12 - 50mcg
Zinc - 1 mg
Nugenix Free Testosterone Complex - 2,103mg (L-Citrulline Malate, Fenugreek Seed Extract, Tribulus)
Vitamin B6 and Vitamin B12
B6 may support a number of health benefits, though they are often added to supplements that claim to boost T levels as it is suspected to enhance the proposed effects of zinc.
Vitamin B6 inhibited 5-alpha reductase activity, the enzyme that converts testosterone to dihydrotestosterone (DHT) in a rat study. The rationale is that limiting this enzyme can prevent drops in T.
This benefit was also seen in a laboratory study; vitamin B6 boosted zinc's ability to limit the conversion of T to DHT.
Adding 11mg of vitamin B6 to 30mg of zinc did not enhance muscle endurance, body composition, or T levels.
B12 may play a role in enhancing sperm quality. It improved sperm motility and sperm count in 26 infertile males, though testosterone was not increased.
B6 and B12 may play a role in boosting T and supporting sexual health, though much more research is needed to identify clinical use.
Zinc
Zinc is an essential mineral that may limit the activity of 5-alpha reductase. As described above, ot is often paired with B6 to enhance its effects.
Zinc deficiency was associated with decreased T levels in healthy men, and supplementation elevated levels.
These results were not confirmed in later studies.
Zinc did not improve muscle endurance, body composition, or T levels in healthy subjects treated with 30mg daily for 2-months. Thus, even with doses much larger than that of Nugenix, benefits were not seen.
While laboratory studies have highlighted a potential role for zinc, this relationship has not been well supported in human studies.
L-Citrulline Malate
L-Citrulline is a non-essential amino acid that may increase exercise performance, support recovery, and improve erections in those with mild to moderate erectile dysfunction (ED).
These effects may be related to L-Citrulline's ability to increase blood flow through enhanced nitric oxide formation. Taking 1.5g per day was associated with improved erection hardness and increased intercourse frequency.
Still, more studies are needed to demonstrate these effects in the long-term.
Fenugreek Extract (Testofen®)
This herb may also work to prevent the conversion of testosterone to DHT.
At 500mg doses, fenugreek significantly improved body fat composition and testosterone levels in 30 healthy men over the course of 2-months.
Another trial found that 600mg of fenugreek over 6-weeks experienced improvements in libido and other sexual health parameters when compared to placebo.
The results of these studies are promising, though limited. More long-term research is needed to fully characterize the benefit of this supplement.
Tribulus
Tribulus is a plant-based extract that may offer various sexual health benefits. The research investigating these proposed effects has been mainly in animal models, however.
A review of 11 studies concluded that tribulus boosted T levels in some animal studies. Benefits were seen in human studies only when tribulus was part of a supplement blend.
In rugby athletes, 450mg of tribulus daily over 5-weeks did not benefit strength, lean muscle mass, or T levels. Men with erectile dysfunction that took 6g of tribulus twice daily for 60-days boosted their T levels and experienced improved sexual health.
Though tribulus may play a role in elevating T levels, support for this role in human studies is lacking.
The Takeaway Message
While some of these ingredients offer some potential benefits for elevating T and supporting sexual health, Nugenix only provides dosing for the total blend. Thus, we don't know how much L-citrulline, Fenugreek, or Tribulus it contains.
Without this information, we can't determine if there is enough present to see results seen in research studies.
Nonetheless, most of the support is limited, mixed, or found mainly in laboratory and animal studies. Much more research is needed to identify the long-term benefits in humans.
Is Nugenix Free Testosterone Booster Safe?
Nugenix Free Testosterone Booster contains a blend of natural ingredients that are often found in supplements that claim to boost T.
B vitamins are excreted in urine when consumed in excess. Serious side effects are rare, though symptoms can include nausea, vomiting, and skin flushing.
Zinc was safe in doses of more than 30x those included in Nugenix. The upper intake limit is also well beyond the Nugenix dose. Side effects are typically mild and relate mainly to digestive issues.
Serious side effects were not reported in research examining the effects of fenugreek and tribulus, though mild digestive symptoms may occur.
While there is no evidence that these ingredients can boost T into dangerous ranges, you should be aware of the signs that your T may be too high. These can include:
Facial and body acne
Voice changes
Excess body hair/ male pattern baldness
Mood fluctuation
As the delicate interplay of multiple symptoms achieves hormone balance, managing them on your own can be risky. Speak to your doctor first, especially if you're experiencing symptoms related to low T.
What Does It Cost?
Nugenix Free Testosterone Booster is available directly from the Nugenix website.
It costs $69.99 + $4.99 shipping per bottle; at 90 capsules, this will last you one month when used as directed. Nugenix backs your purchase with a 30-day satisfaction guarantee.
To process your refund, contact support at 1-855-714-3234 or support@nugenix.com.
You can also find the 90-count bottle at Amazon for $49.69. As Amazon similarly offers 30-day returns, this is a more cost-effective option.
What Are the Alternatives to Nugenix Free Testosterone Booster?
The Nugenix Free Testosterone Booster blend is not unique. In fact, these ingredients are commonly included in supplements that claim to increase T.
Nugenix Total T is another product offered by this company. It contains an identical blend, though it also includes a couple of extra extracts, as well as Boron. While you may get a bit more, pricing is identical.
EVLTest Testosterone Support Complex offers a 1-month supply for $34.99. Like Nugenix, they also offer B6, zinc, tribulus, and fenugreek. You'll miss out on L-citrulline, though they also include D3, magnesium, D-aspartic acid, and DIM.
Given the similarities in the blend, EVLTest is probably a more cost-effective option. Keep in mind, the research supporting most of these ingredients is lacking.
You can also try boosting T through diet. Some foods that may elevate levels are fish, chicken, and eggs. If you opt for a vegan or vegetarian lifestyle, you can try leafy green vegetables, seeds, and nuts.
Regardless of which option you're interested in, always speak to your doctor first to identify the cause of your symptoms.
Pros and Cons
Some of the ingredients have support for boosting T and supporting sexual health, though the available studies are limited and offer only short-term results
Expensive compared to other available supplements with similar blends
Strong support for the actions of most ingredients are lacking
Managing hormone levels without medical supervision can be dangerous
The Bottom Line
Nugenix Free Testosterone Booster contains common ingredients that are suspected of boosting T, though strong support for most of them is lacking.
While some studies highlight a potential role for this blend, more research is needed to determine the long-term safety and efficacy.
Though generally safe to use, you should avoid managing hormone levels on your own. Speak with your doctor if you are experiencing symptoms that may be related to low levels of T.
Given that the research is not robust, the supplement is expensive, and the need for medical guidance for hormone-related issues, you should avoid using Nugenix Free Testosterone Booster before speaking with your doctor.
---
Fraud alert

By Fritz V.

,

San Jose, CA

,

Sep 9, 2020
Verified Reviewer

Length of Use: Less than 3 months

Overall Experience:

Please do not buy into their fraudulent claims. First of all, the product did not live up to any of the claims in the ad. Secondly, the free trial period is a hoax. They billed me $118.88USD before the trial period expired. I called and complained and I was told that I could cancel but I was not due a refund, since I tested the product. Despicable.

Pros and Cons:

No "pros" were specified in this review
I was lied to about the free trial period
Defrauded out of $118.88USD
Product did not meet expectations

Bottom Line: No, I would not recommend this to a friend

---

Zero results, terrible customer service.

By Dale S.

,

Colorado

,

Dec 11, 2019
Verified Reviewer

Overall Experience:

I ordered a 2-week trial for $5.00. They sent the bottle with some directions to call a prerecorded message before taking your first dose. I called the number and listened to a long spiel about the capsules not working well unless you workout/exercise daily, and eat a healthy diet. I'm sure that we'd all get a great experience if we just followed those guidelines instead of taking the large horse pills that they sent. I opened the bottle and the first thing I noticed was the terrible smell and taste. You need to take three large capsules daily. The capsules smell and taste like something you'd feed to a horse or cattle. Hours after taking them I started burping up that same bad taste. Took the capsules regularly for the 2-week period and recognized none of the benefits that they advertised in there marketing. I suffer from sleep apnea and use a CPAP for this condition. What I did notice was increased apneas every night. This means that I was having additional problems sleeping, therefore I was waking up feeling tired, and drowsy.

They utilize a "gotcha" type marketing campaign that forces you to remember to cancel your trial prescription or they will automatically send you another month's supply of pills and automatically bill your credit card $74.95 for the next month. This is a lot more than the cost to purchase it yourself from GNC, Amazon or any other source that you can find at brick and mortar stores or online.

When you actually do call customer service to cancel your trial prescription, they force you to send them back the unused pills to get your full refund. I find this practice appalling since they obviously can't resell the unused portions to another customer after you return them to the company. Or maybe they actually do repackage them and send them to some other unsuspecting customer who knows?

You can tell by talking to the customer service reps on the phone that they have heard this complaint numerous times. They even seem to have a planned typed-out response to your complaint about getting billed for the next month. Referring to the email that they send you when you start your free trial, it is not quite clear that when they "guarantee a 30-day money-back guarantee" that you must send them back the unused pills or you will only receive a portion of your money back as a refund. I find this to be deceptive marketing practices at best, and terrible customer service policies from a company that claims to have such a great product.

Bottom Line: No, I would not recommend this to a friend

---

Sell out

By Lee L.

,

Key West, FL

,

Oct 13, 2019
Verified Reviewer

Overall Experience:

Doesn't work. I don't see how these celebrities sleep. I would bet the house Frank Thomas doesn't even use this item. Like Marie Osmond eats that horrible NutriSystem food, sure she does. Lol.

Bottom Line: No, I would not recommend this to a friend

---

Sick

By Mikr L.

,

North Attleboro, MA

,

Oct 1, 2019
Verified Reviewer

Overall Experience:

Unfortunately that anything I take that's not injectable doesn't do anything or little for me. I haven't taken anything for quite some time and I saw this advertised all over the place. So I was at the store and saw they had the 2-week bottle and the night time bottles. I started it yesterday morning and took the nighttime and again the morning. Not taking it anymore. The smell is awful, the taste is horrible, and my stomach is wretching. I couldn't sleep last night and used the bathroom frequently. Not something I would tell someone to take. Unless you like eating bad tasting things and feeling like crap. Nope!

Bottom Line: No, I would not recommend this to a friend

---

Advertisement

---

20-day trial version

By Mark L.

,

Massachusetts

,

Aug 14, 2019
Verified Reviewer

Overall Experience:

I have tried Nugenix original formula in the past. The 20-day supply was offered and I tried it. For 20 days, 16 days I felt more energy and vitality so I decided to order the monthly supply.

I took 3 capsules in the morning of the 30-day supply but noticed that I did not feel the same energy boost that I received from the trial version. After 30 days had passsed I decided not to order it again.

One year has passed and I had seen the commercial for the Total T Nugenix. Again the trial version worked as advertised. I ordered the 30-day supply and received it on 8/8/19. I took 3 capsules at 9 am this morning and am waiting for the same energy boost to happen. I'm not feeling it!

If anything changes I will let you know.

Bottom Line: No, I would not recommend this to a friend

---

Stay away from

By James P.

,

Georgia

,

Jul 18, 2019
Verified Reviewer

Overall Experience:

I took Nugenix back in January 2018 and started having a pulse rate that was unstable (AFIB). I called the complaint line to check on side, one of the first things they asked me if I had high pressure, which I do. They said to stop taking it.

Bottom Line: No, I would not recommend this to a friend

---

Overall Experience:

I should know by now that these products are just taking advantage of all the men that have problems with erectile dysfunction but I still keep believing the claims. I bought this for my husband on Amazon and gave him the recommended dose every day for two months and he didn't notice any difference AT ALL. I would give the review one star but one star stated that you had a bad experience and two stars states that it was not what you hoped for. He didn't have a bad experience, he just didn't have any experience because it didn't do anything. I will stick to the FDA approved ones from now on.

Bottom Line: No, I would not recommend this to a friend

---

Actually pretty good

By James S.

,

New Hampshire

,

Jun 10, 2019
Verified Reviewer

Overall Experience:

So the premise behind this supplement is uncoupling testosterone that is bound to hormone binding globulin, which is the body's way of keeping testosterone inactive. The main ingredient is fenugreek extract, and natural bodybuilders have been using it for decades.

I am honestly saying that I didn't expect much. However, it is the ONLY thing I have changed in my supplements in the past 2 weeks, and I feel like I had been spinning my wheels in the gym for a month prior. I now notice an undeniable difference in recovery time and stamina right about at week 2. It's better than what I expected.

Honest review...from a physician...

Bottom Line: Yes, I would recommend this to a friend

---

Lost me just after hello

By Darin G.

,

Vancouver, WA

,

Apr 2, 2019
Verified Reviewer

Overall Experience:

Hope you read this, like the idea of the product, shipping and handling are excessive. Follow up email was a good idea. Follow up call, a bit much, caller not respecting me, saying I was working and unable to talk right then, unacceptable.

Bottom Line: No, I would not recommend this to a friend

---

Trial deception

By Richard B.

,

Marina Del Rey, CA

,

Mar 4, 2019
Verified Reviewer

Overall Experience:

I ordered the trial bottle. They advertised it on TV as free, you only pay postage. Two weeks later, I get a charge for $81.35. This charge is a surprise to me since I haven't consented to continuing with this. I haven't even opened the bottle yet after reading the reviews of this product. Do not fall for this scam. They're supposed to tell you when they'll charge your account and how much. I don't even know how many months supply the $81.35 is for. Again, be cautious. This is the last time I'm ordering anything advertised on TV.

Bottom Line: No, I would not recommend this to a friend

---

Didn't feel any difference

By Martin R.

,

California

,

Feb 18, 2019
Verified Reviewer

Overall Experience:

I have been taking Nugenix for two weeks and I don't feel any difference on anything I do! I have been going to the gym 5-6 days a week and don't feel more energy, in general, I don't see any reason to keep using Nugenix.

Bottom Line: No, I would not recommend this to a friend

---