Nugenix Reviews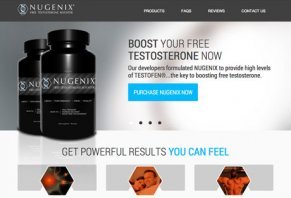 Nugenix is a dietary supplement that's claimed to naturally boost your free testosterone levels. We examine its claims to help you make an informed decision.
About Nugenix
Nugenix is a dietary supplement that's claimed to naturally boost your free testosterone levels, resulting in a boosted libido, improved sex life, increased blood flow to your muscles, and better fitness results.
Nugenix's ingredients include:
Testofen & Tribulus Terrestris – Made from the fenugreek plant, this is claimed to "sexual activity, arousal, desire, performance, and satisfaction."

L-Citrulline Malate – Claimed to relax blood vessels and provide firmer erections.

Zinc – May help improve cell repair and promote prostate and sexual health.

Vitamin B6 – May help improve arousal and red blood cell formation, both of which may be reduced due to low testosterone levels.

Vitamin B12 – May help promote digestion and boost energy.
Nugenix claims to work so well that it's become the #1 selling men's vitality product at GNC, and was the recipient of GNC's 2013 Innovation award.
In order to experience these benefits, Nugenix's manufacturer claims you should take 3 capsules once daily on an empty stomach, and that it is safe, drug-free, does not contain stimulants or hazardous fillers, and causes no side effects.
Remember the good old days when you used to be able to work a full shift, go to the gym, and come home a please your partner, all with energy to spare? Sure you do, which is why you're here. But can you reasonably expect the ingredients contained in Nugenix to boost your free testosterone and provide these benefits? Likely not, and here's why:
What Is Free Testosterone?
According to the Mayo Clinic, most testosterone in your body is attached (e.g. bound) to sex hormone-binding globulin (SHBG), while the remainder is bound to albumin and is considered "free" because it's biologically active. In other words, free testosterone is the only one that's "readily available for tissue uptake" and that can increase strength, muscle mass, and more.
As men age though (especially after the age of 30), this free testosterone can decrease significantly, leading to reduced libido, decreased strength, "flabby" muscles, and more. And its these side effects that Nugenix's ingredients are claimed to combat.
However, WebMD claims that you should "forget the supplements" claiming to increase your free testosterone, as "you aren't likely to find any that will do much good." Instead, you should focus on getting enough sleep, maintaining a healthy weight, staying active, controlling stress, and watching any medications that could potentially reduce your testosterone levels.
What's Causing Your Low Testosterone?
Next, remember that there are numerous reasons for decreased testosterone that have little to do with age, including quitting smoking, testicular injury, hormonal disorders, diabetes, obesity, and more.
Because of this, you'll definitely want to speak with your physician before trying any testosterone supplements, as they'll be able to advise the best course of action based on your individual diagnosis.
Can Testofen, or Any Other of Nugenix's Ingredients, Boost Free Testosterone?
Overall, according to the product's website, Nugenix contains the following ingredients:
Zinc 5mg
Vitamin B6 2mg
Vitamin B12 50mcg
Nugenix Testosterone Complex (Testofen® Fenugreek Extract 50% Fenuside™, L-Citruline Malate, Tribulus terrestris) 2,103mg
According to Supplement Geek, there are only 3 pieces of research associated with Testofen, which is a proprietary fenugreek extract manufactured by Gencor Pacific:
A user self-assessment from 2011 (in other words, men simply reported how they felt.
A 2010 study conducted on rats.
An unpublished study titled Human Study on Free Testosterone and Performance.
Ultimately, this means there's no clinical research available showing that Testofen can reliably increase free testosterone levels in men. Despite this, Testofen can be found in a wide variety of testosterone boosters.
In addition, according to WebMD, although tribulus is "possibly ineffective" for enhancing athletic performance, there is insufficient evidence showing that l-citrulline, zinc, vitamin B6, or vitamin B12 can provide the testosterone-boosting (or any other) benefits claims by Nugenix. Note: This doesn't mean these substances can't provide any benefits, just none of the ones promoted on the Nugenix website.
» Recommended Reading: Do Testosterone Booster Supplements Work?
Nugenix's Mixed Online Reputation with Consumers
Despite this lack of clinical evidence, SupplementCritique claims to have used the Nugenix and experienced good results, although they noted some consumers complained of hair loss, headache, digestive upset, nasal congestion, and more when using the supplement.
Also, although Nugenix may have won an award from GNC, consumers on GNC's website only gave it a 3-star rating (out of 5), with some of the most common complaints referencing failure to work and high price. Amazon.com reviewers gave Nugenix a 2.5-star rating, with some of these same popular complaints.
From a company perspective, Nugenix, who is based out of Salt Lake City, UT and also manufactures Instaflex, holds an A rating with the Better Business Bureau based on nearly 60 closed complaints (as of 1/26/15). Most of these appear to relate to the company's free trial and autoship program (more about this in the following section).
Nugenix Pricing and Refund Policy
If purchased directly through the manufacturer, a one-time order of Nugenix is priced at $69.99 plus $4.99 S&H.
Alternately, a 14-day trial is available for $4.99, for which you'll be sent a 30-day supply of Nugenix. Then, after your trial has expired, you'll be billed $69.99 for the full price of the product, and will also be enrolled in the company's autoship program. This means you'll continue receiving a new order of Nugenix once per month, and your credit card will be billed $69.99 plus $4.99 S&H each time.
Important note: Based on our professional experience, free trials are often intended to all but ensure you'll end up being charged full price, and autoship programs to lock you into recurring shipments (and the associated charges). Because of this, we often recommend avoiding products sold through these methods.
Outside of the 14-day trial, Nugenix comes with a 30-day refund policy, less S&H charges, even if you've used the entire bottle. However, you will need to send the bottle back to the company, and your return package must be postmarked within 30 days of your original purchase.
In order to request a refund or un-enroll from the Nugenix autoship program, you'll need to contact customer service at 855-714-3234 for an RMA.
Note: If you'd rather purchase Nugenix through a third-party retailer, the supplement is also available at GNC, Drugstore.com, Lucky Vitamin, The Vitamin Shoppe, and many others.
Bottom Line: Is Nugenix Effective?
Considering the fact that most medical professionals recommend abstaining from supplements that claim to boost free testosterone levels, and the clinical evidence showing Nugenix's ingredients can provide any benefits is tangential at best, we'd recommend speaking with your physician about more effective methods of boosting your testosterone levels.
» Recommended Reading: 7 Ways to Naturally Increase Testosterone Levels
Zero results, terrible customer service.

By Dale S.

,

Colorado

,

Dec 11, 2019
Verified Reviewer

I ordered a 2-week trial for $5.00. They sent the bottle with some directions to call a prerecorded message before taking your first dose. I called the number and listened to a long spiel about the capsules not working well unless you workout/exercise daily, and eat a healthy diet. I'm sure that we'd all get a great experience if we just followed those guidelines instead of taking the large horse pills that they sent. I opened the bottle and the first thing I noticed was the terrible smell and taste. You need to take three large capsules daily. The capsules smell and taste like something you'd feed to a horse or cattle. Hours after taking them I started burping up that same bad taste. Took the capsules regularly for the 2-week period and recognized none of the benefits that they advertised in there marketing. I suffer from sleep apnea and use a CPAP for this condition. What I did notice was increased apneas every night. This means that I was having additional problems sleeping, therefore I was waking up feeling tired, and drowsy.

They utilize a "gotcha" type marketing campaign that forces you to remember to cancel your trial prescription or they will automatically send you another month's supply of pills and automatically bill your credit card $74.95 for the next month. This is a lot more than the cost to purchase it yourself from GNC, Amazon or any other source that you can find at brick and mortar stores or online.

When you actually do call customer service to cancel your trial prescription, they force you to send them back the unused pills to get your full refund. I find this practice appalling since they obviously can't resell the unused portions to another customer after you return them to the company. Or maybe they actually do repackage them and send them to some other unsuspecting customer who knows?

You can tell by talking to the customer service reps on the phone that they have heard this complaint numerous times. They even seem to have a planned typed-out response to your complaint about getting billed for the next month. Referring to the email that they send you when you start your free trial, it is not quite clear that when they "guarantee a 30-day money-back guarantee" that you must send them back the unused pills or you will only receive a portion of your money back as a refund. I find this to be deceptive marketing practices at best, and terrible customer service policies from a company that claims to have such a great product.

Bottom Line: No, I would not recommend this to a friend

---

Sell out

By Lee L.

,

Key West, FL

,

Oct 13, 2019
Verified Reviewer

Doesn't work. I don't see how these celebrities sleep. I would bet the house Frank Thomas doesn't even use this item. Like Marie Osmond eats that horrible NutriSystem food, sure she does. Lol.

Bottom Line: No, I would not recommend this to a friend

---

Sick

By Mikr L.

,

North Attleboro, MA

,

Oct 1, 2019
Verified Reviewer

Unfortunately that anything I take that's not injectable doesn't do anything or little for me. I haven't taken anything for quite some time and I saw this advertised all over the place. So I was at the store and saw they had the 2-week bottle and the night time bottles. I started it yesterday morning and took the nighttime and again the morning. Not taking it anymore. The smell is awful, the taste is horrible, and my stomach is wretching. I couldn't sleep last night and used the bathroom frequently. Not something I would tell someone to take. Unless you like eating bad tasting things and feeling like crap. Nope!

Bottom Line: No, I would not recommend this to a friend

---

20-day trial version

By Mark L.

,

Massachusetts

,

Aug 14, 2019
Verified Reviewer

I have tried Nugenix original formula in the past. The 20-day supply was offered and I tried it. For 20 days, 16 days I felt more energy and vitality so I decided to order the monthly supply.

I took 3 capsules in the morning of the 30-day supply but noticed that I did not feel the same energy boost that I received from the trial version. After 30 days had passsed I decided not to order it again.

One year has passed and I had seen the commercial for the Total T Nugenix. Again the trial version worked as advertised. I ordered the 30-day supply and received it on 8/8/19. I took 3 capsules at 9 am this morning and am waiting for the same energy boost to happen. I'm not feeling it!

If anything changes I will let you know.

Bottom Line: No, I would not recommend this to a friend

---

Advertisement

---

Stay away from

By James P.

,

Georgia

,

Jul 18, 2019
Verified Reviewer

I took Nugenix back in January 2018 and started having a pulse rate that was unstable (AFIB). I called the complaint line to check on side, one of the first things they asked me if I had high pressure, which I do. They said to stop taking it.

Bottom Line: No, I would not recommend this to a friend

---

It doesn't do anything

I should know by now that these products are just taking advantage of all the men that have problems with erectile dysfunction but I still keep believing the claims. I bought this for my husband on Amazon and gave him the recommended dose every day for two months and he didn't notice any difference AT ALL. I would give the review one star but one star stated that you had a bad experience and two stars states that it was not what you hoped for. He didn't have a bad experience, he just didn't have any experience because it didn't do anything. I will stick to the FDA approved ones from now on.

Bottom Line: No, I would not recommend this to a friend

---

Actually pretty good

By James S.

,

New Hampshire

,

Jun 10, 2019
Verified Reviewer

So the premise behind this supplement is uncoupling testosterone that is bound to hormone binding globulin, which is the body's way of keeping testosterone inactive. The main ingredient is fenugreek extract, and natural bodybuilders have been using it for decades.

I am honestly saying that I didn't expect much. However, it is the ONLY thing I have changed in my supplements in the past 2 weeks, and I feel like I had been spinning my wheels in the gym for a month prior. I now notice an undeniable difference in recovery time and stamina right about at week 2. It's better than what I expected.

Honest review...from a physician...

Bottom Line: Yes, I would recommend this to a friend

---

Lost me just after hello

By Darin G.

,

Vancouver, WA

,

Apr 2, 2019
Verified Reviewer

Hope you read this, like the idea of the product, shipping and handling are excessive. Follow up email was a good idea. Follow up call, a bit much, caller not respecting me, saying I was working and unable to talk right then, unacceptable.

Bottom Line: No, I would not recommend this to a friend

---

Trial deception

By Richard B.

,

Marina Del Rey, CA

,

Mar 4, 2019
Verified Reviewer

I ordered the trial bottle. They advertised it on TV as free, you only pay postage. Two weeks later, I get a charge for $81.35. This charge is a surprise to me since I haven't consented to continuing with this. I haven't even opened the bottle yet after reading the reviews of this product. Do not fall for this scam. They're supposed to tell you when they'll charge your account and how much. I don't even know how many months supply the $81.35 is for. Again, be cautious. This is the last time I'm ordering anything advertised on TV.

Bottom Line: No, I would not recommend this to a friend

---

Didn't feel any difference

By Martin R.

,

California

,

Feb 18, 2019
Verified Reviewer

I have been taking Nugenix for two weeks and I don't feel any difference on anything I do! I have been going to the gym 5-6 days a week and don't feel more energy, in general, I don't see any reason to keep using Nugenix.

Bottom Line: No, I would not recommend this to a friend

---

It really does boil down to a good diet and workout to get the benefits

By Art M.

,

New Market, TN

,

Feb 2, 2019
Verified Reviewer

I've studied many male enhancements and this product really does what it says it does, but, it is only as good as your diet and workouts. If you want real results with true and natural Test boosters, it's better to get your BCAA in order, L-Carnitine, L-Tyrosine, Maca, just to mention a few. I learned the hard way! I take all my BCAA's very strictly, have lost more weight, gained lean muscle mass, and my Test is through the roof. Oh, I also take a good multi-vitamin and mineral as well. I'm 57 years young and my wife tells me I'm too much in the bedroom. The Fenugreek or Tribulus is very good and natural. The bottom line "Nugenix" needs to be taken with a serious diet plan and workout, otherwise, why not go my route? BCAA and multi-vitamin and mineral?

Bottom Line: Yes, I would recommend this to a friend

---