Opendoor
This company has claimed this profile, is getting alerted on any new customer reviews entering this page, and may engage in dialogue with its customers to address their matters.

Companies cannot pay money or provide goods in order to remove or alter customer reviews.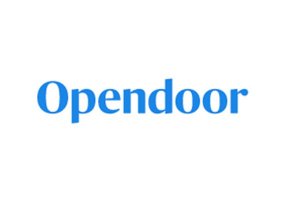 Summary
Opendoor's tech-driven homebuying platform presents an attractive option to sell your home fast. Our review will help you decide if it is the right service for you.
About Opendoor
Opendoor is a tech-based real estate company that can buy your home in as few as 14 days.
The company has streamlined their buying process to cut down on the wait times that you encounter with a traditional sale while charging purportedly low fees and cutting down on the unknowns you'd typically face.
For anyone who has sold a home, a service like Opendoor is an inviting one. A home sale often requires a lot of work and stress on the seller's part.
If your home needs work, you have to call contractors and handymen, negotiate the prices and oversee the repairs. An inspection may reveal serious issues that could hold up your sale. Buyers could back out of a sale because their financing falls through.
You can avoid all of this, Opendoor says, by using their tech-driven process to sell your home in two weeks. Furthermore, Opendoor allows you to back out of the sale up to three days before closing without paying a fee or losing earnest money.
In our review of Opendoor, we'll examine how the company's buying and selling services work, talk about the fees it charges, give you an overview of what customers are saying about their selling experience with Opendoor and compare Opendoor to its main competitor, Offerpad.
Selling with Opendoor
Opendoor's selling services are available in 20 cities, including Atlanta, Austin, Charlotte, Dallas, Denver, Houston, Las Vegas, Los Angeles, and Portland. They typically buy homes that meet the following criteria:
Between $100,000 and $500,000
Built after 1960
Maximum lot size of 0.5 acres (may be bigger in certain markets)
Not in a flood zone
Has solar panels you paid for or, in the case of a lease, will pay off before closing
Not bank- or government-owned
No in double escrow
The Opendoor sale process takes place in several steps that we will detail below:
Application
We filled out an Opendoor application to understand what the process is like. Most of the questions the site asks you relate to the features and condition of your home and the things inside it.
For example, the application will ask you about your appliances and what condition they're. If your appliances have extensive cosmetic flaws, this may reduce the price Opendoor offers you.
The application will ask you about the condition of the walls, carpet and flooring your home, as well as to inquire about any room additions in your home.
Once Opendoor obtains all the necessary information from your application, they will compare your home to other similar homes that sold recently in your neighborhood. This is a universal step all real estate agents and companies take when determining home value.
Opendoor will check other metrics including neighborhood trends to finalize how much they're willing to pay for your home. They will send you a buying price within 24 hours and the offer is good for five days.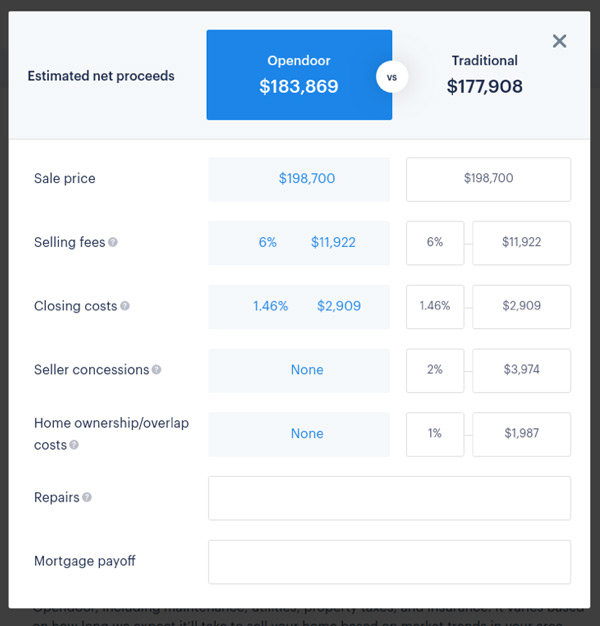 Screenshot of the quote I received for my home.
You'll see that Opendoor gives you their price after fees versus a traditional sale's price. They break down the price difference further by showing you an itemized list of fees. As you can see, they predicted their fees to cost me 7.46% versus 10.46% I'd pay by using a real estate agent.
Finally, Opendoor does not negotiate their pricing unless you can provide compelling evidence that your home is worth more than what they quoted you. This evidence would include information you may have forgotten to include in your application that would boost the home's value.
Assessment
If you accept Opendoor's offer, the company will send an inspector to your home to assess the house's overall safety, cleanliness, and functionality. The difference between this inspection and the on during a traditional sale is what happens afterward.
Traditional inspection results in the buyer coming up with "contingencies," which is a list of things they want to be fixed before they buy the home. As a seller, you can negotiate the contingencies or accept them.
However, when you sell your home to Opendoor, you forfeit the right to bargain over contingencies. Furthermore, all the repairs Opendoor does will happen after you move out. Therefore, it's very difficult to confirm that Opendoor actually made the repairs you paid for.
Also, you give Opendoor the license to charge you for whatever repairs they deem necessary, which may end up costing you more than what you'd have paid if you negotiated contingencies with a buyer in a traditional sale.
Closing Day
"Closing day" refers to the final step of your sale after all repairs are made, financing is secured and Opendoor agrees to buy the home. In many cases, closing day for a traditional sale can take a couple of hours. Opendoor says their closings can take as few as 20 minutes.
This expedited closing process fits with the company's overall emphasis on providing a quick home sale that eliminates the hassle of traditional sales.
Takeaways
Opendoor's process is radically different from the traditional way of selling a home. Normally, you'd have to find a real estate agent, make cosmetic changes to your home, remove all your furniture if you decide to bring in a stager, stress out over the appraisal and inspection and then hope your buyer's financing doesn't fall through.
Furthermore, the most recent data indicates that the entire sale process takes an average of 47 days.
Opendoor offers the distinct advantage of getting a math-based offer, a list of fees and a sale process that focuses on efficiency. While it's a drawback that you give Opendoor the right to make all necessary repairs and thus cut into your sale profit, they do all the work with their own contractors.
The company is removing the headaches of a stressful situation, especially if you have to sell your home quickly.
Buying with Opendoor
While buying a home through this service isn't as big of a part of their business as selling, they offer a distinct advantage if you're prepared to sell to them and buy a home in any of the 20 areas where they operate.
Opendoor has a trade-in option through which you can sell your home to them and then put your sale proceeds toward a home that you buy from them, too. By doing this, you'll save up to 1.25% in fees and you get to deal with one company instead of multiple agents and real estate firms.
Opendoor's Fees
Opendoor makes it clear that their typical home sale charges around 6.4% in fees, whereas going the traditional route will cost you 7% to 10%. These are averages, though, and Opendoor's fine print says their fees can range from 6% to 14%.
Here is a quick list of fees Opendoor would charge me for the offer they provided:
Buyer Commission: 3%
This is a commission that Opendoor will pay to the agent of the person buying your home when Opendoor sells it. This is a drawback, as the point of using Opendoor is to skip a fee like this that you'd pay in a traditional sale.
LIsting Costs: 2%
This is a fee Opendoor charges to get your home ready for sale (prepping, staging, listing). Interestingly, Opendoor estimates you'd spend around 1% getting the home prepped on your own, which means you're paying an additional 1% to have Opendoor do it for you.
Closing Costs: 1.5%
These costs are what you pay to have the home's title researched and transferred to the new buyer or their bank, holding the home in escrow and finalizing all the paperwork needed to sell the home.
Opendoor notes this fee is an estimate and will be finalized 3 to 7 days before closing. They point out you may pay around a 0.3% additional fee if you live in an HOA neighborhood.
Convenience Charge: 1%
This is a fee you pay for using Opendoor. Their website says its what they charge "to deliver a hassle and stress-free experience." Keep in mind that, in my case, I'd already been paying an additional 1% in listing costs so they can take off my hands the hassle of staging a home.
Repair Charge: 1.7% to 3.9% (On Average)
The final charge in Opendoor's list of fees is the repair charges they estimate once they do an assessment of your home.
These charges reflect repairs they think the future buyer will ask for when Opendoor tries to sell the home. In other words, they are making you pay for repairs they should be paying for when they sell the home.
Opendoor didn't give me a quote for repair costs because they did not do an assessment. However, its site says the typical repair request is between $3,400 and $7,800, which would be an additional fee of 1.7% to 3.9%. This would boost my fees from 7.5% after closing costs to 9.2%–11.4%.
Takeaways
Opendoor's fees could be lower than a traditional sale in specific situations:
You're paying the mortgage on your unsold home while living in your new home.
Your home needs just a few, inexpensive repairs.
However, this isn't always going to be the case with a traditional sale. For example, if you live in a hot real estate market, there's a really good chance your home could sell within days of listing it. The buyers will most likely pay at or above market value.
In this scenario, you wouldn't pay overlapping mortgages. Second, hot markets tend to result in backup offers on homes, which means a buyer is less likely to press for a long list of repairs if they know someone else has made a backup offer and will buy the house.
Appraisal
And, the other factor here is their appraisal of your home value. Even if Opendoor's fees are lower than a traditional sale, you may not bring in as much money because they may undervalue your home, said James McGrath, founder of NYC-based listing site Yoreevo.
"You're not going to get as good a price by selling to Opendoor," McGrath told us. "Presumably they are working on improving their algorithms to lower risk and raise their offers but for now, if focusing purely on price, you're going to be better off putting the home on the market and offering it to all buyers."
We heard a similar opinion from Ben Mizes, a Realtor and founder of Clever, a company that pairs home buyers and sellers with real estate agents that offer lower commission rates.
"While Opendoor is known to offer mostly fair prices, they do not negotiate so it's very likely that you will get a better offer on your home by using a traditional real estate agent."
I wanted to know how Opendoor's appraisal compared to other sites, so I found algorithm-based appraisals from Redfin, Zillow and dug up an estimate my realtor did a few months ago (home valuations in my area have gone up since then):
Opendoor: $198,700
Redfin: $217,259
Zillow: $200,707
My realtor: $228,000
These comparisons show that Opendoor offered the lowest price even though comps in the same neighborhood sold for $5,000 to $16,000 more, were older and had smaller living areas.
My analysis of Opendoor's appraisal indicates that even though their fees might be lower than a traditional sale, I'd make considerably more money from my home sale if I chose to sell the home through my Realtor.
What this tells me is that Opendoor probably isn't the right fit for you if you have time to sell your home and want to maximize your profit, either because you have a lot of equity or you recently bought your home and don't have much equity.
When you couple the possibility of a lowball appraisal with selling fees of up to 14%, you could lose out on a lot of equity if you choose to use Opendoor instead of a real estate agent.
Analysis of Customer Reviews
Opendoor has hundreds of reviews on HighYa.com, with readers giving the service an average of 3.8 stars. Around seven out of 10 readers would recommend Opendoor to a friend. We've included a summary of reviewers compliments and complaints below:
Compliments
Fair pricing: Multiple reviewers said that Opendoor's offer price was near, at or above what the fair market value was for their home.

Good customer service: We read several times that Opendoor's customer service reps were helpful and willing to answer questions. Also, we read that Opendoor reps were flexible with the closing process when the seller ran into problems with the home they were hoping to buy after their sale or had to reschedule a walk-through.

Smooth transaction: Several reviewers expressed initial skepticism about Opendoor's service but found that skepticism unwarranted after going through a clean, quick sale with Opendoor.
Complaints
High repair bills: Several customers complained that Opendoor charged them for a litany of repairs big and small, resulting in thousands of dollars in required charges. Others said they felt the repair requests were excessive.

Poor communication: Multiple customers said that communication with Opendoor was difficult, whether it was coordinating repairs of their home or finding out what was happening with a delay in their closing.

Lowball offers: Several negative reviews focused on how Opendoor gave them an offer that was significantly below a Realtor's estimate or the fair market value.
Opendoor vs. Offerpad
If your goal is to either sell your home fast or skip all the hassle of a traditional sale, then Opendoor and Offerpad are the two leading options you have.
Both services take you through the same process: application, assessment, and closing. They both use their in-house algorithms to calculate your home's value, then assess the home and quote you for repairs.
The main differences between the two services are:
Offerpad price offers are good for four days instead of five

Their fees are an average of 7% compared to Opendoor's 6.5%

Offerpad limits cancellations to happening up to the point of the quote for repairs on your home, whereas Opendoor allows you to cancel up to three days before closing

Opendoor will allow you to stay in your home for up to two weeks after closing (for a fee) while Offerpad limits your extended stay to three days after closing (for free)
In our opinion, these key differences make Opendoor the ideal choice if you want flexibility. The company allows you to cancel far later in the process than Offerpad.
Also, Opendoor lets you stay in your home for two weeks after closing, which could be crucial if you're buying a new home and closing is delayed.
The Bottom Line: Is Open Door a Good Fit for You?
Based on our analysis, Opendoor is right for you if you find yourself in the following situations or situations similar to them:
You accepted a job offer in another city or state and start in a couple of weeks
You found the home of your dreams and need to sell your current home
You have to downsize your home suddenly
You want the convenience and speed of Opendoor's process and don't care about the price
In each of these situations, you will benefit greatly from Opendoor's efficient closing process. If you're relocating for a new job, found your dream home or need to downsize, Opendoor can buy your home in as little as two weeks.
This means you'll have a big burden lifted when you move into your new city for work or you await the closing of your home purchase. If you're in this situation or a similar one, Opendoor is a smart choice, says Colby Hager, owner of San Antonio-based Capstone Homebuyers.
"Opendoor's greatest strength, in the mind of the home seller, is their ability to close on a set date for a set price. Especially when new homeowners are moving to another house, this is a major benefit." Hager told us. "It can also be a great tool for homeowners who need to sell on a tight timeline a house that needs minimal repairs."
In general, Opendoor is an excellent option if you're in a jam and need to sell your home quickly. However, if you have time to go the traditional route, there's a very good chance you could earn more money from your sale via a higher appraisal and similar fees (if not lower) than what Opendoor would charge you.
Customer Reviews
Posted on Nov 3, 2016
Waste of time
Sent me postal letter stating an offer range and interest in buying. I wasted time trading emails and providing information. They then made up some excuse and said not interested after the initial letter declaring otherwise. Find an agent or sell it yourself. Don't waste your time.
Bottom Line: No, I would not recommend this to a friend
Posted on Jan 20, 2017
Low offer price and high fees
I received mail from Opendoor and I submitted details online. Their offer is 5-10% lower than the market price and overall the fee is 15% (including 6% broker fee, 6% service fee, etc.).
It is not worth it to sell your home to Opendoor. Waste of time.
Bottom Line: No, I would not recommend this to a friend
Posted on Apr 3, 2017
Run away when you see an Opendoor sale
I was looking into buying a house in Arizona, and I didn't want to waste time. I saw a house with Opendoor on the door, and I accessed the house with their code. Note: They now had my contact information.
I liked the house, and put in a CASH, full asking price offer with 21 days closing. It doesn't get better than that. We sent the offer over, and we got an acknowledgment back that the offer was received. We waited. And waited.
The time period expired, and my realtor called Opendoor. They claimed they never got the offer. Then, they said they'd look into it and would submit a counter offer, and give us a slight price break (even $200 on a $358,000 house would have been thoughtful). Then, at the end of that day, we get an email ASKING US to re-write the exact offer, at the same price as the first offer. So much for them doing what is customary and writing a counter offer.
Why are they doing this? I suspect that they are contacting others who texted them for the code and were shopping for a higher bidder. There is no other reasonable explanation. I walked away from it. No house is worth playing games. If you see Opendoor, walk away.
Bottom Line: No, I would not recommend this to a friend
Posted on Sep 5, 2017
High fees but don't wait
I was simply looking for a comp for my house to compare it to the Door estimate I had received. I submitted my request and received an email immediately saying that I would have an offer with in 24 hours with a request to upload pictures. I never received the offer, just another request to upload pictures. I attempted to do this, but there is no way to do this from their website after you submit your first request. I had to actually call the broker I guess, Chris Mason, and he told me just to email the pictures to him and he would send them on.
I received an offer, which was actually fair except for the fees for brokerage, holding and fees to get the house ready for sale which totaled 12%. In my case, $43,000. I waited a few days to ask questions about the offer. I talked with Chris and resubmitted a request for an offer, the only way to get your offer information.
I received an email from Opendoor at 5:30 pm on 8/30 that stated they were excited to make an offer. I pulled it up, and it was the original offer and then less than at 5:59 pm on 8/30 I received another email from them stating that they could not make me an offer at this time. Confused, I emailed Chris asking what was going on. He did not call me to explain; he sent an email stating that the in reevaluating the DFW area that in this case my fees went up to 18% so they could not make an offer at this time. Keep in mind it took them 29 minutes to make this decision after sending me the original offer. What is going on?!
Bottom Line: No, I would not recommend this to a friend
Posted on Sep 20, 2017
Waste of time
Pretty disappointing experience (if you can even call it that). My husband and I were curious after hearing ads on the radio what they would offer us for our 3-year-old house in the DFW area. I admit the allure of skipping all the prep, not having to have the house show-ready all the time and having a fast close was enticing.
It started off promising. Within minutes someone called and said an offer was being generated and we would have a follow-up with an agent to discuss things the next evening (great, for about 5 minutes), until we get a follow-up email saying due to the homes in our area being on the market for varying times at varying prices, they could not provide us with an offer. Seriously? Pretty sure that is the entire basis of your services, but advertise away! Apparently, the "instant" offers are made only to those homes on a select basis with optimal selling conditions. Misleading, to say the least.
This will never replace a realtor or the human element of home selling. Our house is practically brand new, beautiful and I have no doubt they missed out on an opportunity. Stick with your realtor.
Bottom Line: No, I would not recommend this to a friend
Company Response from Opendoor
Dec 19, 2017
Hi G.M.,
Thank you for sharing this feedback. We're sorry we were unable to provide you with an offer. When someone from Opendoor first gave you a call, it was before our team of home experts had a chance to review the details of your home. Once they had a chance to understand your home and the neighborhood, we did not feel like we would be able to provide you with a solid offer on your home instead, we moved forward with the recommendation of the traditional route.
This is not because we don't think your home is great but rather because there is higher than normal variability in the sale prices and time to sell homes similar to yours in the area. So we believe having an agent visit and price the home in person would likely result in a higher net offer for you. Our goal is to deliver the most value we can to you as a customer.
We hope with this additional color you can see it was not, and is not our goal to mislead you. Thanks again for taking the time to share your feedback.
Opendoor Customer Experience
Posted on Jan 15, 2018
Worst experience of my life
Where do I begin? I got an offer on my house. The offer was great compared to the the other offer they gave me a year prior. This time it was actually market value. There was the 6% Opendoor "fee" off of that price. No biggie because I would be paying a total of 6% to realtors anyways.
They came to do the inspection and did it with a fine tooth comb. ANY TINY THING they wrote down and the repair estimates were insane! They wanted $4000 credit for all that. I told them I would fix them. They wanted proof via pictures and receipts. Ok, fine. I do half of the stuff, and after sending the pictures, nobody ever sent a new addendum reflecting that the credit I had to pay them was lessened.
THREE DAYS BEFORE CLOSING I contacted them over and over and over because, without this addendum and confirmation, I wasn't going to rent an apartment, U-Haul, lose of on first last month's rent, etc. The day of closing, still no word! Can you imagine if I would have moved out? They wouldn't even return my calls on the close date! I had to call Title and cancel because of no communication by Opendoor.
As soon as I canceled with Title, Opendoor called me. They said my case manager Guy had been on vacation that's why he never got my pictures of my repairs. That was complete B.S. because the first like 4 times I sent him all of the pictures, he kept asking me to send them again instead of just looking back through his email and finding them, so each time I had to send them over and over and over thinking that this guy was never going to even look at them. Also, who goes on vacation when a house they are covering is about to close?
The date of closing after I called Escrow to cancel I was asked again to send the pictures! Finally about two weeks later we were ready to close again. Because Opendoor took so long on their end, we had to extend the close date, and Opendoor said we had to have a new inspection! So after all of that time because they took so long to actually look at the pictures and make a new addendum for the credit they wanted, now I have to have a new inspection. So what? Is everything going to happen again and all these credits are going to happen again? We were absolutely furious. We fought so hard to get that credit back and now they're saying that we have to have another inspection because it took too long to close? I feel that they did this to punish us for not giving them all the credit.
We had a new inspection with an old guy who wrote down even more stuff than the first time and who actually damaged my house and created a leak in the backyard. I had two faucets outside, one which I never used since being in the house because it was right next to the AC unit. Well, he turned that on and apparently when he tried to turn it off, it was leaking, so instead of being a great guy and letting us know, he just left it and we didn't even discover it until days later, and at that point it had gone underneath the AC unit and flooded a little portion of the yard.
It was only several days before closing again, and we were still waiting to hear about the inspection results of the second inspection it was getting down to the wire, and we were nervous to find a new place because for all we knew Opendoor was not going to pull through again. All of it started to sound like a sham for more credit, and finally, I wrote to him and told him that I thought it was a sham for more credit. After stating that, finally everything came through and they did not ask for more credit. Thank God.
Three days before close the Title company they chose tells me that they do not have my payoff statement. While I'm supposed to be packing and boxing up things in a rush, and I had to get the U-Haul at 10 that morning, I'm getting calls from Title saying they don't have my payoff statement!? This is something they were supposed to get an order from my mortgage company right off the bat, not three days before close. I gave them my mortgage information as soon as we opened Title back up a month prior.
I called my mortgage company, and they would not allow me to have my payoff statement, it had to be requested from Title and given straight to Title, which is the law, and they should know because that is what their business is. My mortgage company told me it usually takes about a week for them to get my payoff statement to the Title company. Opendoor chose this crap Title company, and now I'm two days before closing and I have the U-Haul in my front yard half full. I'm sitting here packing like crazy getting everything out of my house, and I'm still wondering if I'm actually moving out.
I called Title and spoke to the agent who was working on my case's boss and complained about her incompetence because of this and with my efforts alone I was finally able to get this deal done. By a miracle of God, it pulled through. I gave them half of the credit they originally wanted and they took possession of the house with me rushing out of the house because of all the crap I had to deal with I was struggling to get out on time.
All in all I'm happy with the results of what they paid me, but the entire process was the hardest process I've ever gone through in my ENTIRE life and the most unprofessional one. The level of stress my family and I went through was ridiculous. The only solace I have is that they still have my house on the market and it has not sold for them at what they want. When they listed that house, it was barely above what they paid me and they've been lowering the price. I feel justified and will always tell people not to deal with Opendoor.
Bottom Line: No, I would not recommend this to a friend
Company Response from Opendoor
Jan 16, 2018
Hi Sam,
Thank you for taking your time to share your feedback with us. We'd like to better understand your situation and concerns. Can you please email us your contact information and the address of the home you sold to us at community@opendoor.com, and we'll have someone on our team reach out to you as soon as possible?
Posted on Jan 18, 2018
Cheap company
I am signing for my home tomorrow. They will scam you to the very end about things they will fix in a home, they make deals about fixing the home with only things they don't have to put any money into.
1. They said they would match and replace a floor. Their solution was to move it from other areas that now do not have a floor.
2. They said they would fix a cartridge in a shower. They turned up the water heater to leave sinks boiling. This they did the day before closing to try to make me feel like I did not have a choice. They would not even change a light bulb they signed to fix.
Message to agents stays clear with your buyers. My agent paid for the repairs to get me into the house and now has to bill Opendoor.
Buyers, plan to fix everything after the inspection, hire your own inspector, not one from Opendoor. This part will hurt you dearly.
You will pay for everything extra, and they will try to scam you into paying for things they are supposed to cover.
It has been a nightmare dealing with this company. If I knew what I was getting into I would never have tried to work with them. It has been such a headache.
Bottom Line: No, I would not recommend this to a friend
Company Response from Opendoor
Jan 18, 2018
Hi S. Susser,
Thank you for the feedback. We're committed to delivering a sound home in good repair, and we're sorry to hear that you're having a frustrating experience. Would you be able to email us at community@opendoor.com with a little more information, so that we can properly address the issue?
Posted on Feb 6, 2018
Think twice, maybe three times, before doing business with Opendoor
Unless your house is in perfect shape, don't bother. They will make you an offer. Send out a team of 6 inspectors to photo and inspect every little thing. After that, they will deduct all of the repairs that this team of inspector find according to their repair estimates. If not within their profit margin, they cancel the contract. They do this by overpriced repairs and watch that crack on the light switch plate and the electric outlet that does not work; oh wait, that's a security device disguised. Bottom line is, do not expect much. Good luck.
Bottom Line: No, I would not recommend this to a friend
Company Response from Opendoor
Feb 6, 2018
Hi Ron,
We're truly sorry for the negative experience you had during your home assessment. Our goal is to provide an assessment that is both fair and painless, and it sounds like we didn't hit that mark. Would you be able to email us at community@opendoor.com with more information? We'd like to hear more about your experience and improve the home assessment experience for Opendoor customers.
Posted on Feb 15, 2018
Year old comps!
It takes at least 5 days to get your offer! Then when you get it, expect it to be WAY LOW if there aren't sales in your neighborhood because people like to stay! Because of the downturn, people had to sell low in the past. The comps they used were from a year ago, which isn't how it's done. There were sales that were newer at prices $100,000 or higher. Now I will list it for sale by owner.
This is for people who got in when they bought a foreclosure, not those who actually could afford the neighborhood they live in. It is so sad that these companies even think they are helping people who actually paid to live in our expensive homes. People who sell their homes for nothing are ruining the market.
Bottom Line: No, I would not recommend this to a friend
Company Response from Opendoor
Feb 16, 2018
Hi Pamela,
We're sorry that our offer didn't work out for you. Our goal is to make the most competitive offer we can by reviewing the sale prices of comparable homes in your neighborhood and the unique information you provide. If you think we may have missed a comp or an important feature of your home in our offer, please don't hesitate to send us an email at community@opendoor.com to let us know.
Posted on Feb 19, 2018
Very upset
I am BEYOND FRUSTRATED with this company.
The biggest issue - communication. They are absolutely terrible at it. It took them forever to get back to us after their initial inspection, but we went ahead because it was the holidays.
When we got the results back, they told us that we are welcome to do any repairs ourselves. We decided to take on the foundation ourselves because there was a high contingency cost and we just wanted a few different quotes. They let us do the foundation ourselves.
And we did. We got a couple of quotes, had a certified construction engineer come out and confirm what needed to be fixed. We had it fixed. Another certified engineer came out and confirmed it was fixed. We had a plumber confirm our plumbing was still good. Great! I sent the results to Opendoor. They came back and said they wouldn't accept it. Because the engineer THEY had come out recommended a different number of piers. Even though we had a certified report that we were completely up to code. Even though THEY SAID we could do this on our own.
Mind you, this is all 10 days before we close. So we ask them to send their engineer out ASAP to come through the house again to check it once more. We scheduled for the next day at 11:00. NO ONE shows up. My husband checks his email to see that they went ahead and emailed him a few minutes before 11:00 to let him know they went ahead and rescheduled for the next day at 8:00 AM without any other communication. The next day the engineer doesn't bother showing up until 8:38 AM.
He goes through the house. He tells my husband everything is up to code, and he originally wanted the extra piers just to be safe. He tells him he is going to go back and take it off the list of repairs.
Turns out he completely lied. Opendoor called us again today to say that they wanted to go ahead and do the extra work. WE CLOSE IN A WEEK.
I can absolutely, in no way, recommend a company who acts like this. Such poor communication. If only they would have been more clear from the beginning, communicated effectively throughout this entire process, and told us earlier that essentially we had no choice but to use them to repair our foundation, that would have been a different story.
Beyond frustrated. I don't like being lied to, and I don't like being tricked. Here we are, a week from closing with absolutely no power. Mad is an understatement.
Bottom Line: No, I would not recommend this to a friend
Company Response from Opendoor
Feb 20, 2018
Hi Brittany,
Thank you for reaching out and taking the time to share your feedback with us. We apologize for the scheduling error and the inconvenience it may have caused. Our team has also reached out to follow up on the repairs.
We appreciate you sharing your experience and will use it as an opportunity to improve. Please feel free to get in touch with us at community@opendoor.com if you have any other questions or concerns.
Posted on Feb 26, 2018
Not a fair and honest experience
All was good until I was waiting for the inspection report. They said 4-7 days, but I don't see how that would work if we wanted to close in a few days like they offer. We knew the house needed some work, but nothing major. They estimate up to $8k, and received a repair list for $15k! They "say" they ask for necessary repairs, but charging $25 to tighten a bolt on the stairway railing and $20 to tighten a toilet screw seems totally crazy.
So we fixed what we could since we were closing in a week, and Aubrey said all repairs were needed two days prior to signing, so clearly don't want you to be able to fix stuff. And not to mention when I had questions about repairs. Aubrey had no clue how to answer them and had to check with her team every time, and that took forever. She even said she tries to respond to emails within 24 hours. That's definitely not acceptable in this line of work when people are trying to move and make plans.
The WORST part of it all is seeing that they DO NOT fix half of the items they list on the repair report you have to pay from your proceeds. A patio roof "needed" fixing, and they charged $2000 for that, which wasn't done. T,hey charged $300 to replace a shower door, that was NOT done. $300 to fix windows that were NOT done. Seeing your "flipped" house posted on their website and realizing what kind of company they truly are is very frustrating. The work that was done was below average as well. I really feel sorry for the next buyer. PLEASE be cautious of this.
Bottom Line: No, I would not recommend this to a friend
Company Response from Opendoor
Feb 27, 2018
Hi Samantha,
Thank you for your feedback. Our team has reached out to you to clarify and address your concerns. Please feel free to email us at community@opendoor.com if you have any other questions.
Our Promise to You
In order to safeguard you and ensure helpfulness and relevance, our compliance team manually assess every customer review before it goes live.
We have a zero-tolerance policy for fake reviews, and companies cannot control or alter any reviews at any time.