Physio Omega by PhysioTru Reviews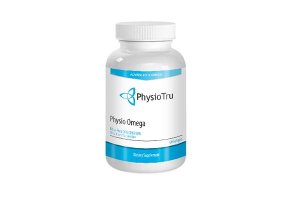 Featuring all three beneficial omega-3 fatty acids—including DPA, EPA, and DHA, Physio Omega by PhysioTru claims to deliver heart, brain, eye, and cellular protection.
About Physio Omega by PhysioTru
Physio Omega by PhysioTru is a dietary supplement that promises to deliver a convenient blend of DPA, EPA, and DHA fatty acids, in just the right amounts, to help "nourish your cells" and boost your energy, protect your heart, and potentially even improve brain and eye health.
The website tells us that all of the oil contained in Physio Omega is sustainably sourced from wild-caught Menhaden, which they claim is the most abundant source of DPA. From there, the oil is molecularly distilled to the highest possible purity.
Compared to Krill oil and regular fish oil products, PhysioTru claims their omega supplement is up to 10X stronger and more effective, is subjected to a 300-point inspection to ensure it's fresh and toxin-free, and is ultra-refined to prevent rancid oil that can lead to fish burps.
To experience these differences and benefits, the manufacturer tells us you simply need to take two capsules of the supplement each morning with a meal.
Let's get right to the main question at hand: Does Physio Omega by PhysioTru represent a valuable use of your money? In other words, can you expect it to deliver meaningful real-world benefits, based on the price you pay?
That's exactly what we'll explore in this article, starting with the details about DPA.
What's the Down-Low About Physio Omega's DPA & Other Ingredients?
Omega-3 fatty acids are essential fats (required but can't be made by the body them, so they're obtained from food sources), since they play an important role in cell membranes and hormone production, handling inflammation, and even regulating genetic function:
Eicosapentaenoic acid (EPA)
Docosahexaenoic acid (DHA)
Alpha-linolenic acid (ALA)
Because of these important roles, there exists a solid amount of clinical data, referenced on sites like PubMed and The Mayo Clinic, indicating that omega-3 supplementation may help reduce the risk of heart disease (including coronary heart disease), high blood pressure, and cholesterol.
Omega-3s are naturally plentiful in foods like oily fish (e.g. herring, salmon, sardine, Menhaden, and so forth), and even some types of seaweed and phytoplankton. WebMD reports that the World Health Organization recommends a daily EPA and DHA intake of 0.3-0.5 grams, along with a daily ALA intake of 0.8-1.1 grams.
However, there's a fourth omega-3 fatty acid often absent from this class of dietary supplements called docosapentaenoic acid (DPA), which acts as an intermediary between EPA and DHA.
As a result, it's often referred to as the "missing omega," as mentioned on the Physio Omega website. But what benefits has it been clinically shown to provide and how much do you need?
In a nutshell, DPA research, while positive, seems to be in its relative infancy. We encountered reams of evidence during our research (including several studies listed on the Physio Omega website) regarding the other three omega3s, although it seems not enough is currently known about DPA for professionals to establish so much as a recommended daily allowance (RDA)—much less conclude what additional benefits it might provide.
Science aside, will you pay a lot for this supplement?
How Much Does Physio Omega Cost?
PhysioTru has priced one bottle (60 capsules) of Physio Omega at $60.30.
If you choose to enroll in the VIP Club, you'll receive free shipping. This also means you'll continue receiving a fresh bottle of Physio Omega every 30 days through their autoship program, until you call to cancel.
On the other hand, if you choose the Non-VIP option (one-time order), you'll pay an additional $6.95 for S&H.
VIP or otherwise, PhysioTru provides a 60-day money-back guarantee, less S&H, on all Physio Omega purchases. However, per their site's Terms, the following conditions apply:
Only two opened bottles from a multiple bottle order will be accepted for full refund within the 60-day allowance, the rest must be sealed and unopened. If the order is being returned within 30 days of the date of delivery, then only one opened bottle from the same multiple bottle order will be accepted for a full refund.* The cost of return shipping is the responsibility of the customer, and all items should be returned in their original product packaging.
Customer support can be reached via phone at (888) 332-9372 or via email at customercare@physiotru.com.
A Quick Note About PhysioTru's Arbitration
Per the supplement's Terms, all Physio Omega purchases are immediately bound by an arbitration agreement. Without going into unnecessary detail, this basically stipulates that you'll have to undergo third-party binding arbitration, instead of the court system, should you have a formal grievance.
Physio Omega vs. Other Omega-3 Supplements
If you're in the market for an omega-3 supplement, the good (and bad) news is that you have hundreds—perhaps thousands—of different options to choose from, both online and at local retailers.
In fact, the HighYa team has reviewed a number of popular omega-3 supplements over the years that make similar claims to Physio Omega. There are even DPA-specific omega-3 supplements competing in the very same space, so it's certainly not the only game in town.
From a price perspective, you'll find these supplements primarily priced between $20 and $40, although we encountered some as low as $7. Given all these different options, how can you choose the best option for your needs?
In How to Choose a Fish Oil Supplement, US News recommends first talking with your doctor or dietitian about the appropriate dosage based on your specific medical history, including any medications or other supplements you might be taking. These might include aspirin, vitamin E, clopidogrel, and warfarin.
Second, you'll want to make sure you're ingesting at least 400mg to 500mg per day of a combination of EPA and DHA (again, there's no formal recommended dose for DPA). However, if you have coronary heart disease or narrowing of the arteries, you might need to take as much as 1,000mg, while those with high triglycerides might need as much as 2,000-4,000mg daily—again, only with your doctor's supervision.
Finally, they recommend selecting a reputable product reviewed by testing companies like ConsumerLab and Labdoor.
Note: While the Physio Omega website warns about the potential danger of harmful chemicals, PCBs, mercury, other pollutants in farm-raised fish, the US News article indicates "multiple studies that have analyzed a variety of fish oil products have shown levels to be safe by and large, and possibly even below those one would encounter through eating actual fish."
What Do We Know About Dr. Sam Walters & PhysioTru?
According to his bio on the Physio Omega website, Dr. Sam Walters has more than four decades of experience in medicine. He holds a Bachelor of Science in Bio Nutrition, along with a Master of Science in Biology and a Naturopathic Medical Degree (although he doesn't report holding a formal medical degree or board certification).
Throughout his career, including the services provided at his Wellspring Clinic in Scottsdale, AZ, Dr. Sam (as his patients call him) claims to have treated over 70,000 patients using "the sciences of clinical nutrition, herbal medicine, homeopathy, traditional medicine, exercise therapy, counseling, acupuncture, and spinal manipulation."
While we didn't uncover any formal relationship between Dr. Sam and Tampa, FL-based PhysioTru, the company also appears to manufacture other supplements like Physio Neuro Total Brain Support, Physio Flora "Smart Biotics" Formula, Physio Flex Achy Joint Relief, Physio Cleanse Detox, and Physio Vision Eye Nourishment.
At the time of our research, PhysioTru wasn't listed with the Better Business Bureau. We also didn't encounter any customer feedback for their other supplement formulations.
What's the Bottom Line About Physio Omega by PhysioTru?
Considering the sheer amount of competition this supplement faces, in addition to the fact that it's priced meaningfully higher than most, these two facts alone might make us pause and explore all our omega-3 supplement options before committing to an order of Physio Omega.
Furthermore, in our experience, many other manufacturers promise to use Menhaden fish oil in their omega-3 supplements—and like PhysioTru, most of these also claim to use some kind of special process to ensure purity, remove toxins, and minimize fish burps. As a result, neither of these claims seems to be especially unique.
Finally, the company (who has no corporate site and isn't listed with the BBB) doesn't provide any references or citations to back up the claim that Physio Omega is up to 10X stronger. It is not clear how much of each fatty acid or any other ingredients it contains.
Happy customer

By Patricia M.

,

Laurinburg, NC

,

Mar 31, 2020
Verified Reviewer

I've been taking the supplement daily for approximately three months. I see a tremendous difference in my health. At first, I didn't know what to attribute it to. In hindsight, has to be the omegas. I'm 57 and was a candidate for knee surgery. As of late, my knees are phenomenal and I seem to have better stamina and vigor. Don't get me wrong, I do exercise daily, but I have noticeably been literally pain-free. It had to be the good omegas that appear to have lubricated my joints in some manner. I ordered a big shipment and have given a couple of bottles away. From now on they'll get their own lol. I'm an advocate.

Bottom Line: Yes, I would recommend this to a friend

---

Big scam!

I had to stop using this product as I could not stand the citrus taste in my mouth. Unfortunately, I could not return the product as it was passed the 60 days.

Please save your money as this product did not help me in any way.

Bottom Line: No, I would not recommend this to a friend

---

Advertisement

---

So far so good

Dixon, IL

,

Aug 1, 2019
Verified Reviewer

I am notorious for buying things and then asking for a refund later.

My husband and I decided to try PhysioTru after reading all the benefits.

I have had high cholesterol all my life. My last lab test a week ago show my cholesterol is well within the normal limits, as well as my LDL, HDL, and triglyceride levels.

My husband has had three heart attacks in the past, and high blood pressure. At his last doctor appoint just yesterday, his blood pressure was 113/70! Almost unheard of for him!

It seems my digestive system has improved, and my weight (which is always hard to maintain), has been staying steady, even though I eat more than I should (almost unheard of for me!).

I cannot absolutely prove it's because of PhysioTru, but we have changed nothing else...so what else could it be?

We will continue to use this product. Well worth, when you consider the dangers of high blood pressure and high cholesterol!

Bottom Line: Yes, I would recommend this to a friend

---

Customer service and return policy needs 100% change - it's BAD!

By Phil D.

,

California

,

Apr 19, 2019
Verified Reviewer

I have used this product for several months and do not notice any difference. I believe that this product may be beneficial, but have not seen any proof of that. If the product is as good as the company says it is, why is it so hard to get a refund if a customer is not satisfied. Any customer service person that is rude to their customers should go find another job or be forced by your company to find another job.

If you are in a customer service job, you need to service the customer - politely, efficiently, and completely. OR FIND ANOTHER JOB.

Bottom Line: No, I would not recommend this to a friend

---

Advertisement

---

What is the best Omega 3 oil

Katikati, New Zealand

,

Apr 3, 2019
Verified Reviewer

Hi. I have been taking a well-known New Zealand band of Omega 3 oil for years. It is very good. They put the price up on an annual subscription by 14%, which rather annoyed me. So I looked around for the best Omega 3 oil. I did a lot of research and even did a chart comparison of the better Omega oil available. I looked at scholarly articles on Omega 3 oil and how much one should take. It sure was interesting learning about the balance of DHA - EPA - DPA.

Eventually, I settled on Physio Omega, and I am pleased I did as my blood pressure has dropped from 132/72 on March 6, 2019, to 118/67 on March 30, 2019. I sleep better, averaging seven hours sleep at 80 years of age with no toilet pit stops through the night. I am feeling more alerts. I take two tablets a day straight out of the deep freezer as recommended. One more thing about my blood pressure. I use to have to sit still for five or more minutes to get a low blood pressure reading. Now I can sit down and take it within a minute to get a great reading.

Bottom Line: Yes, I would recommend this to a friend

---

PhysioTru supplements

By Ken B.

,

Ruidoso, NM

,

Feb 25, 2019
Verified Reviewer

I went to the doctor in November. Had a bad report. The doctor said my liver enzymes were high and that I had diabetes. Told me I had to lose weight to make sure my high liver enzymes were due to being diabetic and that he wanted to see me in 6 months. I ordered these supplements three days before my doctor's appointment. I ran out of my prescriptions so I had to see the doctor again. I have been taking these supplements faithfully. I was very nervous that the doctor was going to get upset since I had not changed my eating or drinking habits. Went in today and the doctor was scratching his head. No signs of high liver enzymes nor diabetes. He couldn't explain it. The only thing I did change was taking these supplements. This is honestly quite surprising to me and the doc.

Bottom Line: Yes, I would recommend this to a friend

---

First time subscription

By Rhyanna B.

,

Indiana

,

Feb 21, 2019
Verified Reviewer

After using this product for a couple of weeks now, I have noticed a slight change in digestion, not any significant change as of yet. I will write more of what I like later on. The one thing I don't exactly like about it is the size of the supplement, it's huge, almost like a horse pill, but not as big. It's also a long type of supplement, it's not round like a pill. I am not trying to scare you at all, but I figure if I can take this as frightened as I am, you should be fine with this.

I have a difficult time with huge pills, I am probably the worst ever cause I have panic attacks, if I have any effort swallowing a supplement or pill. I am able to get this down with little effort. I would suggest to please drink plenty of water while taking this, it just goes down better. Thank God it's a soft jell too, which does also help with swallowing.

Bottom Line: Yes, I would recommend this to a friend

---

PhysioTru products

By RJ J.

,

New Jersey

,

Jan 16, 2019
Verified Reviewer

I have been taking all their products for over two months and I do not notice any change in the status of my stamina or my general health. They advertised a full refund if dissatisfied. I have contacted them twice and they have not even given me the courtesy of a response. These products may work for someone else, but if you are unfortunate like me, you will lose over $500 for something that does not do what it has stated.

Bottom Line: No, I would not recommend this to a friend

---

This product sucks

By Kenneth S.

,

Roanoke Rapids, NC

,

Nov 14, 2018
Verified Reviewer

This is a complete waste of time and money. They will not give you your money back, automatically send you the product without authorization, the product does not work as they advertise, it's a scam of some kind. They have no customer service that you can speak to. You send him an email and it gets rejected. This company's got serious issues.

Bottom Line: No, I would not recommend this to a friend

---

Consumer beware...bad side affects and customer service.

By Joan M.

,

Delray Beach, FL

,

Sep 25, 2018
Verified Reviewer

I experienced all of the bad side effects of this supplement, so I canceled my subscription. Having done so, I still received the next shipment without warning. Since that time I have kept all my correspondence with them in writing.

When I sent the order back (after several back and forth online conversations about doing so), they said they didn't receive it and refuse to give me a refund. The receipt for the return was in a car I owned that has since been stolen, so I cannot "prove" I sent it back. I found these "exchanges" with their customer service department to be snarky and offensive. So not only can they not follow directions, they are rude and condescending to deal with.

Consumer beware, not only of the side effects, but of the customer service.

Bottom Line: No, I would not recommend this to a friend

---

Good product

By Rene P.

,

Taunton, MA

,

Aug 25, 2018
Verified Reviewer

I have been using this product for just a short time, but it appears it is working already. I use to suffer fatigue in the afternoons, but I don't seem to be suffering from this condition anymore. I also anticipate an increase in energy in the next few weeks. I would recommend this product ONLY if you can afford the high price, which I consider unreasonable.

Bottom Line: Yes, I would recommend this to a friend

---