Plenty of Fish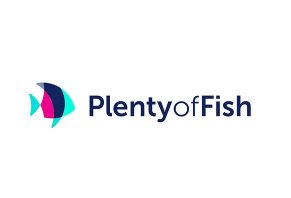 Summary
Plenty of Fish (POF) is an online dating site that lets you start chatting with potential partners for free. However, the low cost of entry can lead to uncommitted users, and scam accounts are standard.
Pros
Many features available through a free account (full profile access, possible to perform detailed searches)
Possible to start messaging your matches right away
Cons
A lot of potentially distracting advertising on the website
The online platform feels dated
Lack of photo verification makes scam accounts common
Search options can be limited
Plenty of Fish Review: A Detailed Look
Established in 2003, Plenty of Fish (often shortened to POF) is one of the oldest free dating sites still in use today. The service boasts 2.4 billion monthly page views and a user base of over 150,000,000, with 70,000 new users signing up daily.
Due both to these numbers and its convenient options for communication, POF claims to be one of the best ways for singles to meet each other and strike up both friendships and meaningful relationships.
Should you sign up for Plenty of Fish? In this review, we'll look closer at what the app offers and how it compares to the dating service competition.
Features
To sign up for Plenty of Fish, you'll need to come up with a unique username and share your age, gender, general location, and ethnicity.
Next, you'll need to fill out an extensive questionnaire that includes questions related to your basic information and dating preferences.
Many of these questions are standard in the online dating world (do you drink? What's your religion?), but others seemed unique.
For example, you need to choose a word from a list of several dozen that best describes you and share how long your longest relationship lasted.
Before your profile can go live, you'll need to fill out a brief description and upload between one and eight photos (you can add more if you upgrade your account—more on that later).
It's possible to start browsing amounts and reading messages sent to you immediately after setting up your account.
So long as you write a snappy profile and post some flattering photos, you're likely to start receiving messages from other POF users right away.
What's different from other dating sites is that you aren't restricted from seeing them if you're only using a free account. You can connect with and chat up as many potential matches as you'd like.
There are lots of features on POF for connecting with other users. The site will automatically connect you with members it deems you will be compatible with through the "Meet Me" feature.
You can swipe left or right based on your interest level—similar to Tinder—and will have the option to start chatting with each other if you both indicate interest.
Plans and Pricing
Though it's free to start using Plenty of Fish right away, you'll need to upgrade your subscription to a paid amount to take full advantage of what the service offers.
The pricing options are:
Two-month plan: $21.30/mo. + tax ($42.61 total)
Four-month plan: $14.04/mo. + tax ($56.15 total)
Eight-month plan: $11/mo. + tax ($87.99 total)
An upgraded account gives you access to a range of features, including the ability to upload twice as many photos (16 instead of eight), access to other user's extended profiles, and the ability to come up first for many searches.
You can also learn who has viewed your profile and whether your messages have been read.
The site also guarantees you'll get a significant increase in views and messages, and that you'll have ad-free access to the app and website.
Note that your subscription will automatically renew with each plan unless you cancel ahead of time through your account settings.
Beyond a subscription, you can also purchase tokens to use on the site. These can be used to boost your profile to the top of member searches, send Super Likes to people who interest you, and to send priority messages to your top matches.
Prices per token range from $1.69–$1.99 each, depending on how many you purchase at once.
All purchases on Plenty of Fish are considered final with no options for refunds. You can submit any specific requests to the company through their help page.
Analysis of Customer Reviews
Plenty of Fish reviewers have mixed feelings about this platform. Here's a summary of both the positive and negative feedback from users across the web:
Common Compliments:
Many people successfully found long-term partners
Possible to start communicating with people right away, even with a free account
Common Complaints:
Challenging to delete accounts off the site
Many people had their profiles banned for no apparent reason
Unpleasant interactions between matches are common
Can be hard to match with people who want to meet up in person
Paywalls make it hard to do much on the site without a subscription
Hard to get people to respond to your messages
Lots of fake accounts
Popular Alternatives to Plenty of Fish
| | Plenty of Fish | Match.com | Zoosk |
| --- | --- | --- | --- |
| Price Per Month | $11–$21 | $22.99–$38.99 | $12.49–$29.99 |
| Able to Communicate with a Free Account? | Yes, possible to communicate with all users through the free version | Only if the person you are connected with has upgraded their account | Browsing is free, but you need to subscribe to communicate. |
| User Base | 100 million users, 3.5 million daily users | 9 million active users | 26 million members, 650,000 premium subscribers |
One key difference you'll likely notice between these three services is that Plenty of Fish is both the cheapest option and the one that is the most accessible with a free account.
It also boasts the most extensive user base, though these numbers don't necessarily tell us much about how many people are serious about finding love.
This means that you can start talking to people much faster on POF than these other platforms. That's great for getting in the dating game and seeing who is available, but it could potentially be a bad sign regarding the quality of your matches.
That's because people who are financially invested in a dating app are more likely to take the experience seriously.
In contrast, most of the people you interact with on Plenty of Fish likely set up their accounts within five minutes and might not be willing to take the dating process seriously.
Perhaps unsurprisingly, all three of these services have earned relatively low reviews from users. Common complaints include how hard it is to meet people who are serious about connecting with someone, and how many scammers are on the site at any time.
In most cases, you're likely to encounter fewer scammers the more you need to pay per month. eHarmony, for instance, costs between $25.90–$59.90 per month and tends to have more people who are serious about connecting with others.
The Bottom Line
Plenty of Fish offers a time-tested way to meet people online, and it's a popular choice for millions of people.
This is one of the few "free" dating sites that genuinely lets you connect with other users without signing up for a premium account, but your experience will improve if you commit to a subscription.
Though it's definitely possible to meet your next partner on Plenty of Fish, online reviews indicate that a lot of users are unhappy with their experience. Scam accounts are common, and it's relatively easy to get banned from the platform for minor infractions.
If you're intrigued by the world of online dating but not sure whether you want to commit, then POF offers a way to explore the industry and see who is out there.
Once you know whether you're willing to dive in deeper, you can decide if you want to subscribe to a premium POF account or try another dating app instead.
Customer Reviews