Zoosk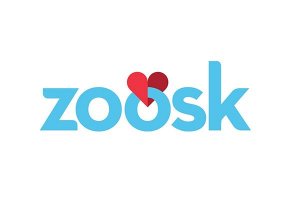 Zoosk is a full-featured online dating service that lets you search for matches in various ways and spend coins to catch the attention of other users. However, customer reviews indicate a lack of viable matches.
Zoosk Review: Is It Worth Your Time and Money?
Zoosk is an online dating service designed to help you make a longterm match. The site claims to use Behavioural Matchmaking™ technology to learn from the actions of over 35 million members to give you better results the longer you subscribe.
The app is currently available in 80+ countries.
Our analysis of this dating service will help you decide whether it is worth your time and money.
Quick sign up process
Claims to have more active users than similar sites
Possible to browse member profiles for free
No guarantee that your matches will see your messages unless you pay extra
Confusing website interface
Cost of extra features adds up quickly
Many reviewers believe there is a high concentration of spam accounts
How Does Zoosk Work?
Signing up for Zoosk requires you to share your age, gender, dating preferences, location, and other details like your physical build, highest education level, religious affiliation, whether you have kids, and more.
There are three main ways to look for matches:
1. Basic Search
Zoosk lets you view other members in your area for free. This means that you can see their pictures, bio information, and general location. You can narrow your search by age and geographic region.
However, you won't be able to contact anyone unless you sign up for a paid subscription.
You can help others find you by filling out your own profile with photos, a background story, your favorite interests, what you're looking for in a match, and what your ideal date would look like.
2. Zoosk Carousel
The Zoosk Carousel is a feature available for both free and paid accounts that lets you take a glance at other members and decide whether you are interested in meeting them. You can consider it to be the "Tinder" portion of the dating service.
The Carousel will display a member's age and profile picture, and you can select "yes," "no," or "maybe" on them. If that same member choses "yes" for you, you will gain access to each other's full profile and can message either other if your subscriptions allow for it.
This bonus subscription feature lets you tag up to five people a day as crushes on the Zoosk Carousel, which is a stronger sign of interest than the standard "like" option.
You will also receive unlimited "un-dos" for the times you accidentally swipe no on a match. Instant Crush costs $9.49 per month and will automatically renew until you cancel.
You won't be able to message matches with this upgrade unless you also have a premium subscription.
3. SmartPick
Every 24 hours, Zoosk will show you one profile chosen for you specifically based on your match preferences, the kind of people you've liked and messaged, and more. If you click "like" on the SmartPick and they do the same to you, Zoosk will let you connect.
What Comes with a Zoosk Subscription?
Though it's possible to browse Zoosk for free, you'll need to pay for membership if you want to connect with anyone in a meaningful way.
A paid Zoosk subscription comes with the following benefits:
Unlimited messages
Full access to SmartPick introductions
The ability to see who's viewed you
The ability to chat with your connections
The longer you commit to a membership, the lower the price per month will be.
| Membership Length | Total Cost | Cost Per Month |
| --- | --- | --- |
| 1 Month | $29.95 | $29.95 |
| 3 Months | $59.95 | $19.98 |
| 6 Months | $74.95 | $12.49 |
You can add Premium Messaging to your order for $9.99 per month. This allows anyone to respond to messages, even if they aren't a subscriber.
Each subscription will automatically renew unless canceled beforehand.
How to Pause or Cancel Your Subscription
You can pause or cancel your Zoosk subscription at any point, either through the app store that you purchased it from or through the "my account" section of the website.
Once you cancel, your account will no longer be visible to other Zoosk members. All purchases are nonrefundable, which means you won't be reimbursed for any unused time or coins.
Zoosk Coins
In addition to a paid subscription, you can enhance your experience by using Zoosk coins, which are the site's virtual currency.
You can use them to access premium features and make yourself stand out to other members. 180 coins cost $19.95, and you can purchase 480 coins for $39.95 or 1800 coins for $99.95. It's possible to buy coins as both a free member and a paid subscriber.
Some of the most common uses for coins include the following:
Zoosk Boost: Gain the attention of other Zoosk members by using coins to purchase Boost, which highlights you in the search results, inbox, and Carousel. You can get 75 boosts for 150 coins.

Message Confirmation: Once you message someone, you can use 35 coins to find out if they read it. (Only paid subscribers can use coins for this feature.)

Buy Gifts for Other Members: You can get attention from other members by gifting them coins in increments of 10 to 100.

Unlock Matches in Carousel: If you like someone on Carousel, but they haven't liked you back, you can use coins to unlock their profile. (You won't be able to message them directly unless you are a paid subscriber.)

Buy Gifts for Other Members: You can get attention from other members by gifting them coins in increments of 10 to 100.
Analysis of Customer Reviews
Over 65 Zoosk members submitted reviews on our website for a combined average of 1.3-stars. Here are the key takeaways:
Many Matches Felt Like a Scam
A log of reviewers felt like Zoosk was a scam. They wrote that their attempts to connect with gorgeous singles in their area were ignored or met with robotic responses that made them question whether they were real people.
One member paid for a subscription to read a message from an attractive woman, only to have the message be an ad from the company to buy coins.
Others were upset that they never got messages that people were viewing their profile, even after they sent them gifts, smiles, and messages. This led them to believe that there weren't always genuine people on the other side.
Some Users Found Love
Some reviewers stated that they made good friends or even met their fiancé through the service.
Too Expensive for the Features
Many members who paid for extra Zoosk features reported that they were too expensive for the benefits they got. Some wrote that they didn't appreciate having to pay for coins in addition to the monthly subscription cost to get noticed and that they connected with few serious matches over a month, despite paying for boosts and gifts.
One user wrote that their biggest complaint with the app was that most people didn't pay for premium, meaning that it was hard to connect with anyone without paying the additional monthly fee for Premium Messages to let them message back for free.
Complicated Cancellation Policy
Some Zoosk users struggled to cancel their accounts. They reported that the site offered them a discounted rate when they attempted to cancel but didn't honor it during the billing process. These users ended up disputing the charge through their bank to get their money back.
Difficult to Navigate
A few users wrote that the Zoosk website and app were challenging to navigate. Some noted that they struggled to use the advanced search features to find people near them, while others took issue with the fact that the site logged them as "viewing" members even when they were merely trying to skip over their profile as a suggested match.
This made it difficult for them to determine which of their views were from members doing the same thing.
Others didn't like the lack of information on the carousel feature, as they often matched with people who lived too far away to be a viable prospect.
Zoosk vs. Elite Singles and Match.com
Zoosk
Elite Singles
Match.com
Price Per Month
$12.95–$29.99, plus extras
$31.95–$57.95
$18.99–$37.99
Matching Process
Shares suggested matches and lets you browse others with Carousel feature
Assigns matches based on your personality tests results and your partner preferences
Short quiz focused on your demographic information and your basic partner requirements
Free Search Available?
No
Only through the app
Yes
Ability to Search by Income/ Education Level?
No
Yes
Yes
Key Feature
Possible to connect with members in unique ways by spending coins
Claims to tailor to 30+, highly educated members
No limit to daily matches
Overall App Rating
Android: 3.8-stars (500,000 reviews)
iOS: 4.4-stars, (67,000 reviews)
Android: 2.4-stars (8,000 reviews)
iOS: 3.1-stars (13,000 reviews)
Android: 3-stars (85,000 reviews)
iOS: 3.8-stars (7,000 reviews)
Number of Members
40 million active users
About 2 million
9 million active users
Zoosk has the most extensive member base and is available at the lowest monthly price if you commit to a six-month membership.
However, these stats are deceiving because you may feel pressured to purchase coins or subscription add-ons to get the full benefit from this service.
Likewise, a significant portion of Zoosk users never transitions to a paid account. This means that it will be impossible for you to contact them unless you pay for premium messaging.
Unlike Zoosk and Match.com, Elite Singles has an involved signup process based around the Five-Factor model of personality. The purpose of this quiz is to give the site key information about what you are looking for in a match so that it can suggest members with a seemingly higher chance of compatibility.
Zoosk, in contrast, only asks for your basic information when you sign up and doesn't let you specify what you want in a partner.
In fact, you can only search for potential matches by age and location. Other sites often allow you to specify details like race, education level, religion, whether they smoke, and more.
Something nice about both Zoosk and Match.com is that you can view photos and full profiles with a free account. Elite Singles blurs out photos until you commit to premium.
Key Takeaways
If you're choosing between these three services, we think you need to consider what you most want out of a dating service. If heavier-handed matchmaking and taking a personality test appeal to you, Elite Singles are better options than Zoosk.
Likewise, if you want to set up an account quickly and scan through lots of profiles before committing to a straightforward paid membership, then Match.com makes sense.
The most significant advantage of Zoosk is the larger membership base, but you might struggle to contact a lot of users. To address that, you will need to sign up for paid membership and premium messaging.
The Bottom Line
Zoosk is a full-featured online dating service with a unique virtual coin system that essentially allows users to pay for the features they care about a la carte.
This makes sense in theory, but in reality, the majority of reviews indicated that Zoosk members were disappointed in the app's value and lack of viable matches.
Your experience might be different, but we think there are less expensive dating services to experiment with that give you a better chance of connecting with someone genuine.
For this reason, we suggest users start with a free Zoosk account and browse the profiles of nearby singles before committing to a long-term subscription.
---
Bad administrator, blocked for no reason

By Michael L.

,

Arvada, CO

,

Nov 4, 2020
Verified Reviewer

Length of Use: Less than 3 months

Overall Experience:

Zoosk is a horrible site. First of all, the website misgendered my preference. It was impossible to change so I decided to start over and build a new account. Unfortunately, they blocked my new account for no reason. Number 1 dating site. They must have paid for this title. I do not recommend them to anyone and will going to try eharmony of which I've heard great things about and am excited to explore.

Pros and Cons:

No "pros" were specified in this review
I was treated very poorly
Bad service
Hard to delete and re-install an account
They are the worst dating site ever
Zoosk thinks you're gay and won't let you change your profile

Bottom Line: No, I would not recommend this to a friend

---

Total scam

By Jeff C.

,

Belleview, FL

,

Mar 4, 2020
Verified Reviewer

Overall Experience:

Free membership, getting around 40 views per day, many messages. Signed up for a paid account last week, now getting 1 or 2 views per day. Sent over 15 well-written, polite messages to local users, got no responses. Notifying State Attorney Office in Florida and New York Attorney General Office to look into business practices of Zoosk.

Bottom Line: No, I would not recommend this to a friend

---

I wish Zoosk would leave me the alone before I take legal action against them.

By George W.

,

Bronx, NY

,

Jan 28, 2020
Verified Reviewer

Overall Experience:

For over two weeks I have been asking those idiots at Zoosk to leave me alone, they have not honored my request. When I hit "unsubscribe" they come up with some BS! I just want those motorcycles to leave me the heck alone!

Bottom Line: No, I would not recommend this to a friend

---

My honest review of this fake site

By Tim C.

,

Staffordshire, England

,

Jan 24, 2020
Verified Reviewer

Overall Experience:

I have to give a personal review of Zoosk after just a week after rejoining after a year away, I should know this is a scam site. Very very few real/local people. The owners should be locked up for fraud in a top prison. No one writes back; they are paid by the company or are fictitious characters. Do not waste your money. Scam. There are other ways to meet people. This is another way to make someone rich. I live in the center of the UK, yet no one seems to reply within 100 miles. I live near Stoke-on-Trent, there are 260,000 people living here...it runs into Newcastle-under-Lyme, 140,000 people, so almost half a million when you count in Burton, Stafford, Northwich. Manchester is 30 mile north, Birmingham 40 south, Nottingham/Derby 30 miles east, Wrexham same west 30 miles.

I did a Zoosk search of 100 local girls, my age, my type. I sent in 6 recent photos that were rated as very good to superb on Badoo.

I subscribed so they could reply for free!

RESULTS, out of 100 mails sent:

a) Not one within the distance replied.

b) I had 10 others, not local who agreed with me totally.

c) Three others who said they have "so many matches/contacts they are overwhelmed."

Bottom Line: No, I would not recommend this to a friend

---

Advertisement

---

Total scam

By Diane A.

,

Diamond Bar, CA

,

Nov 18, 2019
Verified Reviewer

Overall Experience:

I was on Zoosk for several months but never paid the subscription, thank heavens! There were guys that were total scammers, one I connected with immediately asked to "connect" outside of the site and asked for an email address. He said he was just about to cancel his account as there were too many "unserious" women on it. His email language did not fit his profile language which he covered by saying he was originally from Poland. I was surprised when he emailed with an actual name on his email address. I researched it (Elias J Dabrowski) and found nothing but a sketchy LinkedIn page and an even sketchier Facebook page. This guy had 2 Zoosk profiles with the same picture but different cities (San Diego and Newport Beach). I asked why the two profiles and he said the Newport Beach guy wasn't him. The pictures were identical yet the ages, professions, marital status, kids/no kids were all different! His last email to me was a novella that was part Indiana Jones, James Bond and a dash of iconic liar Stephen Glass. Buyer beware of Zoosk as they did nothing to remove this guy from the site after I gave them positive proof he was scamming.

Bottom Line: Yes, I would recommend this to a friend

---

Censorship and trampling free speech

By Daniel P.

,

Escondido, CA

,

Aug 24, 2019
Verified Reviewer

Overall Experience:

I have a paid membership on the social dating website ZOOSK, and for the last few months, I have been censored on my profile, not being allowed to post any text, even though I am following the guidelines with precision. I expressed discontent with the website, but that is not against the guidelines, so they are censoring me because they disagree with my opinion? My first amendment rights are being trampled by this website, and even though I have tried many times to contact them to let them know what is happening, nothing has changed, and they charge but have no refund policies in place. Every single day I am being censored. Someone has to put a stop on Internet companies that don't follow the law of our nation. FREE SPEECH!

Bottom Line: No, I would not recommend this to a friend

---

Zoosk SUCKS

By Tory T.

,

Georgia

,

Jul 15, 2019
Verified Reviewer

Overall Experience:

DO NOT USE THIS SITE. It's a SCAM. You won't find anyone that you can hold an intelligent conversation with. They're complete IDIOTS. Those profiles don't belong to the idiots you'll end up talking to. Sad! I would absolutely NOT recommend this site to anyone but, the government, to be shut down!

Bottom Line: No, I would not recommend this to a friend

---

Save your money. Scam.

By Steven S.

,

Brisbane, Australia

,

Jul 13, 2019
Verified Reviewer

Overall Experience:

"Greetings are fun, but if you're really interested send me a message". So I subscribed and sent a message. Then I discovered that even though I sent a message, she can't reply unless she is also subscribed. Either that or I cough up some more money so others can reply.

And also, there is no record of her even viewing my profile, so now I'm convinced it was an auto-generated message to get me to join.

$39 sure is a lot of money to sign up for something that doesn't even allow basic features. It's amazing these sites get away with this nonsense and that the creators aren't sitting in a prison cell somewhere.

DO NOT JOIN.

Bottom Line: No, I would not recommend this to a friend

---

Awful, such a waste of money

By Erica P.

,

Pennsylvania

,

Jul 8, 2019
Verified Reviewer

Overall Experience:

They make you pay a minimum $20/ month...and for what?! You have people blowing up your phone from 200+ miles away.

The advanced search doesn't apply to people that try to contact you. I wasted more time weeding out everyone who lived 2 hours away, then actually finding even one potential prospect!

What a scam, definitely not even worth $1.

Bottom Line: No, I would not recommend this to a friend

---

Shady tricks to take your money

By Geoff P.

,

Ontario, Canada

,

Jun 12, 2019
Verified Reviewer

Overall Experience:

When you click the "like" button on other users, you will start getting messages that seem to be from them - but they are not. These are a scam to trick you into subscribing.

When you do subscribe you will be offered a package, but when you go to pay, there will suddenly be an additional $25 charge on top of the price the quoted.

Bottom Line: No, I would not recommend this to a friend

---

Horrible

By Nancy H.

,

Massachusetts

,

Apr 30, 2019
Verified Reviewer

Overall Experience:

I canceled my subscription to Zoosk one day short of two weeks from when my paid subscription ends. When I canceled, they stated that my paid subscription ended that day before the one day shy of two weeks

I was a member of Match as well and they responded by offering a discount and not ending my paid subscription when I decided not to stay a member after my paid subscription was over. Match.com did not stop my paid subscription, which is the required legal response.

Bottom Line: No, I would not recommend this to a friend

---