OurTime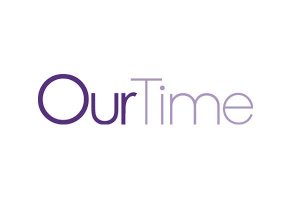 OurTime is a dating site focused on adults 50+ who are looking for love or lasting friendships. The features are compelling but some customers complain about the service.
OurTime Reviews: A Good Dating Site for Adults Over 50?
What Is OurTime?
Seniors are officially entering the world of online dating, but many struggle to find people that match their preferences on traditional platforms.
OurTime strives to solve this problem with a dating website tailored toward adults over 50. People Media founded the site in 2011, and it eventually combined it with SeniorPeopleMeet and SeniorsMeet to expand the membership base.
You can use OurTime to find a love connection or to meet other seniors in your area. The site claims to receive more than 8 million visits per month (7.7 million from the United States) and to have more than 1.5 million active profiles.
This review analyzes the company claims and feature to help determine whether you should consider making an account.
Getting Started
You can set up your dating profile on OurTime in about five minutes. To sign up, you'll first need to specify whether you are in the U.S. or Canada and share a profile picture with a 200 character bio. You can then answer some basic questions such as whether you prefer dogs or cats, balconies or porches, or receiving texts or emails.
From this basic start, you can expand your profile by adding up to 30 pictures, and filling out demographic information like your religion, body type, occupation, highest education level, whether you have any children, and more.
You can also share what you're looking for in a partner and answer personality questions on topics ranging from whether you like to cook to how punctual you are.
OurTime isn't exclusively available to those 50 and over and that anyone over 18 can sign up. However, the site states that it doesn't support accounts from people trying to connect with older partners for financial reasons and will take down those accounts when it sees them.
After completing your profile, you may start browsing other user accounts. OurTime will share selected matches for you, which are people chosen based on your location and profile specifications.
You can also browse accounts based on who has viewed you or perform a free search of all site members by zip code, who's online, what kind of relationship they are looking for, and other specifications of your choosing.
If you struggle to express yourself through an online dating profile, you can sign up for OurTime's Profile Pro service. Professional writers will send you a questionnaire and then help you craft your profile so that you make a better first impression.
Unlike some dating sites, you view the user's full profiles and see all their pictures. You'll also get notifications every time someone sends you a message or flirts with you, but you won't be able to read or answer them unless you pay for a premium membership.
Premium Membership Pricing and Features
Beyond being able to read and reply to messages, premium allows you to see which members have flirted or favorited you and live-chat with anyone online.
It's also possible to have secure phone calls through the OurTime features ConnectMe, which provides you and another user with a virtual phone number so that you can voice call each other without sharing identifying information.
The pricing for OurTime premium membership depends on whether you are committing month to month or pay for six months in advance.
Basic: Free
One month: $29.96
Standard Six months: $90 ($15/month)
Value six months: $107.76 ($17.96/month)
The main difference between a regular and a value membership is that you will get notifications when other users read your messages, and your profile and messages will be a different background color so that it stands out in searches.
Each of these subscription payments will renew automatically unless you cancel them before they expire. You can stop your subscription from renewing at any time through your account settings.
OurTime also employs a token system that makes it possible to send and receive gifts through the platform or promote your profile. Tokens cost between $0.03–$0.05 each, depending on how many you purchase at once. Some of these unique features include the following:
PromoteMe: Put yourself on the top of search results to attract more attention (55 tokens for 60 minutes)
Virtual Gifts: Get attention from a match with a virtual flower bouquet, diamond necklace, and other symbols of affection (Between 10-75 credits each).
NotifyMe: Get email alerts when your special interests are online (20 tokens for 7 days)
MatchMe: Get placed in someone's daily matches so you can see whether they are interested in you before you reach out (20 tokens per match).
Analysis of Customer Reviews
OurTime has more than 55 reviews on HighYa, and they average 1.1-stars. Just 5% of users indicated that they would recommend this service to their friends. Reports are similar to ConsumerAffairs, where OurTime averages 1.4 stars.
Here's a summary of their comments.
Common Compliments:
Many users successfully went on lots of dates or ended up finding a spouse
Great to get back in the dating scene after a death or divorce
Excellent customer service for many people
Great way to make friends, not just romantic partners
Customer Complaints:
Users still charged for premium after they had canceled their accounts
Lots of scam accounts, profiles aren't verified
Many photos seemed fake or photoshopped
Minimal help from customer service
Difficult to connect with local people
Some users had their profiles hacked
Popular OurTime Alternatives
If you're single and 50+, you don't necessarily need to use a niche dating site to find love. Many people have great luck with mainstream services like eHarmony, Elite Singles, and Match.com, and the following chart highlights some of the differences between them.
| | OurTime | eHarmony | Elite Singles | Match.com |
| --- | --- | --- | --- | --- |
| Price Per Month | $15-$29.96 (per month) | $12.95–$59.95 | $31.95-$57.95 | $18.99–$37.99 |
| Matching Process | The site will choose 3–7 new matches for you every day based on your location and profile information | Assigns matches with a 29 Dimensions of Compatibility Matching Questionnaire | Take a detailed personality test to get matched with people you are compatible with | Short quiz focused on your demographic information and your basic partner requirements |
| Free Search Available? | Yes | Yes, and the site automatically matches you with approximately 2,000 matches | Only through the app | Yes |
| Key Features | Designed for people 50+ | The largest demographic is ages 25-35. Leading dating site for those 50+. | Tailored to 30+, highly educated members | First online dating site (launched in 1995). No limit to daily matches. |
| Number of Members | 1.5 million active users | 10 Million active users | About 2 million | 9 million active users |
As this chart shows, OurTime has far fewer members than eHarmony and Match.com, which makes sense as it serves a narrower demographic.
Elite Singles might be the most limiting option of the four, as the site targets people who are educated as well as older (though the company doesn't technically screen for either). You're also restricted to a set number of algorithm-selected matches each day and can't browse all members on your own.
Finally, OurTime offers little in the way of personality quiz or probing questions to set you up with matches. You can go deeper into your profile, but most of the site's suggestions for you will be based on age and location.
Elite Singles and eHarmony, in contrast, make users fill out extensive personality assessments to guide the matching process.
This can be great if you want some psychological guidance for your dating life but it might limit you from finding matches on your own.
Pros and Cons
It's possible to browse full profiles with a free account
Simple signup process
Easy to search all members
Minimal algorithms for matching you with other users
Smaller user base than other platforms
Many users complained of too many spam accounts
You may need to pay for additional features with credits
The Bottom Line
OurTime's over-50 dating platform creates one of the largest online platforms for single seniors to connect. Setting up an account is a five-minute process, and you can start seeing who's available near you in seconds.
As with most dating sites, you won't be able to communicate with anyone until you sign up for a premium membership, and a lot of perks will cost you additional money in the form of credits.
Customer reviews indicate that a lot of people who tried this site left frustrated and loveless, primarily because they received few responses or only matched with scam accounts. Your experience might be different, but if it's not, we suggest trying eHarmony instead.
---
Scammed by OurTime

By David C.

,

Lowell, MA

,

Feb 12, 2020
Verified Reviewer

Overall Experience:

I received an email from OurTime offering a free 14-day subscription. I canceled within the 14 days, but they claim that my subscription did not have the free 14-day feature. I checked online - Better Business Bureau has received numerous complaints about their scam.

Bottom Line: No, I would not recommend this to a friend

---

Daily shuffle scammers and trolls

Overall Experience:

As a subscriber of Ourtime.com, you get 100 profile suggestions a day.

- I daily discovered so-called scammer/misused pictures.

- Over manipulated pictures with fake backgrounds, oversized upper arms, enlarged hands...too obvious.

- Pictures with under-aged children.

- Too many profiles have no picture, visiting your profile even sends likes to you.

- For an additional fee you can browse other profiles incognito. Why is that a good thing??

- Shuffles has suggested other women even though I have signed up for a woman looking for a man on the site.

On their web site it says: "Verified profiles"! Our time.com does not really seem care too much about your online safety. Neither do they seem they care about all the stolen pictures and identities that are being misused by scammers and trolls. You wounder what you are paying for after you have reported over 10 scammers a day!

Bottom Line: No, I would not recommend this to a friend

---

Scam and waste of money

By Glo J.

,

Collinsville, VA

,

Jan 29, 2020
Verified Reviewer

Overall Experience:

I am a 60s woman who decided to try meeting someone online again for the new year. I am lonely and alone so decided to try to do something new to improve my chances of meeting someone to date. I joined OurTime on January 5, 2020. I had joined OurTime approximately 8 years ago and there were not many locals on the site then. I did manage to get one date at that time.

Now fast forward to 2020: there is a wide selection of local men which I was happily surprised by. I signed up for the free profile. And I did start receiving flirts and messages that I could not see unless I paid. So I did a paid membership since I really wanted to meet someone local. The first men who contacted me seemed local but said they were overseas - one for the military, etc. Most age 60s men are no longer in the military so I knew this was a scam profile. However, after much due diligence, I thought I could tell the scam profiles from the real profiles. I live in a VERY rural area and there are lots of local men on here which is VERY strange. I started seeing the same profiles with different pics and realized that most of these profiles are fake. I am single, retired and sitting home all day. I put in the effort to contact but never got any responses to my efforts. I had flirts with canned messages from some men, mostly out of state. I found 2 men who were real out of about 100 profiles that I looked at.

I was SO disappointed that OurTime is FAKE. No customer service. When I told one man he was a scammer (he had one fake profile that I had read many times) after he sent me an instant chat and wanted to ask me a lot of personal questions, he tried to convince me that I was wrong. So who is this contacting me on the fake profile?! When I told him that he was a scammer and that I was going to block him and report him, he became irate and cursed. His profile disappeared before I could block him and there is nowhere to report him to. Non-existent customer service. Thank God I only signed up for one month.

I am SO disappointed that OurTime is fake and not legitimate. Had to cancel my account in advance or they would auto-bill every month. Will keep an eye on my account to make sure they don't put charges on my credit card or worse give out my credit card info for scammers. Hope this helps others.

Bottom Line: No, I would not recommend this to a friend

---

Very dissatisfied

By Janet S.

,

Bedford Corners, NY

,

Dec 16, 2019
Verified Reviewer

Overall Experience:

I bought a 6-month subscription and wrote my profile using about the 1200 characters I later learned was the limit. Three days later I went to edit it and was now limited to 200 characters - "their new limit." One week later I realized they had charged PayPal not only $108.10 but $23.83 and $27.08 for no known reason. Many "flirts" from all over the country asked for my email or phone number to avoid using the site. One person wrote saying his account had been hacked and it wasn't he who had written asking for my phone/email and to "be very careful." Many have no photo or don't match the description I gave to OurTime of the type of person I was interested in. Occasionally profiles appeared to be fake or had pictures of women. After 3 days I contacted them about my misgivings but they wouldn't let me cancel any part of the subscription.

Perhaps this is the nature of online dating - but it's not for me.

Bottom Line: No, I would not recommend this to a friend

---

Advertisement

---

Terrible screwed-up site

By Dana A.

,

Pueblo, CO

,

Dec 13, 2019
Verified Reviewer

Overall Experience:

I have been a member of OurTime for about 4 months with a paid subscription. My profile is constantly hacked. I call about the problem multiple times and they keep telling me to change password. I keep doing that and the hacking continues. Some change my profile and shotgun the country with messages. I paid good money and the site is worthless for me. I can't even use it because of the constant hacking. OurTime is the only site with this problem. They need to fix their cybersecurity. Don't use it. It's worthless. I've heard of others with the same problem. Stay away from OurTime...

Bottom Line: No, I would not recommend this to a friend

---

Scammers galore!

By Ginny B.

,

Chehalis, WA

,

Oct 14, 2019
Verified Reviewer

Overall Experience:

I was pretty naive when I got on the site, which is NOT free, and the first guy to come along was a scammer. It's the guys who say they're in a foreign country to watch out for. After about a dozen scammers, I tried to find someone local and that didn't work too well, either. I learned their M.O. and started tossing them to the curb right and left. Then I started meeting real locals.

It didn't work for me because I've been single and independent for too long.

Bottom Line: Yes, I would recommend this to a friend

---

Site is a scam, do not pay any money to them!

By Justin C.

,

Pennsylvania

,

Oct 12, 2019
Verified Reviewer

Overall Experience:

Site is a scam, does not let messages connect to other patrons. Blocks messags and tampers with profiles. Has not let any messages with anyone for a week. Contacted customer service several times and no response or anything done. Nobody seems to want to make this site work. Very unreliable very misinformed most definitely is a scam.

Bottom Line: No, I would not recommend this to a friend

---

Totally confusing - probably deliberately?

By Michael B.

,

Virginia

,

Oct 3, 2019
Verified Reviewer

Overall Experience:

The site OurtRime.com serves the UK! Although I eventually found a website at us.ourtime.com most of my attempts to access don't go there but instead offer me OurTime.com - which is the UK (British) site which either offers me dates in Manchester and Birmingham, England!

Both websites are very confusing - maybe deliberately designed to lead one to subscribe, hoping that subscriber things will become clearer?

I am very glad to have discovered this site (HighYa.com) to find I am not alone in being frustrated and aggravated by OurTime.com.

Proceed with extreme caution, or just stay away.

Bottom Line: No, I would not recommend this to a friend

---

Very expensive, don't do it

By Stephen M.

,

Surrey, England

,

Aug 23, 2019
Verified Reviewer

Overall Experience:

Do not use this site. They charged me £119 to get started and no chance of getting it back. I have to write 180 characters or they do not except my review. They are rubbish, do not use this site, you have been warned. They are too expensive for what they do even though they sponsor some TV shows.

Bottom Line: No, I would not recommend this to a friend

---

Lies

By Sandra H.

,

Oak Ridge, TN

,

Jul 23, 2019
Verified Reviewer

Overall Experience:

Met Thomas. Admitted he lied about his age. So I asked questions and did research. Said he was a widower. Could not verify. Found former home. Sold, and wife listed in another state. Did not like questions but I am not going to trust when he admits the first time we met he lied. Not sure I want to pay to meet a person who lies. And THEN says he wanted a sexual relationship. I'd already said no. Just not worth the stress.

Bottom Line: No, I would not recommend this to a friend

---

Don't do it!

By Aaron M.

,

Pennsylvania

,

Jun 7, 2019
Verified Reviewer

Overall Experience:

The worst site imaginable. Look forward to spending two minutes verifying that you're not a computer every time you log in (after paying), so you can see 45 people, two of whom you're interested in (in a top 5 city in terms of population in the US), one of whom has been online in the last year...and a bunch of people a hundred miles away. All good reviews about this horrible site online are ones they paid for. Run for the internet hills.

Bottom Line: No, I would not recommend this to a friend

---