OurTime Reviews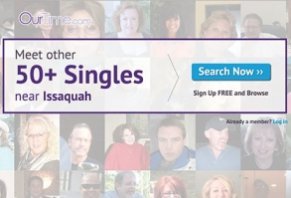 OurTime is a niche dating website that's claimed to help you meet other singles 50 years of age and older for pen pals, friendship, dating, and even marriage.
About OurTime
OurTime is an online dating website specifically targeted at single men and women ages 50 and over.
In order to begin using OurTime.com, you'll first need to sign up for a free account by entering your name and email address, choosing a username, and then uploading a photo and writing a short bio about yourself (both of which are optional, but greatly increase your chances of meeting a match). You can also answer questions about yourself such as height, weight, gender, marital status, smoking preferences, your body type (e.g. "slender," "a few extra pounds," "big and beautiful," etc.), as well as how you'd classify your looks.
Once your OurTime account is set up, you'll gain immediate access to your dashboard, which includes your inbox, a list of people who have viewed you, your Flirts, other users the system has automatically matched you with based on answers to the above questions (known as Instant Match), as well as the number of tokens remaining (more about this in a moment). You'll also be able to view members who are currently using the site and who are available for live chat.
With this said, the primary communication methods you'll use on OurTime.com are:
Flirts, which are "nudges" you can send to other users to let them know you're interested based on the information found in their profile.
Direct messages
Live chat
Nearly all communication on OurTime will begin with Flirts, and if the other user is interested you can begin sending messages back and forth, and eventually have a live chat session.
Sounds pretty straightforward, right? But regardless of the type of relationship you're pursuing, is OurTime.com the best way to meet someone over the age of 50? Consider the following:
Beware of Online Dating Scams
Unlike some of the other well-known "mainstream" dating sites such as Match.com and eHarmony.com, OurTime.com does not attempt to verify that the information posted by each user is legitimate, so you'll have no idea if they're being truthful or not.
Because of this, you'll want to familiarize yourself with OurTime's Safe Dating Tips before you contact other users.
Other Mature Dating Websites
Also, keep in mind that there are several other niche websites for mature individuals, so you're not just limited to OurTime.com. In fact, as we'll discuss in a moment, the company behind OurTime even hosts another mature dating site called SeniorPeopleMeet.com.
What's the Deal with All These Tokens?
Do you remember taking your kids to the carnival, county fair, or indoor arcade/playground, and purchasing a ton of tokens in order to play games, enjoy rides, and eat all the fun junk food? Well, once you move outside of traditional dating sites, the trend seems to be nickel-and-diming you for each and every connection you make, using this same token/coin concept.
This means that in addition to the cost of your membership, you can also purchase OurTime.com coins to help promote yourself and put your profile in front of more users. However, unlike other coin/token-based sites, such as AnastasiaDate, Zoosk, and FarmersOnly.com, it appears OurTime only uses coins for self-promotion, in addition to hiring the services of the company's Profile Pro profile consulting service, which can help you "design a profile that will get you noticed and boost your chances for romance."
We'll talk more about this in the Pricing section, but keep in mind that using this coin-based model, you can quickly spend tens (or hundreds) of dollars promoting your OurTime profile in the blink of an eye.
Why Don't Customers Seem Pleased with OurTime?
Overall, it appears that the vast majority of OurTime.com members were dissatisfied with their experience. Why?
Because based on more than 230 BestReviews.net reviews (as of 3/2/15), OurTime had an average rating of 1.5 stars. Here, most complaints appear to revolve around fake accounts set up to lure you into paying more (we'll talk about this again in the final section), which is known as a romance scam; the inability to adjust key search criteria (e.g. age range, distance from your location, etc.); the automatic account renewal feature; and poor (essentially non-existent) customer service.
In addition, DatingSiteReview.com readers gave OurTime.com an average rating of 2.1 stars, with many of the same complaints noted previously.
From a company perspective, OurTime is owned by People Media, Inc., who also operates Match.com and other niche dating sites such as BlackPeopleMeet.com, CatholicPeopleMeet.com, JPeopleMeet.com, LoveAndSeek.com, SeniorPeopleMeet.com, and SingleParentmeet.com. The company holds an F rating with the Better Business Bureau based on 540 closed complaints (as of 3/2/15). Once again, nearly all complaints reference the same situations as above.
OurTime.com Pricing & Refund Policy
OurTime is free to join, although you'll need to upgrade to a paid membership if you want to read flirts you've received, to send emails, and to chat live with other members. Prices are as follows:
1 Month: $29.99 – Includes mobile access.
6 Months Standard: $88.94 ($14.99/mo) – Includes mobile access.
6 Months Best Value: $107.94 ($17.99/mo) – Includes mobile access, message read notification, profile highlight, and message highlight.
Important note: Keep in mind that your membership plan will automatically renew, so if you don't want this to occur, you'll need to contact the company and have your account cancelled before the renewal date. As we mentioned above, this automatic renewal feature is the top complaint associated with OurTime, so it's very important to keep this in mind if you decide to give the site a try.
In addition to your membership fees, if you'd like to promote your profile or get some assistance writing your bio, OurTime.com tokens are priced as follows:
25 Tokens: $0.99
110 Tokens: $3.99
280 Tokens: $9.99
Another important note: According to the token ordering page on the OurTime.com website, "If your token balance reaches 20 or below, your purchase will automatically renew for the same price and same number until you cancel via your Token settings page. By purchasing, you authorize us to charge your card now and upon each renewal." Like your membership plan, this means you'll continue being charged for tokens you don't need if you're not careful.
According to OurTime's Terms & Conditions, there are no refunds available. In addition, there is no phone number or email address with which to contact customer service; only an online contact form.
Can OurTime Help You Meet Singles Who Are 50+?
Chopping to the point: In short, OurTime might be able to help you meet other singles over the age of 50. However, based on the hundreds of poor customer reviews and their seeming reputation for underhanded billing tactics, it's our opinion that you'll want to watch your credit card charges very closely if you decide to sign up for OurTime.com.
In fact, despite the fact that we provided zero information about ourselves when signing up for a test OurTime account, we were contacted by two individuals within 5 minutes. Of course, we would have had to pay in order to view these messages, which may be a strong indication that these were fake accounts set up to convince you to hand over your hard-earned money.
See Also: Watch Out for These 6 Red Flags When Dating Online
8 out 8 people found this review helpful

Very dissatisfied

By Janet S.

,

Bedford Corners, NY

,

Dec 16, 2019
Verified Reviewer

I bought a 6-month subscription and wrote my profile using about the 1200 characters I later learned was the limit. Three days later I went to edit it and was now limited to 200 characters - "their new limit." One week later I realized they had charged PayPal not only $108.10 but $23.83 and $27.08 for no known reason. Many "flirts" from all over the country asked for my email or phone number to avoid using the site. One person wrote saying his account had been hacked and it wasn't he who had written asking for my phone/email and to "be very careful." Many have no photo or don't match the description I gave to OurTime of the type of person I was interested in. Occasionally profiles appeared to be fake or had pictures of women. After 3 days I contacted them about my misgivings but they wouldn't let me cancel any part of the subscription.

Perhaps this is the nature of online dating - but it's not for me.

Bottom Line: No, I would not recommend this to a friend

---

7 out 7 people found this review helpful

Terrible screwed-up site

By Dana A.

,

Pueblo, CO

,

Dec 13, 2019
Verified Reviewer

I have been a member of OurTime for about 4 months with a paid subscription. My profile is constantly hacked. I call about the problem multiple times and they keep telling me to change password. I keep doing that and the hacking continues. Some change my profile and shotgun the country with messages. I paid good money and the site is worthless for me. I can't even use it because of the constant hacking. OurTime is the only site with this problem. They need to fix their cybersecurity. Don't use it. It's worthless. I've heard of others with the same problem. Stay away from OurTime...

Bottom Line: No, I would not recommend this to a friend

---

Advertisement

---

8 out 10 people found this review helpful

Scammers galore!

By Ginny B.

,

Chehalis, WA

,

Oct 14, 2019
Verified Reviewer

I was pretty naive when I got on the site, which is NOT free, and the first guy to come along was a scammer. It's the guys who say they're in a foreign country to watch out for. After about a dozen scammers, I tried to find someone local and that didn't work too well, either. I learned their M.O. and started tossing them to the curb right and left. Then I started meeting real locals.

It didn't work for me because I've been single and independent for too long.

Bottom Line: Yes, I would recommend this to a friend

---

10 out 11 people found this review helpful

Site is a scam, do not pay any money to them!

By Justin C.

,

Pennsylvania

,

Oct 12, 2019
Verified Reviewer

Site is a scam, does not let messages connect to other patrons. Blocks messags and tampers with profiles. Has not let any messages with anyone for a week. Contacted customer service several times and no response or anything done. Nobody seems to want to make this site work. Very unreliable very misinformed most definitely is a scam.

Bottom Line: No, I would not recommend this to a friend

---

Advertisement

---

7 out 7 people found this review helpful

Totally confusing - probably deliberately?

By Michael B.

,

Virginia

,

Oct 3, 2019
Verified Reviewer

The site OurtRime.com serves the UK! Although I eventually found a website at us.ourtime.com most of my attempts to access don't go there but instead offer me OurTime.com - which is the UK (British) site which either offers me dates in Manchester and Birmingham, England!

Both websites are very confusing - maybe deliberately designed to lead one to subscribe, hoping that subscriber things will become clearer?

I am very glad to have discovered this site (HighYa.com) to find I am not alone in being frustrated and aggravated by OurTime.com.

Proceed with extreme caution, or just stay away.

Bottom Line: No, I would not recommend this to a friend

---

14 out 14 people found this review helpful

Very expensive, don't do it

By Stephen M.

,

Surrey, England

,

Aug 23, 2019
Verified Reviewer

Do not use this site. They charged me £119 to get started and no chance of getting it back. I have to write 180 characters or they do not except my review. They are rubbish, do not use this site, you have been warned. They are too expensive for what they do even though they sponsor some TV shows.

Bottom Line: No, I would not recommend this to a friend

---

16 out 16 people found this review helpful

Lies

By Sandra H.

,

Oak Ridge, TN

,

Jul 23, 2019
Verified Reviewer

Met Thomas. Admitted he lied about his age. So I asked questions and did research. Said he was a widower. Could not verify. Found former home. Sold, and wife listed in another state. Did not like questions but I am not going to trust when he admits the first time we met he lied. Not sure I want to pay to meet a person who lies. And THEN says he wanted a sexual relationship. I'd already said no. Just not worth the stress.

Bottom Line: No, I would not recommend this to a friend

---

15 out 16 people found this review helpful

Don't do it!

By Aaron M.

,

Pennsylvania

,

Jun 7, 2019
Verified Reviewer

The worst site imaginable. Look forward to spending two minutes verifying that you're not a computer every time you log in (after paying), so you can see 45 people, two of whom you're interested in (in a top 5 city in terms of population in the US), one of whom has been online in the last year...and a bunch of people a hundred miles away. All good reviews about this horrible site online are ones they paid for. Run for the internet hills.

Bottom Line: No, I would not recommend this to a friend

---

16 out 16 people found this review helpful

The internet is full of consumer traps

By Ning W.

,

Maryland

,

May 17, 2019
Verified Reviewer

OurTime.com: I deleted my information from your website many days ago. I thought I had quit your website, but you still charge for it. I went to my account many times and you went to see it, but it showed that "We apologize for the inconvenience: Access to your Account Settings is currently unavailable. Please try again later." It can't be canceled at all. As a result, you deducted another month's fee of $32 from my credit card, which seems like a trap, because when I pay for my credit card, it's hard to notice, and I have to do everything possible to cancel it, otherwise you will automatically charge continuously. I buy the most expensive in a short period of time one month because I just don't want to buy cheap but for many months and a long time, as a result, you still deduct the most expensive month in a row, which can not be the wishes of consumers. I hope you can return the $32 deducted this month (May) to my credit card.

Thank you very much.

Bottom Line: No, I would not recommend this to a friend

---

20 out 20 people found this review helpful

Don't use this dating site.

By Jeff B.

,

Lawrence, KS

,

Mar 27, 2019
Verified Reviewer

I signed up over a month ago, and then I canceled my automatic renewal because I found this site difficult to navigate, and not many profile choices. After I canceled, I got bombarded with the site's ads with every keystroke, which was an unpleasant experience. I complained to the site's email only to have more of their ads bombard me. The site was so unpleasant that I took a loss by removing my profile. Dating sites should be a halfway enjoyable experience. Do some research on this company because they have other dating sites as well. The company that owns this site has an "F" rating with the BBB.

Bottom Line: No, I would not recommend this to a friend

---

16 out 16 people found this review helpful

Difficult setup

By Chuck B.

,

Wisconsin

,

Mar 22, 2019
Verified Reviewer

I started to sign up for their "SeniorPeopleMeet" and was redirected. Spent hours trying to set up the app on my phone - kept giving me a useless error message.

This morning I did, and found that:

1) There is nothing much you can do without paying, and paying a lot.

2) I know my small town, and I know that nearly, if not all, profiles they show me here are fake.

Zero stars unavailable.

A minimum of a $1 a day for introductions to non-existent people?

Bottom Line: No, I would not recommend this to a friend

---