FarmersOnly.com Reviews
Claimed This company has claimed this profile, is getting alerted on any new customer reviews entering this page, and may engage in dialogue with its customers to address their matters.

Companies cannot pay money or provide goods in order to remove or alter customer reviews.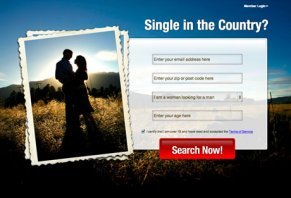 FarmersOnly.com is an online dating site that primarily targets people who live on farms and rural areas and claims to have more than 100,000 members.
About FarmersOnly.com
Owned and operated by FarmersOnly Media in New York, NY, FarmersOnly.com is an online dating service designed for individuals who live on farms, in rural areas, love animals, or who simply aren't city or suburban-dwellers. As such, FarmersOnly.com's catchphrase is "City folks just don't get it."
Jerry Miller, an experienced marketer, came up with the idea for FarmersOnly.com after a rural friend of his was widowed, and found it difficult to meet others who shared her values and lifestyle. Since launching five years ago, the site claims to have more than 100,000 members, and has been responsible for hundreds of marriages.
From a customer satisfaction standpoint, FarmersOnly.com seems to be doing fairly well. In fact, according to Wikipedia, many of the site's moderators are loyal users that have been around since the launch.
How FarmersOnly.com Works
Signing up for FarmersOnly.com is quick and completely free of charge, and only requires that you specify your gender, who you're seeking, as well as your age, zip code, and email address. From here, you'll immediately be redirected to an area where you can begin browsing the profiles of other members in your area. If you decide that FarmersOnly.com is right for you, your profile can then be updated to include your religion, age preference, a more detailed bio, photos, and more.
FarmersOnly.com's usability and overall infrastructure is pretty generic, and operates similarly to many other well-known dating sites such as ChristianMingle or Zoosk. Just as with these other sites, a basic FarmersOnly.com membership is free—you can send and receive FLIRTs from other singles—but in order to send private messages, you'll need to upgrade to the Premium version.
Other than this, there aren't many FarmersOnly.com features that are different from other popular dating sites. While the free version is a good way to get started and to see if FarmersOnly.com is right for you, in order to make a real connection with someone—such as sending and receiving private messages—you'll need a Premium membership. A big downfall of this is that if you send another user a message, they won't be able to respond unless they're also a Premium member. However, according to the company's website, the majority of free members upgrade to Premium accounts.
FarmersOnly.com Membership Plans & Prices
A Premium FarmersOnly.com will cost you $21.95 on a month-to-month basis. However, if you pay for three months in advance, you'll save 10%, for a total cost of $39.95. Furthermore, if you pre-pay six months in advance, you'll save 55%, for a total of $65.95.
Regardless of which membership plan you choose, FarmersOnly.com will automatically bill your credit card and renew your membership unless you cancel in advance. It's important to note that the company's website does not make any mention about a grace period in relation to refunds. As such, if you attempt to cancel after the renewal has occurred, you will not be eligible for a refund, and your Premium account will continue for the remainder of the membership period. Afterward, your account will automatically return to the free version.
See Also: Watch Out for These 6 Red Flags When Dating Online
3 out 3 people found this review helpful

I said YES!

By Amy D.

,

Nov 6, 2019
Verified Reviewer

I met the love of my life on FarmersOnly in February. On 10/25/19 he asked for my hand in marriage (after asking my parents a week prior). I have farmed and ranched, my entire life...and unless you know the lifestyle, it's hard to understand it. So I gave FO a try and, found a man who loves the same parts of life I do! I have actually known most of his family most of my life, but his part of the family had moved away. I would have never met him, nor would I be planning a wedding right now! Always have faith...I am now marrying my best friend! Thank you!

Bottom Line: Yes, I would recommend this to a friend

---

2 out 2 people found this review helpful

In concept it is good

By Lew M.

,

Illinois

,

Oct 28, 2019
Verified Reviewer

FarmersOnly is a good site, but like all site needs additional enhancements. I am a serious horseman, but got hit by 5 scammers on there and more gamers then care to think of. Support did delete them. But they need more mandatory checks and fields filled out. Better searches. If they're not truly farm or horse-related, should be looked a different way. Clean up their databases of old members and not waiting to see if they will return, make them create new profiles. Don't worry about the cost and just collecting money on the site but worry about providing the best customer service, and boosts the integrity in the industry. It goes back to why he created the site for his friend.

Bottom Line: No, I would not recommend this to a friend

---

Advertisement

---

4 out 4 people found this review helpful

Not worth the money

By Ron M.

,

Texas

,

Oct 28, 2019
Verified Reviewer

Never did get a live person response, when you get a "likes you" notification and you try to respond, you won't get anything back. It shows the person online most of the time but no response. It's a waste of your time and money.

Bottom Line: No, I would not recommend this to a friend

---

Amazing site!

By Kelly K.

,

Butler, PA

,

Oct 24, 2019
Verified Reviewer

I was on FarmersOnly for less than a week and found the man of my dreams! We've since gotten married and had a baby. We are so happy and so grateful! We were states apart but your site brought us together. I can't begin to express our feelings and appreciation! We tell everyone about where we met and suggest it to all of our single friends and family! THANK YOU!

Bottom Line: Yes, I would recommend this to a friend

---

Advertisement

---

2 out 2 people found this review helpful

Thank you FarmersOnly!

By Alexis T.

,

Texas

,

Sep 28, 2019
Verified Reviewer

So I am going to be honest, I was a little leery about joining a dating website. FarmersOnly was the 1st dating site I ever joined. And I'm thankful that I did because I found my boyfriend. And we couldn't be happier. I think a lot of people have bad ideas or assume dating website are for "hookups." But I found FarmersOnly to be a serious site for people who really are looking for something long term. I'm so happy I met Brandon. Joining FarmersOnly was the best thing I ever did!

Bottom Line: Yes, I would recommend this to a friend

---

6 out 6 people found this review helpful

I was leery of another online dating website

By Brenda Y.

,

Saxon, WI

,

Sep 7, 2019
Verified Reviewer

I was persuaded to go on FarmersOnly.com by my sister. I'm sorry but that Plenty of Fish site, were some real losers...Anyway, I made a profile in mid to late March of 2015. On March 31st I had received an email from James. Well, we emailed for 4 days because I wouldn't give my number out right away. Then I finally gave it out. We texted and talked for 2 weeks before we met. We lived about 4 hours away, 218 miles from one another. We've been together 4 years and are getting married this October 2019.

I feel that FarmersOnly had a great site, easy to you and view other profiles. It felt safe being on it and I found my love of a lifetime. I moved to Saxon in February of 2016. We have a beef cow-calf operation and a beautiful farm. I would recommend this site to find the perfect fit if you are country born or farmed. It's not for everyone but it worked for us.

Bottom Line: Yes, I would recommend this to a friend

---

3 out 3 people found this review helpful

Thanks for my husband!

By Amber S.

,

Salina, KS

,

Sep 5, 2019
Verified Reviewer

I had been in an awful relationship and when it ended someone suggested trying FarmersOnly. I met Troy very quickly and we scheduled our first date. That first date lasted twelve hours and we started dating soon after. A year and a half later he proposed and we got married in the wedding of my dreams. We are happily married and love sharing how we met online. We even had our junior bridesmaids carry "You don't have to be lonely at FarmersOnly," signs. I would love to share the pictures with you! Thank you so much for bringing me my husband!

Bottom Line: Yes, I would recommend this to a friend

---

3 out 3 people found this review helpful

Met my soon to be husband!

By Bobbi Jo B.

,

Juneau, WI

,

Aug 20, 2019
Verified Reviewer

After countless first date disasters on other sites, I decided to try FarmersOnly. The first date was spectacular! Needless to say, I am getting married next month to "The One."

Thanks FarmersOnly!

Bottom Line: Yes, I would recommend this to a friend

---

3 out 3 people found this review helpful

Meeting my wife

Hi FarmersOnly, my name is Christopher. Me and my wife met on your website and it's been the best thing of my life. This Sunday will be our first wedding anniversary and for part of her gift I want to get her our first messages for here, she has wanted them for a long time now and was really hoping to be able to get them from you. Would love your help, thank you.

Bottom Line: Yes, I would recommend this to a friend

---

6 out 6 people found this review helpful

True love in 30 days!

By Shirley W.

,

Miramonte, CA

,

Aug 7, 2019
Verified Reviewer

To all of you who are looking for a real relationship, I have tried 2 other sites with no luck...they were hard to engage and hard to navigate. Then I found FarmersOnly. Believe it or not, the best thing in my 84 years has happened to me...I met a wonderful man. He is for real! We found each other and really cannot believe it ourselves...I am 84 years old and he is 88 years old. So you see, it is never too late. In addition, I wish to say I met a lot of eligible men and was treated with "kid" gloves. No embarrassing moments. I highly recommend anyone to FarmersOnly if they are sincere and ready for a real meaningful experience. Thank you, guys! Thanks a lot. You not only made my day, but you made the rest of my life...Xoxo.

Bottom Line: Yes, I would recommend this to a friend

---

5 out 6 people found this review helpful

New rodeo

By Michelle L.

,

Eighty Four, PA

,

Aug 2, 2019
Verified Reviewer

After 7 years of a horrible marriage and life just being rock bottom, being a single mom of 3 little ones, I waited for my divorce to be final. I was watching TV one night, saw one of the goofy commercials and signed up on 10/12/18. Wasn't long at all when I got a message from Cowboy 50568454 on 10/14/18. We talked, texted, and video chatted daily. We finally got time with his busy farming schedule where I could go up and spend the day with him. I packed the 2 k9 up. Left about 6 am because it's a 2.5-hour ride and well, he came home with me and 9 months later we are happily engaged and love each other so much. We plan on getting married next September on the family farm. His family is wonderful as well. I love Greg so much. He's my everything! We both have had rough histories and we balance each other out. I thank God every day for him. We get asked about how we met and people think it's funny but I said how else am I supposed to meet anyone with a busy life. He's a 5th generation dairy farmer. He has the biggest heart too. Thanks FarmersOnly!

Bottom Line: Yes, I would recommend this to a friend

---