ChristianMingle.com Reviews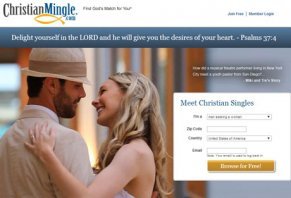 About ChristianMingle.com
Based out of Los Angeles, CA, and owned by Spark Networks, LLC, ChristianMingle.com is a website specifically tailored to Christians looking for relationships with other Christians, or simply to establish friendships with those of the same faith. In business since 1996, ChristianMingle promotes friendships, relationships, and marriages based on biblical principles. According to their website, not only is ChristianMingle a dating website, but the company stands behind the Gospel, and confesses Jesus Christ as their Lord and Savior. In addition, many of the Advisory Board members are well know Charismatic and Evangelical pastors and leaders.
ChristianMingle.com Features
Like many other online dating sites, including Zoosk, getting started with ChristianMingle is simple and free of charge. When first signing up, you will be prompted to include personal details such as height, gender, date of birth, ethnicity, current city, smoking/drinking preferences, if you've ever been married, and whether or not you want children. Other questions correspond specifically to Christian life, such as if you regularly attend church, your denomination, and if you're part of a ministry.
Once you've completed all the questions, you can then begin browsing Christian Mingle using basic or advanced filters, for information such as age range, level of education, smoking preferences, body type, whether or not an individual was raised in the church, and more. With a free guest membership, you have the ability to create your own profile, search the profiles of others, post photographs, send and receive smiles/cards, take part in the message boards, and view upcoming events.
ChristianMingle.com Paid Subscription
If you want to take advantage of all the features offered through ChristianMingle.com, you will need to become a paid member. In addition to the features found in the free membership, you'll also gain access to the full range of communication tools, including email, instant messaging, private chat rooms, and public message boards. If you already have a free account, you'll simply need to click on the Upgrade button at the top of the page. Membership fees are as follows:
$29.99 per month, on a month-to-month basis
$11.39 per month, by paying for three months in advance (lump sum payment of $34.18)
$8.39 per month, by paying for six months in advance (lump sum payment of $50.36)
In addition, there is a processing fee of $3.99 added to all first-time subscribers.
The prices above reflect ChristianMingle's summer 2013 special, which tend to change on a seasonal basis. However, keep in mind that when your plan comes around for renewal, you will be billed standard prices, regardless of the price at which you signed up.
Pros:
Dating site specifically tailored to Christian singles.
Promotes biblically based relationships.
Free to sign up and begin browsing profiles.
Cons:
Numerous complaints of excessive promotional email from ChristianMingle, and difficulty unsubscribing from their mailing list.
Many complaints of a variety of frauds/scams, though this is a problem encountered on most dating sites.
Many accounts of users who claim to be Christians, but who ended up being very different in person.
Site design is outdated, and utilizes obsolete interfaces and other technology.
SEE ALSO: Watch Out for These 6 Red Flags When Dating Online
Waste of money and time

By Tina D.

,

Orlando, FL

,

Aug 13, 2019
Verified Reviewer

Terrible...terrible...terrible...It offends me that Christian is the beginning title of this dating website. I think they use "Christian" to pull in those that are holding out hope for finding a soul mate in church. You can't access the site, EVEN AFTER YOU HAVE PAID! Actually accessing the site was worse after I gave them my MONEY. They will only get it once. There are no more profiles after you pay MONEY...than before, when it was free. They try to pull you in by saying there is more after paying...nope! Not true! Shame on you "Christian" Mingle. Go to SILVER SINGLES...much better!

Bottom Line: No, I would not recommend this to a friend

---

Scam site

By Tim M.

,

Chicago, IL

,

Jul 30, 2019
Verified Reviewer

ChristianMingle.com is AWFUL now. I did it a few years back no problem, good site, etc. Now you cannot even search by the most active singles, you can see who is "online" anywhere in the world but you cannot see in order who was most recently online. It's not very helpful to see only matches that are not active. I feel like they are at high risk for selling something that they cannot support from a functional searching platform. I called 24 hours after I signed up for a refund. CM is awful now.

Bottom Line: No, I would not recommend this to a friend

---

Advertisement

---

3 out 3 people found this review helpful

Terrible site and waste of money

By Jan N.

,

Charlotte, NC

,

Dec 31, 2018
Verified Reviewer

My parameters weren't that specific and the site only had five matches! The majority of men who had viewed me were removed for infractions against their policies such as sexual content, etc.

Bottom Line: No, I would not recommend this to a friend

---

7 out 7 people found this review helpful

Seriously!? These guys are crooks.

By Kaela J.

,

Colorado

,

Dec 6, 2018
Verified Reviewer

Money hungry. FAR from gospel oriented. They don't even allow people to see other profile pictures unless they pay more money. They're not about "finding love" or peoples' protection. They want money and that's the bottom line. Non-Christian websites charge way less money and have way less "limitations" and "conditions" and trust me, theirs aren't based off how "holy" someone appears to be. They overcharge, do not care about safety, and they're downright judgmental as crap. They're crooks and need to rename this site and take Christ out of it because there is no Christ-focus when it comes to this darn website.

They all suck and only get worse. Seriously, anyone on the fence about this stupid website crap, walk away. Your money is better spent literally anywhere else.

Peace.

Bottom Line: No, I would not recommend this to a friend

---

Advertisement

---

2 out 2 people found this review helpful

Account was hacked. Customer service was unable to help.

By Kathy S.

,

Tulsa, OK

,

Oct 7, 2018
Verified Reviewer

I had my account for almost a month and was very disappointed because my only contact was with scammers, so I canceled my subscription knowing I wouldn't get my money back, $149.00, but I would not be auto-renewed in six months. Today I got bombarded with women reaching out to me and all wanting me to email the uncle. I received at least 15 messages from different women all with the same uncle's email. Obviously, my account was hacked. My name has been changed from Kathy to Raymond and my birthday changed by one day. There was no way to access customer service from the app, so I googled it and started an online chat. Nick H couldn't help me unless I gave him the amount and exact date I started my subscription.

Bottom Line: No, I would not recommend this to a friend

---

3 out 3 people found this review helpful

Do not pay for an account

By David B.

,

St. Louis, MO

,

Jul 28, 2018
Verified Reviewer

I created an account in July of 2018. Two days later I received a message that my account was suspended due to "suspicion of fraud and your purchase has been refunded." I had made no purchase. In fact, I never interacted with the handful of matches on the site. I was then told that in order to re-activate my account I had to provide: 1) "A copy of a recent, institution issued statement (such as a bank statement, credit card statement or utility bill)" and 2) "A scanned color copy of a valid, government-issued photo ID." What?! Be VERY leery of this operation.

Bottom Line: No, I would not recommend this to a friend

---

7 out 7 people found this review helpful

ChristianMingle is a scam!

By Jane W.

,

Oklahoma

,

Jun 27, 2018
Verified Reviewer

Having been on ChristianMingle FOR OVER a month with not a single match, I can assure you it is a scam. They are also much pricier than any other online dating site. Touting they are a Christian site is a con...they have all kinds of people on the site. I should have just thrown my money out the car window, at least someone "in need" might have found it. NEVER AGAIN with ChristianMingle.

BUYER BEWARE!

Bottom Line: No, I would not recommend this to a friend

---

4 out 4 people found this review helpful

Don't waste your time or money

By John S.

,

Florida

,

Jun 22, 2018
Verified Reviewer

I got nothing out of this site. Limited matches are shown. Absolutely no results. Account got hacked, numerous problems. Thre appears to be a lot of scammers on this site. A total waste of time and money.

Bottom Line: No, I would not recommend this to a friend

---

9 out 9 people found this review helpful

Waste of my money!

By Lynn

,

Nashville, TN

,

Mar 30, 2018
Verified Reviewer

I decided to try this site, and it's been such a waste of money. I have been on here for a week and for some reason they can't get my profile to be seen by others. I've contacted them twice, and no one has gotten back to me to explain what's going on. I feel that since they received their money, they should make things right but that's definitely not the case. Now I'm inclined to believe all of the negative reviews that I've read, and I don't believe these are real men that are currently on their site. I think by calling it a Christian site makes people want to trust and believe in them. I canceled my subscription and will definitely let people know NOT to use this site at all!

Bottom Line: No, I would not recommend this to a friend

---

19 out 22 people found this review helpful

Calm, Rational, and Unbiased

By Ryan

,

Saint Paul, MN

,

Jun 29, 2016
Verified Reviewer

Whenever a business decides to put itself before its customers, I feel an urge to share my story with others (in a hopefully calm, rational, and unbiased way). ChristianMingle recently gave me this urge. I actively used ChristianMingle from May 2015 to March 2016, which is when I met my current girlfriend (I met her on another website, not ChristianMingle). I had a good experience using it, but then I was charged for an auto-renewal of $113.94 in May 2016. I emailed them telling them my situation and that I had forgotten that I would be charged for an auto-renewal for an additional 6 months when my time was up. I have a lot of memberships - some auto-renew and some don't, so it's tough to keep track of. The overwhelming majority of businesses understand this and are understanding when I ask if I can get a refund from an auto-renew (I've probably had this happen about 5 other times - all the businesses were totally cool giving me a refund).

I emailed them asking if I could get a refund since I hadn't used their website since March (when I entered my current relationship) and had no intention of using it for the time being. I thought this was a reasonable request, but they didn't think so. They told me several times that it's in their "Terms" that I accepted and I should've been more on top of it and canceled my service before the auto-renewal hit. I told them that's fine, but I promised I would never use their service again if they wouldn't make this exception. They told me to call them so they could assist me with my recent charge.

After 4 call attempts on 3 different days (they closed over 2 hours early one day, closed for lunch another, long hold time), they finally pick up. They look into my situation and tell me that they aren't going to give me a refund, because I basically should've known better and should've canceled my subscription before the auto-renew charge occurred (thank you for making me feel like a 14-year old getting a lecture from an adult again). Essentially it was all my fault. I find it funny that they told me to call them so they could "assist me with my recent charge" by telling me exactly what they told me over email. I told them I would never use their service again if this was the stance they were going to take and they seemed fine with it (they must have all the money and business they could possibly want).

Like I said earlier, this is one of those rare occasions where the business puts itself before its customers and I thought I should share my story so others don't need to experience the same thing. They knew my situation, they knew I hadn't used their service since March, and still decided to charge me thru November while giving me a lecture about how I'm not a responsible person, because it was in their "Terms" agreement.

Blessings,

A calm, rational, and unbiased customer

Bottom Line: No, I would not recommend this to a friend

---

18 out 20 people found this review helpful

These People are Crooks

By Shannon Davis

,

Knoxville TN

,

Aug 4, 2015

If I could have given them zero stars I would have. I signed up for a 6 month plan at a special price. Of course it was in the fine print that they auto renew you in 6 months. That would have been bad enough, but they renew you at the inflated regular price. So now I have six more months to go on a crappy dating site and also get to pay $30 extra dollars for it, for a total of $77 dollars. I called them 2 hours after the transaction was put through. It was still in "pending" status. They refused to cancel it, saying it was stated in the contract. He asked why I wanted to leave and I explained that I wasn't getting enough quality people contacting me and he asked if I wanted him to look over my profile to see if he had any tips for me. Uh NO, I just want my $77 dollars back. Highway robbery. I will never on purpose join again. Crooks!

Bottom Line: No, I would not recommend this to a friend

---