AnastasiaDate Reviews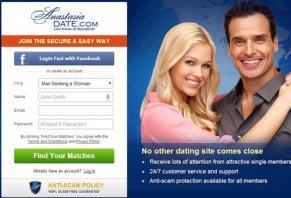 About AnastasiaDate
Established in 1993 by a Russian-American couple, AnastasiaDate is an international online dating site that specializes in helping men meet women from Russia, Ukraine, Moldova, and other CIS countries. With a staff of 300 and offices in the United States, Russia, China, Colombia, and Kenya, AnastasiaDate claims to have more than one million worldwide members. In fact, the site has become so popular that it's been featured on major U.S. television shows such as The Daily Show, 48 Hours, The Howard Stern Show, and across networks like CBS, Fox, ABC, and more.
AnastasiaDate differentiates itself from the competition by tackling the problem of scams head-on, which is something very prevalent within the international online dating community. They accomplish this by contacting each woman who joins the site and verifying their identity, making sure their picture is a true representation of their looks, and that their intentions involve romance, marriage, companionship, or friendship.
On top of this, AnastasiaDate hosts numerous romantic tours each year, which are primarily focused on Russia and Ukraine. During these tours, men (most of whom are from the U.S.) fly in to meet women through a variety of social events. Packaged tours are available, and include airfare, accommodations, food, guided tours, transportation, professional translation services, and more. And whether or not you've already met someone special on the site, you can use these tours as an opportunity to meet women, or to get to know someone better.
How AnastasiaDate Works – From a Man's Perspective
If you're a man seeking a woman, AnastasiaDate makes signing up free and easy. As soon as you've input a few of your personal details, you'll immediately be able to begin browsing the profiles of Russian women, just like with any other dating site. You can search based on age, weight, and other interests listed in her profile, such as personal details, interests, photos, physical traits, answers to common dating questions such as what she looks for in a man, and so forth. In addition to Russian women, AnastasiaDate also includes women from the U.S.
If you browse the site and decide it's right for you, you can then create your profile, upload pictures, and answer typical questions that you'll find on any other dating site. When searching for women, you'll quickly notice that:
Most of the women come from Ukraine, and
They typically include professional, model-like photos of themselves.
This would normally raise our red-flag-meter as a potential scam, but according to AnastasiaDate, each woman goes through a personal verification process, and a professional photographer who has teamed up with the dating site most likely took the pictures. Which brings us to our next point…
Where Do the Russian Women Come from on AnastasiaDate?
Because AnastasiaDate is specifically tailored toward men seeking women, if you attempt to sign up for the site and indicate that you are a woman, you'll be redirected to www.svadba.com ("svadba" means "wedding" in Russian). There, a woman who is looking to be listed on AnastasiaDate will experience a wholly different process, infrastructure, and portal, all of which is completely in Russian. Soon thereafter, an employee from the company would call the applicant, and would begin the verification process.
AnastasiaDate Features & Pricing
Like most of the more popular dating sites such as Zoosk and Christian Mingle, browsing through the women's profiles on the site is completely free. However, if you decide that you'd like to chat with one of these women, this is when you'll start being charged—and which can become very expensive, very quickly.
When you chat with a woman on AnastasiaDate for the first time, the initial three minutes are free of charge, after which point you'll be prompted to purchase credits. Even though the site is not subscription based, it is credit based (more about credit values in a moment). Credits are sold in bundles, and are priced as follows:
20 credits = $15.99
40 credits = $30
80 credits = $56
160 credits = $96
320 credits = $185
500 credits = $249
1,000 credits = $399
One credit is worth one minute of chat, while two credits are worth one minute of live chat with video, (only you will be able to see the woman). For example: If you purchase 1,000 credits, you'll have 170 minutes of two-way video chat (e.g. you both can see each other), or you'll be able to send up to 100 letters. In addition, AnastasiaDate offers many other traditional features such as the ability to send virtual gifts, flowers, and much more.
One Little Problem: Fake Review Flood
As mentioned in our TripTogether observation, we have been receiving a ton of "overly-positive" reviews in our system all in extreme favor of AnastasiaDate. Now we're not pointing fingers here but using our undisclosed proprietary process and algorithm, our system immediately red-flagged the flood of these reviews as ones that do not appear to be genuine and legit. On the contrary, it was what appeared to be as individuals trying to pose as consumers with hopes of artificially boosting the company's rating here at HighYa. As such, we completely blacklisted them. We even went as far as kindly reaching out to AnastasiaDate and TripTogether twice and providing the courtesy of simply asking for such behavior to stop. Both times we were ignored. With that said, it makes us question all the other positive reviews for these two companies available on other review websites. So just be careful and cautious when researching reviews for these companies!
The Bottom Line – AnastasiaDate isn't a Scam, but Is Very Expensive
AnastasiaDate works differently than most other dating sites; from the way their verification process operates and the women they "showcase," to their numerous romantic tours each year. If you don't have a problem dating women who potentially just want to come to the U.S. for a better life, AnastasiaDate may be a good option for you. With that said, the reality is that many of the women on the site are genuine, and are looking for honest romance with a man from the U.S. However, some are definitely looking only for a free ticket, and nothing else. So as cliché as it may sound: Be careful. If you have the moolah to spend, that is.
Despite the verification process that women undergo, or the wide variety of tours available throughout the year, AnastasiaDate is built to make money. For instance: After you chat with a beautiful woman for three minutes, your passion might be ignited, so you'll want to chat with her more. If you and she really "click" with each other, you could easily spend thousands of dollars on credits in a matter of several weeks, only to find out that you didn't fit together as well as you originally might have thought. And if you meet another woman soon thereafter, the process repeats itself all over again.
Now, you might be thinking, "Why wouldn't I just exchange personal information with a woman?" AnastasiaDate makes all women agree to certain terms in order to be featured on the site, and if these guidelines are broken, they will be permanently removed. As a result, you will not be able to obtain any personal information from them, including phone numbers, email addresses, Skype usernames, etc.
So while AnastasiaDate is specifically built to give you exactly what you want, it is also specifically created to make a lot of money. If you choose to join AnastasiaDate and actively pursue Russian women, be prepared to spend a ton of money in the process.
See also: Watch Out for These 6 Red Flags When Dating Online
5 out 5 people found this review helpful

Eye candy

By R D.

,

Milwaukee, WI

,

Nov 21, 2019
Verified Reviewer

As a registered user of AnastasiaDate who has NEVER taken advantage of their services and never will, I've concluded that unless you view AnastasiaDate and similar sites as mere eye candy stores, you are in for a world of hurt. Other than wasted time, it doesn't cost you anything to look. But when you start taking advantage of what they allegedly/supposedly have to offer, it could potentially cost you everything.

Bottom Line: No, I would not recommend this to a friend

---

15 out 16 people found this review helpful

Fraud group, scammers

By Jimmy W.

,

Vancouver, Canada

,

Aug 15, 2019
Verified Reviewer

I have joined AnastasiaDate dating site over 3 years, and I just came back from Ukraine two days ago, I was chatting a lady called Irina for over 6 months, and I decided to meet this lady. Before I went to Ukraine, we had discussed so many things, and this lady was agreeing on everything with me. She supposed to show up at the airport to pick me up, but when I arrived, she asked me to go to the hotel on my own. After I have settled down at the hotel, she sent me a message saying that she wanted to meet me but would bring an interpreter (her agent), but we had discussed and agreed about not hiring an interpreter, but everything was changed. If I did not agree to let the interpreter come, then the interpreter was not allowing the lady to come to meet me. The interpreter controls her. Finally we meet on the third day, the interpreter took us to a very expensive restaurant for lunch. After lunch, I went back to the hotel, the agent sent me an email saying that the lady wanted to meet me again for dinner. I said to the agent that I could pay her US$30 per hour for translation for two hours if they left the lady and me alone, but the agent did not agree, because she was afraid we exchanged contact information. Also, she could not get the commission from the restaurant, so we did not meet the second time.

Finally, I figured out what happened, the agent owns several ladies, and she chatted for those ladies in the day time, because she could get money from AnastasiaDate. So sometimes you were confused about why the lady did not know what you were saying. By the way, the agent knows every single word in the conversation between you and the lady.

I do not expect a dating site like this, create the opportunity to make money.

Bottom Line: No, I would not recommend this to a friend

---

Advertisement

---

18 out 20 people found this review helpful

This site will flush your heart, money, and time down the toilet!

By Cathal B.

,

Ireland

,

Jul 12, 2019
Verified Reviewer

I have been on this site for a while chatting up hot Ukrainian girls/Russian girls. It's pretty obvious that every guy's dream is to see the likes of hot Russian girls and Ukrainian girls coming up to you and chatting you up saying that they are so interested in you and they want you to meet them in their city or your city also but that's not the case...

Hate to say this, but those women who are on those sites are only there for the money and most of them have boyfriends or even husbands and kids, they don't have no intention on visiting you or anything. They also lie that they aren't on social media but yet again search their VK (Russian version of Facebook) they've photos of them living the high life and all.

My advice, don't be the fool at the end of the day with no money and a broken heart.

Bottom Line: No, I would not recommend this to a friend

---

14 out 15 people found this review helpful

Scam with fake profile pictures!

By Youssef D.

,

Czech Republic

,

Jun 4, 2019
Verified Reviewer

They use pictures for models from online accounts and add them as people for dating, none of them are real.

If you look closely to most of them, they have the same background photo shoot. They are using my wife's pictures as a single woman looking for a partner.

Bottom Line: No, I would not recommend this to a friend

---

Advertisement

---

20 out 22 people found this review helpful

Gorgeous and real women

By Fhercho S.

,

Calgary, Alberta, Canada

,

Mar 31, 2019
Verified Reviewer

If you are looking for a Russian woman (or eastern European) AnastasiaDate, Ukrainian Ladies, or Dream Singles are not your option. This is my experience with these sites.

AnastasiaDate: Imagine walking to a bar full of models and every single one of them wants you to talk to them and they find you attractive. Of course, it's every man's dream, dream, dream, and dream, as long as you keep buying drinks for them. Kinda like a strip club, the dancer would be sitting with you as long as she has a drink on her hand - no drink, no love period. This site was my first experience, after a few days and hundreds of letters received I noticed they were scripts (or introduction letters), so I changed my strategy, I put down my real name in my description and waited until I had a letter from a girl calling me by my name as I requested on my profile. Sadly this didn't happen. So I closed my profile.

Ukrainian Ladies: After my first experience, I repeated the same strategy - hide my info on my description and waited for a letter from a girl calling me by name. After a few days, surprise, I got a few letter that seemed they actually took a minute to read my profile and write me a few lines. So I bought my first bundle of credits, I quickly realized that I had to be smarter or I would end up with a huge balance on my credit card, so I had to pick just one girl. So I exchanged letters with her for a few weeks until I had the option to request for her personal contact info. I got her email only, so I emailed her and never got a response. I went back to the website and I emailed her there. Of course, within hours she replied. I asked her why she didn't answer my email, and her answer was, "I have no internet at home, I have to use the agency computer and I can only use this website." SHOCKING. I got a reduced price per letter so it wasn't expensive, but come on, who want to email a girl you like only, you don't really get to know someone by letter (taking aside I was uncomfortable exchanging letters through a website that read whatever you write).

So I loved one and found another girl, same story. When it came to having her info I only got her email, one that she only replied once, explaining that her English was bad, even though on her profile she said she had an intermediate level and she could read and write.

Time for the next one. I had to be smarter this time. I would only talk to a girl with a profile that said she could speak English, Spanish or Portuguese (I speak these three languages), so I found another girl. After a couple of letters I scheduled a video call to make sure she was able to have a conversation, she did great, beautiful girl and great conversation skills. We exchanged letters on the website (like five or six), one video call, so I asked her if it was ok for me to request for her contact info, and she agreed. I emailed her as soon as I got it and in her email she replied, "I prefer to use the website, I feel more comfortable." Shocking.

So I realized these girls just want me to spend money on the website. Don't even try to talk to customer service; they washed their hand by saying it's not their responsibility if the ladies didn't want to talk outside the website. How was this possible? They literally were telling me I was the man of their dreams. Immediately after, I requested to cancel my account and to get reimbursed for the money invade left something that was denied.

Dream Singles: I was just creating my profile, and I already had like 10 letters, and by the time I finished I had 100, and when it came back to check two days later I had like 400. Needless to say, I did not put any information whatsoever on my profile, so I didn't even start.

Lucky to me, I met a Russian lady in Canada. I told her about my online experience, and she laughed. She said Russian women are indeed interested in men from abroad, but they are not desperate, and access to internet it's not as hard as the girls on the website. When we broke up, I went to Kiev. I tried to meet girls old school, it's hard, good luck finding one that speaks English, and the average girl is really hot, but doesn't mean she will say yes.

I ended up meeting a few girls, but nothing happened. I married a girl from Ukraine, but I met her in Canada. So my advice for you would be, if you want to try online dating, avoid these websites. Find one that has a subscription fee and lets you open as many letters as you want at no extra cost, exchange email or contact info at no extra cost. And trust me, on these websites you won't find as many model type girls, but they are pretty, and of course, you will have hundreds of letters a day. Save your hard-earned dollars and be smart. I hope I help someone from getting ripped off.

Bottom Line: No, I would not recommend this to a friend

---

23 out 25 people found this review helpful

Complete scam

By C M.

,

Belgium

,

Jan 22, 2019
Verified Reviewer

I had been inscribed in AnastasiaDate for quite some time and thought that I would be lucky enough to find a woman to love and create a family with her. Unfortunately, the site's a complete scam.

Apart from thousands of dollars I spent on communicating with women (if it was really women I communicated with), I had sent my real email address together with flowers to several women. Of course, paid services.

Several asked for money. They pretended to be sick, have computer problems...

Some of them did not even write.

Some of them wrote one or two letters and never again.

There are even hookers on the site. Two from Kiev told me that I could do them for free the first time, but that I'd have to pay after.

On some video conversation, I was sure that it was a prerecorded video since the same movements of the lady started the same way over and over again.

In the end, I wasted a lot of money for nothing.

Bottom Line: No, I would not recommend this to a friend

---

21 out 23 people found this review helpful

It's a legal scam

By Glenn R.

,

Chicago, IL

,

Jan 22, 2019
Verified Reviewer

I've met a number of women from the site and had to do an exhaustive amount of research online (and in person) to get some clear answers on the dynamic of using this site.

The big problem:

The company employs "agencies" who are tasked solely with getting good looking women to agree to post their profiles on the site. In return for generating active profiles that get men chatting, there is a compensation system paid to the agency, and most often to the women as well. I will repeat, there is a real and active compensation system for the female members of this site to maintain a dialog with other members. Many, if not all, have access to the compensation model...so yes, these women get monetary incentive to talk to you. No joke, I've met half a dozen women that supplement their income through this site.

2. There are real women there. Lots of them, most of them are real, BUT this site sets their expectations high, AND there is no confusion for them regarding what you're paying. They are coached to think that this arrangement is completely proper and that the man should have to pay out the ears to get face time with her.

3. Moreover, some of the "agencies" mentioned above (and likely the AnastasiaDate organization itself) maintain a standing body people who maintain chats in place of the people actually depicted in the profile. I have actually seen the interface for it; it's real. I know women who literally make their living on this site, and business is GOOD.

4. If you plan to actually meet a woman, there is no method of doing so without spending at least $500. with AnastasiaDate. The funny thing is, they try to say it's for our protection and they cite IMBRA to get technical, but the reality is that their entire user experience is geared to make you pay as much as possible for as long as possible without actually doing anything to promote the relationship.

All the positive interactions I have had with the site required literally half a dozen arguments with their customer service over lost mail, lost presents, delays, deliberately delayed emails (one email with contact details was delayed for over six weeks even though both parties authorized it in writing). This list of craziness goes on.

More importantly, the site is a known segue for some pretty serious scams in person. I've spoken with men that have been robbed by teams, scammed by the date, or have and to pay triple the normal price for translation services, etc.

The bottom line is, this organization is not interested in putting people together, it is only interested in making money, and it is so successful that it has its own sub-industries geared to make even more money from those who manage to meet the ladies.

I don't regret meeting the women in the least, but man...it is NOT worth the money spent. There are MUCH better online experiences than any of the AnastasiaDate sites. Do your research.

Bottom Line: No, I would not recommend this to a friend

---

1 out 24 people found this review helpful

Good site

By Ludvig N.

,

Warsaw, Poland

,

Jan 17, 2019
Verified Reviewer

Definitely would recommend this site. There are many options for finding what are you looking for. Girls there are some of the most beautiful women I have seen on any dating site. I don't think it's a scam. My good friend told me about it after he tried a few others dating sites. I just registered and didn't have any problems with that. I hope things will turn out ok for me.

Bottom Line: Yes, I would recommend this to a friend

---

27 out 30 people found this review helpful

Scam site!

By Mike J.

,

Los Angeles, CA

,

Dec 15, 2018
Verified Reviewer

If you use this scam site you'll discover the only way to get a lady's contact info is through $100 calls or $1000 gifts, and like others attest, it's worthless; they'll try to scam you back to the site to talk, or much worse.

No matter how desperate you are, never ever waste a cent on this pathetic scam site.

Bottom Line: No, I would not recommend this to a friend

---

33 out 35 people found this review helpful

Yes, this is largely a huge scam

By Gene E.

,

Charlotte, NC

,

Oct 12, 2018
Verified Reviewer

Believing in hope against hope that if somehow stuck it out, I would eventually meet someone who wasn't a complete scammer, and sorry to report, I never did. I will just give an example of the most recent (and my very last) experience.

Natalyia wrote seemingly an initial first letter that did not seem like the standard form letter that you get from some of the ladies, sometimes up to 40 times or more. I responded and we seemingly had a very real exchange of letters and chats over the course of several weeks. Then, in the last letter, just after she promised what she would do to me when we finally met in person, out of the blue, she mentioned that we should definitely take it slow. That raised a red flag, because not only can you not get much slower than sending letters and email chatting from over 5000 miles away, but this was frequently the "block" I would get when I would throw out actually calling them to discuss future plans.

She also though enclosed a photo of a strategically placed tattoo she had on her lower back. Also on the picture was a Russian last name. I googled it and it was that of a very active photographer who specializes in erotic photography (she told me she was a personal trainer). Clicking on his site, I soon found Nataliya and a number of pictures that were on the Anastasia site, and also some link to their version of Facebook, called VK. So I went on her site, found her last name, and looked at many of her 500 selfies, but several of which also featured her muscle-bound boyfriend who looked like he had an IQ under 80 with his backward camouflage ball cap on.

Just to give her the slightest benefit of the doubt, since maybe he was an ex-boyfriend, I created a separate Anastasia account using a gift card (which I would highly suggest to check the fidelity and loyalty of the woman at the other end who has pledged her undying whatever to you). I went in as "John" and simply wrote her, "I like your pics and bio. Do you currently have anybody here on the site or in real life who you have feelings for, because if I'm going to try to win your heart, I want to know that you are completely available?" Her response, as expected was of course, that she was completely free and looking, and then went into some detail about how she wanted to handcuff me and "lick every cell of my body." I didn't even get that kind of response in my real profile from her.

So, clearly, even though this seemed to be just about the most serious one I've encountered on Anastasia after being on and off for over 5 years, she was just as full of crap and would clearly say anything to anybody to keep that 12 cents a minute coming in, or whatever they pay them for letters. Apparently, it's almost a cottage industry in some depressed Ukrainian towns.

Do not do like I do and waste a cent on this site. There are others that are reputable and you pay for their actual contact once, not on and on and on just to maintain contact with your imaginary Slavic girlfriend.

Bottom Line: No, I would not recommend this to a friend

---

31 out 33 people found this review helpful

Biggest scam ever!

By Shasta M.

,

New York

,

Aug 7, 2018
Verified Reviewer

This site is horrible! The ladies on this site are ALL paid to chat with lonely men. The longer you stay online, the more money they make, pure and simple. Two women I was chatting with admitted that to me! I am an idiot. I tried it many times and got scammed each and every time! I lost a TON of money. Customer service consists of lying scammers too. They will just say that you being scammed is your fault, etc. You have been warned!

Bottom Line: No, I would not recommend this to a friend

---