Power Life Foundation Four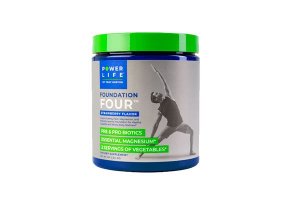 Summary
Foundation Four by Power Life is a dietary supplement that contains a proprietary blend of ingredients purported to promote whole-body health and aid in improved digestion. The ingredients used in Foundation Four have supporting studies and literature but they were evaluated at smaller doses than what's present in this supplement.
Pros
Contains a heaping amount of vegetables equivalent to two times the amount contained in the available literature
Cons
Costly, especially if planning to take long-term
Ingredients do not include fruits, as most studies have identified additional benefits compared to vegetables alone
Ingredients and dosage amounts have been studied; however, the dosage in Foundation Four is much higher than studies.
Power Life Foundation Four Review - Safety & Effectiveness
What is Foundation Four?
Foundation Four is a dietary supplement that offers a proprietary blend of four ingredients that allegedly provides whole-body wellness and healthy digestion.
Included in Foundation Four are ingredients that will provide you with the equivalent of two full daily servings of organic greens and probiotics to help balance gut bacteria.
This article will review the science supporting the effectiveness of Foundation Four ingredients in providing wellness and healthy digestion.
Ingredients
Foundation Four includes 30 servings. One serving of Foundation Four contains the following four ingredients:
Organic Greens Blend 4,000 mg (as TruServ ®)

Organic Acacia Gum 2,000 mg (as Fibergum ® Bio L)

Magnesium Glycerophosphate 455 mg (std. Min. 11% Magnesium) (as Givomag ™)

Probiotic Blend 100 mg (ProbioSEB CSC3 ™) – Bacillus coagulans, Bacillus Subtilis, Bacillus clausii
To take Foundation Four, add one scoop to 4-6 ounces of water or in your smoothie in the morning and stir until it is fully dissolved.
Proposed Benefits of Foundation Four
Daily Serving of Vegetables
Foundation Four also provides a proprietary blend of organic green vegetables that includes kale leaf, spinach leaf, and broccoli floret in powder form.
These ingredients contain many essential vitamins, minerals, and antioxidants.
A review of studies analyzed 12 studies found that increased fruit and vegetable intake improved the overall diet profile and provided positive effects of psychological well-being.
However, it is still unclear as there is no clear data to support the effect of vegetable intake on mental health outcomes.
Further, studies have observed up to 800 g/day of vegetables; specifically, it lead to a reduction in cardiovascular disease and early death.
In these studies, it is worth mentioning that dark leafy green vegetables, which are also present in Foundation Four.
Improved Digestion
The benefits of improved digestion through supplementation of probiotics contained in Foundation Four are dependent on the type of strains used.
Bacillus coagulans is a lactic acid that produces spore-forming bacterial species and a probiotic culture that aids in the digestion of carbohydrates and proteins.
A study supplemented B. coagulans for 28 days in elderly subjects was found to have influenced a higher density of healthy gut bacteria.
A review of randomized studies found that a daily dosage of 1 billion CFU of Bacillus clausii effectively decreased stool frequency in treating diarrhea. Bacillus clausii had a relatively good safety profile in children.
Bacillus subtilis is recognized as a safe and reliable human probiotic.
Research has found that probiotics containing the B. subtilis strain of 1 billion CFU may help in reducing and preventing intestinal inflammation while also strengthening the gut barrier.
Gas & Bloating Relief
Acacia fiber or Gum Arabic is a dietary fiber found from the acacia tree and can dissolve in water.
A randomized study of 130 patients consumed yogurt that contained acacia fiber and was found to have therapeutic effects in patients with irritable bowel syndrome (IBS).
A study found that acacia gum was a well-tolerated dietary fiber to benefit intestinal health. Dosages of 15 g per day for ten days produced enough of gut bacteria to improve intestinal health.
The dosages used in Foundation Four compared to dosages used in the available studies are significantly higher.
Increased Energy & Reduced Fatigue
Magnesium deficiency has been shown to affect physical fatigue that may limit physical performance.
There are limited studies that address the supplementation of magnesium and physical fatigue.
However, a study found that daily supplementation of dosages between 400 mg and 800 mg of magnesium was shown to decrease the perception of fatigue in 25 breast cancer women.
Is It Safe to Take Foundation Four?
The dietary supplement offered by Foundation Four seems to offer acacia gum at a dose of 2,000 mg. Dosages of acacia gum that was higher than 30 g per day produced excessive flatulence.
In general, serious adverse effects are extremely rare, especially in Foundation Four's probiotic dosage.
A study found that a larger dose than 5000 mg (630 billion CFU) of B. clausii is safe for humans.
Mild side effects can include abdominal pain, gas, bloating, and diarrhea. These symptoms can be alleviated by discontinuing use.
It is always important to always include your physician regarding using dietary supplements aimed at improving GI health and gas and bloating as there could be underlying causes.
How Much Does It Cost?
Foundation Four by Power Life is available for purchase on their website. There are multiple purchasing options for Foundation Four:
1 Jar: $79.95

3 Jars: $215.85

6 Jars: 407.70
Each jar of Foundation Four qualifies for free shipping (Domestic only).
Foundation Four also features a 90-day money-back guarantee. You have a full 90 days from your purchase to try Foundation Four.
To begin your refund, you will need to contact their customer service at (855) 462 – 2496. You will need to return all products and expect to pay for shipping before your refund is processed at their shipping facility.
Alternatives to Foundation Four
In terms of alternative dietary supplements, you can perform a simple search through Google or Amazon with buzz words containing "organic green blend."
Morning Complete by ActivatedYou is another dietary supplement that offers some familiar ingredients containing a mix of vegetables (spinach, broccoli, and kale) and probiotics, which we have already reviewed here.
However, the pricing is very similar to Foundation Four.
The pricing for Morning Complete is $79 for one bottle, $213 for three bottles, and $403 for six bottles.
It is worth noting, the Morning Complete blend of vegetable dosage is similar to the dosages that are used in the studies previously reviewed for Foundation Four.
The Bottom Line: Will Foundation Four Work for You?
Foundation Four by Power Life contains a number of probiotic and organic green supplements.
However, the dosage that is contained in Foundation Four is much higher than the studies referenced above.
There is support for the benefits related to increasing vegetable intake to promote better health and probiotics for improving GI health.
Foundation Four also provides you with information about the dosage amount and the specific strain in their products.
These details may not always be available in similar supplements.
Remember, it is important to speak with your physician regarding symptoms related to decreasing energy, and gas and bloating as there may be underlying causes.
Customer Reviews