Proactiv Plus Reviews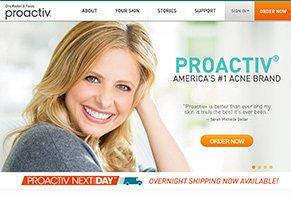 An advanced kit from Proactiv, Proactiv Plus claims to go beyond clearing acne—taking care of enlarged pores, dry skin, visible marks, and uneven tone.
About Proactiv Plus
If you struggle with acne, you know that clogged pores, comedones, and cysts are only part of the problem. Proactiv Plus claims it can help—clearing up your skin four-times faster than the leading prescription solution while delivering exceptional skincare benefits that combat large pores, dry skin, uneven texture, and more.
Proactiv Plus was created by Dr. Katie Rodan and Dr. Kathy Fields, the same dermatologists who launched Proactiv in 1995. The original three-step system enjoyed heaps of success, thanks to endorsements from the brand's charismatic founders, complemented by an abundance of testimonials from celebrities who claimed to use the Proactiv system.
Today, Proactiv is touted as one of America's best-selling acne system, and has been recognized with 28 awards and honors from the beauty and health industry.
Although they still appear in ads and literature for the brand, Drs. Rodan and Fields have branched out to create their own namesake line, Rodan + Fields. While not acne-centric like Proactiv, the line does include products for blemishes—a few of which are similar to but more expensive than their Proactiv counterparts.
With the addition of Proactiv Plus' repairing and anti-aging benefits, benefits promised by the two brands appear to overlap.
This poses a difficult question for consumers: If Rodan and Fields really believed that the Proactiv brand is the best option for those struggling with acne, why did they create an alternate line of products?
We'll take a closer look at Proactiv Plus to discover if this new set of products are the answer to aging and acne-troubled skin that their creators claim—or if they're just another cash cow piggybacking on the original line's popular name.
But First, What Exactly Is Acne?
While the reasons aren't yet completely understood by the medical community, the pores in our skin can overproduce cells, causing sebum (a fancy word for oil) to become trapped. When this occurs, bacteria can grow, resulting in things like whitehead and blackheads.
Then, if these blackheads or whiteheads release their contents to the surface, inflammation—and acne—can occur.
Rupturing can happen at random, but it's more likely to occur if you touch or pick your skin. That's why it's so important not to pick at an acne-prone area.
What Causes Acne?
Like we mentioned above, no one really knows what causes acne. While we understand the process by which a pimple develops—a blocked follicle meets extra sebum—scientists are still at a loss for why this happens in some pores and not others, or why some people are plagued by pimples and others enjoy porcelain skin.
However, we do have some pretty good guesses—hormones, diet, vitamin deficiencies, genetics, and stress are front-runners when considering what's causing your complexion to go south. Despite not having a solid understanding of the cause, one thing ties all acne together: inflammation.
Again, scientists aren't sure whether the body's inflammatory response is a main cause of the acne formation process from the start or if inflammation enters into the process more strongly once a pore is already clogged is the cause of debate.
But, because inflammation is a constant when struggling with comedones, most acne medications have specific anti-inflammatory properties—including benzoyl peroxide, isotretinoin, retinoids, dapsone, and zinc.
Again, remember that we're still not sure exactly what makes some people prone to acne while others avoid it, so there's no tried-and-tested cure that works for everyone. With those facts in mind, let's take a closer look at the product at hand.
What's In Proactive Plus?
According to the Proactiv website, this advanced three-step treatment system has been "completely reformulated from the ground up" to deliver clear skin and a radiant complexion.
Basically, Proactiv Plus claims to build on the original Proactiv promise using the same core system of a cleanser with benzoyl peroxide and scrub particles, a toner with glycolic acid, and a lotion that contains a low (but still effective) amount of benzoyl peroxide.
So, what's the difference between Proactiv and Proactiv Plus? Here's a look at the ingredients side by side:
Step One: Cleansers
Proactiv Plus: Skin Smoothing Exfoliator; Active Ingredient: Benzoyl Peroxide (2.5%)
Proactiv: Renewing Cleanser; Active Ingredient: Benzoyl Peroxide (2.5%)
Step Two: Treat
Proactiv Plus: Pore Targeting Treatment; Active Ingredient: Benzoyl Peroxide (2.5%)
Proactiv: Revitalizing Toner; Active Ingredient: None
Step Three: Repair
Proactiv Plus: Complexion Perfecting Hydrator; Active Ingredient: Salicylic Acid (0.5%)
Proactiv: Repairing Treatment; Active Ingredient: Benzoyl Peroxide (2.5%)
You'll notice two differences between Proactiv Plus and Proactiv: the addition of an active ingredient, benzoyl peroxide, in the former's toner, and swapping salicylic acid for benzoyl peroxide in the moisturizer.
The complete list of inactive ingredients for both Proactiv Plus and Proactiv are linked within the product names. But, before you go comparing them too closely, understand the difference between active and inactive ingredients:
Active Ingredients: They are the actual ingredients of the product or a main definition of the product. The reason to buy the product. For example, In makeup salicylic acid act as an active ingredient which helps in preventing the acne.

Inactive Ingredients: These are the ingredients which are used to bind active ingredients together, such as water. The inactive ingredients are the preservatives, colors, fragrances, and flavors of the product. They have nothing to do with the side effects; they contribute nothing to the main process of the product.
Notice that the only ingredients in Proactiv Plus (and Proactiv, for that matter) that are responsible for effecting change in the condition of your complexion are actually quite common in many drugstore products.
This was a common complaint regarding the original Proactiv line: while the kits might be effective, there are plenty of less expensive options available.
Additionally, the third inactive ingredient in Proactiv Plus' Complexion Perfecting Hydrator is cetearyl alcohol. This ingredient ranks four out of five in comedogenic (pore-clogging) tests—since it's only the third ingredient down, that's not very promising for sensitive or acne-prone skin.
Taking a Clear Look at Proactiv Plus' Promises
After examining the active ingredients in Proactiv Plus, let's take a closer look at their main claims:
Promise #1: Fights acne with exclusive Smart Target Technology, delivering 2x more medicine into the pores.
Where the original three-step Proactiv system promised to cleanse, treat, and repair, Proactiv Plus claims to be even more focused on fighting acne. It claims to deliver two-times more medicine into pores using exclusive Smart Target technology.
Whenever brands promise to outdo themselves with a comedically-generic-yet-copyrighted advancement, it's really worth taking a closer look.
Unfortunately, the explainer video on Proactiv's homepage that's supposed to illustrate what Smart Target technology does is dead and/or broken—giving me as much confidence in the product's ability to smartly target my pores as a North Korean missile launch.
Promise #2: Reduces the appearance of large pores, improves uneven texture and tone, decreases the visibility of dark marks, and improves radiance.
Consumers should watch out for this kind of tricky wording when purchasing a cosmetic product—something we've written about several times before.
Notice that Proactiv Plus doesn't actually promise to fix anything? Instead, it only claims to "reduce the appearance of…" That's because reducing is subjective. So is "radiance" for that matter. I mean, short of re-enacting that famous scene in When Harry Met Sally, how on earth is one supposed to measure radiance?
Before you buy, remember that cosmetics are just that. By the very nature of their classification, no cosmetic can change the way your skin looks permanently or they'd have to be classified as drugs—as well as receive FDA approval.
Promise #3: Fastest, gentlest, most effective Proactiv acne treatment ever.
Considering just how many consumers complained about agitated acne, irritated skin, stinging, tightness, and dryness from the original Proactiv system, that isn't saying a whole lot.
At the end of the day, understand that Proactiv Plus is using plain old benzoyl peroxide to zap zits. This chemical works, but it's certainly not gentle and it's not for everyone—to claim otherwise is irresponsible.
Purchasing a Proactive Plus Kit
Proactiv Plus products are available in three different kits, depending on your needs:
Proactiv Plus 3-Step System ($29.95): The core Proactiv Plus 3-Step System features more medicine; a new, smarter way to target acne; plus an extraordinary range of added skincare benefits. Includes Skin Smoothing Exfoliator, Pore Targeting Treatment, Complexion Perfecting Hydrator.

Proactiv Plus Teen Kit ($39.95): Includes the core Proactiv Plus 3-Step System plus Emergency Blemish Relief for problem pimples and the Cleansing Body Bar for body acne.

Proactiv Plus Complete Kit ($39.95): This 5-piece kit claims to help diminish the appearance of dark marks and give your skin instant radiance. Includes Skin Smoothing Exfoliator, Pore Targeting Treatment, Complexion Perfecting Hydrator, Mark Fading Pads, Eye Brightening Serum.
Each Proactiv Plus purchase includes the choice between one of the two following products as a free gift:
Skin Purifying Mask: A 10-minute facial that clears pores, heals blemishes, and helps prevent future breakouts.

ReTexturizing Toner: A deep cleaning toner that evens your skin's tone and unclogs pores.
Proactiv Plus Pricing & Refund Policy
After choosing your kit, you'll also need to choose your free gift, and whether you want a 30 or 90-day supply. Shipping is $5.99 for standard delivery or $12.99 for overnight.
Regardless of which kit you choose, you'll automatically be signed up for Proactiv's ActivMember (e.g. autoship) program. This means that starting 30 days from your order, you'll receive a 90-day supply of the Complete Kit every three months, and your credit card on file will be charged $39.95 plus $3.99 shipping and handling. There is no commitment, and your autoship program can be canceled at any time.
At HighYa, we strongly advise you use caution before entering any autoship program. These programs are notorious for being difficult to cancel, often leaving consumers with an abundance of unneeded products and unwanted credit card charges.
Related Article: What is An Autoship Program, & Why Should You Avoid It?
All Proactiv Plus products come with a 60-day money back guarantee, less shipping and handling charges. To begin the return process, call 800-309-4796.
What Customers Are Saying About Proactiv Plus
The reviews on the Proactiv Plus system are surprisingly split. On sites such as Amazon.com, main complaints included redness, severe dryness, itching, and complete ineffectiveness, along with high price.
Others claim that the products will reduce or eliminate acne, but that the acne will sometimes recur later, though they have continued to use the products.
Proactiv Plus reviews on sites such as Acne.org are not as divided, with negative comments far outnumbering positive reviews by as much as 3 to 1. Complaints here cite not just the ineffectiveness or harsh results of the product, but also consumers feeling overcharged. There were also many reported problems in dealing with the customer service of the Proactiv company itself.
Should You Purchase Proactiv Plus?
Overall, it seems that Proactiv Plus has a very smart marketing department that puts together a great-looking product and website. Additionally, they're working to broaden their appeal by making the products lean more toward skincare rather than just strictly acne treatment.
Just keep in mind that all Proactiv Plus products can often be found elsewhere for less, including Neutrogena and Acne.org. However much you pay, though, the key to clearer skin is following the directions.
Anyone battling acne needs to know that, barring a successful experience with the prescription drug Accutane, it cannot be cured—only controlled. I'm sure many people have seen their acne respond positively to a daily routine of the core Proactiv Plus products, and for some, it has been a life-changing experience—but, again, it's not the answer for acne for everyone.
So, while you may see results with the regimen, it seems more likely that Proactiv Plus might leave you disappointed due to harsh effects and a high price. Again, many users complain that their acne started to fade, only to come back with a vengeance—along with irritation, dryness, and inflamed comedones.
Finally, should you experience adult acne out of the blue, know that sometimes acne is a sign of an underlying medical condition. By all means, try a few over-the-counter solutions, but if nothing works? Book an appointment with a dermatologist. Effective acne treatments are available and, more often than not, covered by your health insurance as well.
More on Acne Treatment: Got Pimples? How to Treat Adult Acne
It really works

By Channtria

,

Modesto, CA

,

Aug 13, 2015

I never tried Proactiv because when my sister tried it, it was too strong for them and they broke out a lot. I been having this ugly post acne mark for almost three months and tried almost every product you can name. Neutrogena, clean and clear, Clearasil​, Jojoba oil, tea tree oil, Olay. It doesn't want to work. So I order the Proactiv Plus to give it a try. been using it for only just three days and my post acne is starting to fade and my texture is coming back in. You will break out a little when you first use it, but do not give up on it too fast, it really works.

Bottom Line: Yes, I would recommend this to a friend

---

proactive plus

By William

,

Florida

,

Aug 14, 2014

Well for all of people wanting to try proactive plus, but many complaints about getting your credit card hook and they will continue sending the product so they can keep charging. Buy the product at any store using a prepaid credit card for the amount of the cost and that's the end of it until you want to order again at your own will.

Bottom Line: Yes, I would recommend this to a friend

---

Advertisement

---

Proactiv Plus Review

By Amanda

,

Texas

,

Jul 11, 2015

Started using Proactiv Plus in September 2014. I've been having breakouts. This stuff really helped my skin. I hardly have anymore breakouts. Love, love, love, this stuff.

Bottom Line: Yes, I would recommend this to a friend

---

Thank God.

By Kira

,

Mount Vernon, NY

,

Jul 20, 2015

I had to write a review, and I never write reviews! Thank God for the doctors who made Proactiv Plus. This stuff worked immediately on my face, in a week I noticed a difference. Better yet, my acne, (I'm talking about cystic acne, black heads, acne scars, and acne marks) went away in a week. The Proactiv Plus system works together in harmony as my texture changed and my pores got smaller. I've tried everything. I've suffered from acne since I was 19 and now I'm 40. God bless the doctors who invented this product. I'm thankful and appreciative.

Bottom Line: Yes, I would recommend this to a friend

---

Advertisement

---

Amazing Proactiv Plus

By Donna

,

Scotland

,

Jul 7, 2015

Like everyone else I've tried all the spot lotion and potions to no avail, but after getting Proactiv Plus I am totally impressed with this stuff. My spots are gone and my skin is looking so good it's brilliant. I love to be able to just walk on by the spot treatments isle now and it feels great getting up in the morning to a gorgeous complexion. A massive thank you to Rodan & Fields, well done.

Bottom Line: Yes, I would recommend this to a friend

---

Love it!

By Tara

,

May 16, 2016
Verified Reviewer

I used regular Proactiv with no results and have had incredible results with the Plus version. My skin is smooth, firm, radiant, pores are almost non existent and acne is gone. I'm always complimented on my skin. I also drink a lot of water too which works with it. Everyone's skin is different but for me this is the best I've ever had and I believe it works. I do buy at the kiosk. I had autoship but found I wasn't using all the product so I canceled it with no problems.

Bottom Line: Yes, I would recommend this to a friend

---

Best product ever

By M Aydinalp

,

Harrogate, UK

,

Mar 2, 2017
Verified Reviewer

I was skeptical at first, but after a couple of weeks, my skin was looking amazing. There is such a big difference in smoothness, and it doesn't look dull and dirty anymore. Above all, I have no more spots, pimples or blemishes and it got rid of my scars too. I absolutely love it.

Bottom Line: Yes, I would recommend this to a friend

---

Acne be gone

By Rachel H.

,

Los Angeles, CA

,

Jun 11, 2018
Verified Reviewer

I've used this since high school! Thank you for helping me get rid of my acne. I like the texture and the way it foams up; it doesn't dry my skin up too much. The texture also exfoliates my skin, giving it a nice scrub.

Bottom Line: Yes, I would recommend this to a friend

---

Works for me

By Jenn F.

,

Campbell River, British Columbia, Canada

,

Jun 14, 2018
Verified Reviewer

I've read Proactiv reviews that completely demonize the product and some that sing praises about it, but I am definitely one person who recommends that anyone with an acne problem give the trial pack a shot.

As a teenager I was lucky, as an adult not so much. I used Proactiv in my early twenties, and it worked great for about a year. All of a sudden it was like my skin became immune to it and my acne problems came back. I wrote Proactiv off as useless and quit using it. Later, in my early thirties, my mom insisted I try it again, and I did. This time it has been 100% effective for going on three years. Your age, hormones, health, skin type and skin sensitivity all very likely determine how effective it will be.

I recommend giving it a shot if you're curious and if it doesn't work, cancel your subscription. If it does, great!

Bottom Line: Yes, I would recommend this to a friend

---

It got better before it got worse

By Savana mistress

,

Cheyenne, Wyoming

,

Mar 16, 2014

So I started using it and I saw my acne starting to clear up almost immediately so I loved it. But then things got ugly after about 4 strait days of using it. My skin burned really bad and my skin started peeling really bad. So I stopped using it.

Bottom Line: No, I would not recommend this to a friend

---

Proactiv Plus review

By Alec

,

Twinsburg, OH

,

Jun 28, 2015

I first got the 30-day and the first time I used it I saw a difference. And it is true what they say it will make your face really smooth but the lye is when I bought it at the mall the lady said it is very important to use face lotion. But the only problem I had was the price it is crazy expensive.

Bottom Line: Yes, I would recommend this to a friend

---