Raging Lion Reviews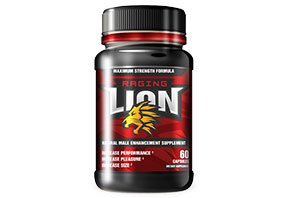 Raging Lion is a male enhancement supplement that uses a blend of natural ingredients to increase your size, boost libido, and unleash your inner lion.
About Raging Lion
Whether it's lack of stamina, brief erections, or just zero desire, poor sexual performance can have a big impact on your relationship.
But Raging Lion, a natural male enhancement supplement, uses a blend of ingredients to help provide you with better erections, increased size, boosted stamina, and more intense orgasms. In short, it'll help you experience more satisfying sex.
All you have to do it take 1 capsule in the morning and another at night, and the fast-acting formula will allow you to "unleash your raging lion!"
Look, we've reviewed a lot of male enhancement supplements here at HighYa, so we've seen all of these exact same claims before. But is there anything that's different about Raging Lion? That's exactly what we'll discuss here.
And the best place to start is with Raging Lion's ingredients.
How Effective Are Raging Lion's Ingredients?
Here's what we're told Raging Lion contains:
Will any of these provide you with results?
L-arginine turns into nitric oxide inside your body, which is a chemical known to widen blood vessels and improve blood flow, including to the penis. As such, taking 5 grams daily is listed as "possibly effective" for improving erectile dysfunction symptoms.
Similarly, Panax (Asian) ginseng might also be effective for improving ED symptoms when taken in 900mg doses, three times daily.
Maca is listed as possibly effective for increasing sexual desire in men when taken in 1500 to 3000mg daily doses.
Finally, tongkat ali might help improve male infertility, but there's no evidence that it can boost libido or enhance sexual performance.
Outside of these, however, there isn't enough clinical evidence showing that any of Raging Lion's other ingredients will provide the results claimed by the manufacturer. And even for those that may provide some benefit, they almost certainly won't be as amazing as the company makes it seem. Why?
First, while the improved blood flow provided by Raging Lion's ingredients might give you slightly firmer erections or give your libido a small boost, the available clinical evidence doesn't support the claim that they'll turn on your "sexual beast mode." And there most certainly isn't any evidence that they'll increase size (more about this shortly—no pun intended).
Secondly, Raging Lion's manufacturer doesn't think it's important to list a product label on their website, so we can't know how much of each ingredient the supplement contains. This also means we can't know if it contains enough to be effective.
Does Raging Lion Contain Yohimbe?
On the Raging Lion website, the manufacturer references a MedlinePlus article for yohimbe, which states: "There is evidence that yohimbine, the active ingredient of yohimbe, can be helpful for ED," in addition to, "There is evidence from many studies that yohimbine, the active ingredient of yohimbe, can improve sexual problems associated with this class of medications used for depression."
Here's the catch: Did you miss yohimbe in the ingredients section above? That's because it's not listed anywhere on the Raging Lion site!
Is yohimbe actually included in the supplement? If so, how much? We're simply not provided with any of this important information.
Regardless, will any of Raging Lion's ingredients cause harm?
Potential Raging Lion Side Effects
Alright, so they might have limited-to-no effectiveness, but the good news is that most of Raging Lion's ingredients should be safe to take (of course, always speak with your doctor first). And if you do experience side effects, it probably won't be anything worse that mild digestive upset.
However, in some instances, WebMD notes that l-arginine can cause "blood abnormalities, allergies, airway inflammation, worsening of asthma, and low blood pressure."
On top of this, some of Raging Lion's ingredients (such as tongkat ali) are fairly new, and there isn't enough known about them to fully understand possible side effects, effective dosing, or long-term safety.
Remember how we talked about increasing size above? Let's come back around to that for a moment.
Is It Possible to Increase Penis Size?
Other than perhaps a slight boost to girth caused by additional blood flow, no; it isn't possible.
If you type "increase penis size" into your favorite search engine, you'll be met with thousands of products—from pumps and creams to supplements like Raging Lion—that claim to increase the size of your manhood.
Regardless of how they claim to work or the overzealous results, they promise to deliver, the fact of the matter is that they won't increase the size of your penis. Plain and simple.
In fact, the only way to reliably increase penis length is by undergoing surgery, where the ligament that connects the penis to the pelvic bone is cut. However, following the surgery your member will no longer be able to "salute," and you might gain an inch at best.
You can also increase the girth of your penis through surgical procedures like tissue grafts or implanting fat or silicone. But again, the results are typically minor and come with some unwanted side effects.
Given all of this, even if Raging Lion's ingredients maximize blood flow to your penis as well as the company claims, you might only expect a firmer—but not a longer or bigger—erection.
How Much Does Raging Lion Cost?
The only way to purchase Raging Lion is through the company's free trial (which we generally recommend staying away from).
First, you'll pay $4.97 to cover S&H, and you'll be sent a full-size bottle. Then, 10 days after your purchase, you'll be charged the mind-boggling price of $139.97!
But it doesn't stop there: You'll also be sent a new bottle of Raging Lion once per month through the company's recurring shipping program, and will be charged $139.97 plus $9.97 S&H each time!
You'll have 30 days to return your bottle of Raging Lion, less S&H charges, although this only applies to unopened packages. You open it, you bought it!
In order to cancel your automatic shipments, end your free trial, or request a refund, you'll need to call customer service at 855-511-1087.
What's the Bottom Line About Raging Lion?
Here at HighYa, we've reviewed dozens of the most popular male enhancement and testosterone booster supplements. Many of these even feature similar ingredient formulations as Raging Lion, although it's definitely near the top as far as price. What's everyone saying?
These products had an average rating of just 2 stars (read: be very cautious). Why? Most customers complained of failure to work as advertised, excessively high prices, and problems with the free trial.
To sum everything up, it's our opinion that you'll be taking a big risk by ordering Raging Lion. Not only will you be putting a largely unknown substance from an unknown manufacturer in your body, but you'll be paying an awful lot of money to do so.
And on top of its high price, based on customer feedback for other male enhancement supplements, you might experience some pushback when calling customer service to cancel your trial or request a refund.
In some instances, customers were required to get their credit card company involved in order to put a stop to the charges.
Given all of this, we'd strongly recommend speaking with your doctor if you're regularly experiencing sexual problems, instead of purchasing Raging Lion.
Scam artists

By Gregory L.

,

Ohio

,

Mar 5, 2020
Verified Reviewer

Got this product as a free promotion. All I have to do is pay the shipping cost. Checked my account and they took $119. Also, the product doesn't work at all. Tried calling and the number is not working, nor is the website active.

Bottom Line: No, I would not recommend this to a friend

---

Rip-off, they will steal $119

By Thomas H.

,

Letart, WV

,

Mar 3, 2020
Verified Reviewer

Bait and switch, crap product also. They say the product is going to be $6 and then they charge your credit card $119 American. The product is natural supplements only, which do next to nothing from my experience taking them. They send 60 pills and charge $119 for supplements and if you don't call to cancel they will charge you monthly for this crap. Do you know how many cigars you can get for $119? But the problem is the cost was supposed to be $6 but they said in small print it says $119. No refund, buyer beware, never buy from outside websites, stay with Amazon and eBay. Raging Lion is a rip-off, do not give them your credit card, they will steal your money.

Bottom Line: No, I would not recommend this to a friend

---

Advertisement

---

Scam

By Darrell J.

,

Georgia

,

Mar 1, 2020
Verified Reviewer

This is a scam. They say free trial but they charge your card immediately and don't give a refund. Advertise a $6.95 free trial but billed over $50. Says no refund and product didn't work at all. Reported to BBB who has lots of complaints already.

Bottom Line: No, I would not recommend this to a friend

---

Don't know what this applies to

By Wayne M.

,

Soperton, GA

,

Jan 12, 2020
Verified Reviewer

This is a rip off company, do not do business with these people. I ordered a TRIAL offer for Raging Lion at $6.97, they sent it and charged my credit card $119.97. Plus they also sent a bottle of Alpha Extreme and charged $119.97 for that bottle. A total of $239.94. This is after I canceled 3 times. This is a RIP off company, STAY AWAY. As far as the product working, NAH.

Bottom Line: No, I would not recommend this to a friend

---

Advertisement

---

Scam!

By Michael K.

,

Florida

,

Jan 10, 2020
Verified Reviewer

They send you your free sample...(product itself is fair in effectiveness).

Scam Alert: By accepting the free sample you are enrolled in a "Preferred Customer" program WITHOUT YOUR KNOWLEDGE! This "program" cleverly deducts $19.97 every 3 months!

Bottom Line: No, I would not recommend this to a friend

---

Totally disappointed

By John M.

,

Detroit, MI

,

Jan 7, 2020
Verified Reviewer

I tried Raging Lion and was unable to perform at all. I was doing a survey for a gift card and had to choose an item before I received the gift card. I chose Raging Lion because it was supposed to be $4.95. After I put my credit card number in and made the purchase, a recurring bill of $119.00 each month came up so I had to cancel! But I still had to pay and except the first half of the purchase in order to even cancel! It's a real scam! A glass of Faygo Pop helps me with a longer harder lasting erection than Raging Lion! A real scam!

Bottom Line: No, I would not recommend this to a friend

---

Does not work and they will scam you!

By Stephen I.

,

Kentucky

,

Dec 3, 2019
Verified Reviewer

After agreeing to $6.95 for a few days' supply, I received a call asking if I would like to have a monthly trial for this at $29.95, and if I wasn't satisfied, to cancel and get my money back. I have now been hit with $119.97. I called and the woman I spoke to said and kept saying it was correct. I know what I was told and this woman lied, and of course, so did the man that called me. I do have their address on Hillsborough Ave, Tampa, Florida, and when next down there will be visiting them with a summons. People like this only understand one thing and that is money. Leeches need to be stomped on.

Bottom Line: No, I would not recommend this to a friend

---

DO NOT BUY THIS GARBAGE

By Joe R.

,

Texas

,

Nov 26, 2019
Verified Reviewer

DO NOT...I repeat...DO NOT fall for this scam and buy this fraudulent product. It does not work...and it will not work as advertised. Normally it would take more than 7-8 days to notice any real difference in any condition you may have...even with prescription medications. After the initial purchase, then the processing and shipping time, you may only have 7 to 8 days to use this stuff. Normally, reputable companies will give you 30 days with a money-back guarantee, however, this company advertises a "free trial" for $6.95 shipping and then in the fine print that is so little that you can't even see it with an electron microscope, they explain how they are going to screw you out of $119.00 14 days later.

Beware gentlemen...proceed at your own risk.

Signed,

Ripped off for $119.00 + s&h.

Bottom Line: No, I would not recommend this to a friend

---

BS!

By Robert G.

,

Texas

,

Oct 30, 2019
Verified Reviewer

This crap is a complete and utter scam! Please do not order this crap! You are only paying S&H with the $4.99. They will charge $129.99 immediately. If you are lucky enough to get a refund, it will be only 25% back. Do not throw your money away! These jerks are only preying on those of us who suffer ED problems.

Bottom Line: No, I would not recommend this to a friend

---

This is a scam

By Richard P.

,

New Mexico

,

Oct 26, 2019
Verified Reviewer

Your trial is not a trial. You need to cancel immediately after you receive your trial or you'll get another bottle of this crap at the low low price of $129.94.

I have ED and the product did nothing. They tell me the fine print somewhere says you will be shipped a new bottle each month for $129.94.

I suggest you not even try it. I got sucked in. The company has no interest in a refund or return. It's a scam.

If the product worked, you would be calling them for more instead of them sending without authorization.

Bottom Line: No, I would not recommend this to a friend

---

Completely 100% scam

By Patrick W.

,

Los Angeles, CA

,

May 24, 2019
Verified Reviewer

These pills are nothing but a mild dose L-Arginine an amino acid which does have a real effect on blood flow and helps athletic performance and I guess maybe sexually, but you can buy far stronger forms of L-Arginine from any number of reputable sources like Puritan's Pride, GNC, NOW Sports Supplements and others I'm sure for a fraction of the cost.

Bottom Line: No, I would not recommend this to a friend

---