Raging Lion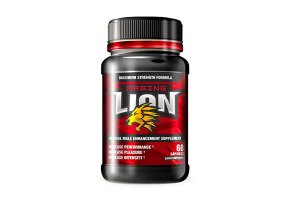 Summary
Raging Lion is a male enhancement dietary supplement that is alleged to offer more satisfying sex for both you and your partner through a blend of all-natural ingredients. However, the ingredients lack strong evidence for these claims.
About Raging Lion
What Is Raging Lion?
Raging Lion is proposed to deliver natural male enhancement with daily use of their dietary supplement.
Erectile dysfunction, low libido, and other conditions related to sexual health affect men at different rates worldwide. Factors contributing to the development of sexual dysfunction are wide-ranging and can include age, underlying medical conditions, and even psychological issues.
Taking steps to improve your sexual health may warrant counseling, prescription medication, as well as invasive procedures.
According to Raging Lion's website, by taking 2 capsules daily, you can expect:
More confidence
Increased stamina during sex
Harder, longer erections
More passionate sex
Intensified orgasms for you and your partner
As these are some pretty lofty claims, you're probably wondering if there's any merit to them.
In this article, we'll share what we found in our literature review to help you determine if Raging Lion's blend of ingredients can really support sexual health.
The Raging Lion Active Ingredients: Do They Work?
Raging Lion contains a blend of ingredients that are commonly found in dietary supplements intended to support natural male enhancement. But does that mean that they're effective?
Every 2-capsule serving of Raging Lion offers a 500mg proprietary blend of the following ingredients:
L-arginine
Polypodium vulgare
Lepidium meyenii (maca)
Epimedium (horny goat weed)
Panax ginseng
Tongkat ali (eurycoma longifolia)
Saw palmetto
Mucuna gigantea
It is important to note that, as in most proprietary blends, the company does not detail individual quantities of each ingredient. Thus, comparisons to dosing used in research studies can't be made.
Nonetheless, we'll review each ingredient and highlight the available research, if any, supporting their proposed actions.
L-arginine
L-arginine is an amino acid. It is present in dairy products, as well as meat, poultry, and fish. Its proposed sexual health benefits may be related to its association with nitric oxide (NO).
NO is a key player in chemical reactions related to blood pressure, circulation, blood vessel health, and also exercise performance.
The combination of Yohimbe and 6g of L-Arginine was effective in improving symptoms related to mild to moderate erectile dysfunction (ED).
This dose was more than 10x larger than the entire Raging Lion proprietary blend.
Polypodium vulgare
This plant has been used in both traditional medicine and cooking for centuries. Its proposed ability to support sexual health is not well studied, however.
Lepidium meyenii (maca)
Maca is part of the mustard family and has been incorporated in natural medicine for centuries due to its suspected ability to enhance fertility.
However, a review of 4 randomized studies found insufficient evidence supporting maca's proposed benefits for sexual health, even when tested at doses 7x larger (3500mg/day) than the entire Raging Lion proprietary blend.
Epimedium (horny goat weed)
Horny Goat Weed is packed with flavonoids, chiefly icariin. This substance is likely responsible for the suspected ability to benefit cardiovascular disease, menopausal symptoms, and ED.
Icariin may inhibit phosphodiesterase-5 (PDE5) to enhance blood flow, a mechanism of action similar to prescription drugs used to treat ED. More work is needed to determine the long-term therapeutic benefits.
Panax ginseng
Ginseng is a common component in natural medicine due to its suspected ability to help manage a wide variety of conditions. Its ability to treat sexual function has been investigated more recently.
Ginseng increased sperm function, as well as testosterone levels, in human subjects.
In a review of 7 randomized trials, researchers found that ginseng doses ranging from 1g-9g moderately improved sexual function.
Again, these doses are much larger than Raging Lion's entire proprietary blend.
Tongkat ali (eurycoma longifolia)
This herb is found mainly in Southeast Asia. Tongkat is often included in traditional medicines as it is suspected to combat issues related to age-related conditions.
In rodent studies, Tongkat effectively increased sexual performance. Also, 400mg daily over a 5-week span increased testosterone in elderly male subjects.
As this dose is comparable to that of the entire Raging Lion proprietary blend, it is unlikely that the supplement contains enough Rongkat to be effective.
Saw palmetto
Found in the southern US, saw palmetto is a common ingredient in herbal supplements proposed to treat prostate health. The majority of research regarding any suspected ability to support sexual health is related to investigating its effects on the prostate.
For example, 320mg of saw palmetto extract daily over 8-weeks was effective in improving scores related to both prostate health and sexual dysfunction.
Still, more research is needed to determine if saw palmetto is a viable treatment option for sexual dysfunction in the long-term.
Mucuna gigantea
This tall plant is found in tropical climates. Although it is a common component of folk medicine, its ability to manage sexual dysfunction is not well studied.
Is Raging Lion Safe?
Raging Lion contains a host of natural ingredients that are often found in dietary supplements claiming to offer sexual health benefits.
While the safety profile can be favorable when compared to some of the available medical management options, there may still be risk involved when used improperly.
Despite Raging Lion's ingredients lacking strong scientific support for their efficacy, the good news is that most have been well-tolerated even when tested at doses much higher than what is likely offered in the proprietary blend.
Nonetheless, some of the ingredients are alleged to boost testosterone levels. While the dose of Raging Lion's proprietary blend makes elevating testosterone into a dangerous range unlikely, you should be aware of the potential harm.
Signs associated with elevated levels of testosterone can include:
Facial and body acne
Voice changes
Excess body hair and male pattern baldness
Mood fluctuations
Keep in mind that a wide variety of factors can cause symptoms associated with sexual dysfunction. You should speak with your doctor to address the underlying cause of your symptoms before determining the best plan of care.
What Does Raging Lion Cost?
Raging Lion is available for purchase directly from the product page, though it seems as though you'll have to do so through their free trial offer.
Pay just $6.97 to cover shipping and receive your 30-day supply. But be warned:
If you don't cancel before the 10-day sample period, you'll be automatically billed the member's discount rate of $139.97 for the bottle you've already received, and you'll pay this same fee + $9.97 each month for subsequent auto-shipments.
You can't return your sample bottle, though you have 30-days to return subsequent orders. Keep in mind, this only applies to unopened packages, and you'll pay shipping charges, as well as a 35% restocking fee.
To cancel your automatic shipments, end your free trial, or request a refund, you'll need to call customer service at 855-511-1087.
What Are the Alternatives to Raging Lion?
Raging Lion represents just one example of the male enhancement supplements that are widely available.
Viritenz also offers Tongkat, maca, L-arginine, and ginseng at dosing that is likely comparable to that of Raging Lion's proprietary blend. At around $40 for a 1-month supply, you'll save more than $100 for a similar product.
Legendz XL has an herbal blend that contains ingredients similar to Raging Lion, such as Horny Goat Weed, L-arginine, ginseng, and maca. Their proprietary blend is about half the dose of Raging Lion's.
Also, a 10ct is $24.95 + shipping and handling. So you'll spend more than double what it will cost you for a 1-month supply of Raging Lion. At half the potency and double the price, Legendz is probably a poor choice.
The Bottom Line
Raging Lion offers a number of ingredients commonly found in dietary supplements that claim to support male sexual health. Unfortunately, most lack strong scientific support for use in this setting.
Those with available human trials were tested at much higher doses than what Raging Lion contains. That means the risk for harm may be low, but so is the likelihood that this product will deliver the results you want.
Even if Raging Lion had the potential to be effective, they try to rope you into a pricey auto-shipment membership through a free trial. If that's not bad enough, the return policy includes shipping and restocking fees and applies only to unopened merchandise.
The poor business practices, high price, and lack of results are reflected in the poor customer reviews Raging Lion has garnered at HighYa. Though only 27 customers offer reviews, virtually all of them scored this supplement at 1-star.
You shouldn't take your sexual health lightly. While there are treatment options available that can be effective, you should speak with your doctor to determine the best plan of action.
Our Promise to You
In order to safeguard you and ensure helpfulness and relevance, our compliance team manually assess every customer review before it goes live.
We have a zero-tolerance policy for fake reviews, and companies cannot control or alter any reviews at any time.