SkinnyFit Detox Tea
Claimed This company has claimed this profile, is getting alerted on any new customer reviews entering this page, and may engage in dialogue with its customers to address their matters.

Companies cannot pay money or provide goods in order to remove or alter customer reviews.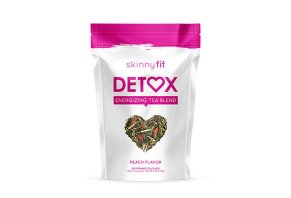 SkinnyFit Detox Tea allegedly provides a variety of detoxification benefits. Although mostly safe, long term use is not effective.
SkinnyFit Detox Tea Reviews - Is It Safe & Effective?
What Is SkinnyFit Detox Tea?
SkinnyFit alleges that their detox tea will aid in promoting weight loss and boosting metabolism that utilizes natural ingredients.
According to the website, one teabag steeped in 8oz. of hot water can be consumed once or twice daily will purportedly:
Increase energy
Burn fat
Helps to reduce bloating
Release toxins
Reduce stress
Boost immunity
SkinnyFit alleges that their blend of 13 metabolism-boosting superfood ingredients are responsible for the proposed benefits and contains no laxatives.
This article will focus on research backing the claims of the ingredients present in this tea by reviewing the available research, if any, to see if they support the actions of the SkinnyFit Detox tea.
Active Ingredients
The blend of ingredients that are offered in the SkinnyFit Detox tea contain a variety of natural superfoods that are intended to boost your metabolism, support weight loss, and reduce bloating.
To provide you with a clear understanding regarding the benefits of this dietary supplement, we'll breakdown each of the 13 ingredients and highlight some existing research.
According to the Nutrition Facts Label, every serving of SkinnyFit Detox Tea includes the following ingredients:
Oolong tea
Oolong tea contains polyphenols. Polyphenols are naturally occurring micronutrient compounds that are found in plants and offer high amounts of antioxidants. A study offered that consuming oolong tea could offer protection against obesity-related metabolic disorders.
Oolong tea was also administered in a clinical trial and was found to significantly decrease body weight, Body Mass Index (BMI), and fat.
Consumption of tea, in general, is considered safe. Severe adverse effects of tea consumption are rare.
Hibiscus
Hibiscus is commonly found in tea and is used primarily for its antioxidant benefits.
In a double-blinded randomized controlled study, there was a decrease in LDL and triglycerides levels but were strongly associated with participants' levels of physical activity and dietary protocol. Hibiscus, even at a dose of 1 gm/day of hibiscus leaf did not appear to lower blood lipid levels.
Hibiscus appears to have a stronger influence in studies that reduce body weight in subjects that were overweight.
Nettle Leaf
SkinnyFit identifies Nettle leaf as an immune-boosting ingredient and serves as an anti-inflammatory.
A randomized study of 27 patients with osteoarthritic pain located at the thumb or index finger were treated for one week by administering nettle leaf to the area for 12-weeks.
The study found that after one week of treatment with nettle leaf, there were decreases in pain rating scales when compared to the placebo.
A study was done to examine the use of 11 herbs to treat rheumatic disease. The max daily used in the study in rats was 30 mg.
Dandelion Leaf
The dandelion ingredient is listed to relieve gas and bloating and to reduce fat levels.
Research and evidence are lacking regarding the utilization and recommended dosage of dandelion leaf to relieve bloating and gas.
Apple
Apples contain a high source of vitamin C. Further, vitamin C is an antioxidant that serves to rid the body of free radicals, which can cause oxidative stress. Vitamin C may also to play a role in supporting immune function.
Studies show that approximately 60 mg of vitamin C was able to increase white blood cell count to help fight off infections.
Goji Berry
The Goji Berry ingredient is classified as a super fruit to promote weight loss and increase circulation.
Scientific evidence is lacking to back the claims linking this particular ingredient to aid in weight loss and improving circulation.
A review of goji berry and warfarin (or any anticoagulant) is contraindicated based on the premise of harmful herb-drug interactions.
Lemongrass
The ingredient blend of lemongrass is claimed to soothe bloating, constipation, and promote healthy digestion.
Lemongrass oil is known as a phytochemical that is found in herbal plants.
A study found that when 2mg of lemongrass oil along with citral was supplemented, there was an associated improvement of GI motility.
However, further research is required to determine appropriate dosages of greater than 2 mg to improve healthy digestion in humans.
Yerba Mate
The claim for this ingredient is to help increase energy levels and improve mental focus.
A systematic review reports the adverse risks of herbal supplements for bodyweight reduction, except for yerba mate which requires further investigation.
Milk Thistle
The ingredient allegedly helps maintain liver health and protects it from the effects of toxins.
Milk thistle is an herbal compound and its active ingredient, silybin is thought to offer protection to substances that are toxic to the liver.
A Systematic review and meta-analysis show milk thistle to be safe but found no improvements in liver health or biochemical markers of liver function in patients with chronic liver disease.
Guarana
Guarana is an ingredient that allegedly gives your body energy and helps promote weight loss.
The guarana seed is a well-known stimulant.
A 2019 review of guarana seed as a dietary supplement is recognized as a generally safe dietary ingredient without any serious health risks as long as the user follows the guidelines for safe caffeine use.
Guarana was more effective when combined with a diet that was rich in whole foods, omega-3's, fruits, and vegetables to improve cancer-related fatigue in patients with breast cancer.
Ginseng
Ginseng is traditionally used in Chinese medicine with numerous benefits that include blood sugar reduction and stress, immune support, and improved concentration.
Research evaluated 8 studies to determine the effectiveness of ginseng induced improvement in glucose control and insulin sensitivity patients with type 2 diabetes. The present results have established the benefit of ginseng supplementation to control blood glucose levels and insulin sensitivity.
Lack of available randomized control studies in humans prevents from supporting the claims regarding the role of ginseng to enhance concentration levels.
Matcha Green Tea
Matcha Green Tea is intended to increase calorie burning power to lose weight and reduce skin inflammation
Matcha green tea powder contains catechins and caffeine. This study was performed to examine the effect of Matcha green tea on the metabolic, physiologic, and perceived intensity response during walking in 13 females. The findings from the study show that Matcha green tea improves fat burning in combination with exercise.
Stevia leaf
Stevia Lead is a zero-calorie weight management supplement without energy spikes and crashes.
Stevia is known as a natural sweetener that is used as another option to reduce sugar and reduced energy foods and drinks.
So far, only short-term studies have found significant reductions of both energy intakes and body weight, with an estimated rate of weight loss at 0.2 kg/wk.
The Acceptable Daily Intake (ADI) is defined as the amount of substance that people can consume in food or drinks daily without any risk of health. of stevia of 4 mg/kg body weight per day.
Safety and Side Effects
While a majority of these ingredients have been safely studied individually, the goji berry ingredient can be harmful in cases in which you are currently on anticoagulants. Therefore, consult with a physician before use and never consume goji berry in ways other than how it's instructed.
A review of 372 studies overall provides no conclusive evidence for beneficial and harmful effects from nonnutritive sweeteners. In the United States, stevia leaf extracts are considered GRAS (generally recognized as safe) from the US Food and Drug Administration.
Pros and Cons
The majority of the ingredients are natural
Many of the claims regarding the ingredients do not match the best available research
Goji berry and anticoagulants can produce harmful drug interactions
The Bottom Line
SkinnyFit Detox Tea contains a variety of ingredients in each serving. While a majority of the ingredients are supported by science for safety and effectiveness, SkinnyFit Detox does not provide individual quantities of its ingredients.
SkinnyFit Detox tea contains goji berry, an ingredient that can be harmful if you are taking anticoagulants. It is best to just take as directed.
However, based on the reviews on SkinnyFit.com, 76% of its users rate SkinnyFit Detox tea at 5 stars. Those that are satisfied with the product have mainly reported less bloating.
SkinnyFit Detox Tea does provide the convenience of ease in the consumption of all ingredients. A majority of the ingredients contained in SkinnyFit Detox Tea can also be obtained in a well-balanced diet of fruits and vegetables.
If you are planning to lose weight or start to notice a drop in energy levels, it is recommended to include a medical professional to ensure safety regarding use.
---
Pleasantly surprised, taste is amazing and I feel great.

Overall Experience:

I found a great deal on Facebook for the Detox and bought it for me and my mom. We've been using it for two months and love it. I am finally fitting into my old jeans and have way more energy. I am down 7 lbs so far!

Bottom Line: Yes, I would recommend this to a friend

Jan 15, 2019

Hi Briana!

We are so happy to hear that you and your mom have been loving SkinnyFit! We truly appreciate your feedback and we can't wait to hear more about your great results!

Kevin

Customer Solutions Manager

---

Thank you SkinnyFit!

By Julie Kang

,

San Diego, CA

,

Mar 16, 2018
Verified Reviewer

Overall Experience:

It's true that there's no magical, overnight solution to lose weight. But SkinnyFit is the perfect kick in the butt to get you going in the right direction.

I was living such a sedentary lifestyle due to my office job and gained a ton of weight last year. I needed something to motivate me to get back to living healthy. After a couple days of drinking SkinnyFit, I found that I had a boost of energy every morning without jitters (I'm super sensitive to caffeine). I also did not feel bloated and "heavy" anymore. I used my newfound energy to hit the gym for the first time in a year.

I've been drinking SkinnyFit for a month now and I've lost 6 pounds! Most importantly, my muffin top is GONE and my pants fit so much better. I'm so grateful for the jump start this tea has given me.

Bottom Line: Yes, I would recommend this to a friend

---

Delicious tea

By Dan

,

Wilbraham, MA

,

Mar 19, 2018
Verified Reviewer

Overall Experience:

This tea tastes great and has been a healthy substitute for coffee for me in the mornings. It has a refreshing peach flavor and helped me shed a few pounds. I got some for my mom and sister, and they're hooked. I recommend it for sure.

Bottom Line: Yes, I would recommend this to a friend

Jan 11, 2019

Hi Dan!

We love hearing that you have been enjoying your Detox! We're glad you and your family have seen great results! If you haven't heard yet, we came out with a caffeine free detox tea called Zzztox! I know you'll love it just as much as our morning tea, so I highly recommend it!

Kevin

Customer Solutions Manager

---

Pricey, but so worth it!

By Colleen H.

,

Lakeport, CA

,

Aug 29, 2018
Verified Reviewer

Overall Experience:

I bought this over a month ago, with some feeling of another product promising empty results. I am 47 and not overweight but really want to drop 10 pounds to feel slim again. In four and a half weeks. Having hot tea in the morning and cold after lunch, I've lost 5 lbs and one inch off my waist! That's with weighing myself every morning if that makes a difference.

I'd say the most noticeable things are that my bloating is a bit better, and I'm feeling more energy and less food cravings right after I started. Less cravings might be from drinking more water and tea though. I bought another month's worth. I have also been on a 1660 calorie/day diet with lots of healthy veggies. I'm convinced this tea, plus the diet is helping me achieve the results thus far.

A big bonus is that when I first started the tea, I honestly had no idea the best way to take it. I called their customer service, and it must be a question they get a lot because they're the ones who told me that it's good both hot and cold! I like to know I can get answers to questions from nice people!

Bottom Line: Yes, I would recommend this to a friend

Jan 10, 2019

Hi Colleen!

We love hearing that you enjoy your tea hot and cold! Have you tried SkinnyFit with fresh fruit, yet? I think you'll love it! We also have delicious recipes on our blog page. We update it weekly, so don't forget to check in every once in awhile! https://www.skinnyfit.com/blog/

Kevin

Customer Solutions Manager

---

Advertisement

---

Great product

By Tanya R.

,

Atlanta, GA

,

Sep 22, 2018
Verified Reviewer

Overall Experience:

I purchased my first bag of tea from Amazon mid-July. I am on my second bag now, and it's 9/21/18. I have lost to date approximately 10-15 lbs. I haven't been working out...my work schedule sucks. I have been drinking veggie/fruit smoothies, drinking tons of water, and cutting back on red meat, breads, carbs, etc. I had already changed my diet since April of this year. So I'm sure some of my weight loss is attributed to my diet change, but overall I'm happy with my results.

Bottom Line: Yes, I would recommend this to a friend

Jan 10, 2019

Hi Tanya!

We love that SkinnyFit is a part of your health journey! We understand that this journey is tough at times, so we are happy to hear that our Detox tea is right there with you!

Kevin

Customer Solutions Manager

---

It works!

By Cheryl J.

,

New York

,

Jul 1, 2019
Verified Reviewer

Overall Experience:

I have been using SkinnyFit Detox Tea (daytime only) for two months. I had been dieting using 1200 calorie diet and water only. I work full time so have not really been exercising as much as I should. I lost 7 pounds before the tea, since being on the tea I have lost a total of 14 with 6 pounds to go to meet my goal. This is not an overnight loss nor is it magic tea. I will say that it has helped my dieting as far as numbers on the scale but even more of a help with inches. It does help with bloating and energy but as the company states healthy eating is a key to it working. Thank you for this product. Is it pricey, yes, but so are many diet programs. A few of my fellow employees have started the tea and love it as well.

Bottom Line: Yes, I would recommend this to a friend

Jul 1, 2019

Hi Cheryl!

We truly love this feedback! We understand that this journey is tough at times and plateaus are hit, so we are glad to know that SkinnyFit Detox is right there with you helping you reach your goals!

Thank you again for sharing this wonderful feedback, and thank you for adding SkinnyFit to your daily routine!

Kevin

Customer Solutions Manager

---

Helpful product

By Lana

,

Illinois

,

Nov 20, 2017
Verified Reviewer

Overall Experience:

As a person who cannot have much caffeine, I find this tea to be a wonderful pick me up. It has also helped to increase my weight loss. I was at a stuck point in my weight loss, and after using this tea, I began to once again lose weight. I would not recommend drinking past early afternoon as it has a long time frame of wakefulness. It will keep you up all night if drank to late in the day. It does not have the comedown crash of coffee, however. To me, this is a good thing.

I would recommend it to those looking for a little extra help with their healthy dieting. I cannot say it causes rapid weight loss or instant health benefits, but I have found it to be a very helpful, added bonus to my weight loss.

Bottom Line: Yes, I would recommend this to a friend

---

Yay! No laxatives!

By Jean A.

,

New York City, NY

,

Oct 9, 2018
Verified Reviewer

Overall Experience:

I have been on SkinnyFit for a couple of months now and really enjoy it.

I've tried quite a few different brands - most of them cheaper, to be honest. But I don't like that they all contained laxatives. At first, I thought it was great and that's just how detoxes work until I started to read it, it's actually pretty bad to constantly have that in your system.

I still wanted something to help my diet during the summer though. I can't say for sure it's helped me shed extra pounds, but I was really surprised how much it helped with my daily bloating. I honestly didn't even realize it was an issue until it started to go away with this detox. I'll keep on SkinnyFit for a bit longer because of that reason, and I really like the taste (I'm an avid tea drinker).

Just keep in mind...it's a little pricey (cheaper if you subscribe though), but worth it for me!

Bottom Line: Yes, I would recommend this to a friend

Jan 10, 2019

Hi Jean!

We're so happy to hear that you have seen such great results with SkinnyFit. We pride ourselves on only using all natural ingredients in our Detox tea, and that does include staying away from laxatives!

Enjoy the rest of your Detox!

Kevin

Customer Solutions Manager

---

Yummy tea

By Adela R.

,

Florida

,

Nov 13, 2018
Verified Reviewer

Overall Experience:

The ZzzTox tea tastes delicious, however, I didn't buy it, my mom found a brand new unopened bag at her motel job, and I was shocked to know it was so expensive. If I had known, I would've left it sealed and sold it for cheaper. However, it tastes really good and I wanna lose around 10 pounds, and I hope it works out!

Bottom Line: Yes, I would recommend this to a friend

Dec 11, 2018

Hi Adela!

Thank you so much for your feedback! Glad that you and your Mom are enjoying the find. Here is a link to our blog with various tips and tricks on how to obtain the best results, https://www.skinnyfit.com/blog/.

Cheers!

Briana

Customer Success

---

Scam

Massachusetts

,

Jan 28, 2018
Verified Reviewer

Overall Experience:

This does not do what they say it does, and when you return your tea, they don't follow through with the refund they promise. It is a total scam. I am extremely disgusted with the poor customer service.

Bottom Line: No, I would not recommend this to a friend

---

Bad customer service

By Crystal L.

,

Washington DC

,

May 25, 2018
Verified Reviewer

Overall Experience:

I ordered a trial of the morning and night detox tea. With the trial it automatically enrolls you in auto ship, so I called to cancel it as soon as I received my tea because I wanted to try it first before I fully committed.

The first couple of days the tea was great. I could feel myself having more energy and I wasn't as sluggish. However, on about the fifth day it did absolutely nothing. I'm actually almost finished with my first cup of tea and I'm falling asleep while drinking it. I've been using it for almost three weeks and no changes at all. The night detox tea has me feeling like I haven't gotten much sleep when I wake up the next day. Not exactly sure why.

Now onto the customer service. When I called I asked to cancel my auto ship membership. I spoke to a gentleman and he assured me that it was canceled and I would receive no further packages unless I re-enroll. I even got an email confirming the cancellation.

However, three weeks after calling I got charged $60! When I called the lady on the phone stated that when I called initially the guy only canceled one of the items on the auto-ship, BUT the email that I received clearly states "We're sorry to see you go and that my SUBSCRIPTION has been cancelled." It also states "You will not receive any further products."

So now I have to wait 7-10 business days just to get my money back for something that I canceled almost a month ago. I should have stuck with what other people were saying about all of the issues they had cancelling their subscription. I will NEVER order this product again.

Bottom Line: No, I would not recommend this to a friend

Jan 11, 2019

Hi Crystal,

We truly appreciate this feedback from you. We will be using this as a training opportunity for all of our agents here at SkinnyFit. We hold all our agents to a high standard, so we will make sure something like this never happens again.

We are guaranteeing that your account is canceled, as well as refunded of the $59.95 charge. Once again, we sincerely apologize for any inconvenience this may have caused and we hope to have you a part of the SkinnyFit family again in the future.

Kevin

Customer Solutions Manager

---