Slendertone Reviews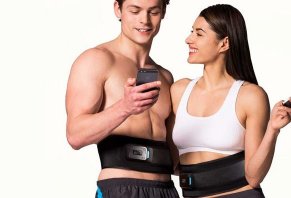 Slendertone advertises that their expertly engineered electrical muscle stimulation devices are FDA cleared and clinically proven to deliver a stronger, tighter core.
What Is Slendertone?
Slendertone devices use clinically proven electrical muscle stimulation technology to simultaneously stimulate all your major stomach muscles, provide a perfect abdominal contraction, and deliver firmer and more toned abs over the course of six weeks.
Compared to other EMS devices, the website advertises that "every feature and technical specification has been expertly engineered to tone deeper and achieve a stronger core," making their FDA cleared technology the most effective on the market. In fact, according to 2005 and 2009 clinical studies:
Participants experienced a 72-percent average increase in abdominal endurance
100 percent reported firmer abs at eight weeks, with significant results at six weeks
Participants experienced a 49-percent average increase in abdominal strength after six weeks
Furthermore, Slendertone's devices can also be worn while performing day-to-day activities, other ab workouts, or light circuit training, thereby allowing you to multitask.
Bottom line: Can you tone and firm your abs in six weeks? If so, will Slendertone's belts really do all the work for you, as claimed on their website? Let's start uncovering some answers by taking a looking at the underlying technology.
How Does Slendertone's EMS Technology Work?
An oversimplified explanation: After an electrical signal is sent from your brain, it reaches a muscle and causes the cells to create force. This force causes movement, otherwise known as a contraction.
However, electrical muscle stimulation (EMS) devices work by resting on top of the skin and using a special pad to bypass the brain and send an electrical signal directly to the muscle underneath. Doing so has been used effectively in physical rehabilitation settings for decades to help prevent atrophy from disuse, increase localized circulation, re-educate muscles, relax muscle spasms, and improve range of motion.
Specifically, the Food and Drug Administration, who's responsible for regulating these EMS devices, emphasizes that "the effect of using [them] is primarily to help a patient recover from impaired muscle function due to a medical condition, not to increase muscle size enough to affect appearance."
They add that "At this time, Slendertone Flex marketed by BMR NeuroTech, Inc., has been cleared by FDA for toning, strengthening, and firming abdominal muscles."
However, the FDA points out that "while an EMS device may be able to temporarily strengthen, tone or firm a muscle, no EMS devices have been cleared at this time for weight loss, girth reduction, or for obtaining "rock hard" abs."
Bringing it all together: According to the available clinical evidence, EMS technology is primarily used to address health or injury, not to address appearance. As such, while their devices might help temporarily boost strength and firmness, Slendertone points out that in order "to achieve the best results, we recommend toning at least five times per week during your six-week program," combined with healthy eating.
Can EMS Devices Like Slendertone Cause Side Effects?
Most users report that electrical muscle stimulation feels like a light pulling/tightening sensation, which will hold in place for a few seconds followed by a gentle relaxation. However, everyone will have their ideal intensity level before the sensation becomes uncomfortable.
Used in a physical therapy setting, common side effects reported by patients undergoing electrical muscle stimulation include temporary pain, muscle spasms, and itching, tingling, and numbness at the application site.
The Slendertone website emphasizes that customers should "wait a minimum of six weeks after natural childbirth (or three months after a cesarean section) before you begin using the Slendertone Connect belt. We advise you seek approval from your doctor prior to use."
In fact, to help reduce your likelihood of experiencing side effects from an EMS device, it's always a good idea to talk with your doctor before committing to a purchase.
Taking a Closer Look at Slendertone's Belts: Connect Abs vs. Abs Toning
There are currently three products in the Slendertone lineup, all of which feature a 50Hz electrical pulse frequency, pre-positioned medical-grade Gel Pads, and a specifically sculpted compression design:
Slendertone Abs
This is advertised as Slendertone's most popular system for men and women, which features seven different toning programs (five core and two bonus ) for beginners and pros alike, and up to 99 intensity levels for strong—but comfortable—contraction.
Each core program ranges between 20 and 30 minutes, while each bonus program ranges between 30 and 40 minutes. The device will automatically progress through each one, or you can adjust the programs and intensity levels directly on the easy-to-use, rechargeable controller with LCD display and audio sound effects.
The Abs belt, which is made from a "biomedical-tested fabric," can accommodate waist sizes between 27 and 47 inches (69 to 119 cm), while the extender can add an extra seven to nine inches. It also features a built-in pocket to store the controller during use.
Slendertone Connect
The company's most technologically advanced belt, which features iOS and Android app functionality, including the ability to choose your toning program, control intensity, track progress, and share results with friends; along with custom coaching (personalized motivation, progress tracker, toning reminders, etc.), and an ergonomic, slimline design that can "be worn under your clothes for use just about whenever and wherever you want."
You'll also have access to five high-intensity programs that can help you achieve specific training goals, including:
Post-natal tummy toning – Uses shorter pulses and lower frequencies to help retrain abdominal muscles
Essential toning – Their flagship program with 118 deep abdominal contractions per session
Upcoming event – Uses 186 muscle contractions to help "get you toned for that big event, whether it's a wedding or a beach holiday."
Advanced toning – 192 muscle contractions for high intensity
Fitness toning – Performs 202 muscle contractions in 30 minutes to enhance your existing fitness regimen and strengthen core muscles
Combined, Slendertone advertises that Connect is "clinically proven to deliver muscle tone, strength, and endurance" to all abdominal muscles. In fact, the website indicates that a 30-minute session can be like doing 200 sit-ups.
Connect is made from the same biomedical fabric as the Abs belt and can also implement the extender, but accommodates a wider variety of waist sizes between 24 and 42 inches (61 to 107 cm).
Slendertone Arms Muscle Toner
Compared to Slendertone's belts, which focus on abdominal muscles, their Arms device promises to help improve the firmness and tone of your biceps and triceps using 99 adjustable intensity levels and three unique training programs (each includes warm-up and cool down phases):
Conditioning – A 10-minute moderate toning program that should be used before progressing to other programs.
Strength – A stronger 12-minute program for strengthening and improving tone.
Power – A 15-minute program that uses "short, powerful contractions to increase both maximum muscle strength and sustained performance."
While there's no app functionality like Connect, the Arms device does come with a rechargeable, ergonomically shaped handheld controller.
How Much Do Slendertone Products Cost and Where Can You Buy?
If purchased directly from Slendertone, their products are priced as follows:
Connect Abs Belt: $199.99
Abs Toning Belt: $99.99
Arms Muscle Toner: $99.99
Replacement Gel Pads (you'll need new ones every 20-30 sessions for best results): $12.99 - $39.99, depending on device and quantity
Accessories: $6.99 - $69.99
All belts come with two sets of replacement gel pads. Standard shipping is free, while Priority is an additional $9.31 and Rush shipping is $18.64.
We also found many of Slendertone's devices sold through third-party retailers like Amazon, Academy, Bed Bath & Beyond, Costco, Target, Walmart, Bloomingdales, Neiman Marcus, and Nordstrom for about the same prices.
Pro tip: Just keep in mind that purchasing locally (or through a marketplace like Amazon, who offers free S&H for Prime members) can put a device in your hands faster, save on shipping charges, and make the return process super quick if you're dissatisfied with its performance.
All direct Slendertone purchases come with a 60-day money back guarantee, less S&H, which begins on the date your product is received. They also come with a two-year warranty against faulty or defective parts.
Slendertone's customer care line can be reached at 800-551-2443.
What Can We Learn from Slendertone Customer Reviews?
On Amazon, Slendertone's Abs belt had an average rating of about 4.1 stars among nearly 120 customer reviews at the time of our research. There, most compliments appeared to reference ease of use and effective strengthening and toning.
Even then, many positive reviews emphasized the fact that you'll have to put in the hard work (including restricting calories to lose belly fat) if you're looking to achieve the washboard abs advertised on the Slendertone website.
On the other hand, common complaints frequently revolved around no results and less-than-stellar quality.
We found much of the same feedback and ratings for Slendertone models on other retailers' sites like Bed Bath & Beyond, Groupon, Target, and Walmart.com.
Between Google Play and iTunes, Slendertone's Connect app had 15+ reviews and a combined average rating of about two stars, with complaints relating to connectivity and functionality issues.
From a company perspective, Slendertone devices are manufactured by Bio-Medical Research Ltd, who's been in business for more than 50 years and is headquartered in Hoboken, NJ. They held an A- rating with the Better Business Bureau, based on one closed complaint, as of 3/21/18. The company had yet to respond.
How Does Slendertone Compare to Other EMS Devices?
There are perhaps hundreds of consumer level electrical muscle stimulation device available, priced anywhere between less than $20 and more than $300. Some of the most popular competitors to Slendertone at the time of our research included:
| Brand / Device | Pricing | Placement | Core Features |
| --- | --- | --- | --- |
| Slendertone (part of BMR NeuroTech) | $100 - $200 | Abs / Arms | 3 models available, belt-based designs, 3-5 toning programs, 99 intensity levels, 50Hz frequency |
| Flex Belt (Made by Slendertone, but often marketed as a standalone brand) | $200 | Abs only | Belt-based design w/3 gel pads, patented technology, 30-min workouts, 150 intensity levels |
| Compex | $150 - $730 | Anywhere | 7 models available, use separate electrodes that can be placed on almost any muscle group, 4-10 programs, 5 intensity levels |
| Bodi Tek Ab Core Trainer | $85 | Abs only | 6 electrodes placed in a circular pattern, 1 program, 23 intensity levels |
| Abtronic X8 | $200 | Abs only | 8 sensors in a spider-like configuration, 1,000+ contractions per minute, 6 modes, 8 intensity levels |
| Sixpad by Training Gear | $110 - $160 | Abs / Arms | Central controller with 2 or 6 'arms' and built-in electrodes, 23-min program, proprietary waveforms, 20Hz frequency |
We briefly mentioned it earlier, but whether you're looking to utilize electrical muscle stimulation to address pain, fitness, or both, the first person you should talk with is your doctor. They can recommend treatment options based on your specific diagnosis and concerns, and provide valuable insight as to whether or not this should involve devices like Slendertone.
If so, like most decisions in life, the 'right' EMS device option for you is largely going to come down to the factors on which you place the most emphasis. For example:
Are you looking for something with the most versatility? Compex's models use independent electrodes that can be placed just about anywhere on the body. They also offered the broadest lineup, although their upper-level models were up to 8X as much as the lowest-priced competitor.
Speaking of which, is price your main concern? Bodi Tek came in the lowest at $85, although Slendertone's Arms and Abs systems were a close second at $100, each.
Only interested in those that have been FDA cleared for toning, strengthening, and firming abdominal muscles? If so, Slendertone is the only game in town. The company is also the longest-running among the popular competition listed above.
Let's go ahead and pull everything together so we can come to a final conclusion about Slendertone's EMS devices.
Our Final Thoughts About Slendertone
Based on the company's clinical research, as well as their clearance from the FDA, it seems like customers might realistically expect to achieve temporarily firmer, stronger, and more toned muscles using Slendertone's EMS devices when used as directed for a period of six weeks.
It's also manufactured by a company with several decades in business, who supports their claims with two relatively recent clinical trials, and who stands behind their products with a 60-day satisfaction guarantee. While this doesn't match their six-week recommendation for maximum results, this should still provide plenty of time for you to decide whether or not it meets your needs and preferences.
With all of these positives in mind, it's important to reemphasize that unless you also focus on restricting calories and losing fat around your midsection, you won't be able to see your newly toned and strengthened abs.
» SEE ALSO: How to Eat Healthy on a Tight Budget: Simple Money-Saving Tips