Slendertone Belt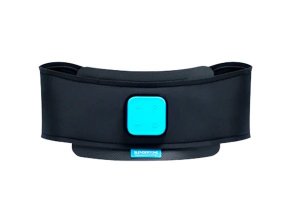 Summary
Slendertone is an ab belt that is intended to help you achieve firmer, more toned muscles through EMS. While it has been proven to promote muscle strength and endurance, it can't reduce the thickness of skin overlying your abs. Thus, getting a defined core with the Slendertone alone is unlikely.
Pros
Can promote abdominal strength and endurance with regular use
Short-term benefits have been demonstrated
Cons
Long-term effects have not been proven
Will not decrease skin thickness, so muscle definition is unlikely
Expensive base pricing and cost for pad replacements can add-up
Slendertone Review - Can It Work For You?
What is Slendertone Belt?
Slendertone claims that their ab belt can help you achieve firmer, more toned muscles through EMS.
Getting a washboard stomach is one of the more popular fitness goals. It's also one of the most challenging as the recipe is thought to include the perfect combinations of a healthy diet, cardio training, and targeted abdominal exercise.
Slendertone may be a useful addition. It is allegedly designed to stimulate muscle contractions, thereby mimicking exercise. In fact, according to the company, you can achieve defined abs in about 20-30 minutes of daily use.
In this article, we'll help you determine if this claim is too good to be true by discussing the recommended use for the Slendertone, as well as the available scientific support for the suspected benefits.
How Does Slendertone Work?
Slendertone is proposed to work through electric muscle stimulation or EMS. The belt stimulates repeated muscle contractions through electrical impulses transmitted by 3 pads that are strategically placed over your core.
Slendertone is alleged to take over as the driving force during exercise, rather than your brain.
Using your Slendertone is straight-forward. Secure the lycra belt snuggly around your abdomen, power on the device, and select a tolerable intensity.
According to the company, by using the Slendertone 20-30 minutes daily, 5 days each week, you can expect firm and toned abs in about 6-weeks.
What Does the Research Say About Slendertone?
The company claims that the secret behind Slendertone's ability to help you achieve defined abs is EMS. Here, we'll help you figure out if artificially stimulating muscle contractions can result in similar benefits when compared to traditional exercise.
Fortunately, the Slendertone has been put to the test in published research studies, so we can use the results of these studies to get a better understanding of the potential benefits of this product.
In 2005, researchers examined the effects of Slendertone on strength, endurance, body measurements, and perceived shape and satisfaction of the abdominal wall.
Individuals treated with Slendertone experienced greater improvements in abdominal strength, abdominal endurance, and waist circumference when compared to the control group over an 8-week duration.
Also, all of the subjects in the EMS group believed that their midsections were more "toned" and "firmed," though EMS did not benefit body weight, BMI, or skin thickness.
Other studies have investigated his method of toning as well.
In a randomized trial, those treated with EMS 3 times per week did not improve strength, tone, body weight, or body fat.
In postnatal women, EMS was effective in abdominal muscle strength, waist to hip ratio, and the separation of abdominal muscles that can occur with pregnancy. It's important to note that these women also performed diet and exercise.
Though the results for the ability for EMS to promote abdominal strength and endurance are promising, there have only been a few studies that found benefits in the short-term. Support for long-term benefits is lacking.
Also, without an ability to reduce the thickness of the skin overlying your abdomen, achieving a washboard stomach with the Slendertone alone is very unlikely.
You may see better results when used in conjunction with a healthy diet and regular exercise.
Is Slendertone Safe?
EMS is likely to be safe when used as directed. The fact that Slendertone has been well-tolerated by research subjects is reassuring.
In terms of side effects, you're most likely to encounter skin irritation where the pads have been placed. If you have sensitive skin, you may be even more susceptible. You can limit this risk by trimming the area to which you apply the pads.
Also, be sure to clean your skin before use and avoid placing pads over broken skin, cuts, abrasions, and bruising. Make sure that you keep the pads free of dirt, debris, and hair and that you replace them frequently.
If you're pregnant or have a pacemaker, using EMS may be especially risky. Always speak with your doctor before use.
Slendertone: The Cost
Slendertone is available directly from their website. There are 2 different models.
The CoreFit Toning Belt is their base model, comparable to many similar products currently available on the market. There are 10 programs to choose from:
Initiation
Beginner
Intermediate
Advanced
Expert
Pro Toning
Ab Power
Endurance
Beginner Crunch
Advanced Crunch
It is USB rechargeable and costs $129.99, and shipping is calculated at checkout.
The Connect Abs Toning Belt is a similar design, though it can be linked to your smartphone and controlled by an app. Also, this allows you to track your progress over time.
This model has 5 different programs to select from based on your goals for the sessions. These include:
Advanced Toning
Essential Toning
Fitness
Upcoming Event
Post Natal
The Connect Abs Toning Belt is priced at $199.99, though it may be sold out at times.
You should also be aware that although your Slendertone belt comes with gel pads, they must be replaced every 20-30 sessions. Replacing the pads means you'll have to budget money for replacements at least monthly.
Pads can be purchased from the website. The options are listed below:
1 pack - $12.99
3 pack - $24.99
6 pack - $49.99
12 pack - $95.99
Though pricey, your purchases are backed with a 60-day guarantee. To process your return, contact support at 1-800-551-2443 or info@slendertoneusa.com.
What Are the Alternatives?
EMS toning belts are not a recent phenomenon. They've actually been around for quite some time. There are a number of similar products currently available.
At HighYa, we previously reviewed the Flex Belt. While there is some support that this device can improve abdominal strength and endurance, the ability to reduce the thickness of skin overlying your abdomen is not supported.
Thus, getting a washboard stomach is unlikely with the use of the Flex Belt alone. Also, the belt is priced at $199.99, and replacement pads are just as expensive as those offered by Slendertone.
With the middle of the road reviews and no opportunity to save money, the Flex Belt is unlikely to offer a better option.
UMATE ABS Stimulator is yet another option. At $36.90, it is just a fraction of what you'll pay for Slendertone. Also, this system is rated 4.8-stars on 28 reviews.
While it is probably impossible to get ripped abs through EMS alone, going with a cost-effective choice like UMATE may be a reasonable option for boosting strength and endurance.
Though EMS is generally safe to use, starting with traditional methods is probably more reasonable.
Either way, lifestyle choices like adopting a healthy meal plan and getting regular exercise are irreplaceable components of any fitness plan.
The Bottom Line
Slendertone may be able to boost strength and endurance, though without an ability to reduce the thickness of skin overlying your abdomen, achieving muscle definition is less unlikely.
Both Slendertone belt options are fairly pricey, and replacing pads are an added cost. Since EMS is best used as an adjunct to a healthy diet and regular exercise, opting for a more cost-effective belt is probably a better choice.
Always consult your doctor before using EMS, as it can be dangerous for some individuals.
Customer Reviews