Tummy Tuck Belt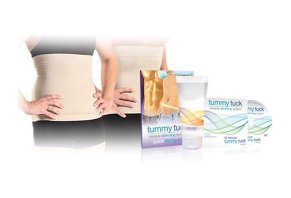 Summary
The Tummy Tuck Belt is alleged to burn away belly fat when used for 10-minutes twice each day and combined with a healthy diet and exercise.
Tummy Tuck Belt Review: Does It Work or Just Hype?
The Tummy Tuck System combines a slimming belt, slimming cream, and 2 minutes of standing abdominal exercises, which are claimed to provide instant slimming and burn away belly fat.
According to the website, the Tummy Tuck Belt is made of a space-age blend of spandex and nylon to compress your tummy and is effective for both men and women.
Is there any merit to these claims? After all, this seems like a straightforward fix for stubborn belly fat.
In this article, we'll help you determine if the Tummy Tuck Belt lives up to the hype by reviewing any available scientific research supporting the proposed benefits.
How Do You Use the Tummy Tuck Belt?
The Tummy Tuck Belt is part of a system that includes the belt, slimming cream, and an exercise video. Combining this system with a healthy diet is proposed to melt away your excess belly fat.
Also, by wearing your Tummy Tuck Belt under your clothing, you can achieve an instant slimming effect that allows for a better fit.
To use your Tummy Tuck Belt as a fat-burning furnace, follow these three steps:
Apply the cream to your midsection.
Put on the Tummy Tuck Belt and follow along with your video to perform 2-minutes of standing abdominal exercise.
Simply relax or perform other tasks as you wear the belt for the next 8-minutes.
While using your belt is pretty straightforward, the company makes it clear that it is not designed to be a weight-loss device. It is only intended to slim your waistline.
Also, they claim that results can vary person-to-person. According to the website, typical results can include losing 1" in 30-days, though they do not provide support for these numbers.
Is There Any Science Behind the Tummy Tuck Belt?
The Tummy Tuck System is alleged to burn away belly fat when used daily. The website does offer information from independent clinical testing.
Researchers used ultrasound imaging to determine the thickness of belly fat before and after the use of the Tummy Tuck System. They don't provide any raw data, though they do share examples of imaging seemingly demonstrating that there is roughly a 50% reduction in the fat layer just below the skin after using the Tummy Tuck Belt.
Researchers also used heat vision photography to document the temperature of the abdomen before and after use. According to the results of this study, the abdominal temperature increased more than 3oC up to 3-hours after using the belt.
While independent research does provide some information, its results must be taken with a grain of salt. For one, the fact that this information wasn't published means that the scientific methods did not undergo a rigorous peer-review process to determine if they were sound.
Additionally, the studies do not detail the number of subjects included, whether or not they were compared to subjects that did not use the Tummy Tuck System, and other pertinent details.
The usefulness of the study results can be further interpreted by applying some simple logic.
In the first study, the image showing a decrease in fat layer thickness may be from the only individual to achieve such results. Alternatively, perhaps it is merely the result of the belt compressing the fat layer rather than burning off fat. Or maybe the difference in thickness was the result of exercise and not the belt at all?
Without additional details, how do we know that the fat layer didn't simply return to its original thickness minutes later? The answer is – we don't. Thus, we can't take anything away from this particular study.
In the second study, we can ask similar questions. Without knowledge of a comparison group, we can't determine if the Tummy Tuck Belt increased abdominal temperature, if exercise was responsible, or if that particular subject is prone to such temperature increases.
Again, these results don't provide any substance. So what does the published research tell us?
Despite various methods of weight loss, fat-burning, and toning being common research topics, slimming belts have not been well-studied. Support for the use of these methods as an effective means of burning belly-fat is lacking.
As for the Tummy Tuck Cream, the website is not forthcoming with the ingredients. With some extra digging, we were able to track down the following:
Water, Ethoxydiglycol, C12-15 Alkyl Benzoate, Caprylic/Capric Triglyceride, Glycerin, Aminophylline, Caffeine, Stearyl Alcohol, Stearic Acid, PEG-12 Glyceryl, Dimyristate, PEG-23 Glyceryl Distearate, Dimethicone, Magnesium Aluminum Silicate, Triethanolamine, Phenoxyethanol, Xanthan Gum, Glyceryl Stearate, PEG -l00 Stearate, Acrylates/C10-30, Alkyl Acrylate Crosspolymer, Hydroxyethyl, Squalane, Theobroma cacao (cocoa) Extract, Methylparaben, Allantoin, Tocopheryl Acetate, Polysorbate 60m Ethylparaben, Butylparaben, Propylparaben, Isobutylparaben.
The cream is packed with many ingredients commonly found in creams and lotions. They're intended to work as emollients, emulsifiers, and surfactants – essentially substances used that offer moisturizing and thickening capabilities.
The active ingredient appears to be caffeine, a well-known stimulant, and a common component of products that claim to offer fat-burning and weight loss benefits.
The potential benefits of ingesting caffeine are well documented, though the possible effects of topical use are less clear.
The use of a caffeine-containing cream did reduce the circumference of the upper arms and thighs, though by less than a 1cm.
More recently, twice daily application of a caffeine-containing cream was more effective in reducing thigh circumference (1.2 vs. 0.8 cm), thigh skinfold thickness (3.7 vs. 2.0 mm), and thigh fat mass (100.0 g vs. 57.3 g) when compared to placebo. Keep in mind that these subjects followed a low-calorie diet and walked for 150-minutes per week.
Is the Tummy Tuck Belt Safe?
The Tummy Tuck Belt and similar products are generally safe to use.
You are most likely to encounter issues related to sizing and the fabric used to construct the belt. Skin irritation, rash, and even cuts and bruising may be possible with compressive garments.
Also, a mid-90s study found that compressive abdominal belts may increase blood pressure. While this may be a rare circumstance, you may want to avoid use if you have been diagnosed with high blood pressure.
The ingredients included in the Tummy Tuck Cream are also generally safe. Many are commonly included in creams and lotions.
Again, the risk for harm is most likely to be related to skin rash, irritation, and redness. If you have sensitive skin and are prone to reactions, you may want to avoid using this product.
The Tummy Tuck Belt and Cream can't replace the benefits associated with a healthy diet and regular exercise. Speak to your doctor for guidance regarding the safest program for weight loss and toning.
Pricing
The Tummy Tuck Belt is available directly from the product page.
The Tummy Tuck Miracle Slimming System is available for two payments of $19.99 + shipping. The system includes the following:
The Tummy Tuck Belt
Tummy Tuck Cream
Tummy Tuck Exercise Video
Tummy Tuck Quick-Start Guide
Your belt is reusable – you can machine or hand wash it in cold water, though be sure to air dry as machine drying can damage the material.
You can also purchase other related items from the product page. Adding a 30-day supply of Tummy Tuck Cream will cost you $24.99.
Exercise bands and weighted balls are also available for $14.99 each.
Lastly, your order is backed by a money-back guarantee for up to 30-days. To process a return within this time frame, return the product to Tummy Tuck Belt, 16620 Stagg St., Van Nuys, CA 91406.
For additional questions, email or call support at 1-800-305-8988.
The Tummy Tuck Miracle Slimming System is similarly priced at Amazon.
Alternatives
Several products claim to offer targeted fat burning through the use of an abdominal belt.
At Amazon, there is a wide variety of options that can be delivered directly to your door.
The LOMA Waist Trainer is among the highest rated options. Their system similarly includes a slimming belt, Hot Gel, and a meal plan for half the price of the Tummy Tuck Belt.
AT 4.6-stars on 160 reviews, customers seem pleased with the results. Also, the ingredients list is significantly shorter when compared to Tummy Tuck Cream: Organic aloe leaf juice, Olive oil, Fucus Extract, Grapefruit essential oil, Rosemary essential oil.
There is little evidence supporting the belly fat-burning benefits of slimming belts and creams, but at least LOMA's system is inexpensive and contains only natural ingredients.
Nonetheless, you're unlikely to experience many benefits with these products, especially without incorporating healthy lifestyle changes like diet and exercise.
The Bottom Line
The Tummy Tuck System lacks strong support for both the belt and the cream. The fact that this system is unlikely to provide lasting benefits is reflected in the poor reviews.
At Amazon, nearly 1,200 users rate the Tummy Tuck System 2.9-stars. More than 60% of the reviews are 3-stars or less. Unhappy users cited a lack of results as the primary reason behind their negative rating.
There are more cost-effective slimming belts and creams, though you should probably save your money given the lack of science backing them.
Every weight loss and fat-burning program should start with a healthy meal plan and regular physical activity. Slimming belts will not provide the results and health benefits associated with making positive lifestyle changes.
Speak with your doctor before starting a new plan to determine the safest options for your needs.
Our Promise to You
In order to safeguard you and ensure helpfulness and relevance, our compliance team manually assess every customer review before it goes live.
We have a zero-tolerance policy for fake reviews, and companies cannot control or alter any reviews at any time.