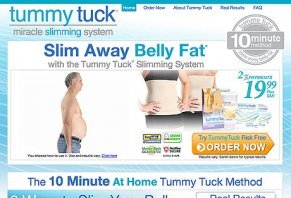 The Tummy Tuck Belt is a slimming system that claims to help you lose belly fat using a combination of a compression belt, Thermal Accelerator Cream, and standing abdominal contractions.
About Tummy Tuck Belt
By helping you to slim your belly without changing your lifestyle, the Tummy Tuck Belt is a slimming system claims to be a 10-minute solution to trimming your waist that "ignites a fat burning chain reaction." In fact, the manufacturer claims that the Tummy Tuck Slimming System can continue burning fat for as long as three hours after you've stopped using it.
The Tummy Tuck Belt is manufactured by Savvier, LP based out of Van Nuys, CA. However, the product does not hold a Better Business Bureau rating, despite having nearly 40 closed complaints over the past three years. Online customer reviews regarding the Tummy Tuck Slimming System appear to be primarily negative, with the most common complaints citing failure to work, difficulty obtaining a refund, and poor customer service.
How the Tummy Tuck Belt Works
Made from a soft, flexible, space age material, the Tummy Tuck Belt applies compression to your midsection, which is claimed to help provide you with an instant slimming look. Unlike other slimming garments though, the Tummy Tuck Belt is claimed to "ignite a fat burning chain reaction" that continues to reduce your belly fat long after it's been removed. It claims to accomplish this in one of three ways:
Wear the Tummy Tuck Belt underneath your clothes. This allows you to instantly compress belly fat, without making any alterations to your current diet or exercise level.
Follow the 10 Minute Tummy Tuck Method twice per day, which is claimed to gradually slim belly fat, without any changes to diet or exercise. This entails applying the Thermal Accelerator Cream to your midsection, fitting the Tummy Tuck Belt over your midsection, and then performing 2 minutes of standing abdominal contractions. Then, after 10 minutes have passed, remove the Belt. According to the product's website, the Thermal Accelerator Cream will continue slimming your belly for up to 3 hours afterward.
For faster results, you can complete the 10 Minute Tummy Tuck Method in the morning, and then add exercise at some other point during the day. The company claims that wearing the Tummy Tuck Belt in combination with exercise makes it 2X more effective at burning belly fat than with exercise alone (see the Bottom Line section for additional details).
The Tummy Tuck Slimming System is available in three different sizes for both men and women, and includes the following:
Tummy Tuck Belt
30-Day Supply of Thermal Accelerator
Tummy Tuck Instructional Video
"You Choose How To Use It" Guide
Tummy Tuck Belt Pricing & Refund Policy
The Tummy Tuck Belt is currently priced at two payments of $19.99 (total of $39.98), plus $9.83 shipping and handling. While standard shipping means that you'll receive the product in 2-3 weeks, you can also choose 3-5 business day shipping for an additional $14.32.
Keep in mind that beginning 30 days after your original order, you'll start receiving a 2-month supply of Thermal Accelerator Cream every 60 days, and your credit card will be charged $19.99 plus $6.99 S&H each time.
All Tummy Tuck Belts come with a 30-day money back guarantee, less shipping and handling charges. While you don't need to contact the company prior to returning the product for a refund, you will need to contact customer service at 800-305-8988 to cancel your Accelerator Cream autoship program.
Pros
Claims to help you slim away belly fat in just 2 10-minute sessions per day.
The compression belt can be worn under your clothes for instant, all-day slimming.
30-day money back guarantee.
Cons
The most common complaints cite failure to work, difficulty obtaining a refund, and poor customer service.
Money back guarantee does not include shipping and handling charges.
Bottom Line: Is the Tummy Tuck Belt a Scam? Probably so, and here's why:
First, despite the manufacturer's claim that the Tummy Tuck Slimming System can help you burn 2X more fat than exercise alone, and that this finding is supported by a university study, no references to this study are made available on the product's website. This is a huge red flag, as any university who took part in the study would provide access to these findings, especially if they're as positive as they're claimed to be.
Next, the manufacturer does not provide the ingredients for the Thermal Accelerator Cream. Ultimately, this is something you'll be putting on your body, and you deserve to know what's in it. However, we were able to find an ingredient list during our research, though we were unable to verify its accuracy:
Water, Ethoxydiglycol, C12-15, Alkyl benzoate, Glycerin, Caffeine, Stearyl alcohol, Stearic acid, Magnesium silicate, Dimethicone, Glyceryl, Copolymer, Phenoxyethamol, Propylene glycol, Allatoin, Phospholipids, Kola nut
Next, the company claims "typical results are approx. 0.35" first week and 1" in 30 days without lifestyle change." This could be misleading, since the images used on their website show much more dramatic results. The fact of the matter, though, is that the images shown on the product's website aren't even individuals who used the Tummy Tuck Belt in the first place, as a disclaimer at the bottom expressly states, "Clinical scenes recreated by volunteers that were not paid for their time."
Finally, if you do order the Tummy Tuck Belt and decide to return it, be sure to track your package. This is because we read several complaints during our research that the company claimed to have never received packages, even when they actually did.
SEE ALSO: Are Waist Trainers an Effective Shortcut to an Hourglass Figure?
42 out 46 people found this review helpful

Tummy Tuck free shipping not free

By

Jeff W.

,

Texas

,

Oct 31, 2018
Verified Reviewer

I ordered Tummy Tuck for $115.00 sometime in early October 2018. I returned the product on 10/18/2018, they received the package according to USPS tracking on 10/20/2018, and they refunded $79.00. I asked why, when I paid $115.00, why a $79.00 refund? I got some B.S. about second party shippers. If my math is right, $115.00 - $69.00 is $6. It cost me $13.35 to ship it back. I think I am done with As Seen On TV.

Bottom Line: No, I would not recommend this to a friend

---

62 out 63 people found this review helpful

Terrible customer service

By

Dwayne A.

,

Cape Canaveral, FL

,

Sep 12, 2018
Verified Reviewer

Buyers beware! The belt and all the accessories that come with it do work, but the customer service is so bad it outweighs anything positive the about the belt. They will take money out of a debit or credit card without your permission and tell you on the phone that the reason is that you signed up for a membership. I didn't sign up for any membership. Be careful.

Bottom Line: No, I would not recommend this to a friend

---

Advertisement

---

86 out 87 people found this review helpful

Results

By

Melvin L.

,

Colorado

,

Jul 21, 2018
Verified Reviewer

This belt is the biggest crock of crap I have ever seen. I just can't believe I fell for this ripoff. I used the belt for three months faithfully. Plus, I did situps and I did not see any results.

Bottom Line: No, I would not recommend this to a friend

---

77 out 79 people found this review helpful

This item doesn't work

By

MaryAnn V.

,

Brooklyn, NY

,

Jul 13, 2018
Verified Reviewer

A friend gave me to Tummy Tuck Belt as a birthday gift and got themselves two also. It failed to work for me and failed to work for them. I followed the instructions to no avail. The item kept on rolling from the top down in from the bottom up. I had better results using the Genie Slim Panties 360, which actually worked good to help me lose weight and inches after actually wearing it.

Bottom Line: No, I would not recommend this to a friend

---

Advertisement

---

128 out 131 people found this review helpful

Sucker born everyday

North Carolina

,

Feb 26, 2018
Verified Reviewer

I received this as a gift. The "space age" material is nothing more than an elastic band like an Ace Wrap. The "thermal accelerator cream" is basically a cream to keep most people from having a reaction to the cheap elastic band, and if you did anyway, they will just say it' part of the "thermal" reaction.

Also, your first thought when you begin using this crap is to better yourself overall and eat healthily and try to be more active, hence the commercial showing people working out vs. sitting back watching TV. And if you are extremely overweight, you'll never get it on and if you do it will just roll down or up and constrict you. If you really want to lose some weight, just watch what you eat, the caloric intake, drink water and get out and walk! Once you lose some weight, you may feel like doing more exercising other than walking.

Other than that, the only weight you'll truly lose buying this crap will be out of your wallet!

Bottom Line: No, I would not recommend this to a friend

---

189 out 191 people found this review helpful

Be careful

I used the Tummy Tuck Belt for instant results, but it didn't even make a difference, and the belt kept riding up. Plus I used the three-step system with NO results. I want to cancel my ongoing shipment, and there is no number to call.

They want me to send all the products back at my expense, but I just want to CANCEL.

Be careful what products you purchase. If it sounds too good to be true, it usually is.

Thank you, a very frustrated ex-customer.

Bottom Line: No, I would not recommend this to a friend

View all 1 comments

Hide comments

Oct 29, 2018

The contact number is listed on your credit card statement. I found it and called and canceled. Yes, it didn't work for me either. If anything, it's the exercises that you do for 2-3 minutes before anything may tighten the stomach muscles, but not remove excess skin.

---

205 out 208 people found this review helpful

Bogus - don't believe it, it doesn't work!

I bought it, followed the plan, and after 90 days, there are still no results! The fat does not "fall off." They are robbing you without a gun.

Bottom Line: No, I would not recommend this to a friend

---

231 out 239 people found this review helpful

Conned Senior

I think I have been scammed. They have charged me on January 11, 2017, for approximately $87.29 even though they say they did not. Now that I have received the product they say my bill is $67.30. I am a senior and believed what I saw on TV.

I did not know I would need cream each month for a set amount. I have skin issues. Paid $26.32 in shipping charges for three items in one box, so what's up with that?

Bottom Line: No, I would not recommend this to a friend

View all 1 comments

Hide comments

Oct 30, 2017

Hello Miss Judy. I'm sorry that happened to you. It's a sad commentary about the lack of virtue and moral fiber people accept of themselves nowadays. May I suggest that you contact your local TV news? In most cities, there is a news person who fights for people who have been wronged by corporations. Also, if you are a member of AARP, they might help or at least refer you to someone who can. Lastly, there are consumer watchdog groups whose sole aim is to represent senior citizens. Do a Google search. Don't let them get away with it!

May you Be Favored in your endeavor.

May you henceforth Be Protected.

I hope it goes well for you Miss Judy.

Best,

Deborah

---

67 out 122 people found this review helpful

Tummy Tuck worked well for me.

I had a problem receiving the cream the second time I ordered but over all, I like the product and it works. However, I work out daily and it really slimmed my belly. I must admit that after several months, I did not see noticeable results. However, that was only after significant fat belly loss.

Bottom Line: Yes, I would recommend this to a friend

---

78 out 111 people found this review helpful

Tummy Tuck Belt

By

Viola Collins

,

Chicago, Illinois

,

May 23, 2016
Verified Reviewer

It really works. The Thermal Cream is essential, they work together. Unfortunately the Thermal Cream is too expensive when you run out.

Bottom Line: Yes, I would recommend this to a friend

---

180 out 186 people found this review helpful

Thumbs down

By

Lindsey

,

California

,

Dec 25, 2015

This product doesn't work. I used it for several months without results. You can kid yourself into thinking it works. However, it simply does not work. I wish that it had. I would not recommend this product.

Bottom Line: No, I would not recommend this to a friend

---