Flex Belt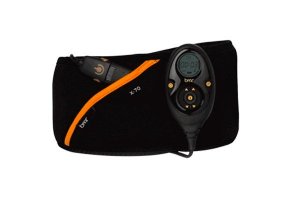 The Flex Belt is an electronic muscle stimulator that allegedly helps men and women tone, tighten, firm, strengthen, and flatten their abs.
The Flex Belt Review - How It Works, Safety, Effectiveness
What is the Flex Belt?
The Flex Belt allegedly delivers strong, toned abs by stimulating muscle contractions.
Getting defined abdominal muscles remains at the top of many fitness wishlists. Achieving washboard abs is challenging, though the recipe entails clean eating, cardio, and targeted abdominal exercise.
While these practices are likely irreplaceable, the Flex Belt may offer a different method of helping you get a defined core.
According to their site, you can train your abs even when you're too busy or too tired to workout by simply wearing the Flex Belt for 30-minutes daily. Can this be true?
After all, this device is FDA cleared for strengthening, toning, and firming.
In this article, we'll help you find out if this claim is too good to be true by reviewing how the Flex Belt works and if there's any scientific support for its proposed benefits.
How Does the Flex Belt Work?
The Flex Belt works through Electric Muscle Stimulation, or EMS. The device stimulates your core muscles to contract and relax through 3 pre-positioned GelPads. These contractions are intended to mimic those that occur during exercise.
EMS is actually not a new phenomenon; it has been used to rehab nerve dysfunction and muscular injuries, as well as to improve athletic performance.
To use your Flex Belt, follow these directions:
Charge your Flex Belt - it takes about 3-hours to fully charge.
Connect the controller to the belt.
Place the GelPads on the belt.
Remove the covers from the black side of all three GelPads
Position the belt around your waist.
Press and hold the on/off button.
Select your program.
Increase the intensity throughout the session if possible.
The Flex Belt will automatically power down after the session is complete.
You can alter the stimulation by increasing the intensity or taking advantage of 10 different customized programs.
For more detailed instructions, check out this link.
Is There Any Research Backing Up the Flex Belt's Proposed Benefits?
So does artificially stimulating muscle contractions actually work? In this section, we'll find out if there is any science to support the proposed benefits of the Flex Belt.
Fortunately, this device has been investigated as a stand-alone product. Let's review the details of this study.
The researchers set out to study the Flex Belt's ability to alter the strength, endurance, and body measurement of 24 healthy adults. Over the course of 8-weeks, these subjects used the Flex Belt for 20-40 minute sessions 5 days each week.
While the experimental group refrained from any additional exercise beyond EMS during this period, the 16 subjects in the control group refrained from all forms of exercise training.
Those who used the Flex Belt increased abdominal strength and endurance by 58% and 100%, respectively. The control group did not experience alterations in abdominal strength and increased endurance by 28%.
Also, the EMS group decreased waist circumference by 3.5cm, whereas the control group did not alter this measurement. Subjectively, all of those in the control group reported that their core felt more "toned" and "firmed".
Lastly, there were no changes in body weight, BMI, or skinfold thickness in either group.
Without an ability to reduce the thickness of the skin overlying your abdomen, it is unlikely that this device alone has what it takes to build a washboard stomach.
However, as it has demonstrated an ability to strengthen the core, you may see better results when used in conjunction with diet and exercise.
Is Flex Belt Safe?
EMS is generally safe when used as directed. The Flex Belt has been studied as a stand-alone device, and use was well-tolerated over 2-months.
As the subjects in the study were required to attend a minimum of 2 supervised sessions, their risk for adverse effects may have been greatly reduced.
Nonetheless, EMS is not for everybody.
Those with sensitive skin may experience irritation where the GelPads are placed. EMS use during pregnancy or in those with pacemakers may be especially hazardous.
Also, the use of EMS can't replace the many health benefits associated with adopting a healthy meal plan and regular exercise.
Consult your doctor before use to ensure the Flex Belt is safe to include in your daily regimen.
The Flex Belt Cost
You can purchase your Flex Belt directly from their site.
The Flex Belt Package is $199.99, ships free, and includes the following:
The Flex Belt® and GelPads
The Rechargeable Power Supply Unit
An Instruction Manual
Belt Extender to accommodate 47" to 52" waist
The Rechargeable Power Supply can also be used with other Flex Products for different body parts
Keep in mind, the company recommends replacing the GelPadsevery 30 sessions. They run $14.99 per pad or $47.99 for a 4 pad set. Replacing these every 30 sessions can add up.
Other accessories like replacement controllers, chargers, and batteries are also available from their site.
You can save by purchasing through Amazon; the Flex Belt Package is $162.49.
Lastly, each purchase is backed by a 60-day guarantee. To process your return, call support at (855) 353-9432 or email info@theflexbelt.com.
Available Alternatives
Targetting core musculature with EMS is not a new concept. A simple internet search will reveal a wide variety of brands offering similar products.
The highest-rated belts on Amazon range from $20-100.
One example is UMATE ABS stimulator. They also recommend 30-minutes of use daily for best results, and at $36.90, it is available at a fraction of what you'll pay for the Flex belt. While this system is rated 4.8-stars, keep in mind that this is on just 28 reviews.
Though EMS is generally safe to use, starting with traditional methods is probably more reasonable.
If you go straight for an EMS belt, you'll miss out on the many health benefits offered by adopting a healthy meal plan and getting regular exercise.
The Bottom Line
While there is support that The Flex Belt device can boost strength and endurance, the ability to reduce the thickness of skin overlying your abdomen is less likely.
Therefore, it will be challenging to obtain washboard abs with the use of the Flex Belt alone. However, using this device along with diet and exercise may enhance the results.
Reviews are fair. At Amazon, 1,500+ users rate this product 3.6-stars. Unsatisfied customers report a complete lack of results or needing 2-3x the recommended use to see any benefits. Again, a lack of a more comprehensive fitness plan will likely limit the results.
The Flex Belt is far from cheap and the need to replace GelPads drives the price up further. There are a number of more cost-effective options that offer similar benefits, so perhaps these are a better starting point.
Either way, consult your doctor before using as EMS can be dangerous for some individuals.
---
Performs as advertised

By Paul P.

,

Green Bay, WI

,

Jan 16, 2019
Verified Reviewer

Overall Experience:

I'm using it while writing this review. I used once the first day, then two sessions a day the next two days, a day off, and now.

I also had started running again at the Y on December 23rd - before I ordered the Flex Belt.

My diet is bad, but I am working on it.

The point is my pants are already looser. I hate doing sit-ups, so any help in that area is good. I don't expect to see my abs like the TV models, just want to reduce the waistline. And it's already helping based upon running as the only activity like in my past.

I ordered from QVC and paid $127 plus received two extra sets of gel pads.

On TV they said you have to watch your diet and perform some aerobic activity. They were totally honest about the product.

Don't think it works? Get one and crank intensity level to 100, tell me how that feels (and intensity level goes as high as 150).

Ten different programs so you can get alternate workouts to keep those abs "guessing."

Bottom Line: Yes, I would recommend this to a friend

---

Flex Belt user for three months

By Chad B.

,

Maryland

,

Aug 10, 2018
Verified Reviewer

Overall Experience:

A little background, I'm a 47-year-old male who has severe back and knee problems in both legs. Exercise is near impossible for me due to extreme pain. I bought the Flex Belt about three months ago. I use as directed (1x/d) for about a month. You need to adjust the intensity to fit your level. You should feel your abs the rest of the day or you didn't use high enough setting.

After the first 30 days, I went to a second. I added in jump rope and a walk in the evening while wearing for the second time for that day. Now be realistic here, you won't see 6-pack abs. But my stomach is tighter, doesn't stick out as far either. My GF noticed at night while laying on my side my stomach is tight without me flexing. This is three months in, using two times daily. Added to slight exercise, it works pretty well.

Some back pain has subsided with the stronger abs. That's really what you should expect, stronger and harder abs, but NOT a 6-pack unless you diet and eat 100% correct. I hope this helps some of you decide!

Remember, harder, tighter, and stronger, but not bodybuilder look.

Bottom Line: Yes, I would recommend this to a friend

---

Love it so far!

By Lady K.

,

Pennsylvania

,

Jun 18, 2018
Verified Reviewer

Overall Experience:

This fitness belt is great and definitely worth the money! To those who are saying they didn't get any results, my guess is they didn't follow the directions on use, which is to be sure to use with proper diet and exercise! I have been using for about a week now, every day, once a day (with the exception of the first use, when I used it for two sessions in a row), and I am definitely feeling it, at an intensity level of 80, so far! You can feel it working your entire abs, center, upper, lower AND obliques! What?! I love it! Seems to be a quality fitness belt, on the contrary to what I read, above but may be too early to tell. I'll post again in about a month.

Bottom Line: Yes, I would recommend this to a friend

---

Overall Experience:

I recently purchased the Flex Belt, and after one use I'm quite excited about it's potential. I just finished using it for the first time. After taking it off and starting to move around, I could feel my abdominal muscles as if I had just done a bunch of sit-ups. That right there will keep me incented to keep using it.

I used a fairly high intensity (130) and did the workout twice in one session as my abdominal muscles have never been firm in my entire life (I'm 49 now) and my belly is rather large. I don't expect miracles, but I do truly believe that this belt, along with diet and actual exercise, will help me achieve my goal of a smaller and more firm stomach area.

Bottom Line: Yes, I would recommend this to a friend

---

Advertisement

---

Overall Experience:

Beware of this product. It is a piece of junk. Shoddy workmanship. A total scam. So badly constructed it fell apart immediately, and they won't take it back. Nasty customer service. All around terrible experience.

Bottom Line: No, I would not recommend this to a friend

---

It can work

By Damon

,

Boston, MA

,

Mar 18, 2017
Verified Reviewer

Overall Experience:

Anyone who thinks that this belt (or any other type of belt) is going to just burn fat shouldn't buy this. Yes, this works if you let it, but you need diet and exercise. This is like going to the gym and working out your stomach, that's all it is. Except you don't have to go to the gym, it just does it automatically.

It's making you use your muscles, which in turn burn calories, which in turn tone your muscles. It's not a hard concept.

Bottom Line: Yes, I would recommend this to a friend

---

The flexbelt is a a major disappointment. It absolutely does nothing when used as directed.

By Happy

,

San Antonio, TX

,

Sep 2, 2016
Verified Reviewer

Overall Experience:

This company is stealing money from people like myself. Anyone who buys this product is acting idiotically.

There are two guys sitting in a customer service room waiting to take your phone call and your money.

Flex Belt is no better than buying a remote control car at Walmart. It will do NOTHING for your muscles

Bottom Line: No, I would not recommend this to a friend

---