Vanna Belt Reviews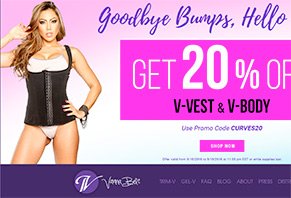 Vanna Belt's signature line of fitness products promise to help you get fit, feel great, and look better, especially for problem areas like hips and thighs.
About Vanna Belt
As an Instagram fitness star, Vanna Belt promises that her line of signature products—along with a healthy diet and regular exercise—can help you achieve a hard, tight, fit physique. Specifically, she claims her products are "the secret to the South Beach body."
To accomplish this, we're told Vanna Belt's products can help "set real results into motion" by addressing stubborn problem areas like the stomach, hips, thighs, and buttocks. And by featuring different formulations, we're told her creams can provide around-the-clock maintenance.
Look, even after you've reached a comfortable weight, there's no denying that it can take a lot of work to get back to your ideal look. But is there anything about Vanna Belt's products that will boost your results? That's the main question we'll help you answer here.
What Products Does Vanna Belt Offer?
Overall, there are five different products within the Vanna Belt lineup:
Trim-V Supplement
According to the company, their Trim-V supplement contains a blend of nutrients that enhance mood and feelings of wellbeing, along with thermogenics to help convert fat into usable energy. This way, we're told it can help you shed fat while taking control of your mental performance.
According to the supplement's label, Trim-V contains the following ingredients:
Vitamin B1 (as thiamine mononitrate) 1.5mg
Vitamin B2 (as riboflavin) 1.7mg
Niacin (as niacinamide) 20mg
Vitamin B6 (as pyridoxine hydrochloride) 4mg
Vitamin B12 (as methyl cobalamin) 30mg
Pantothenic Acid (as calcium pantothenate) 10mcg
Chromium (as chromium polypicolinate) 600mcg
Proprietary Blend 545mg: Beta Phenylethylamine, Caffeine Anydrous, Theacrine (as TeaCrine), Octopamine HCl (as Octopalean)
Gel-V
When reading about Gel-V on Vanna Belt's website, your eyes might have gone cross-eyed from all the unnecessarily complex wording.
In a nutshell, this proprietary formula (or "medicinal-grade plant complex," as the company calls it) promises to deliver nutrients that improve circulation, neutralize free radicals, boost metabolism, and even repair stretch marks. Ingredients include (only active ingredients are hyperlinked):
Camellia sinensis leaf extract, Fucus vesiculosus extract, Centella asiatica extract, menthol, camphor, alcohol, glycerin, carbomer, triethanolamine, citric acid, aqua, methylchloroisothiazolinone, methylisothiazolinone, FD&C Yellow No.5, FD&C Red No.40, and FD&C Blue No.1.
According to the Vanna Belt, Gel-V can smooth, hydrate, and beautify the skin on your stomach, hips, thighs, buttocks, and other problem areas. Simply apply a thick spoonful directly to the skin three times daily, 3-5 times per week.
V-Glow features a similar formulation, but is intended to act as a bronzer, while Gel-V Hot promises to elicit a "warming sensation upon contact and penetrate to intensify treatment."
V-Glove
A rubber and latex-based device that's more or less shaped like a hand, with 9 rotating spheres on the underside. When used to knead the skin, Vanna Belt claims it delivers a stimulating massage, while boosting circulation, increasing absorption, and effectively eradicating cellulite.
V-Belt
Available in sizes XS through XXXL, Vanna Belt tells us their V-Belt shaper uses a blend of soft cotton and flexible spandex to provide "physical reinforcement" and to restore skin elasticity (V-Belt 2.0 is intended for those with longer torsos). We're also told it can be worn all day, in conjunction with the use of Gel-V, when working out, and even at night.
Vanna Belt's V-Vest uses a similar principle but is shaped like a vest in order to provide more coverage area and to reduce more unsightly bulges. Taking it one step further, V-Body promises to "tackle unsightly bulges on all fronts, from all angles."
Finally, V-Belt Arms and V-Belt Thighs are designed to "isolate and target" each area, although no specific benefits are mentioned.
V-Belt and V-Belt 2.0 are available in different V-Kits, which include one V-Belt, along with a tube of Gel-V, Gel-V Hot, and a V-Glove (depending on the kit you choose). You can also purchase a V-Band Kit that includes one tube of Gel-V, three color-coded resistance bands, door anchor, two cushioned-grip handle attachments, 2 ankle attachments, and a nylon carrying bag.
V-Lifestyle Guide
According to Vanna Belt, their V-Lifestyle Guide is based on a nutritionist-certified 8-12 week plan and promises to take the guesswork out of calorie counting and vitamin and macros ratios. Or, as the company calls it, a "360-approach to sculpting the best version of yourself."
In addition to the Nutrition Guide, you'll gain access to an online V-Lifestyle Calculator, which promises to deliver all the customized nutritional coaching you need to reach your goals.
Whew! Now that we've covered Vanna Belt's product lineup, let's find out what the evidence has to say about the results you'll achieve with them.
Breaking Down What We Just Learned About Vanna Belt
The Trim-V Supplement
Of Trim-V's ingredients, according to WebMD's summarization of the available clinical evidence, thiamine may help correct metabolic disorders associated with genetic diseases, as well as brain disorders due to thiamine deficiency.
They also note that niacin may improve some aspects of high cholesterol, osteoarthritis, and Alzheimer's. However, for the latter, this appears to only be the case when consumed from food-based sources, not from supplementation. Similarly, pyridoxine may improve blood pressure, while chromium may help address diabetes and high cholesterol.
Despite these potential benefits, WebMD doesn't indicate that any of these ingredients will boost metabolism, improve thinking, or meaningfully impact weight loss for otherwise healthy individuals.
With this said, Vanna Belt's proprietary blend is loaded with stimulants, including phenylethylamine (a type of amphetamine), caffeine, and octopamine (more commonly known as bitter orange). Because stimulants act on your central nervous system, WebMD indicates they may temporarily improve mental alertness.
However, they don't mention that this alertness will translate into better thinking or mental performance, or that an elevated heart rate will improve weight or fat loss.
Gel-V Complex
Again, relying on WebMD's summarization, it doesn't appear there's sufficient clinical evidence showing any of these topical ingredients will meaningfully improve the appearance of skin.
Sure, the caffeine in the green tea may help temporarily tighten skin, and the skin conditioners and moisturizers may boost appearance if you're especially dry, but for otherwise healthy skin, the evidence provided by WebMD indicates you might not experience benefits in line with the manufacturer's claims.
V-Belt's Compression
We won't go into unnecessary detail here, but Vanna Belt's V-Belt is a type of waist trainer, something which was originally popularized by social media by stars like Kim Kardashian. Like the old-time corsets, these devices are intended to compress the area between your hips and ribcage and provide a coveted hourglass shape.
The problem is that, according to medical experts, this doesn't provide any long-term benefits. In other words, unlike the products' names imply, you can't "train" your waist to maintain a slimmer profile. So, as soon as you take it off, your body will return to its normal shape.
For an in-depth overview of this topic, we'd recommend reading Are Waist Trainers an Effective Shortcut to an Hourglass Figure?
V-Glove's Rollers
Finally, Vanna Belt's V-Glove is a type of skin massager, which might feel great against your skin, especially after a long day or a hard workout. There's also plenty of clinical evidence indicating that a professional massage can reduce stress, stimulate blood flow, improve mood, and reduce chronic pain, while deep tissue massage can even reduce the uneven appearance of cellulite for 2-3 days afterward.
However, this same level of evidence doesn't appear to exist for at-home devices like V-Glove, so it's not clear that you'll necessarily experience the same.
Are There Any Potential Side Effects From Vanna Belt's Products?
As far as Trim-V, WebMD indicates that most users won't experience any side effects worse than mild digestive upset, if anything at all. Niacin is known to cause flushing, which might be alleviated by taking an aspirin beforehand.
Perhaps the biggest chance of side effects comes from their proprietary blend, which appears to primarily consist of stimulants. Here's what WebMD has to say:
"Phenethylamine is POSSIBLY UNSAFE for most people when taken by mouth appropriately. Phenethylamine works similar to the drug amphetamine, and may cause similar side effects. Also, it might cause rapid heart rate, anxiety, or agitation."

"Bitter orange is POSSIBLY UNSAFE when taken as a supplement for a medical purpose such as weight loss. Bitter orange, particularly when taken with stimulants such as caffeine or caffeine-containing herbs, increases the risk for high blood pressure, fainting, heart attack, stroke, and other severe side effects."
Similarly, WebMD indicates caffeine can lead to insomnia, nervousness, and other side effects.
There isn't enough known about some ingredients, such as theacrine, to fully understand possible side effects or short- or- long-term safety.
Additionally, too-tight waist trainers can potentially lead to side effects like heartburn, dehydration, skin infections, and more.
How Much Do Vanna Belt Products Cost?
Vanna Belt's products are priced as follows:
Gel-V: $39.99-$85
V-Glove: $9.99
Trim-V (60 capsules): $49.99
V-Kits: $70-154.99
GymWear (tops and bottoms): $35-$65
Nutrition Guide: $30
According to Vanna Belt's website, there are no refunds, exchanges, or returns under any conditions. Nonetheless, customer service can be reached at 786-351-6131 or info@gel-v.com.
What's Everyone Saying In Their Vanna Belt Reviews?
Based on a couple online press releases we found during our research, it appears Gel-V has been on the market since April 2015, although we found very little feedback about it online.
On Amazon, their Gel-V had a total of 7 reviews and an average 3-star rating. There, it seems customers either loved it (5 stars) or hated it (1 star), with no in-between.
The most common compliment was effective fat burning (one user even called it "surgery in a bottle"), while the most common complaints revolved around no results and allergic reactions. One person claimed it made them physically sick, while another claimed it caused severe hives, itching, and redness.
From this perspective, we found an in-depth video review from YouTuber Nora Ruby, who claimed the gel made her break out in hives as well. She also noted that the spheres on the V-Glove seemed to start rusting quickly:
https://www.youtube.com/watch?v=LltYQ7IY0HM
What do we know about the person behind these products?
Who Is Vanna Belt?
Vanna Belt is an Instagram social media celebrity, with more than 537K Instagram followers as of writing. However, other than being listed as a "motivated fitness enthusiast" on her website, there's almost no information about her online, including any formal fitness training she's had, why she qualifies as a fitness expert, or why her products are any different than the thousands of nearly identical options out there.
Where does this leave you?
What Kinds of Results Can You Expect With Vanna Belt's Products?
In the end, it seems like most of Vanna Belt's products are intended to help improve the appearance of your skin and deliver an ideal shape. Given this, you might want to look elsewhere if you're hoping to lose a meaningful amount of weight.
But based on the available clinical evidence listed on WebMD, it doesn't seem like Vanna Belt's supplement or topical creams will meaningfully alter your appearance, unless you're deficient in essential nutrients or suffer from excessively dry skin.
Vanna Belt customers reported mixed results.
Two weeks, no products...

Two weeks later and I have not received my products nor any responses to emails or phone calls. I am going to file a complaint. $133 ordered. I have been calling, the woman is on Instagram live all the time but fails to respond to my messages and I am seriously done. They are the worst! Do not buy any products from them unless you want to be ripped off!

Bottom Line: No, I would not recommend this to a friend

---

Not the greatest

By Danielle P.

,

Houston, TX

,

Mar 22, 2019
Verified Reviewer

I have used the Gel V before with my own waist trainer, I loved that product. Taking some time, I looked at the waist trainers for a while before deciding to buy. I received my trainer last week after paying extra for two-day shipping and received it in five days. Then once I put it on, it seemed to be fine. Soft material and holds you in and you get a good sweat with it. After about 20 minutes of wearing the trainer, it became very loose. Doing squats it would cinch up my back and I was pulling it down after every set. Of course at this point, I am not able to return it, which I understand because of the hygiene issue. I wish there was another option, I am not sure if the fit guide is correct even with me putting it on the second set of hooks it moves up my back and digs into my sides. I can say I would probably order Gel V again just wouldn't recommend this waist trainer.

Bottom Line: No, I would not recommend this to a friend

---

Advertisement

---