Storenvy Reviews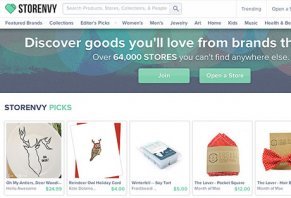 About Storenvy
Established in 2009 and based out of San Francisco, CA, Storenvy is an online social marketplace where independent merchants can sell their unique, creative goods to consumers through their very own storefront.
As a storeowner, Storenvy provides you with an opportunity to become an independent merchant in as little as five minutes, and to reach thousands of shoppers. This can be accomplished in two ways:
Personal Storefront – This acts as your very owner corner of Storenvy, where you can customize to distinguish yourself from your competition. Your unique URL would be www.MyStoreName.storenvy.com (or a customer URL, as we'll discuss later), and is where customers can purchase directly from you.

Marketplace – The Storenvy Marketplace acts as a curator for all products on the site. For example: Imagine that you sell handmade scarves. A shopper types in "handmade scarves" into Storenvy's search field, which returns your products, as well as those of your competition. The shopper would then have the ability to purchase through Storenvy, or click on your site's link, and purchase directly through you.
According to TechCrunch, Storenvy's goal is to become the Amazon for independent storeowners. Currently, the site claims that more than 40,000 items are added each week from over 50,000 stores, and that 50% of sales come directly from the marketplace storefronts (versus directly through custom the storefront). Despite the large amount of traffic on the site though, Storenvy currently has a D rating with the Better Business Bureau.
How Storenvy Works
When shopping on Storenvy's site, you can browse through thousands of products in Marketplace categories such as Clothing, Health & Beauty, Tech Gadgets, Accessories, Books, Jewelry, and much more. If you find a product you like, Storenvy gives you the ability to "Envy" the item, which is essentially adding it to your Favorites list.
After this occurs, you will then be able to see all the other shoppers who have added it to their Favorites as well. As a product accumulates more and more "Envys," it will eventually appear on the Popular page, which further increases its ability to gain more "Envys." This helps promote the product, and to increase its sales.
If you decide to set up a storefront, it will be completely free, and you can be up and running in as little as five minutes. However, you will be required to have a Business or Premier PayPal account, as this is the only payment processor Storenvy uses, for both store owners and shoppers alike.
As such, all sales are subject to standard PayPal fees, which are currently set at $0.30 + 2.9% per transaction. Also, storeowners will be fully responsible for processing their own refunds via PayPal, including associated shipping charges.
After signing up, you will receive your own custom store located at www.YourStoreName.storenvy.com, or you can use your own domain name for an additional $4.99 per month. Some of Storenvy's custom features include:
Control all of your product's attributes, including pricing, images, descriptions, etc., with an unlimited product capacity.
Customize and "brand" your store to differentiate yourself from the competition.
Order tracking – view and manage all incoming orders.
Create/offer discounts.
View your store's stats using Storenvy's built-in analytics.
Mobile device and tablet-friendly site.
Fans can shop directly from your Facebook page.
And much more…
Does Storenvy Make Money from Your Sales?
According to Storenvy's website, they do not currently charge any fees for use of their service, with the exception of the $4.99 monthly fee for a custom domain name (e.g. without the .storenvy extension on your URL).
However, the company claims that as of early 2014, they will begin taking a set percentage from all sales that occur through their Marketplace. In addition, Storenvy states that they will also be implementing a Marketplace Revenue Share early next year, which will act as an incentive to drive even more sales to your storefront.
Pros:
Shoppers can browse through thousands of products curated by independent merchants.
Feature-filled Custom and Marketplace stores, all of which are free of charge.
Easy setup.
Unlimited products.
Storenvy has the potential to be utilized as a marketing tool for your Marketplace store.
Cons:
15 complaints with the Better Business Bureau, and an overall D rating.
Different refund policies that shoppers are required to constantly check on, depending on the vendor they purchase from.
While Storenvy claims they have a zero-tolerance policy toward scams/dishonest merchants, there is a window of opportunity between when the scams appear on the site, and the time they are shut down. During this time, Storenvy has no control over these types of transactions.
4 out 4 people found this review helpful

Both good and bad experiences

By Brett E.

,

Greensboro, NC

,

May 28, 2019
Verified Reviewer

I've had my Storenvy account for 5, maybe 6 years now. I mostly go on there to browse but have made a few purchases. Most were good experiences, being given what I ordered in good timing and in good condition. There was one purchase where I received an email from the seller saying they don't use the site anymore and that they were canceling the order. The problem being lack of refund.

Overall, it's just like any other marketplace site, you have to be careful who you buy from.

Bottom Line: Yes, I would recommend this to a friend

---

8 out 8 people found this review helpful

Ghosted by seller

By Jade B.

,

Ontario, Canada

,

Apr 24, 2019
Verified Reviewer

I found a cute shop selling anime pins and buttons. Put in an order for one and heard nothing from the seller. After a week sent an email to them asking when it would ship. No reply. Opened a claim with PayPal, now escalated to a dispute and still the seller hasn't replied. They must have abandoned the store or something and I don't get why Storenvy wouldn't have picked up on that sooner and deleted the store. Oh well, I guess my experience is another "bought something and never received it" one.

Bottom Line: No, I would not recommend this to a friend

---

Advertisement

---

7 out 8 people found this review helpful

Scam

By Reza R.

,

Mar 18, 2019
Verified Reviewer

They are a scam, don't buy anything from this store. I purchased an item from someone on this website, and now Storenvy telling me that sorry that guy was a scam, but we can't give you a refund, do not trust them.

Bottom Line: No, I would not recommend this to a friend

---

8 out 10 people found this review helpful

Seller considering leaving

By Tim P.

,

Old Town, FL

,

Sep 3, 2018
Verified Reviewer

I have been selling on Storenvy for about four years now. There are a lot of problems with this company. When I signed up, this was a completely free place to sell over time, and that has changed greatly, so that not only I receive additional fees, my customers are charged between $.99 and $3.99 per transaction by Storenvy.

They also snipe my regular customers using their automated email service. The reason this matters to me because a customer that I made through social media may purchase from me again based on an official Storenvy email, at which time Storenvy takes a whopping 10% out of my pocket calling it a "marketplace sale," which is very misleading. As things change, they are making thousands of dollars off of my customers and me alone with very little improvement to their site.

Their shipping labels are through a third party (who upcharges the rates) and does not allow me to print labels for international orders OR print two labels for a single transaction, in case a customer orders items that ship separately. These labels have to be purchased individually, are then emailed to me, they must be downloaded and printed one at a time. This is far from efficient and has been the system for years. And still, there is no app for the buyer or sellers, and very few tools that benefit me.

The worst thing of all, Storenvy sometimes loses orders placed at my store. I will receive the money from a customer, the item will be removed from my inventory, but NO record of the purchase! I look over my finances closely and find this at least once a year. If I were to miss it, this customer would never receive their item because I would not know that it sold, nor would I have any of their personal information. This is also a problem for my own record-keeping.

I contacted Storenvy about this once a couple of years ago, and I was told the employee that handles this was in a terrible motorcycle accident. This is terrible but still seems like a very unprofessional reply in my opinion. I am currently looking to leave Storenvy shortly, and feel other sellers should do the same and quit lining the pockets of these slackers. Seeing the reviews here, I also see this marketplace has been tainted by irresponsible shop owners, this is not good for those of us that work hard to please our customers.

Bottom Line: No, I would not recommend this to a friend

---

Advertisement

---

20 out 23 people found this review helpful

No product, not a real company

By Ermenia T.

,

Arizona

,

Aug 28, 2018
Verified Reviewer

Storenvy is not a company! They house a store front for scams from over seas. Many different companies sell as Storenvy then you order and it is a company overseas that never delivers. I ordered a $179 dress and it was actually through ydresses, from China, which I never received and nor received a refund. Despite many email interactions with an individual email from China, who assured me repeatedly that my money would be refunded. This Storenvy scam should be shut down!

Bottom Line: No, I would not recommend this to a friend

---

7 out 9 people found this review helpful

I haven't received my book that I've ordered. It's coming on three weeks and class starts next week.

I haven't received the book that I've ordered. It's coming in three weeks and class starts next week.

It was stated I would have it in three to seven days.

So I can't reach anyone by any of the phone numbers that are listed. When trying to track it, the tracking numbers come back as not a good number to be tracked.

If this is how they do business with others, I really don't appreciate being part of their business. Also, to get a refund is a joke too.

Bottom Line: No, I would not recommend this to a friend

---

8 out 8 people found this review helpful

Never received my order!

By Taylor Z.

,

Texas

,

Jun 27, 2018
Verified Reviewer

I ordered an LED light from MILK TEAS, which I guess is in the same company as Storeenvy. I actually check my email quite frequently and the only thing I have gotten from them was a discount, new product emails, and then the email with my order and my receipt.

This was my first time ordering from their store, and I will NEVER purchase from them ever again! I spent a total of $26.99 plus the store fee.

Items:

MILKTEAS

Korean Heart Fingers LED Light (3 Color Modes) - L x 1

$26.99

Subtotal: $26.99

Shipping: $0.00

Storenvy Fee: $0.99

Tax: $0.00

It has been eight weeks since I've ordered from their store and I have been eagerly waiting for my package to come in and day after day, nothing came. About three weeks ago I emailed the Milk Teas store, I messaged them on Instagram, and I have yet to get a response. I even emailed the company also, and guess what? NOTHING!

Do NOT order from them! All of their stuff is a scam, and they will just take your money.

Bottom Line: No, I would not recommend this to a friend

---

9 out 10 people found this review helpful

SANA SWIM - do not buy!

I ordered from them, it took around five weeks to get the despatch email, but then they never showed up. I've contacted them via email and their site but received no response.

I would highly recommend not buying from them; it's definitely a scam.

Bottom Line: No, I would not recommend this to a friend

---

12 out 12 people found this review helpful

SANA SWIM sucks!

By Abby

,

New South Wales, Australia

,

Feb 19, 2018
Verified Reviewer

I ordered swimmers from these people ages ago, and they were NEVER DELIVERED. I have sent multiple emails, Instagram messages, comments on their website and even contacted Storeenvy separately, and have received NO REPLY. I have not received my purchase or a refund. The biggest rip off ever. Do NOT buy from SANA SWIM, they suck!

Bottom Line: No, I would not recommend this to a friend

---

16 out 17 people found this review helpful

SANA SWIM - do not buy from them!

By Fuona

,

Canberra, Australia

,

Dec 4, 2017
Verified Reviewer

My daughter purchased swimmers from this company called SANA SWIM that is supposedly located in Victoria, Australia and has never received the goods. You CANNOT contact this company at all, there is no telephone number and they do not reply to your emails. If you write to them in their Instagram they delete it. I advise anyone wanting to actually receive goods that you don't waste your money on this company.

Bottom Line: No, I would not recommend this to a friend

---

13 out 13 people found this review helpful

Still waiting

By Jamie Lohmann

,

Brisbane, Queensland, Australia

,

Dec 1, 2017
Verified Reviewer

I should have read these reviews before ordering. I ordered a swimsuit in the first week of November and it has now been 4 weeks. I've tried to contact someone via email but have not yet heard anything. The products actually looked cool but I will never use them again, and neither will my friends.

Bottom Line: No, I would not recommend this to a friend

---