Storenvy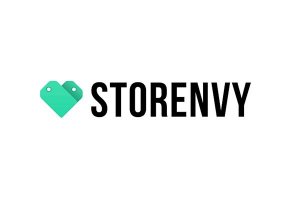 Summary
Storenvy is an online shopping platform that lets independent sellers connect with customers to sell jewelry, clothing, home décor, and more.
Pros
Lots of unique items from around the world
Sellers can send you discounts if you express interest in products
Cons
Shipping costs and times vary significantly between sellers
Minimal scam protection from Storenvy
Higher commission rates than Etsy
Product quality can be questionable
Storenvy Review: A Detailed Look
Making money through e-commerce isn't easy. Sellers must control their web traffic and advertising to get the right people on their site, and even then, they aren't guaranteed a sale.
Storenvy is an online marketplace space that promises to make this process easier for both buyers and sellers.
It lets you buy from independent sellers from around the world. You can purchase anything from clothing to jewelry, art, home and beauty accessories, and even tech products on the platform.
Though most Storenvy products seem to be manufactured, you can also purchase handmade goods on the site.
The goal of Storenvy is to create a space for shoppers to connect with small-time sellers and find unique products not widely available elsewhere. Does the site live up to this goal? Should you consider opening a storefront on Storenvy? We'll help you answer those questions here.
How Does Storenvy Work?
Your Storenvy experience will differ based on whether you or buying or selling.
For Shoppers
Once you make a Storenvy account, you can begin browsing all available products. You can search by category (women's, men's, jewelry, art, home, kids, music, health & beauty, specialty, or tech) or by looking at all the listings from individual sellers.
There's an almost limitless variety of products sold on Storenvy. Most items, especially the clothing, aren't from recognizable brands.
When you find products you like, you have a few options. You can add it to your shopping cart, "collect" the item for future reference by adding it to a list (default options are "my wishlist" or "gift ideas"), or you can show support for the seller and "envy" it.
All envied items are displayed in your profile and the feeds of your followers. The Storenvy products that receive the most Envies are listed on the site's Trending page.
While it's possible to put an unlimited number of items in your cart, they can be from a max of ten stores.
All transactions will occur through the site, but shipping times and refund policies can vary between sellers. Pricing will range based on the seller, but you can expect to pay at least $20 for most apparel items, plus about $4–$8 for shipping throughout the United States.
Keep in mind that you will need to pay separate shipping fees for every purchase, though there may be exceptions if they come from the same seller.
For Store Owners
Sellers on Storenvy can take advantage of the platform's customizable storefront options to best display their products. All users begin with a free hobbyist plan, which you can upgrade for extra features.
Pricing and feature options include the following:
Hobbyist
Plus
Pro
Price
Free
$14.99/month
$29.99/month
Features

Up to 1,000 listings

Cart abandonments (automatic emails to remind people of unpurchased cart items)

Up to 2,000 products

Cart abandonments

Potential for social media blasts where Storenvy may feature your products

Possible to send customized discount codes to shoppers

Custom domain

Up to 5,000 products

Cart abandonments

Potential for social media blasts

Super discounts

Custom domain

Automated discounts that can be sent to your entire customer list or to custom demographics
To start listing products on your storefront, you'll first give it a name, set a price, and choose the category that best describes it. Next, you'll share a product description and high-quality photos and specify how many you have in stock and what varieties are available (colors, sizes, etc.).
Finally, you'll specify shipping details and choose whether to add it to any of your collections. Once you click save, the listing will go live. You can adjust the pricing or delete old listings in the same way.
The longer your store is live, the more data you'll receive about the numbers of customers visiting your site, which of your products are envied most often, and how long users browse your products on average.
Storenvy shop owners also gain access to Engage, an email marketing tool that lets them communicate directly with potential customers. For those who have upgraded their membership, it's a great way to send out coupon codes.
Commission Fees, Pricing, and Refund Information
Storenvy makes its money on a commission basis. All sales made through the site are charged a 15% commission based on the total transaction, which includes shipping.
Store owners can decide whether they want to account for this in their pricing or have it added for customers when checking out, similar to a sales tax.
All Storenvy sellers set their prices and return policies, though the platform asks that all sellers ship out orders within a week of purchase, preferably within two days. Domestic orders usually arrive within ten days, while international orders may take a month or more.
Be sure to read the Shipping and FAQ section for each product before purchasing so that you know the terms before you commit. You can always contact a store owner directly to clear up any pricing confusion.
Saying that, Storenvy will protect you against incorrect orders. If a store sends you a wrong or defective product, then they are obliged to send you a full refund. Contact the seller directly to start this process.
If you need to contact Storenvy, do so at support@storenvy.com.
Seller Fraud
When you browse a site of independent retailers like Storenvy, it's easy to question if the site is a scam. The company claims to take bold measures to ensure that shoppers are safe by carefully monitoring store activity and customer complaints to pull storefronts that are selling counterfeit or otherwise inferior products.
Likewise, all storefront must have a PayPal or Stripe account to receive payments, both of which run background checks before permitting accounts.
In cases where fraudulent sellers slip through the cracks, Storenvy states that PayPal's 180-day buyer protection service protects shoppers. Those who purchased with credit cards will need to take the issue up with their bank.
In short, Storenvy acknowledges that fraud can be a problem on its platform. Still, the company offers few options for consumers to fight it beyond going to the larger financial institutions involved.
If you want to share concerns about a Storenvy store, do so at support@storenvy.com.
Analysis of Customer Reviews
Here at HighYa, Storenevy has a two-star rating after 60 customer reviews. Trustpilot reviews are similar. There, the product has 1.5 stars after more than 100. Here's what these shoppers and sellers are saying.
Common Compliments:
Possible to find good deals on products
Common Complaints:
Some shoppers never received their orders after paying
Money wasn't always returned when purchasing from scam accounts
Sellers pay high fees to sell on the site
Slow shipping times
Some shoppers received pirated tech products
Many poor quality products
Storenvy vs. Etsy and Wish.com
In the world of online retail, two of the popular options for independent sellers are Etsy and Wish. Here's how they both compare to Storenvy.
First, Wish is an online retailer with hundreds of storefronts. Rather than selling products from independent sellers, most Wish merchandise comes directly from factories in Asia and is sold at wholesale pricing. Some products are more than 98% off what you'd pay for competitors.
It's possible to purchase a similar range of merchandise on Wish as Storenvy, though the site has a bigger focus on tech products.
However, many Wish.com customers critique the platform for quality issues. A lot of products seem to be knockoffs with misleading images. As with Storenvy, common customer complaints include slow shipping times and a high prevalence of scam accounts.
Etsy originated as a platform for artisans to sell products online, and it's mostly stayed true to this premise. This means that you're far more likely to find home décor, clothing, and jewelry on the site than tech products.
The site's fee structure also differs from Storenvy. Rather than a flat commission rate, you'll pay a listing fee of $0.20 per item and a transaction fee of 5% per product sold. In most cases, this provides sellers with a more significant percentage of the profits.
Which platform is the best for sellers? It's difficult for individuals without wholesale connections to sell on Wish.com, and so Etsy or Storenvy are better options. Storenvy offers better opportunities for customizing your storefront, creating a brand, and, for paid accounts, connecting directly with potential customers. For many people, this could be worth the higher commission costs.
Shopper's decisions between these options should be based on what you are looking for. Etsy still offers the broadest selection of homemade products, though you can find similar products on Storenvy as well. Wish is best for buying popular products at sharply discounted prices, but you're often going to get what you pay for.
The Bottom Line: Is Storenvy Worth It?
Storenvy offers a simple to use platform for both buyers and independent sellers. Though anyone can make a free account, the majority of listings on the site seem to be based in Asia. As all sellers control their prices, it's possible to score great deals on unique products.
However, dealing with different sellers can have its difficulties. Bulk shipping discounts are rare, and Storenvy offers minimal protection against fraudulent accounts. Likewise, shipping times can vary significantly depending on where the seller is located.
Overall, Storenvy offers a viable option for online shoppers to connect with small distributors. Just keep in mind that you'll need to perform your own background checks to ensure you make smart decisions.
Likewise, sellers should appreciate the customization options and opportunities to connect with customers. The cost of these perks, however, is a higher commission rate.
Customer Reviews
Posted on Feb 4, 2022
Crappy site
Crappy site for not truthful sellers. I contacted them about one seller who lists their fulfillment offices as Texas, but guess what? It's coming from China so it will be weeks if it ever gets here.
Bottom Line: No, I would not recommend this to a friend
Posted on Aug 17, 2021
I absolutely adore them!
Thank you guys so much for helping me find the dress I absolutely adore! Big shout-out to you guys for blessing me with one-of-a-kind.
Length of Use: 6–12 months
Bottom Line: Yes, I would recommend this to a friend
Pros and Cons
Helpful
Adorable
No "cons" were specified in this review
Posted on Jun 26, 2021
Happy
Very happy with my purchase, and I will be looking to buy via Storeenvy again. Highly recommend to others and friends!
Length of Use: 6–12 months
Bottom Line: Yes, I would recommend this to a friend
Pros and Cons
Reliable online store
Updated
No "cons" were specified in this review
Posted on Dec 2, 2020
Loved it!
The artwork is fantastic! I love it! I will be ordering from this site again. Highly recommended site. Thank you very much Storenvy!
Length of Use: 6–12 months
Bottom Line: Yes, I would recommend this to a friend
Pros and Cons
Fantastic
No "cons" were specified in this review
Posted on May 28, 2019
Both good and bad experiences
I've had my Storenvy account for 5, maybe 6 years now. I mostly go on there to browse but have made a few purchases. Most were good experiences, being given what I ordered in good timing and in good condition. There was one purchase where I received an email from the seller saying they don't use the site anymore and that they were canceling the order. The problem being lack of refund.
Overall, it's just like any other marketplace site, you have to be careful who you buy from.
Bottom Line: Yes, I would recommend this to a friend
Posted on Apr 24, 2019
Ghosted by seller
I found a cute shop selling anime pins and buttons. Put in an order for one and heard nothing from the seller. After a week sent an email to them asking when it would ship. No reply. Opened a claim with PayPal, now escalated to a dispute and still the seller hasn't replied. They must have abandoned the store or something and I don't get why Storenvy wouldn't have picked up on that sooner and deleted the store. Oh well, I guess my experience is another "bought something and never received it" one.
Bottom Line: No, I would not recommend this to a friend
Posted on Mar 18, 2019
Scam
They are a scam, don't buy anything from this store. I purchased an item from someone on this website, and now Storenvy telling me that sorry that guy was a scam, but we can't give you a refund, do not trust them.
Bottom Line: No, I would not recommend this to a friend
Posted on Sep 3, 2018
Seller considering leaving
I have been selling on Storenvy for about four years now. There are a lot of problems with this company. When I signed up, this was a completely free place to sell over time, and that has changed greatly, so that not only I receive additional fees, my customers are charged between $.99 and $3.99 per transaction by Storenvy.
They also snipe my regular customers using their automated email service. The reason this matters to me because a customer that I made through social media may purchase from me again based on an official Storenvy email, at which time Storenvy takes a whopping 10% out of my pocket calling it a "marketplace sale," which is very misleading. As things change, they are making thousands of dollars off of my customers and me alone with very little improvement to their site.
Their shipping labels are through a third party (who upcharges the rates) and does not allow me to print labels for international orders OR print two labels for a single transaction, in case a customer orders items that ship separately. These labels have to be purchased individually, are then emailed to me, they must be downloaded and printed one at a time. This is far from efficient and has been the system for years. And still, there is no app for the buyer or sellers, and very few tools that benefit me.
The worst thing of all, Storenvy sometimes loses orders placed at my store. I will receive the money from a customer, the item will be removed from my inventory, but NO record of the purchase! I look over my finances closely and find this at least once a year. If I were to miss it, this customer would never receive their item because I would not know that it sold, nor would I have any of their personal information. This is also a problem for my own record-keeping.
I contacted Storenvy about this once a couple of years ago, and I was told the employee that handles this was in a terrible motorcycle accident. This is terrible but still seems like a very unprofessional reply in my opinion. I am currently looking to leave Storenvy shortly, and feel other sellers should do the same and quit lining the pockets of these slackers. Seeing the reviews here, I also see this marketplace has been tainted by irresponsible shop owners, this is not good for those of us that work hard to please our customers.
Bottom Line: No, I would not recommend this to a friend
Posted on Aug 28, 2018
No product, not a real company
Storenvy is not a company! They house a store front for scams from over seas. Many different companies sell as Storenvy then you order and it is a company overseas that never delivers. I ordered a $179 dress and it was actually through ydresses, from China, which I never received and nor received a refund. Despite many email interactions with an individual email from China, who assured me repeatedly that my money would be refunded. This Storenvy scam should be shut down!
Bottom Line: No, I would not recommend this to a friend
Posted on Aug 25, 2018
I haven't received my book that I've ordered. It's coming on three weeks and class starts next week.
I haven't received the book that I've ordered. It's coming in three weeks and class starts next week.
It was stated I would have it in three to seven days.
So I can't reach anyone by any of the phone numbers that are listed. When trying to track it, the tracking numbers come back as not a good number to be tracked.
If this is how they do business with others, I really don't appreciate being part of their business. Also, to get a refund is a joke too.
Bottom Line: No, I would not recommend this to a friend
Posted on Jun 27, 2018
Never received my order!
I ordered an LED light from MILK TEAS, which I guess is in the same company as Storeenvy. I actually check my email quite frequently and the only thing I have gotten from them was a discount, new product emails, and then the email with my order and my receipt.
This was my first time ordering from their store, and I will NEVER purchase from them ever again! I spent a total of $26.99 plus the store fee.
Items:
MILKTEAS
Korean Heart Fingers LED Light (3 Color Modes) - L x 1
$26.99
Subtotal: $26.99
Shipping: $0.00
Storenvy Fee: $0.99
Tax: $0.00
It has been eight weeks since I've ordered from their store and I have been eagerly waiting for my package to come in and day after day, nothing came. About three weeks ago I emailed the Milk Teas store, I messaged them on Instagram, and I have yet to get a response. I even emailed the company also, and guess what? NOTHING!
Do NOT order from them! All of their stuff is a scam, and they will just take your money.
Bottom Line: No, I would not recommend this to a friend
Our Promise to You
In order to safeguard you and ensure helpfulness and relevance, our compliance team manually assess every customer review before it goes live.
We have a zero-tolerance policy for fake reviews, and companies cannot control or alter any reviews at any time.